Large pickup truck; Built in USA, Mexico
crew cab long bed
crew cab short bed
ext. cab
reg. cab long bed
reg. cab short bed
longitudinal front-engine/rear- or 4-wheel drive
Good condition price range: $NA – $NA*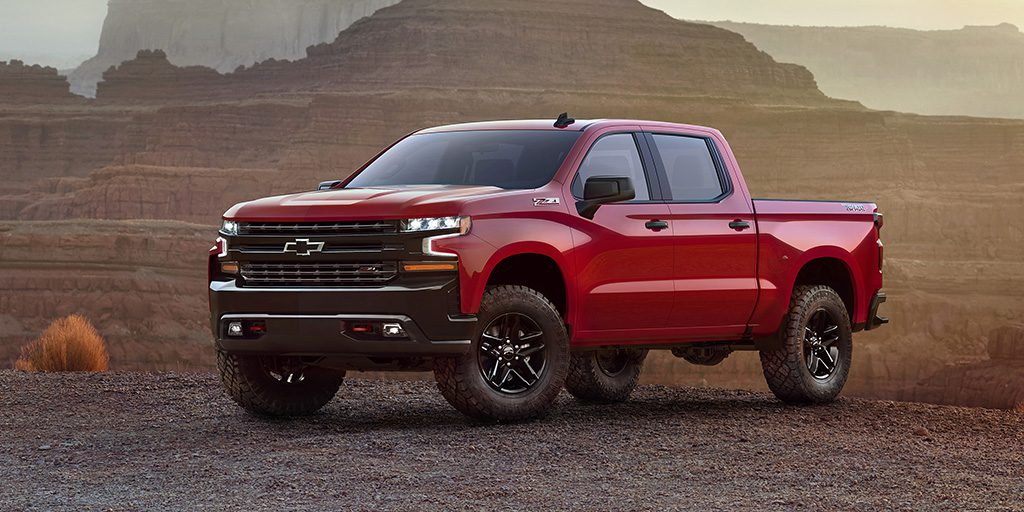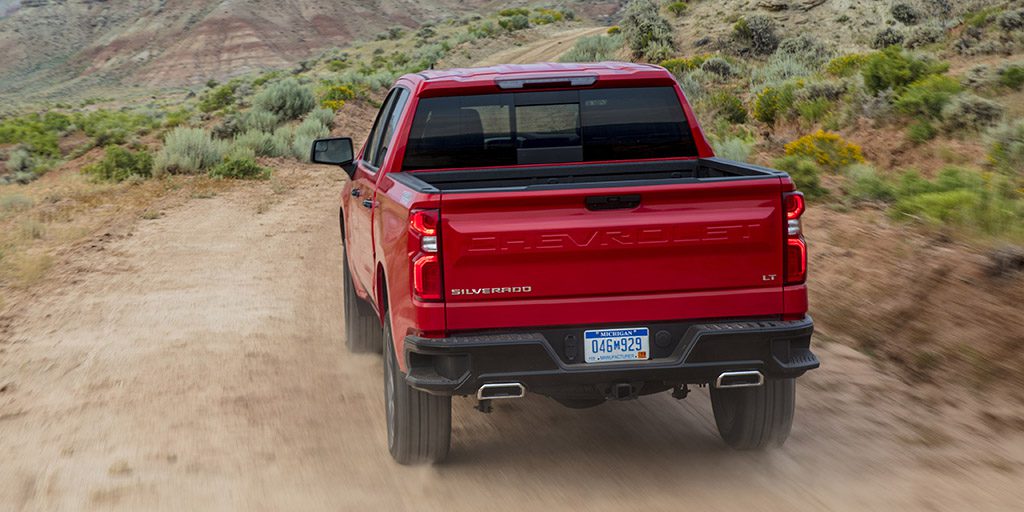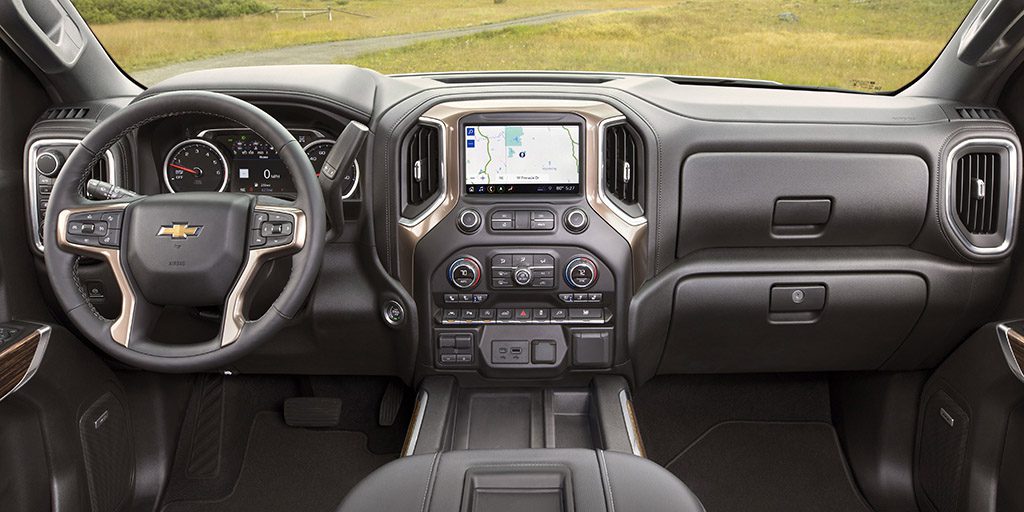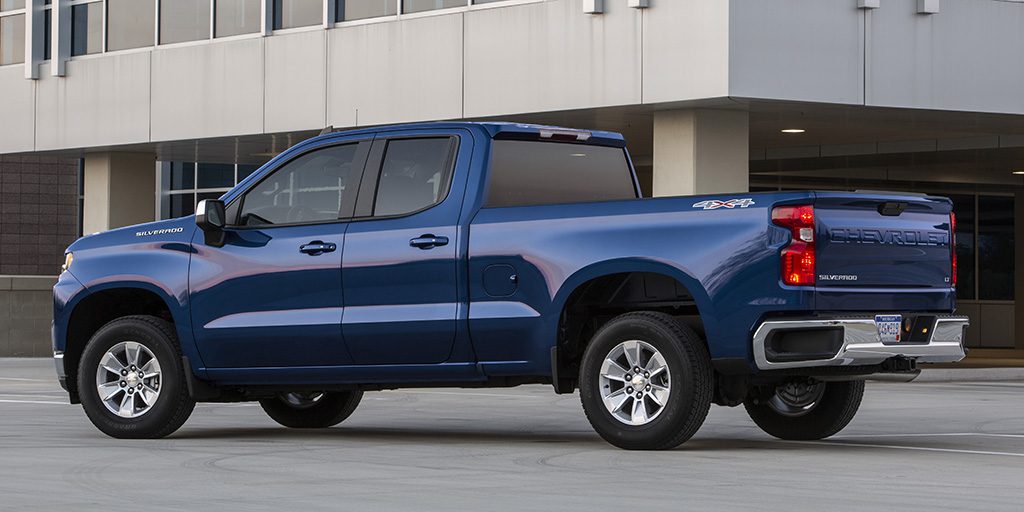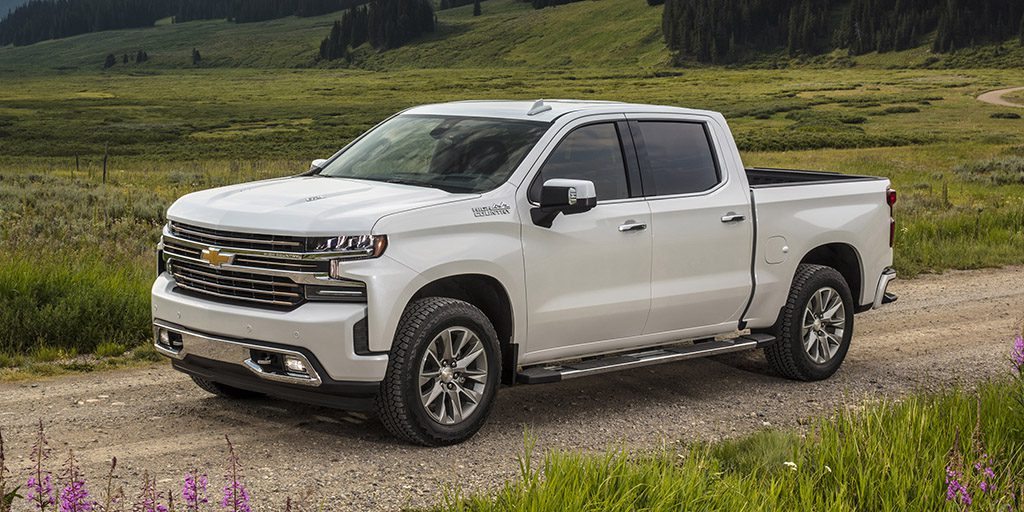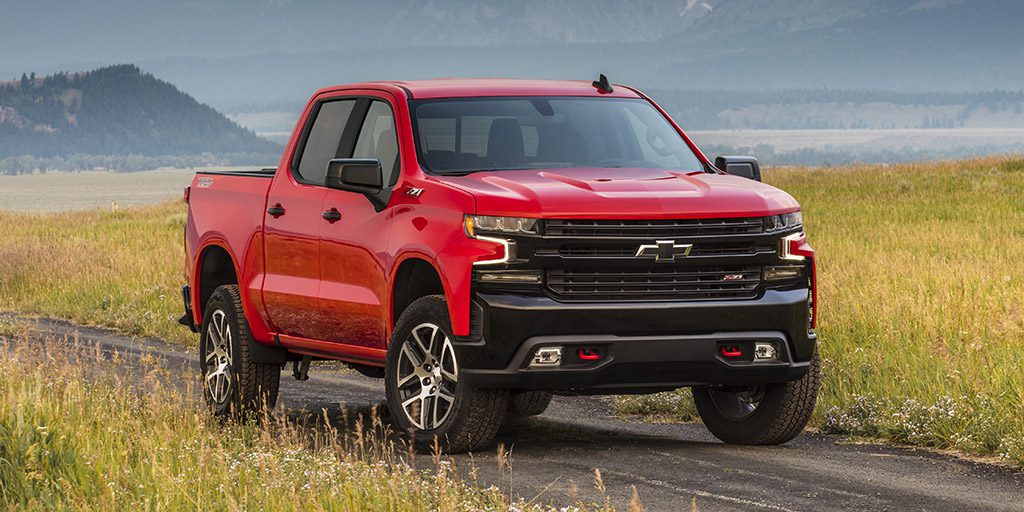 Pros:

Acceleration
Passenger room
Ride

Cons:

Interior materials
Maneuverability
The Chevrolet Silverado was redesigned for 2019 on an all-new, larger platform; it gained new powertrain choices and a host of newly available technology features. The updated 420-hp 6.2-liter and 355-horsepower 5.3-liter V8s had stop/start technology and a new fuel-saving Dynamic Active Fuel Management system that can run on two, four, six, or eight cylinders as driving conditions warranted. A 285-hp 4.3-liter V6 with Active Fuel Management also returned. Added midyear was a 310-hp turbocharged 2.7-liter 4-cylinder with Active Fuel Management and stop/start technology. The Ram 1500 is still the best-riding full-size pickup, but the Silverado also rides quite well; it also has fine handling for a large pickup. With its wide range of powertrains and features, Silverado has something to satisfy any full-size truck buyer.
Overview
Ford, GM, and Ram (nee Dodge) all introduced redesigned pickups in the late teens – with GM's and Ram's coming on line as 2019 models. And Ford has made updates to its "aging" F-150, keeping it thoroughly up to date.
The redesigned 2019 Chevrolet Silverado was initially be offered only in crew-cab form, with extended- and regular-cab versions coming later. So, too, were added engine choices, as the early models all came with a V8, though V6 and 4-cylinder turbo variants were added midyear. A turbodiesel didn't arrive until the 2020 model year.
There were eight different trim levels on offer — from traditional workhorses to loaded. Trims started with the Work Truck, essentially a "stripper" model aimed at the commercial market. Then there was the Custom, which wasn't much dressier inside but boasted a "sporty" body-colored grille and trim along with 20-inch wheels, and the Custom Trail Boss with off-road equipment and a 2-inch suspension lift. Next came a quartet of mid-line models — which made up the bulk of sales — in the form of the LT, RST (essentially a "street performance" version of the LT), LT Trail Boss, and LTZ, and then the line-topping High Country.
A few changes to the redesigned Silverado stood out. The cargo bed was about seven inches wider between the walls, which increased bed capacity. It also provided space for accessory bedside bins with locking covers allowed carrying good-sized items under lock and key. The bedside walls were also quite tall – another aid to capacity – though that meant even average-size folks standing beside the bed might have trouble reaching over the walls to grab something off the floor of the bed. There were also larger steps built into the corners of the bumpers, along with an optional power-opening and closing tailgate – a segment first – which could be done through a button on the tailgate, a "myChevrolet" app on your phone, or (lowering only) from a button inside the cab. And speaking of the bed, there were 12 standard tie-down loops – three stacked top to bottom in each corner – along with holes where several more could be affixed.
There were also a lot more high-tech features offered, notably in the area of safety equipment. Safety features included forward collision warning with pedestrian detection and low-speed automatic braking, lane-departure warning, lane-keep assist, blind-spot alert, and rear cross-traffic alert. There was also a head-up display, which Chevrolet said was a class exclusive.
Inside, the higher-line trim levels were very nicely appointed with padded dash face, door tops, and armrests. Wood trim and two-tone color combinations were available to provide a richer look.
Front and side roof pillars were fairly thick, blocking quite a bit of the view out, though rear pillars were commendably thin. Cameras were used to good advantage. Not only was there a standard rearview camera in the tailgate, but you could also get 360-degree cameras (which added them to the grille and each sideview mirror) and another mounted at the top edge of the back of the cab. With the flip of a lever, the last displayed its image across the entire surface of the inside rearview mirror, useful if passengers or cargo in the rear seat blocked the driver's view back.
Additional camera views were helpful when trailering. One sighted down over the hitch as you line up the trailer tongue, and two sighted down the sides of the vehicle rearward so the driver could tell how the trailer was tracking. Another separate camera could be affixed to the back of the trailer (via a long cable) to aid the driver when reversing.
There were a host of other trailering aids as well. For instance, the truck could be programmed to activate the trailer lights in sequence so a single person could do a light check, and – if the trailer tires were equipped with sensors – their pressure and temperature could be displayed on the dash screen to help prevent blowouts.
Powertrains included a 5.3-liter V8 with Dynamic Fuel Management (more on this later) and 8-speed automatic, and a 6.2-liter V8 with Dynamic Fuel Management and 10-speed automatic. There was also a 5.3 with Active Fuel Management and 6-speed automatic, a 4.3-liter V6 with 6-speed automatic, and a 2.7-liter turbocharged 4-cylinder engine. Whereas the pre-existing Active Fuel Management system could deactivate four cylinders under light load to save fuel, the new Dynamic Fuel Management system could run on two, four, six, or eight cylinders depending on load. Chevrolet said that a weight reduction of about 450 lbs on crew-cab models cuts 0-60 times by about 1/2 second, a notable achievement. That was probably also helped by the 8- and 10-speed automatic transmissions, which largely replaced 6- and 8-speed units in their respective applications.