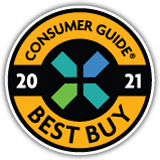 Best Buys
Most of the vehicles in the premium compact car category are a bit larger than those in the mainstream compact car class, and most of them have a more overtly sporting nature as well. There's quite a bit of diversity in this segment, with a range of body styles available. Some entries focus on luxury, some on performance, some on fuel economy. Some start as front-drive cars, others as rear-drive cars, but many also offer all-wheel-drive versions. Engines range from relatively small 4-cylinders to potent V6s, and even a couple über-muscular V8s. Prices are all over the board, with the least expensive starting below $30,000 and the most expensive topping $75,000—and that's before options.
What ties them all together, however, is that they offer refinement, amenities, and all-around athleticism above and beyond those of "normal" mainstream-brand compact cars. They also wear a more prestigious nameplate, which is a large part of their appeal as well.
HIGHLIGHTS FOR 2021
Redesigned versions of the Audi A3 and BMW 4-Series Gran Coupe are set to debut in the near future, but as of this writing it's unclear whether they'll debut as 2021 or '22 models. The Lexus IS gets a revamp for 2021; it soldiers on with its existing basic platform, but gets crisp new bodywork, improved structural rigidity, and updated suspension components. The freshened interior receives a new infotainment system with Apple CarPlay, Android Auto, and Amazon Alexa capability. IS 300 and IS 350 models are available, each in rear or all-wheel-drive form. A performance-themed IS 350 F Sport model continues as well.
The Audi A4 now has standard all-wheel drive; the previously available front-drive versions have been discontinued. A4, A4 Allroad, and A5 Sportback models now include a mild-hybrid system and 13 additional horsepower. The BMW 3-Series lineup gets a new plug-in-hybrid 330e model; it's powered by a turbocharged 2.0-liter 4-cylinder paired with an electric motor for a combined 248 horsepower. The 330e has an EPA-estimated all-electric driving range of 22 miles with rear-wheel drive and 20 miles with xDrive all-wheel drive. The M340's 3.0-liter 6-cylinder now includes a 48-volt mild-hybrid system, but its horsepower rating is unchanged at 382. The Cadillac CT4 adds some available features, including updated version of Cadillac's Super Cruise semi-autonomous driver-assistance system (with automatic lane-change capability) and a Diamond Sky appearance package. Magnetic Ride Control and a limited-slip differential are now optional on the CT4 Sport.
The Mercedes-Benz A-Class and CLA-Class sedan pick up a few new features, and the MBUX Interior Assistant is now a standalone option. The Mercedes-Benz C-Class adds heated seats and a 12.3-inch instrument cluster to the standard-equipment list. There is also a new Night Edition appearance package, and the muscular C63 now includes a panoramic sunroof. The slow-selling Jaguar XE is discontinued, leaving the E-Pace subcompact SUV as Jaguar's entry-level offering.
MODELS THAT OFFER SOMETHING UNUSUAL
Though several high-performance models are offered in this class, the most prominent at the moment are the AMG performance versions of the Mercedes-Benz C-Class. With a turbocharged 4.0-liter V8 with 469 or 503 hp, the C63 is the proverbial iron fist in a velvet glove. At the opposite end of the performance spectrum are hybrids; BMW offers the new 330e plug-in hybrid, and there is a new mild-hybrid system for the M340. The Audi A4, A4 Allroad, and A5 Sportback all include a mild-hybrid system.
Although sedans dominate the class, there is one wagon (Audi Allroad), two hatchback sedans (Audi A5 Sportback and, if a 2021 version appears, the BMW 4-Series Gran Coupe), one convertible (Mercedes-Benz C-Class), and one coupe (Mercedes-Benz C-Class).