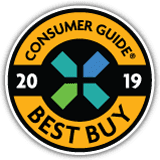 Best Buys
Most of the vehicles in the premium compact car category are a bit larger than those in the mainstream compact car class, and most of them have a more overtly sporting nature as well. There's quite a bit of diversity in this segment, with a range of body styles available. Some entries focus on luxury, some on performance, some on fuel economy. Some start as front-drive cars, others as rear-drive cars, but many also offer all-wheel-drive versions. Engines range from relatively small 4-cylinders to potent V6s, and even a couple über-muscular V8s. Prices are all over the board, with the least expensive starting below $30,000 and the most expensive topping $75,000—and that's before options.
What ties them all together, however, is that they offer refinement, amenities, and all-around athleticism above and beyond those of "normal" mainstream-brand compact cars. They also wear a more prestigious nameplate, which is a large part of their appeal as well.
WHAT'S NEW FOR 2019
The class gains two new contenders this year. The Mercedes-Benz A-Class is a new entry-level sedan that slots below the CLA-Class in Mercedes's lineup. The A-Class  comes standard with a 188-hp turbo 2.0-liter four and offer front- or all-wheel drive and several innovative new tech features. The Genesis G70 is a rear- or all-wheel-drive sport sedan that offers a 252-hp turbo 2.0-liter 4-cylinder or a 365-hp turbo 3.3-liter V6. (Genesis is Hyundai's recently launched luxury brand.)
The BMW 3-Series sedan is redesigned from the ground up on a new platform. The 330i models will be powered by a 255-hp 2.0 4-cylinder; M340i models get a 382-hp 3.0 six. All-wheel drive will be available with either engine, but sadly, a manual transmission is no longer offered—an 8-speed automatic is standard.
After its debut last year, the Audi A5 Sportback 4-door hatchback sedan adds a super-performance RS 5 model with a 444-hp twin-turbo 2.9-liter V6, special sport suspension, and unique trim. The Audi A4 undergoes some trim-level re-arranging and loses its available manual transmission. The Audi A3 loses its hatchback e-tron hybrid model and undergoes minor trim changes otherwise.
The Mercedes-Benz CLA-Class undergoes a refresh that includes subtle styling updates, interior tech upgrades, new and enhanced safety systems, and more horsepower—the C300's turbo four now makes 255 hp instead of 241, and the AMG C43's turbo V6 puts out 385 hp instead of 362. The Mercedes C-Class line loses its C350e hybrid model. The Acura ILX gets a styling facelift, updated infotainment system with Apple CarPlay/Android Auto capability, and the AcuraWatch suite of safety features as standard equipment. The Lexus IS gets available triple-beam headlights and smart watch/Amazon Alexa connectivity; Lexus says the engine software on rear-drive IS 300s has been improved for better throttle response and improved shifting.
The Cadillac ATS's sedan body style is dropped, leaving only a two-door coupe version. As such, we've relocated the ATS to our premium sporty/performance car category. (Cadillac might return to the compact sedan market with a new model in the future.) The rest of the premium compact car class sees either no noteworthy changes or minor updates such as updated infotainment systems, new appearance packages, and/or a shuffling of trim levels and standard/optional equipment.
MODELS THAT OFFER SOMETHING UNUSUAL
Though several high-performance models are offered in this class, the most prominent are the AMG performance versions of the Mercedes-Benz C-Class. With a turbocharged 4.0-liter V8 with 469 or 503 hp, the C63 is the proverbial iron fist in a velvet glove.
At the opposite end of the performance spectrum are hybrids. Audi and Mercedes-Benz have dropped the plug-in hybrid versions of the A3 and C-Class, but BMW is planning to add a new 330e plug-in-hybrid model to the 3-Series lineup for 2020. The Jaguar XE offers a diesel engine option.
Although sedans dominate the class, there are two wagons (Audi Allroad and BMW 3-Series wagon), three hatchbacks (Audi A5 Sportback; BMW 3-Series Gran Turismo and 4-Series Gran Coupe), two convertibles (Audi A3 and Mercedes-Benz C-Class), and one coupe (Mercedes-Benz C-Class).