Pros: Superb handling that rewards good driving skills; true sports-car personality; relatively affordable pricing
Cons: Low-slung body and long doors make for tricky entry and exit; barely usable back seat; driver-assistance features available only with automatic transmission
CG Says: After skipping the 2021 model year, the Subaru BRZ gets an extensive makeover for 2022, gaining a more powerful engine, a stiffer body structure, fresh styling, and revised suspension. The design of this rear-wheel-drive sports car is shared with Toyota, which offers it as the GR 86. The two cars differ in styling, trim, and tuning details.
Like the GR 86, the BRZ has a horizontally-opposed 4-cylinder engine; for 2022, it's a 2.4-liter unit with 228-horsepower, a jump of 23 horsepower over the previous 2.0-liter. A 6-speed manual transmission is standard, with a 6-speed automatic optional. Premium and Limited trim levels are offered. Among the Limited's additional equipment are performance-oriented tires on 18-inch wheels instead of 17s.
Interior dimensions on the 2022 BRZ are basically unchanged from the previous design. It's technically considered a four seater, but the back seat is really only suited for small passengers and short trips. The back seat does, however, fold down to make more room for carrying small items. The dashboard is redesigned, gaining a digital instrument display and a center-mounted 8.0-inch touchscreen. It controls the infotainment features, which include Apple CarPlay/Android Auto connectivity. Newly available are several driver-assistance systems, including automated emergency braking, lane-departure warning, and adaptive cruise control. Unfortunately, these features aren't offered on manual-transmission BRZs.
Driving enthusiasts have long cherished the Subaru BRZ's lively spirit and deeply rewarding road manners. This revamped 2022 version enhances that impression, with the added horsepower that some drivers wished for, as well as suspension updates that sharpen the allure of this fine sporting machine. Granted, the BRZ's rear-wheel drive and cramped rear seat rule out its use as an all-weather, day-to-day hauler for most people. But those who can really appreciate the BRZ's soulful driving personality probably won't care. And with prices that start below $30,000, the experience is well within reach of many buyers.
The Facts
Class
Sporty/Performance Car
Body Style(s)
2-door coupe
Passenger Count
4
Drive Wheels
rear-wheel drive
Manufacturer
Subaru
Nation of Manufacture
Japan
Base Prices
Premium Manual: $28,955
Premium Automatic: $30,555
Limited Manual: $31,455
Limited Automatic: $33,255
Base Engine
2.4-liter 4-cylinder
Horsepower
228
Std. Transmission
6-speed manual
Avail. Transmission
6-speed automatic
EPA City Range (mpg)
20-21
EPA Hwy Range (mpg)
27-30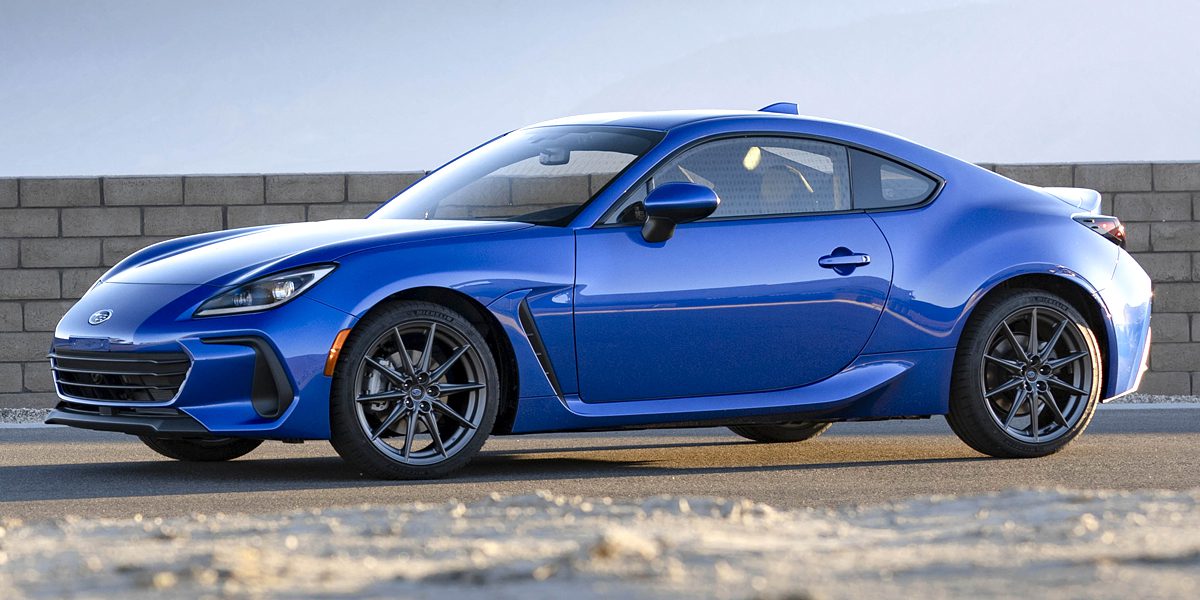 Road Tests and Additional Info