Premium sporty/performance car; Built in Germany
longitudinal front-engine/rear-wheel drive
Good condition price range: $3,000 – $15,500*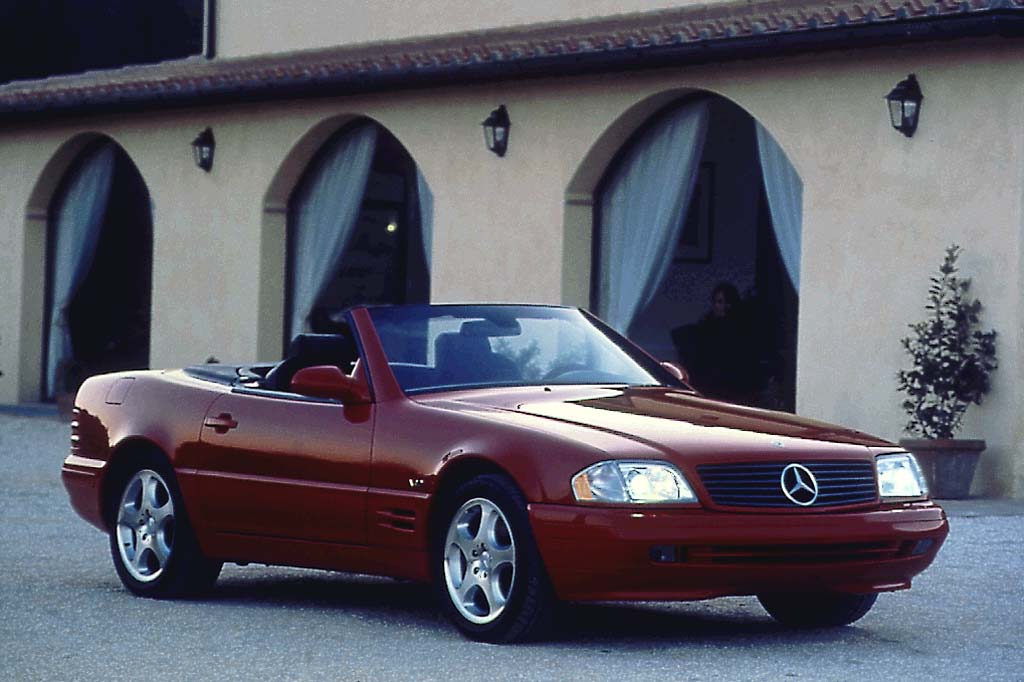 2000 Mercedes-Benz SL600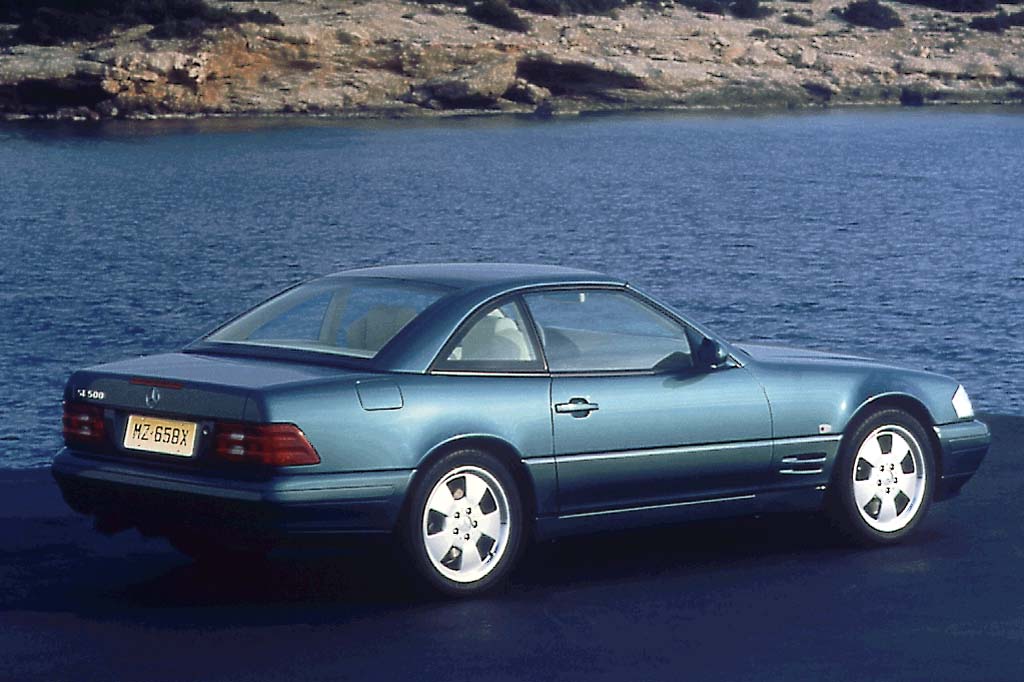 2000 Mercedes-Benz SL500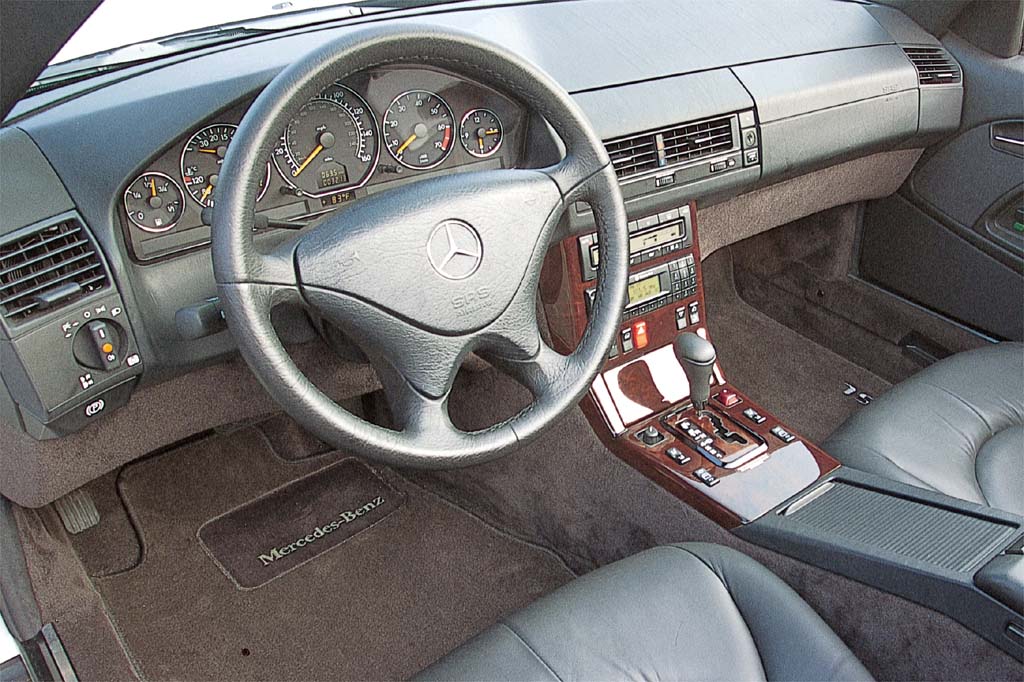 2001 Mercedes-Benz SL-Class interior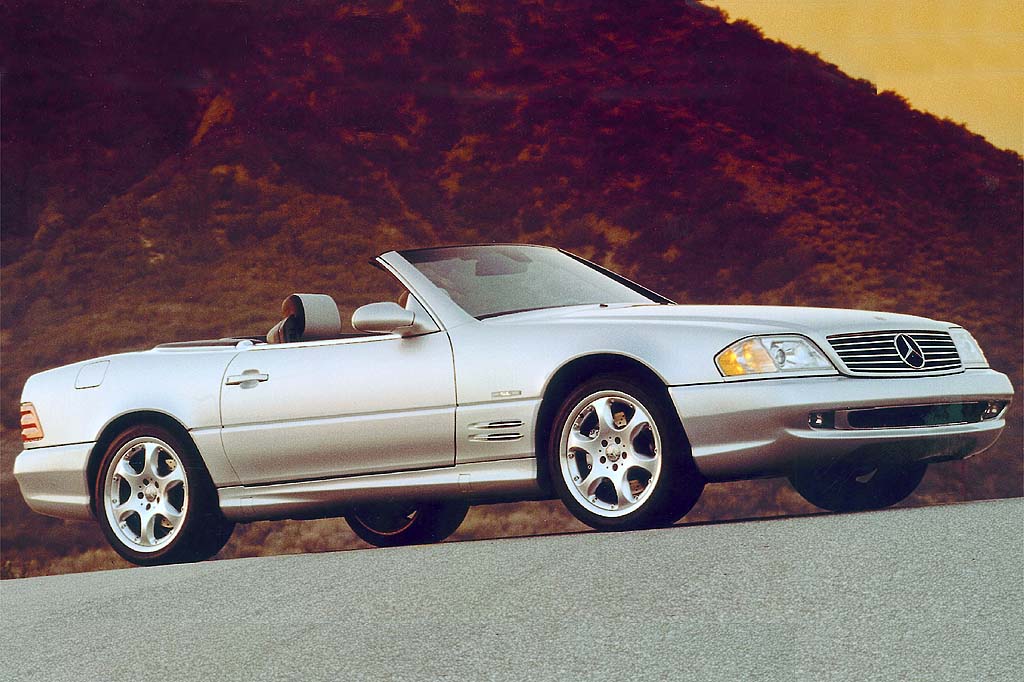 2001 Mercedes-Benz SL500 Silver Arrow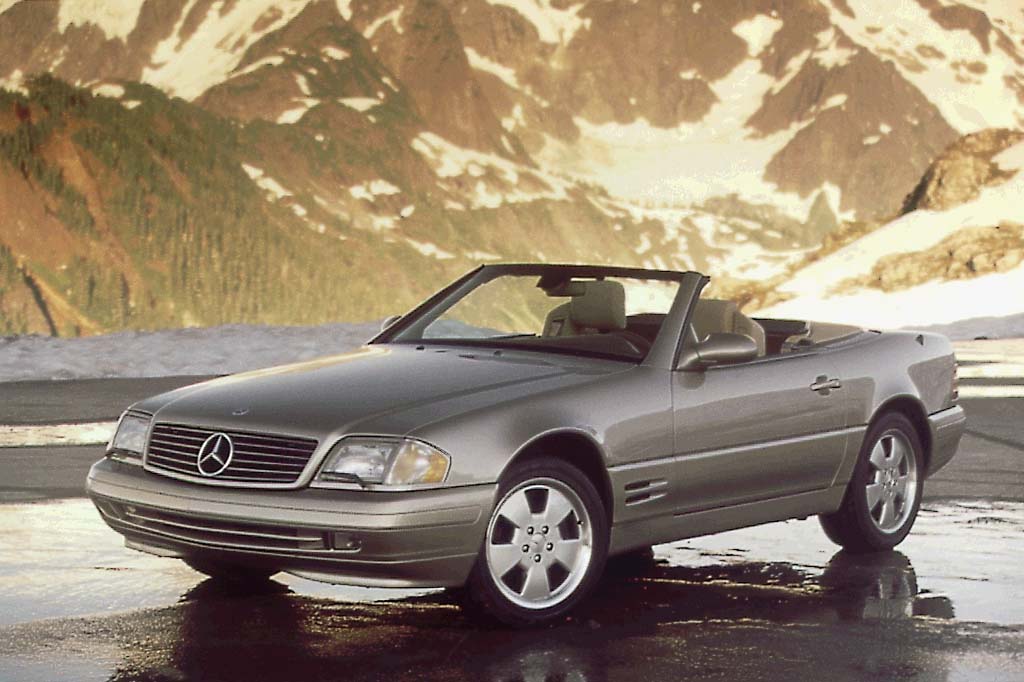 2000 Mercedes-Benz SL500
Pros:

Acceleration (V8, V12)
Build quality
Exterior finish
Interior materials
Steering/handling
Brake performance

Cons:
Even though they're too heavy and bulky to rank as sports cars, precious few automobiles provide open-air motoring with this much comfort, safety, style, and speed.
Overview
After 18 years in its prior form, a new SL two-passenger roadster debuted for 1990, with a choice of two engines. The 300SL used a 228-horsepower, 3.0-liter inline six-cylinder. A 5.0-liter V8, producing 322 horsepower, went into the 500SL. Each engine had dual-overhead camshafts and a four-valve-per-cylinder configuration.
Built on a new rear-wheel-drive platform with a 99-inch wheelbase, the two-seater's body was 4.3 inches shorter overall than its predecessor. Both models were heavier, too. The 300SL weighed 458 pounds more than the previous model, while the new 500SL tipped the scales at 265 pounds more than the former 560SL.
Both versions of Mercedes' luxury coupe/convertible came with a removable aluminum hardtop as well as a power soft top. A five-speed manual transmission was standard in the 300SL, with five-speed automatic optional. The 500SL came only with a four-speed automatic transmission.
Safety was a major design factor in the new convertibles. A rollover bar was designed to flip into position between the seats when needed. Made of foam-covered steel tubing, the bar lay flush with the rear tonneau cover, ready to deploy within 0.3 second if sensors detected an impending rollover incident. The bar could be raised and lowered via a dashboard button, if desired. Antilock braking also was standard.
Yearly Updates
1991 SL-Class
Technology took center stage for 1991. Acceleration Slip Regulation (ASR), Mercedes' traction-control system, became optional on SL models with an automatic transmission. The ASR system applied brake force to the drive wheel that was about to slip, and also reduced engine power if needed to maintain traction. An ASD (antilocking differential) joined the option list for 300SL models with manual shift. That system engages only at speeds up to 18 mph. Also newly optional was an automatically adjustable suspension, called the Adaptive Damping System. This one adjusted shock-absorber firmness several times per second at each wheel, to one of four settings, based on road surface and how the car was being driven.
1992 SL-Class
No significant changes were evident for 1992.
1993 SL-Class
A new 600SL model debuted this year, with a V12 engine that produced 389 horsepower. The V8 in the 500SL lost 7 horsepower, now rated at 315.
1994 SL-Class
An inline 3.2-liter six-cylinder engine ousted the 3.0-liter from 300SL models. Torque output grew, but the new engine had the same 228-horsepower rating as its predecessor. At the same time, model designations switched to SL320 and SL500. A Bose Acoustimass sound system now was standard.
1995 SL-Class
A new Electronic Traction System went on the SL320 for 1995, able to control the throttle as well as the brakes. A portable cellular phone with voice-activated dialing joined the option list.
1996 SL-Class
Side-impact airbags went into 1996 models. A new Electronic Stability Program (ESP) antiskid system became standard on the SL600 and optional on the SL500. It used sensors to monitor steering angle, individual wheel speed, lateral acceleration, and brake pressure to determine when the car was sliding. The ESP system then applied brakes to individual wheels as needed, to help maintain control. All models got a fresh grille, body-color bumpers, and 12-hole alloy wheels. Both the V8 and V12 now drove a five-speed automatic transmission. New xenon high-intensity-discharge headlights were standard on the SL600 and optional for the SL500.
1997 SL-Class
A unique new "panorama" hardtop became available as an optional alternative to the standard lift-off aluminum roof. Heat-resisting tinted glass ran the full length of the new top. A new front-seat occupant-detection sensor could deactivate the right-side airbag when it determined that the passenger seat held less than 26 pounds. An integrated HomeLink transmitter was installed, and a new rain sensor varied the intermittent wiper rate to match actual precipitation.
1998 SL-Class
Mercedes-Benz dropped the six-cylinder SL320, leaving only V8 and V12 models. Those added Brake Assist and a new Baby Smart feature that could recognize the presence of a child seat.
1999 SL-Class
Revised internally this year, the V8 engine dropped to 302 horsepower. Exterior trim was now body-colored, and 17-inch wheels became standard.
2000 SL-Class
New options for 2000 included heated seats and an adaptive suspension for the V8 version. Mercedes' TeleAid emergency system became standard. A Sport package featured newly designed 18-inch wheels, high-performance tires, and different lower-body styling.
2001 SL-Class
Both SL models got "aerodynamic" lower-body styling created by AMG, Mercedes' performance division. The SL600 rode on new two-piece AMG wheels. The TeleAid system added remote door unlocking, vehicle diagnostics, and alarm monitoring.
2002 SL-Class
Changes were few for the short 2002 season, as Mercedes-Benz prepared to launch a redesigned SL as an early 2003 model.