Minivan; Built in USA
3-door van
3-door van
3-door van
longitudinal front-engine/rear- or all-wheel drive
Good condition price range: $1,000 – $7,000*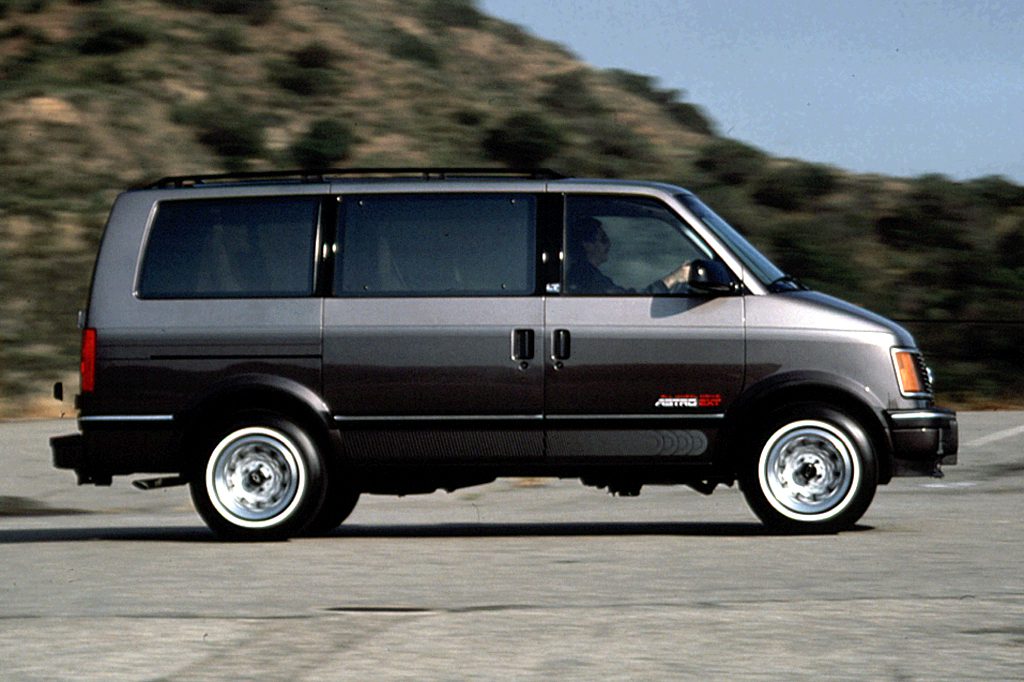 1991 Chevrolet Astro AWD extended length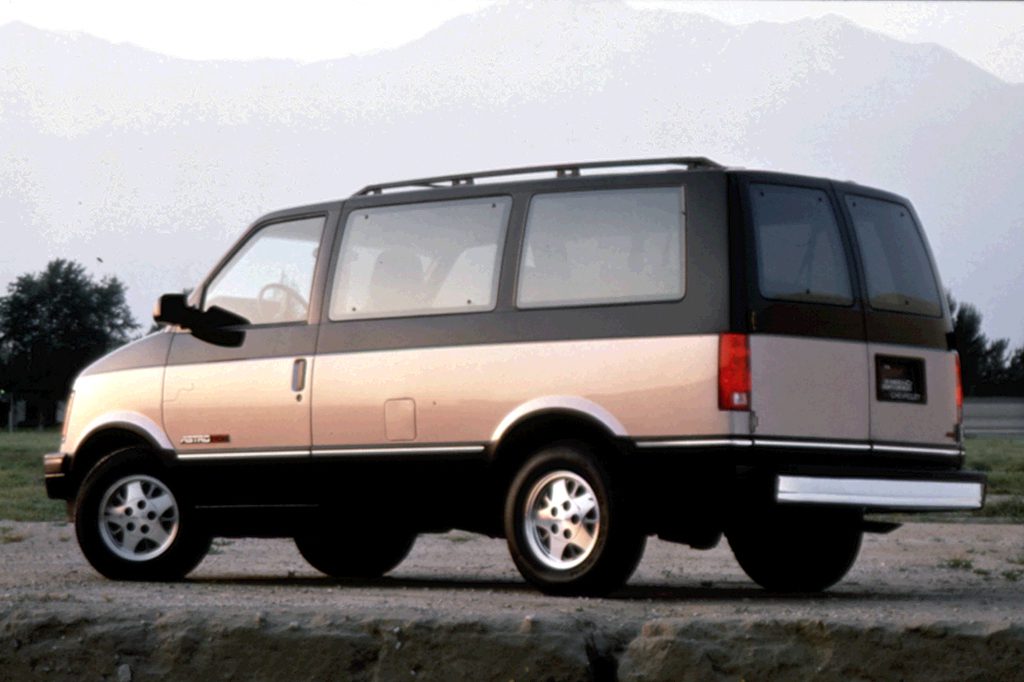 1993 Chevrolet Astro CL extended length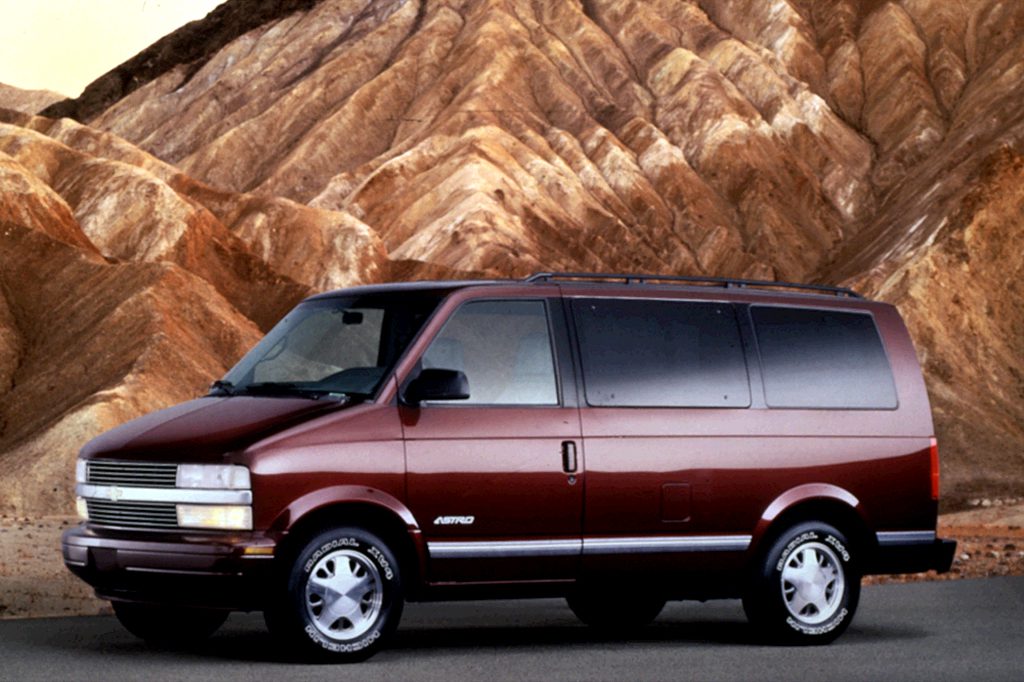 1995 Chevrolet Astro CL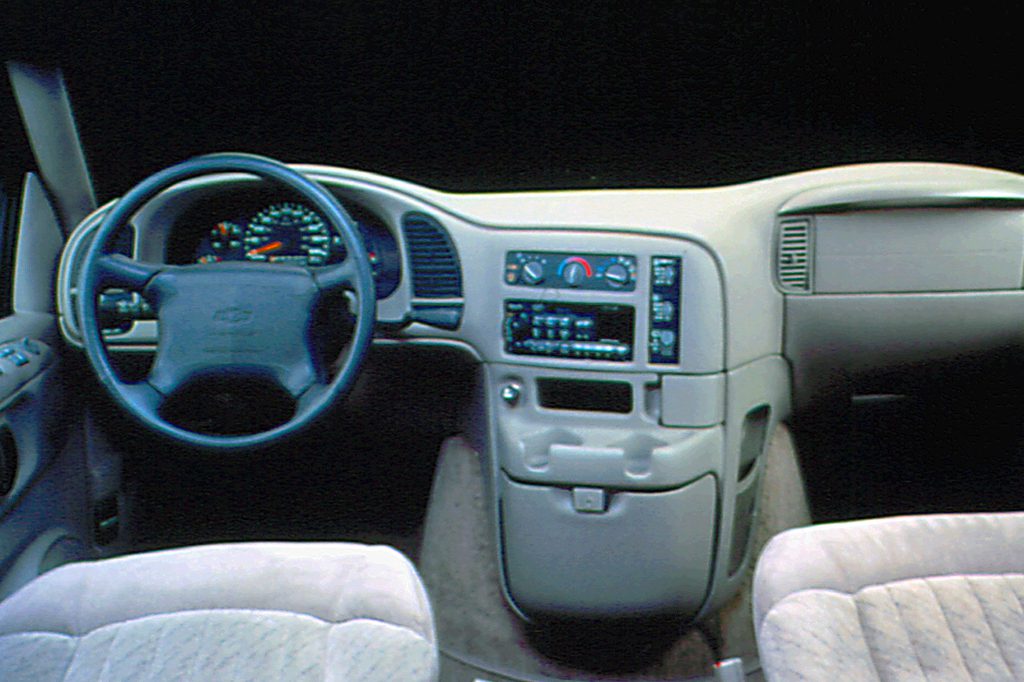 1996 Chevrolet Astro interior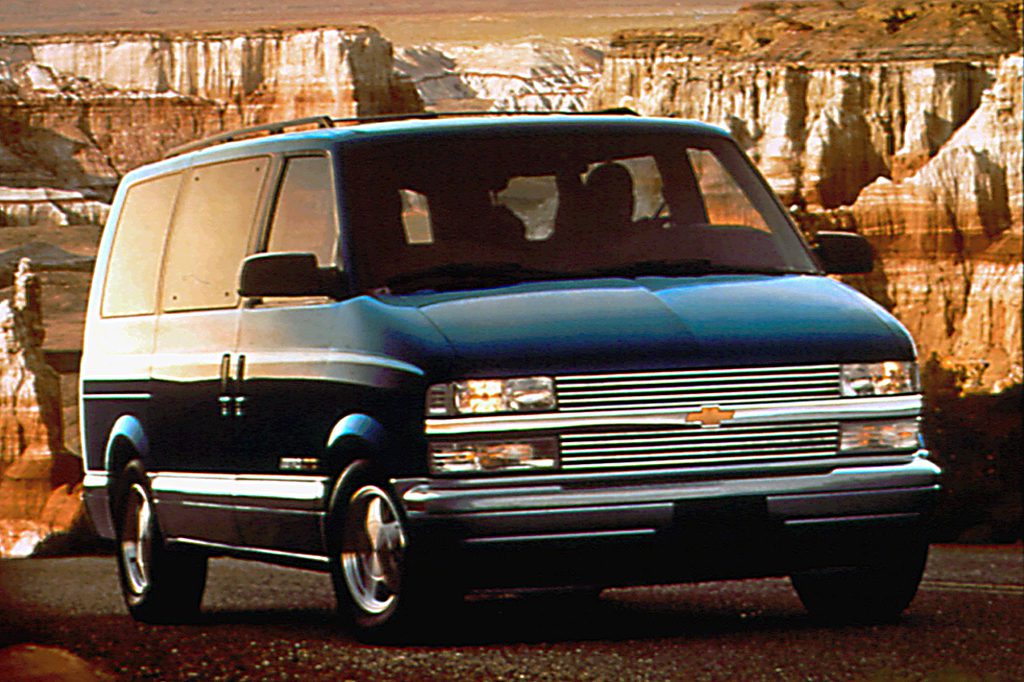 1997 Chevrolet Astro LT AWD
Pros:

Antilock brakes
Optional AWD traction
Passenger and cargo room
Trailer-towing capability

Cons:

Entry/exit
Fuel economy
Ride
Like the now-extinct Ford Aerostar, the Astro and its GMC Safari cousin are truck-based vehicles, better suited to heavy-duty work than are front-drive minivans. Trucklike behavior could be a turnoff unless you need Astro's brand of brawniness for towing or other demanding applications.
Overview
Introduced for 1985, Chevrolet's rear-drive minivan and its GMC Safari counterpart are taller, tougher, and more trucklike than Dodge/Plymouth rivals (which are front drive). A properly equipped Astro could haul up to 6000 pounds. Five-passenger seating was standard, but Astros could be equipped to hold up to eight occupants. Starting in 1990, antilock brakes acted on all four wheels (front-disc/rear-drum). Full-time 4-wheel drive also arrived as an option for 1990. An extended-length body was added during the model year, with ten inches tacked onto the rear for nearly 19 extra cubic feet of cargo capacity.
Yearly Updates
1991 Astro
A more powerful, high-output V6 became available in 2WD models during '91. All outboard seats now had lap/shoulder belts.
1992 Astro
Still another high-output engine joined the Astro option list. This one developed 200 horsepower. A new "Dutch" rear-door option featured a one-piece glass liftgate with separately opening split panel doors below.
1993 Astro
Astro's 4-speed automatic transmission gained electronic shift controls, plus a second-gear start feature for improved slippery-surface traction. The base engine gained 15 horsepower, and speedometers now were calibrated to 100 mph instead of 85.
1994 Astro
The driver-side airbag became standard in all Astros. Side-door guard beams went into front doors and the sliding side door, while a center high-mounted stoplamp was installed in the roof.
1995 Astro
Facelifted with a new grille and nose for 1995, all models now came with extended bodies and a 190-horsepower engine. CL and LT option groups featured new composite headlamps and body-colored fascias.
1996 Astro
A passenger-side airbag went into Astros for 1996, along with a new dashboard that contained rotary controls and a locking glovebox. Horsepower remained at 190 but torque dropped by ten pound-feet, peaking at lower rpm than before. New spark plugs were said to last 100,000 miles. A new engine cover increased front foot room and contained molded-in cupholders.
1997 Astro
Speed-sensitive power steering and daytime running lights went into the '97 Astro. Optional leather upholstery became available later in the model year.
1998 Astro
Astro gets only exterior color changes and a revised transmission for '98.
1999 Astro
Astro's all-wheel-drive system was revised so that power was only sent to the front wheels when needed for maximum traction. Other changes included a standard overhead console on LS and LT trimmed models.
2000 Astro
Eight-passenger seating became standard this year, so no more 5-passenger models were available. A 7-passenger setup with two second-row buckets remained as an option. Chevrolet claimed that internal changes made the Astro's engine quieter and smoother for 2000. A Tow/Haul mode was added for more-efficient shifting when carrying heavy loads. New standard features included headlamps that switch on automatically in low-light conditions, a larger fuel tank made of plastic instead of metal, and retained accessory power that permits operating electrical accessories for up to 20 minutes after shutting off the ignition.
2001 Astro
A tilt steering wheel, cruise control, CD player, remote keyless entry, and power windows, mirrors and locks were newly standard in 2001.
2002 Astro
Cargo models offered remote keyless entry and a rear heater for 2002.
2003 Astro
The standard antilock brakes are upgraded to an all-disc setup and wheels are increased by one inch to 16-inches on all models.
2004 Astro
There were no significant changes made in 04.
2005 Astro
There were no significant changes made in 04.