Midsize car; Built in USA, Japan
4-door sedan
4-door wagon
longitudinal front-engine/front- or all-wheel drive
Good condition price range: $1,000 – $2,000*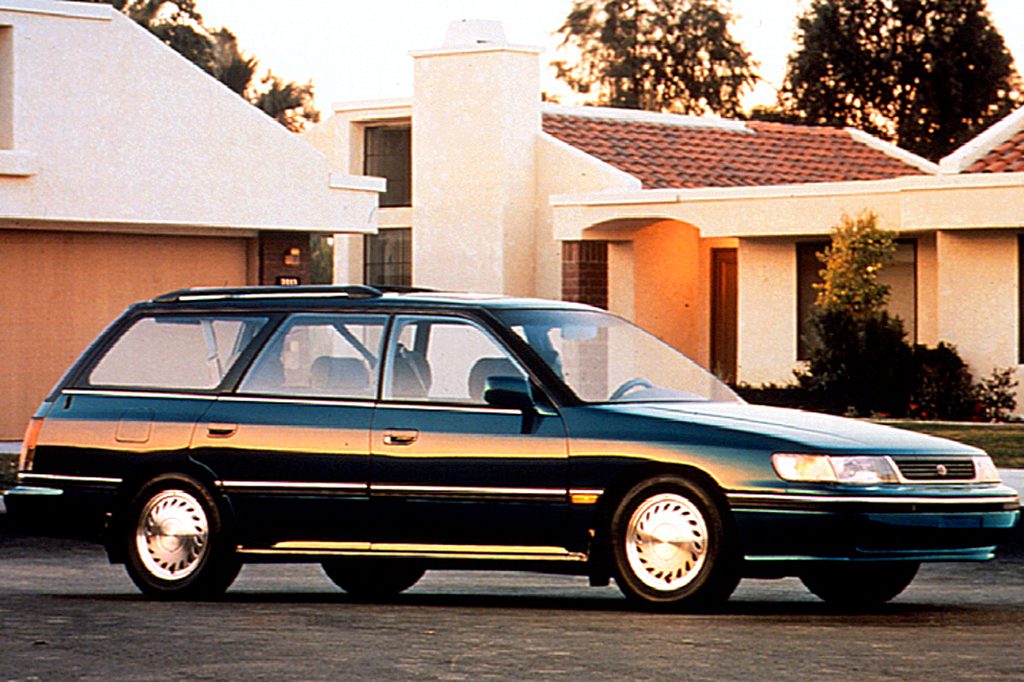 1990 Subaru Legacy LSi 4-door wagon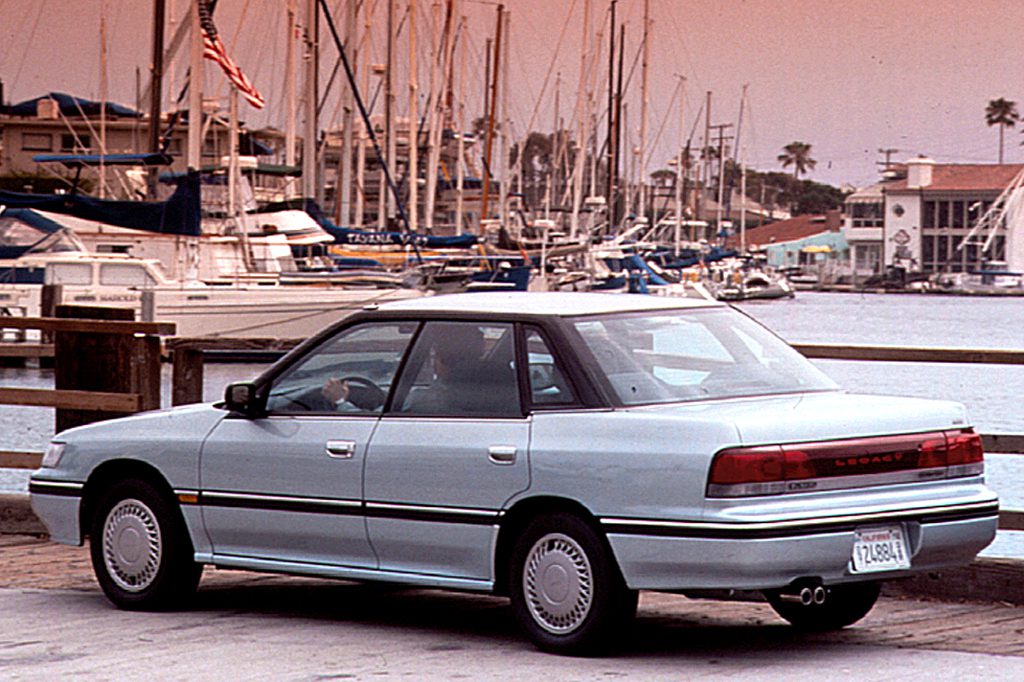 1992 Subaru Legacy L 4-door sedan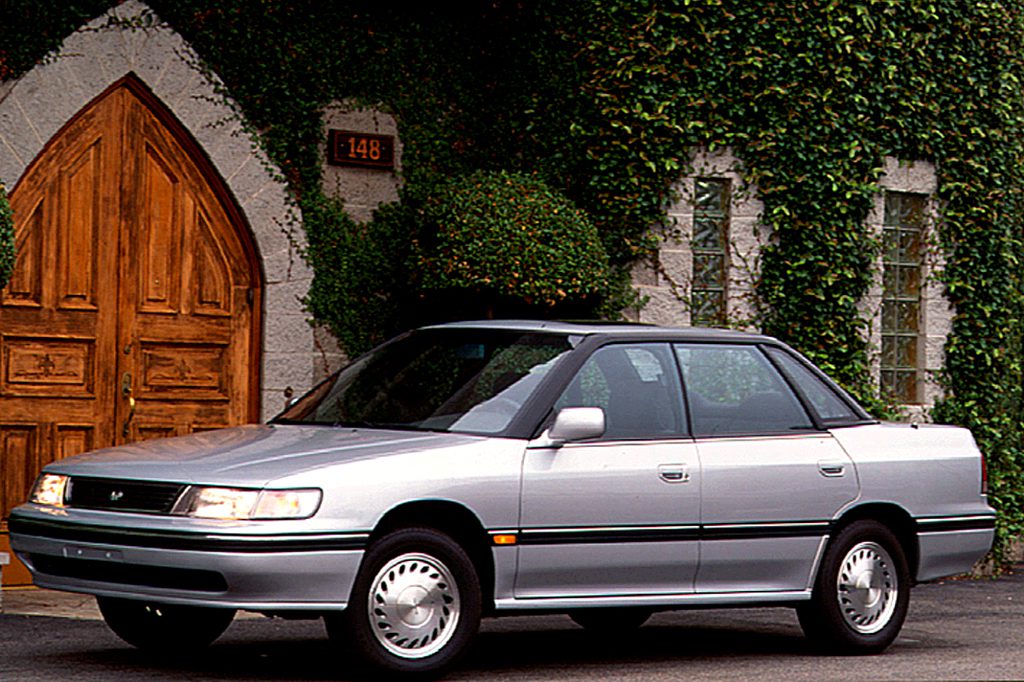 1992 Subaru Legacy LS 4-door sedan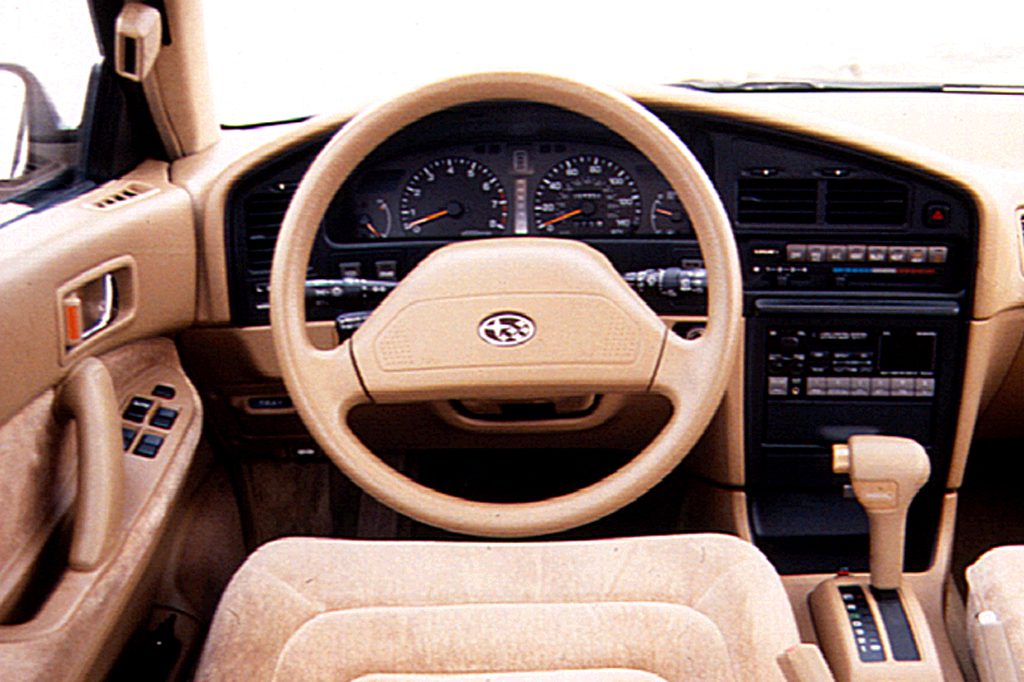 1990 Subaru Legacy interior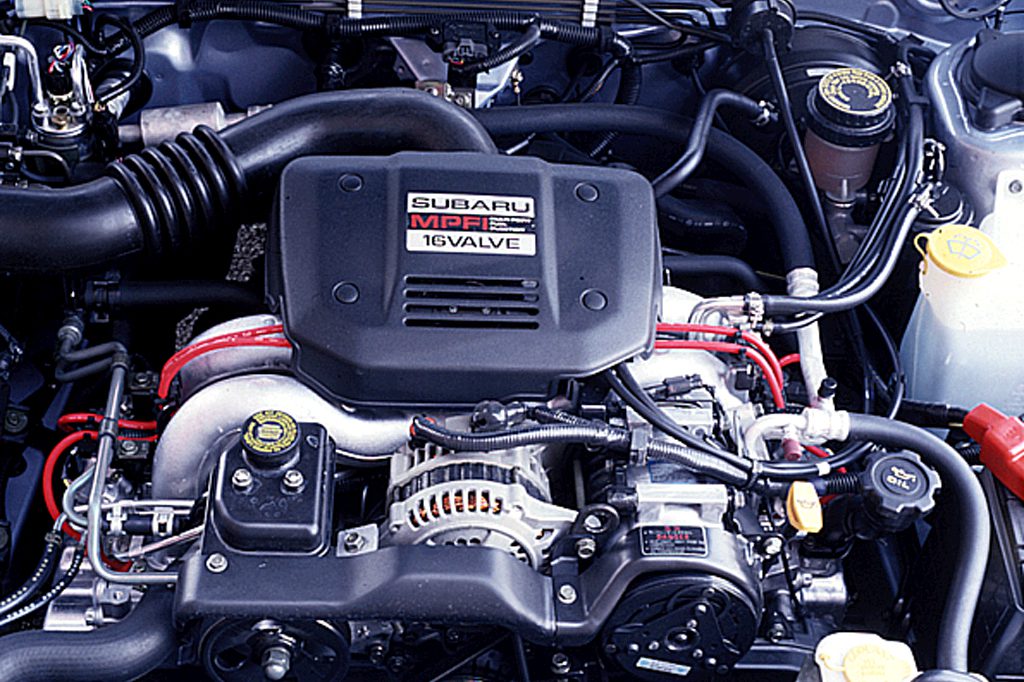 1990 Subaru Legacy engine
Pros:

Acceleration (turbo)
Antilock brakes (optional)
Handling/roadholding
Wet-weather traction (AWD)

Cons:

Manual-transmission linkage
Fuel economy
Noise
While the Legacy is not an outstanding value, the Subaru AWD models have few competitors, unless you step up to a sport-utility vehicle and risk losing your carlike amenities.
Overview
Legacy models are larger and more refined than the Subaru Loyale. They rode on a 101.6-inch wheelbase, 4.4-inches longer than before. Both the sedan and wagon arrived in L and LS trim levels, with either front-wheel drive or permanently engaged 4-wheel drive (all-wheel drive, or AWD). All models used a 130-horsepower 2.2-liter flat (horizontally opposed) 4-cylinder engine with four-valves-per-cylinder heads. The new Subaru engine could be paired with either a 5-speed manual or 4-speed automatic transmission. Power steering and 4-wheel disc brakes were standard on all models. Antilock brakes were optional on AWD LS models and on AWD L models with the Value Plus Option Package.
Yearly Updates
1991 Legacy
The Legacy Sport Sedan and the LSi luxury sedans join the L and LS models introduced last year. The Sport Sedan has exclusive use of a new 160-horsepower turbocharged version of the 130-horsepower 2.2-liter flat-4 that's standard on other Legacys. The sport sedan also comes with permanently engaged 4-wheel drive.
1992 Legacy
A new driver-side airbag and a mild facelift are the primary changes made to the 1992 Legacy. The new airbag is standard on LS and LSi Legacys and optional on L models, and was added to the options list of the Sport Sedan later in the model year. Other new features include a "pass-through" opening in the rear seat (on all but the L), a dash-mounted slide-out cupholder, and rear-seat heater ducts.
1993 Legacy
The driver-side airbag that arrived last year, as well as other new equipment, become standard this year on the base-model Subaru L. In addition, two new wagon models join the lineup. Added to the L and LS versions are an LSi luxury model and a sporty Touring Wagon model. The new Touring Wagon joins the Sport Sedan model in providing the 160-horsepower turbocharged 2.2-liter Subaru motor. It comes paired with a standard 4-speed automatic transmission and all-wheel drive.
1994 Legacy
To spark sales for '94, Subaru adds new series of "active lifestyle" versions to its four distinct trim levels of sedans and station wagons. The four new lifestyle models are called "Sun Sport," "Alpine Sport," "GT lifestyle," and "Outdoor lifestyle." All are based on the Legacy L wagon and each comes with its own distinctive interior fabrics, exterior trim, and alloy wheels. Sun Sport is the only one of the four with front-wheel drive; the other three are AWD models.