Midsize car; Built in USA, Mexico
transverse front-engine/front-wheel drive
Good condition price range: $1,000 – $1,800*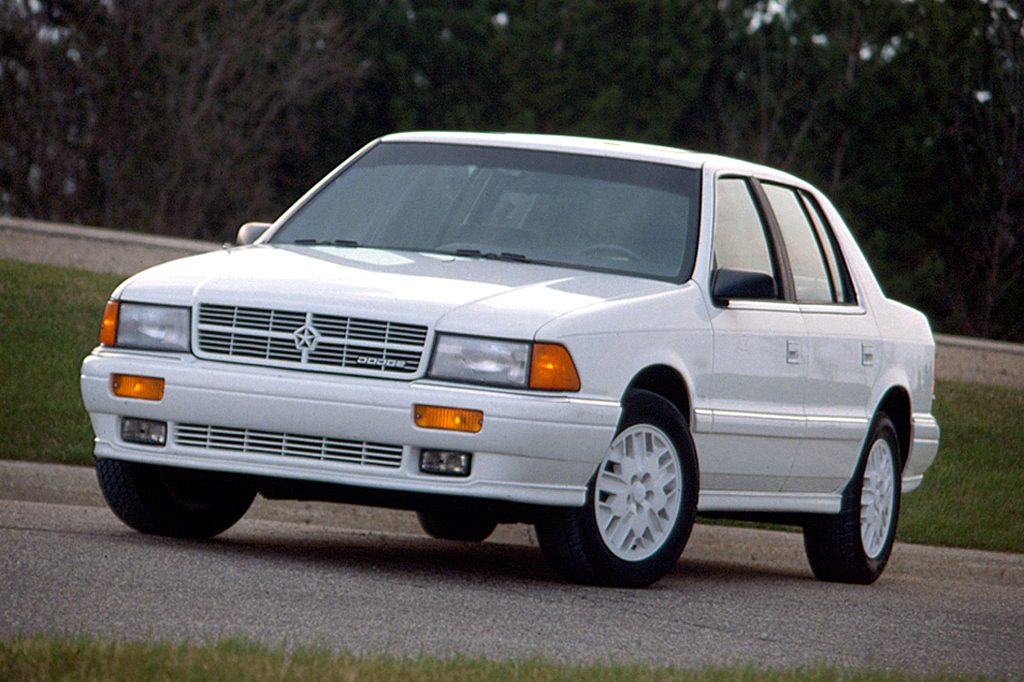 1991 Dodge Spirit ES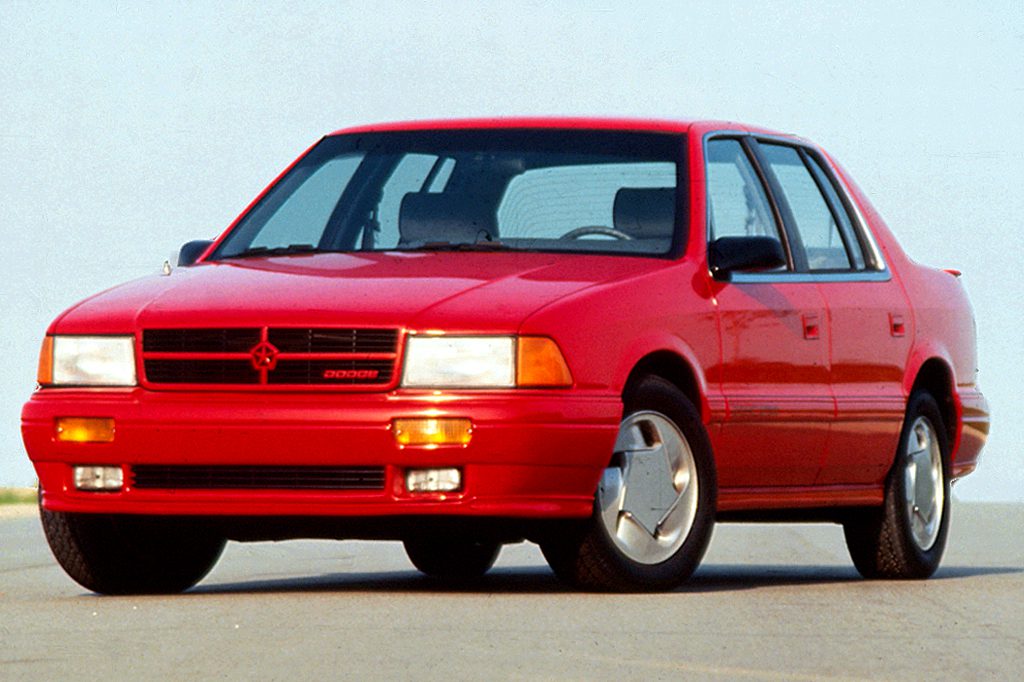 1992 Dodge Spirit R/T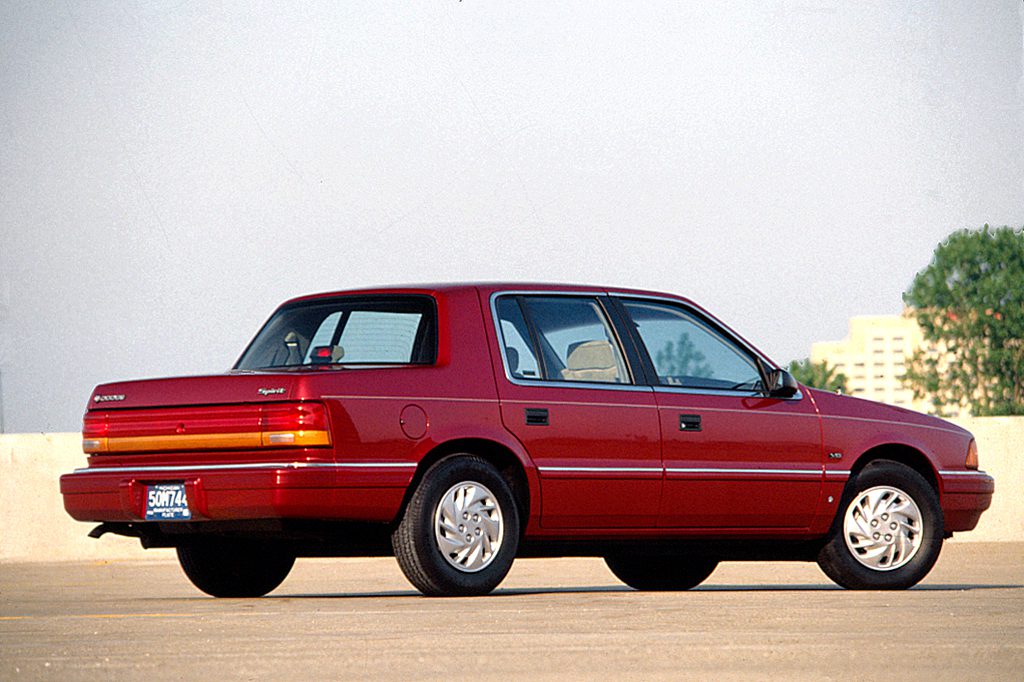 1993 Dodge Spirit

1993 Dodge Spirit ES interior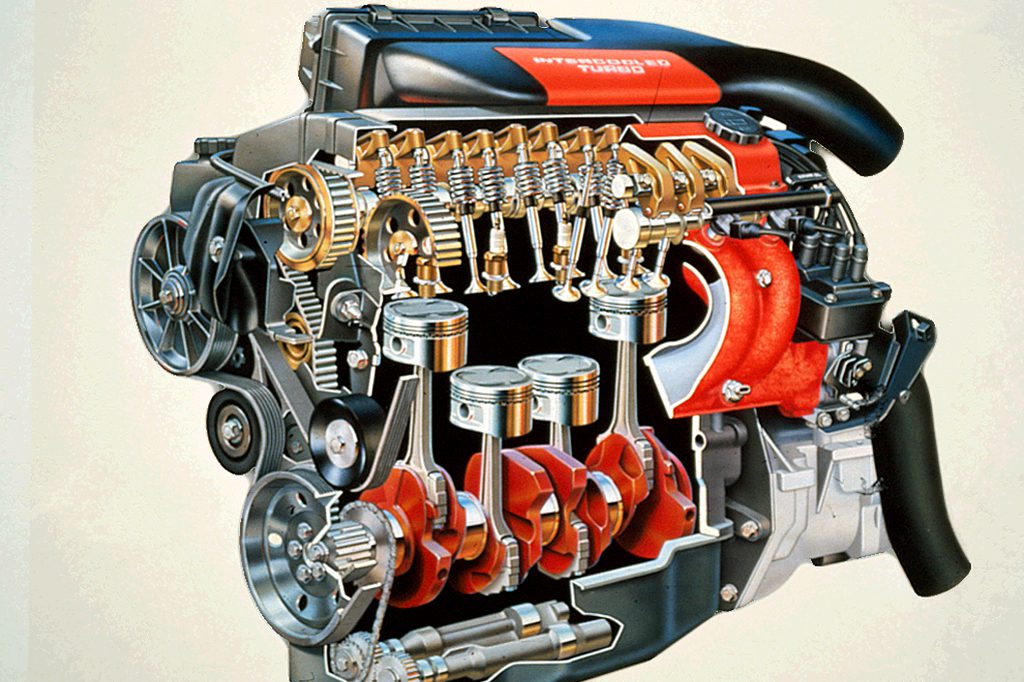 1991 Dodge Spirit R/T engine
Pros:

Acceleration (V6, Turbo)
Antilock brakes (optional later models)
Passenger and cargo room

Cons:

Engine noise (4-cylinder)
Rear-seat comfort
Ride
Road noise
Wind noise
Solid, spacious, and competent, a Spirit might fail to stimulate anyone's spirit–unless it happens to be the wheel-twisting R/T, that is. Even in tamer form, Dodge's practical domestic sedan is worth a look.
Overview
Introduced in January 1989, Dodge's compact Spirit front-drive 4-door sedan and the nearly identical Plymouth Acclaim were three inches longer in wheelbase than Aries/Reliant, which they replaced. Spirits came in base, LE, and sporty ES trim. Early models lacked a driver-side airbag, but that safety feature arrived as the regular 1990 model year began. All-disc brakes went into the ES at that time, too. Spirits had three engine choices: a standard 2.5-liter 4-cylinder, optional 3.0-liter V6, and a turbo that was standard in the ES. Base Spirits held front bucket seats and 14-inch tires, with a front bench and split-back rear seat optional.
Yearly Updates
1991 Spirit
Antilock braking became optional for '91 on all models. ABS included the all-disc brake setup, which was otherwise standard only on top models. Dodge went all out for performance in 1991-92 with a limited-edition Spirit R/T, powered by a potent turbocharged engine. The R/T was produced only in limited numbers.
1992 Spirit
Gear ratios in the high-performance Spirit R/T were revised to produce even quicker acceleration. Suspension retuning also was intended to boost its handling response. For the first time, a 3-speed automatic transmission (instead of 4-speed) was available with the V6 engine.
1993 Spirit
No more turbocharged engines were available signalling the end of the Spirit R/T. Only two trim levels went on sale: Highline and ES. Both had a new color-keyed grille and revised taillamps, plus a stainless steel exhaust system and tinted glass.
1994 Spirit
A motorized front passenger seatbelt was installed to meet federal passive restraint requirements.
1995 Spirit
Final Spirits had few options, including the deletion of antilock brakes. Only a 3-speed automatic transmission remained available.