Premium midsize car; Built in Germany
2-door convertible
2-door coupe
4-door sedan
4-door wagon
longitudinal front-engine/rear-wheel drive
Good condition price range: $1,100 – $7,800*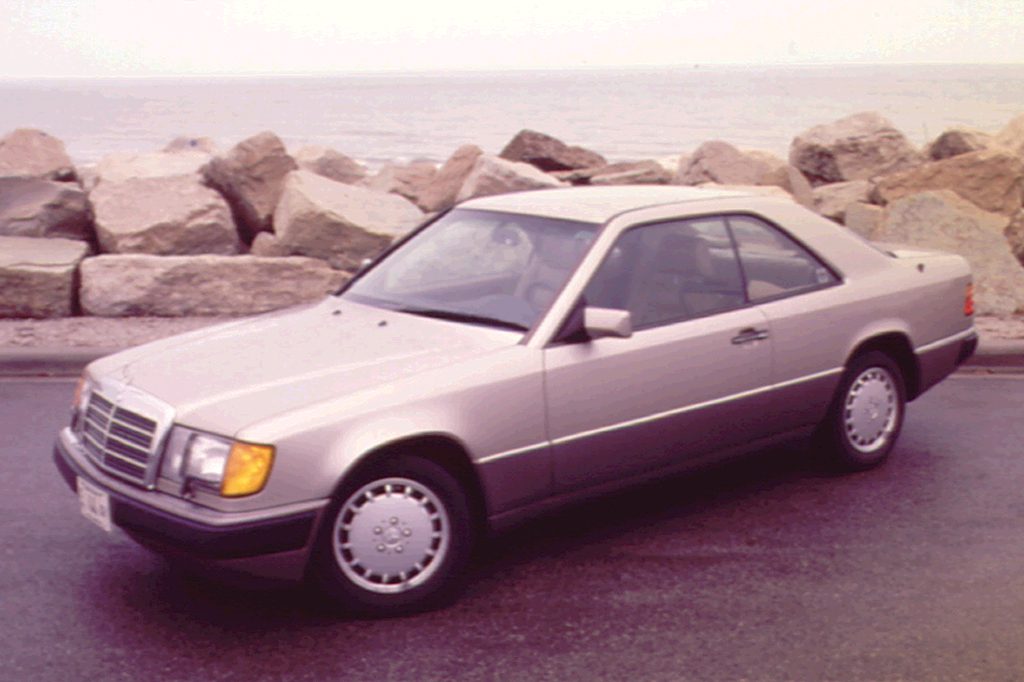 1990 Mercedes-Benz 300CE 2-door coupe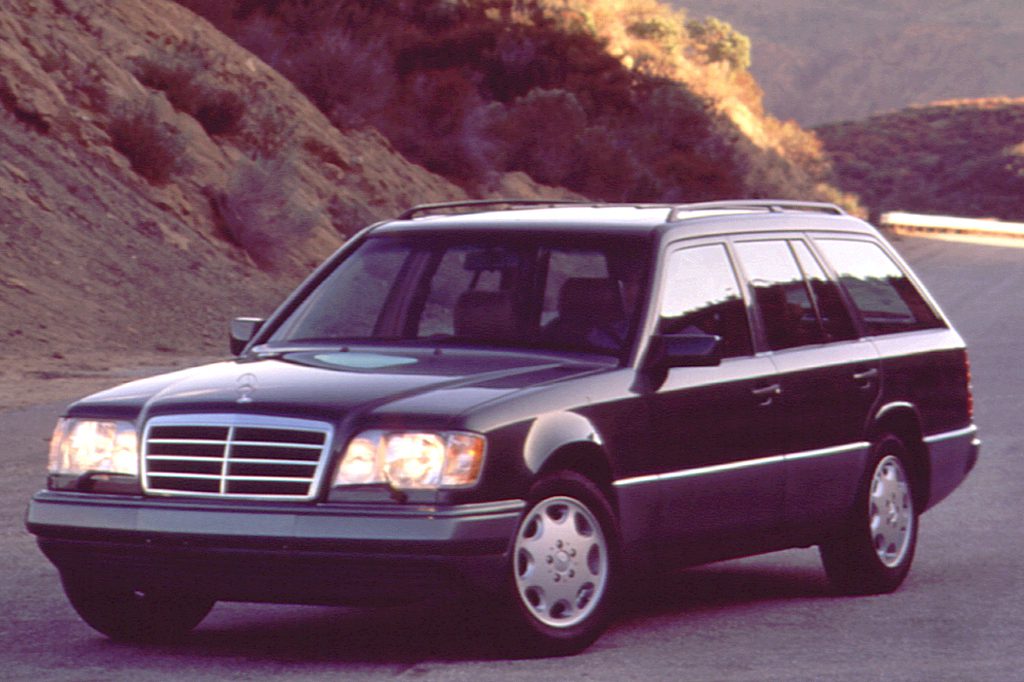 1994 Mercedes-Benz E320 4-door wagon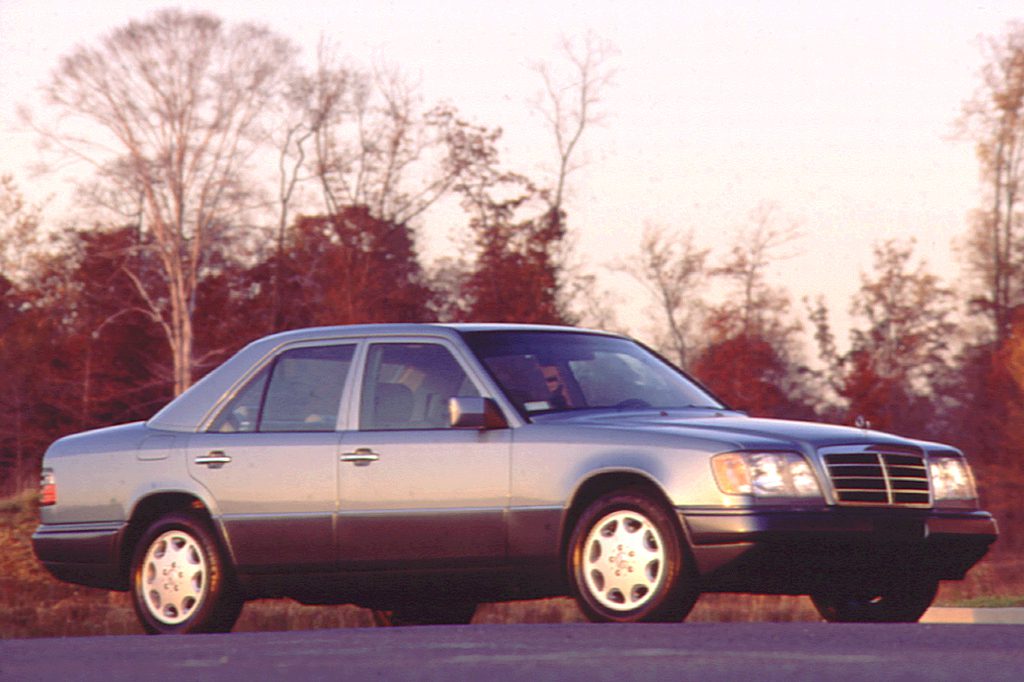 1994 Mercedes-Benz E320 4-door sedan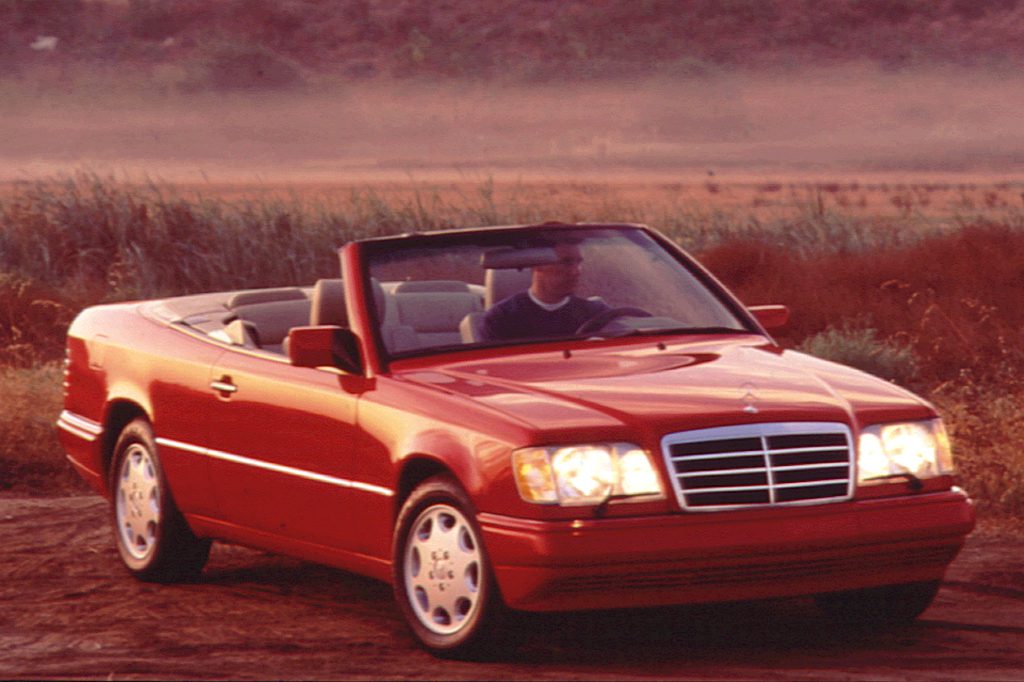 1994 Mercedes-Benz E320 2-door convertible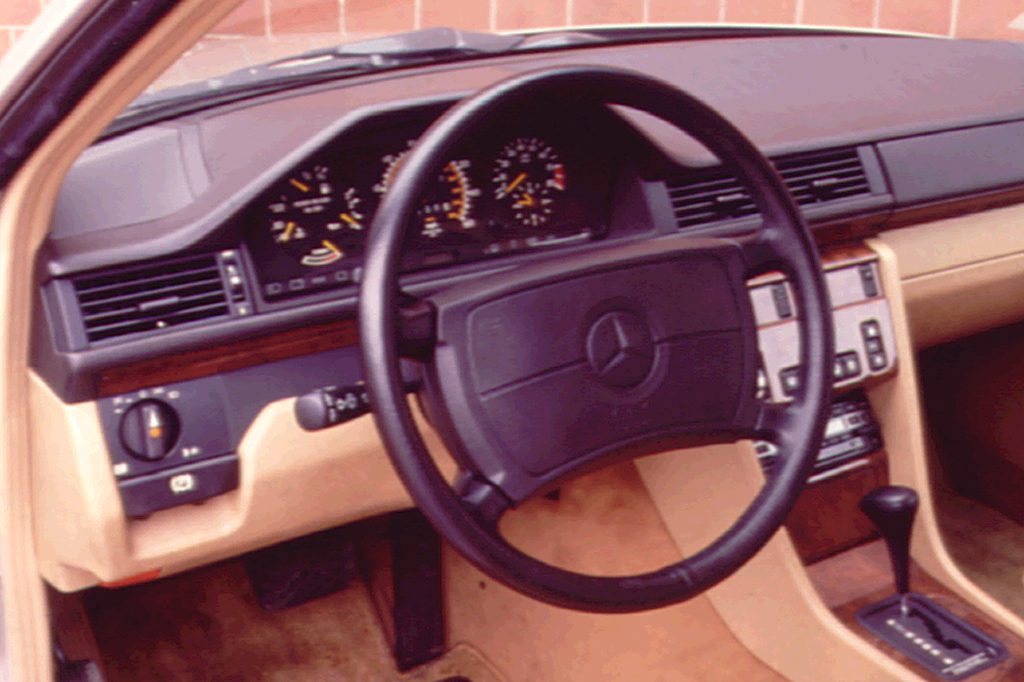 1990 Mercedes-Benz E-class interior
Pros:

Antilock brakes
Ride
Steering/handling

Cons:

Automatic-transmission performance
Fuel economy
Price
Service and maintenance can be expensive, but the assurances of longevity compensate in the long run. Strong resale value keeps prices high on the secondhand market.
Overview
Mercedes-Benz's midsize lineup in 1990 consisted of a 300CE coupe, 260E and 300E 4-door sedans, and a 300TE 4-door station wagon. The 260E sedan used a 158-horsepower, 2.6-liter 6-cylinder engine. A new 217-horsepower, 3.0-liter inline six with dual camshafts went into this year's 300CE coupe. Other models got a single-cam 3.0-liter inline six, rated at 177 horsepower. A turbocharged 5-cylinder diesel engine arrived in spring 1990, in the 250D sedan. Automatic full-time 4-wheel drive appeared for the 300E sedan and 300TE wagon. All models got a new fuel-injection system this year. All models had a driver-side airbag, and a passenger-sized airbag was optional. Antilock braking was standard across the board.
Yearly Updates
1991 300/E-Class
Two traction improvements arrived for 1991. ASR, Mercedes' traction-control system, became optional on the rear-drive 300E sedan, 300CE coupe, and 300TE wagon. ASD, an automatic locking differential, could be installed on the 300D 2.5 Turbo (a diesel-powered sedan).
1992 300/E-Class
Two new models arrived, holding V8 engines. The 400E borrowed its twin-cam 4.2-liter V8 from the bigger S-Class, making 268 horsepower in this installation. A high-performance, limited-edition 500E sedan also went on sale with the same 5.0-liter V8 used in the Mercedes 500SL. A passenger-side airbag was standard on the 400E and 500E, optional on others.
1993 300/E-Class
A convertible and two new engines arrived for 1993. The lineup now consisted of the 300D 2.5 Turbo; a 300E 2.8 sedan with a new 2.8-liter twin-cam engine; 300E sedan; 300CE coupe; 300TE wagon; and 300CE Cabriolet with a new 3.2-liter 6-cylinder engine. Rounding out the line were the 400E and limited-edition 500E, with V8 power. All models now had dual airbags.
1994 300/E-Class
Mercedes renamed its midsized models E-Class this year, simplifying and condensing the lineup. Models now included an E320 in all four body styles, plus E420 and E520 sedans with V8 engines. Grilles, hoods, headlights assembles, trunklids, and taillamps were restyled. 4Matic models were gone. A 300D sedan arrived in spring of 1994, as an early '95 model, with a new 134-horsepower 3.0-liter diesel 6- cylinder engine.
1995 300/E-Class
Only a handful of equipment changes marked the 1995 models, as Mercedes-Benz proceeded with the introduction of a redesigned E-Class for '96. The limited-production, high-performance E500 sedan, with a 5.0-liter V8, was dropped.