Midsize SUV; Built in Japan
2-door wagon
4-door wagon
longitudinal front-engine/rear- or 4-wheel drive
Good condition price range: $1,100 – $2,500*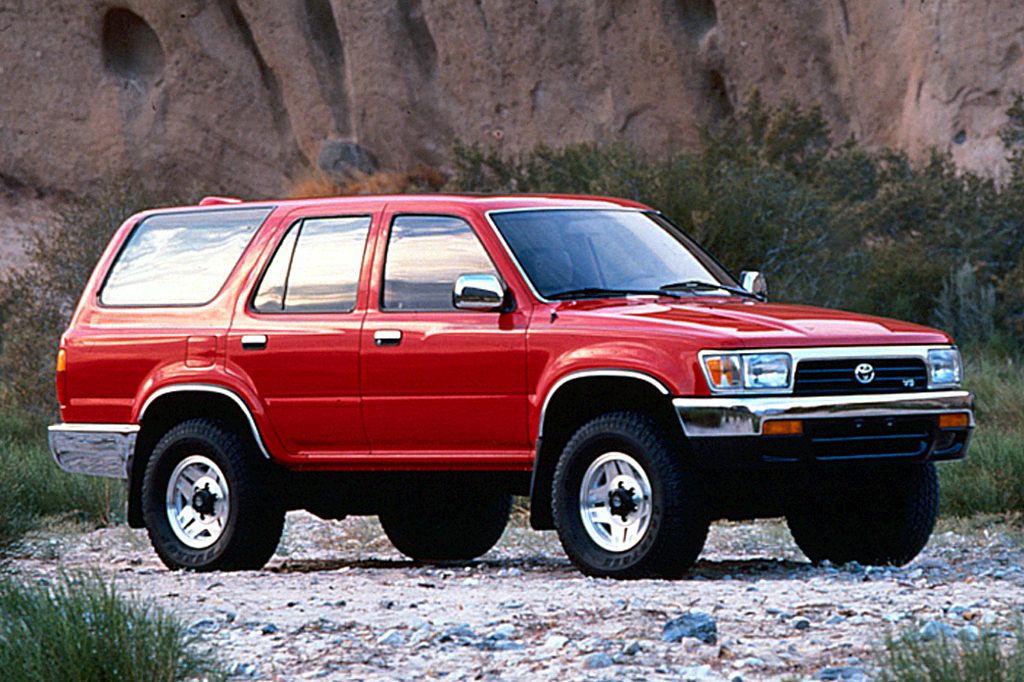 1995 Toyota 4Runner SR5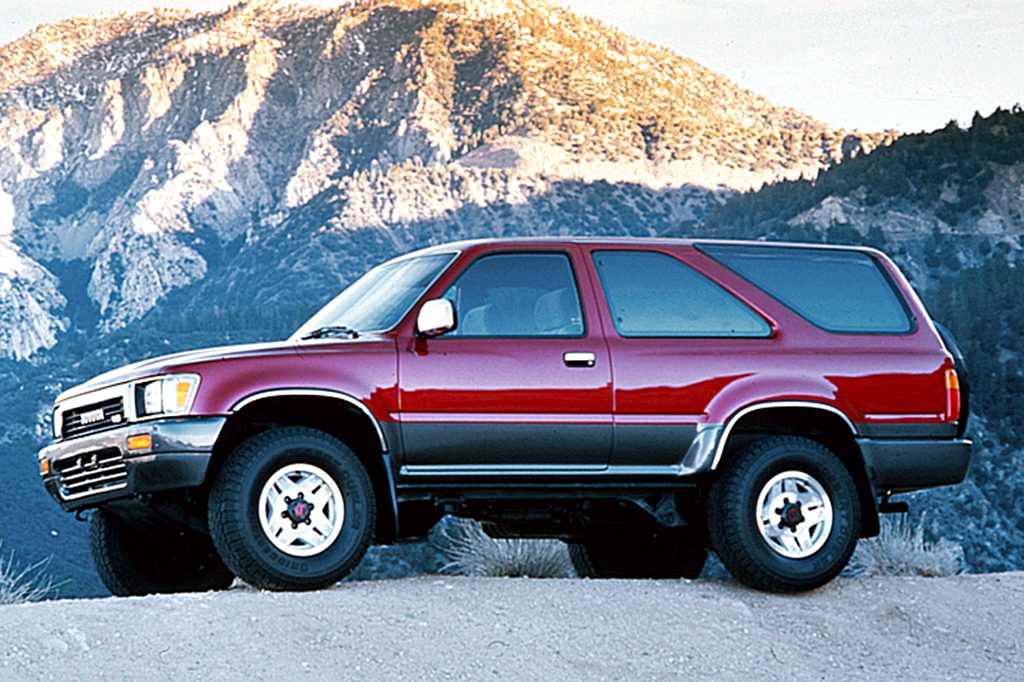 1990 Toyota 4Runner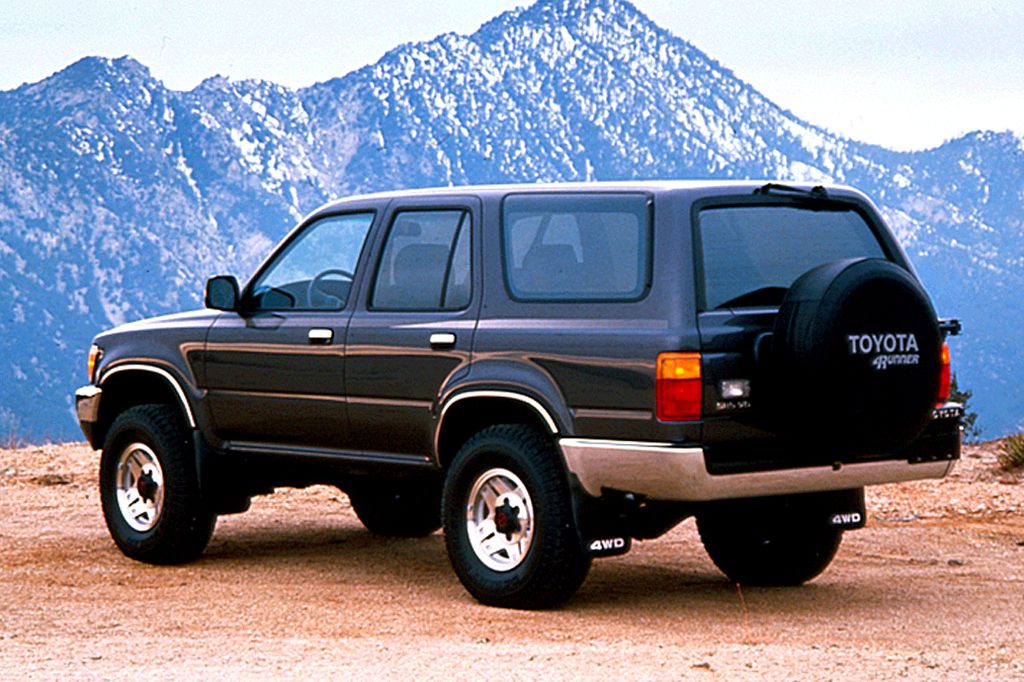 1990 Toyota 4Runner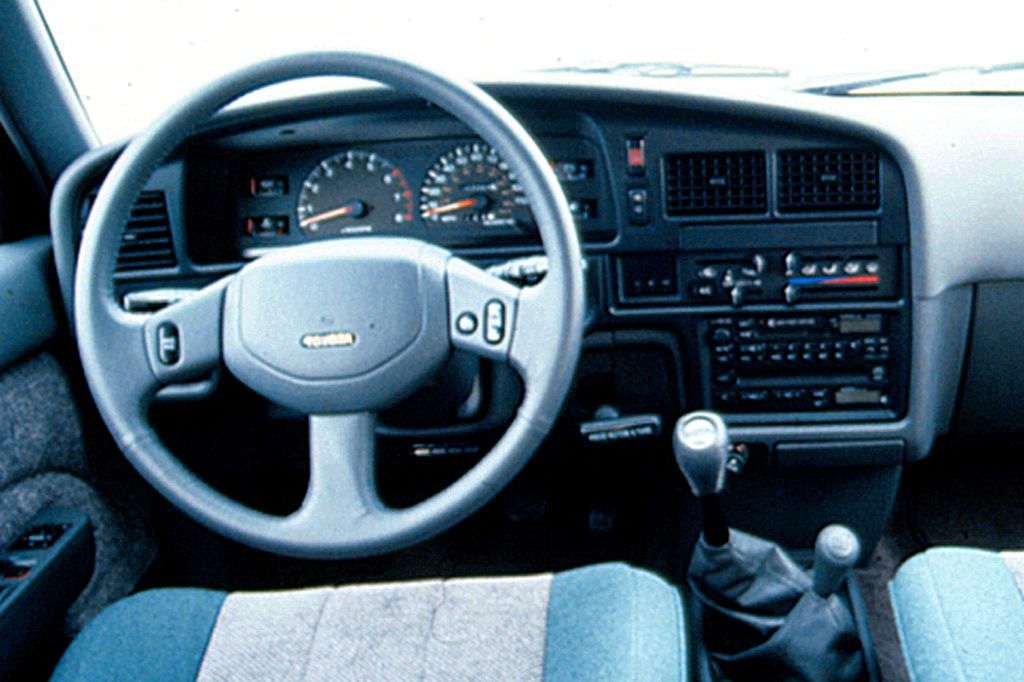 1990 Toyota 4Runner dashboard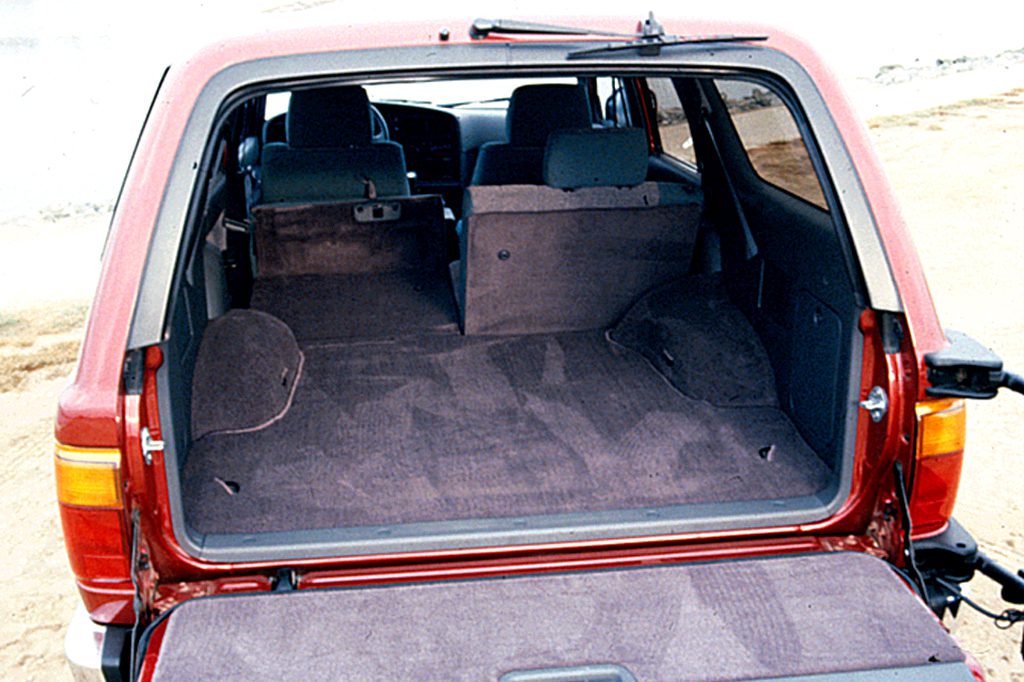 1990 Toyota 4Runner cargo area
Pros:

Antilock brakes (optional)
Wet-weather traction (4WD)
Passenger and cargo room
Reliability
Ride (later models)

Cons:

Acceleration
Entry/exit
Fuel economy
Handling
Noise
High prices remain one of the 4Runner's biggest problems. We prefer domestic rivals such as the Ford Explorer, Jeep Grand Cherokee, Chevrolet Blazer, and GMC Jimmy, which have more room, a broader selection of features and models, plus better all-around performance for the money.
Overview
Toyota introduced its compact 4-wheel-drive sport-utility vehicle in May 1984, based on the same running gear used in their compact pickup truck. The lineup included a 2-seat base 4Runner and 5-seat Deluxe and SR5. Base engine was a 116-horsepower 2.4-liter 4-cylinder. Optional was a 150-horsepower 3.0-liter V6. A 5-speed manual gearbox was standard, with 4-speed automatic optional. Rear antilock braking went into V6 models in '90. However, the ABS only works when the vehicle is in 2WD mode. Each 4Runner featured a built-in roll bar and removable roof until 1991. All models had on-demand 4WD except for a rear-drive 4-door model that was available only with the 4-speed automatic transmission.
Yearly Updates
1991 4Runner
4Runner now comes with a full steel roof instead of the detachable fiberglass shell that previous models had from the middle pillars rearward.
1992 4Runner
A mild restyling of the front end gives the '92 4Runner a new grille, front bumper, and aero-style headlamps. Also, power steering and a new rear wiper/washer system become standard. In back, the spare tire is now stored under the rear of the vehicle instead of on an outside carrier mounted to the rear door. Also, the 3-door model switches to 4WD only, and comes just with the V6/automatic powertrain combination.
1993 4Runner
The slow-selling 2-door model is finally dropped from the 4Runner lineup, leaving just a trio of SR5 4-door models: rear- and 4-wheel-drive V6s, and a price-leader 4WD 4-cylinder. Both 4WD models now come with Toyota's more sophisticated 4WDemand shift-on-the-fly system.
1994 4Runner
The big news for 1994 is the arrival of 4-wheel antilock brakes. The new system is only available on 4Runners with the V6. It replaces the previous rear-wheels-only system that had been in place since 1990. All 4Runners now provide a center high-mounted stoplight and side door guard beams.
1995 4Runner
The 1995 4Runner is a complete carryover from 1994, except for new exterior tape stripes for V6 models.