Premium midsize car; Built in Germany
longitudinal front-engine/rear-wheel drive
Good condition price range: $1,200 – $6,800*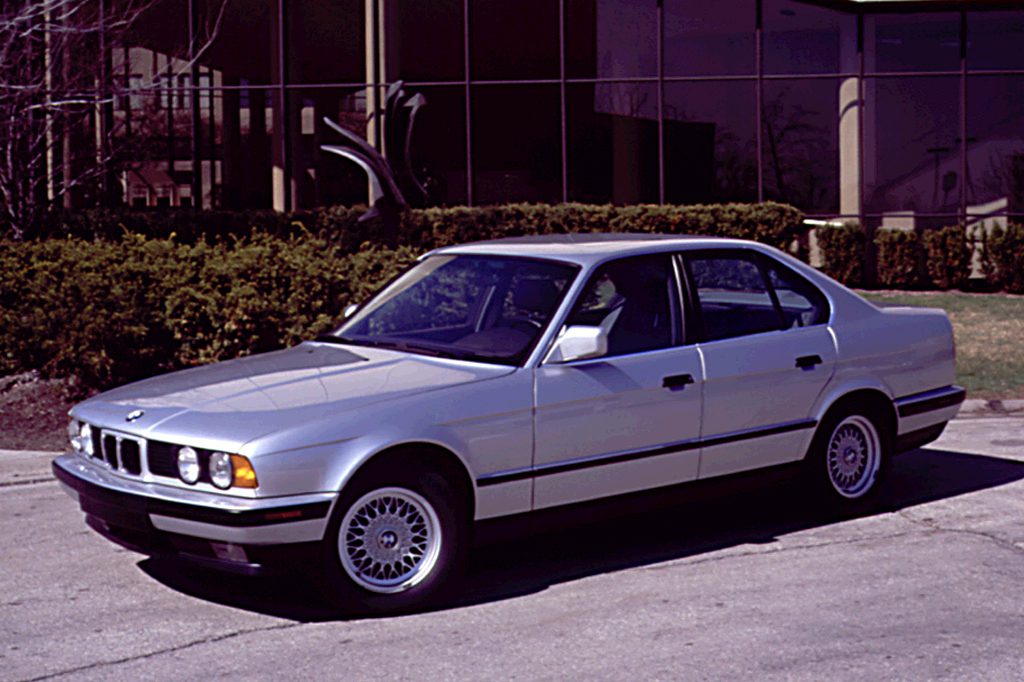 1990 BMW 535i 4-door sedan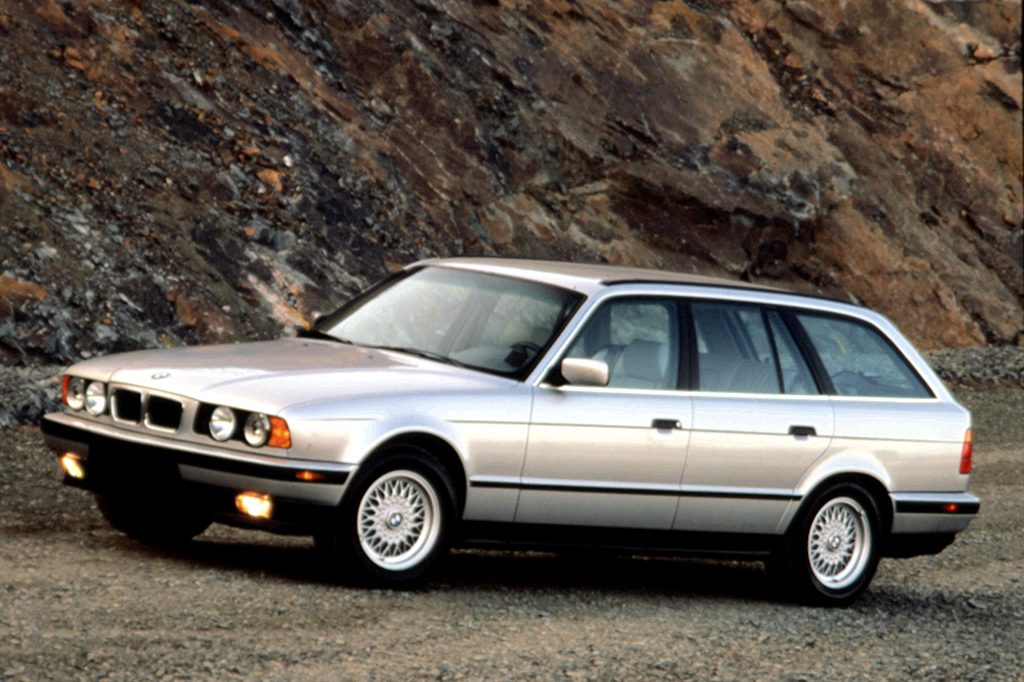 1994 BMW 530i Touring 4-door wagon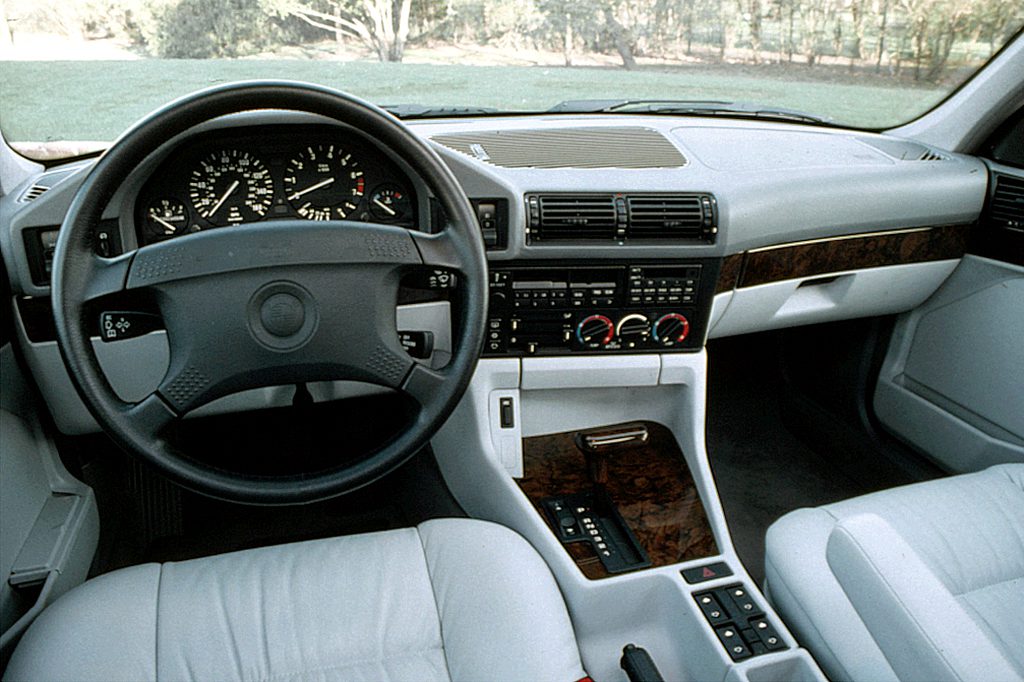 1994 BMW 535i Touring 4-door wagon interior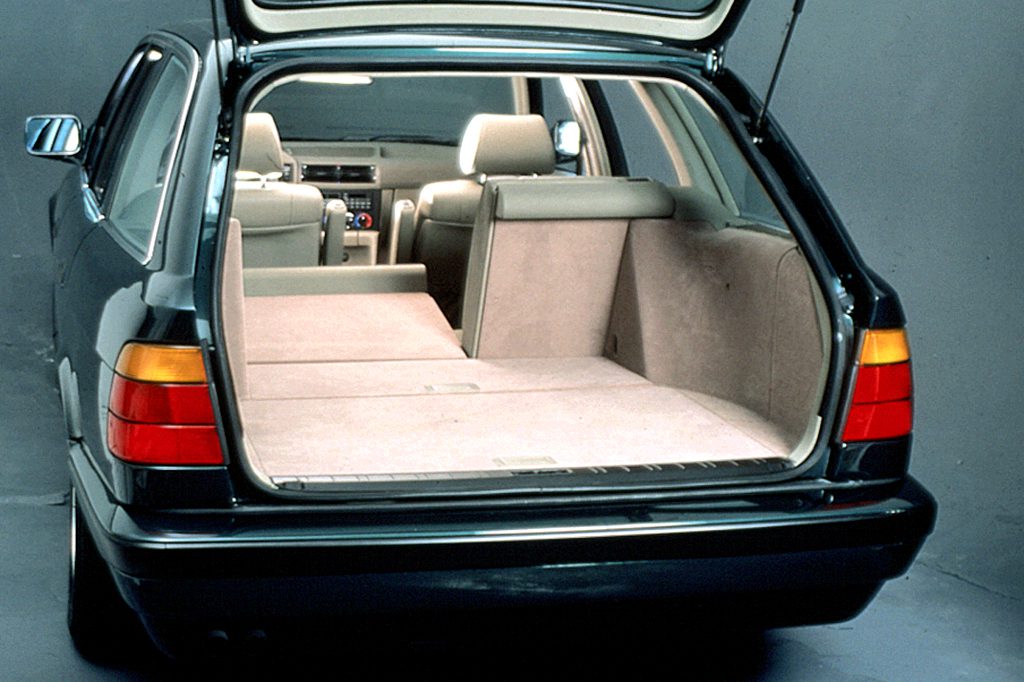 1993 BMW 525i Touring 4-door wagon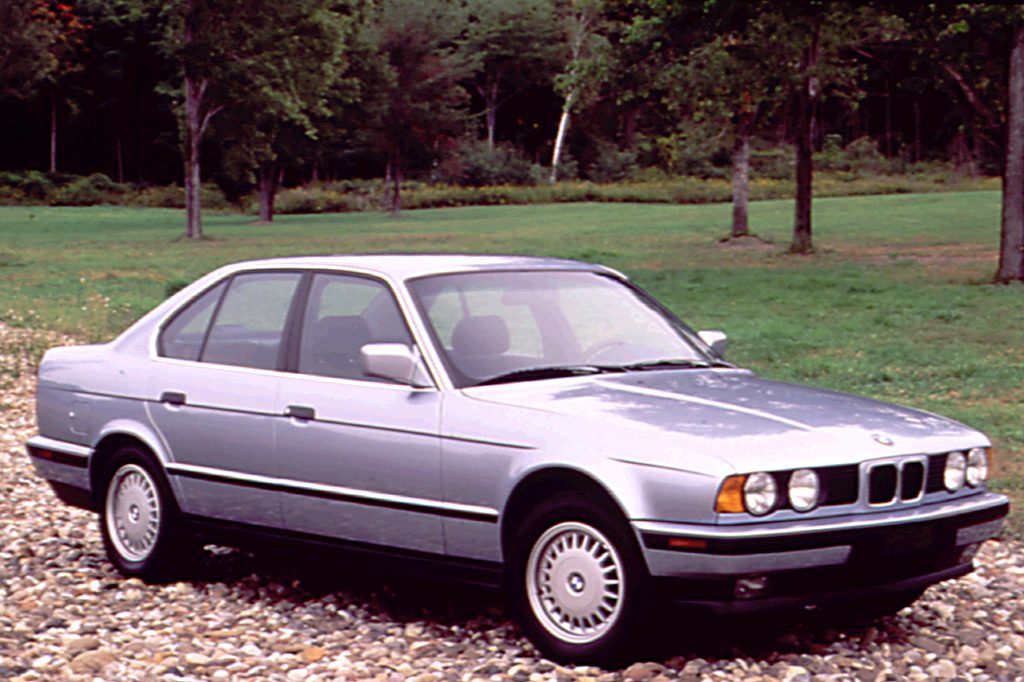 1993 BMW 525i 4-door sedan
Pros:

Acceleration
Antilock brakes
Ride
Steering/handling
Brake performance

Cons:

Automatic-transmission performance
Fuel economy (V8)
These midrange BMWs are thoughtfully designed and highly capable. Few sedans can match their supple suspension, comfortable seats, and precise steering. You also get robust construction and excellent detail finish. Yet, these cars lag behind such competitors as Lexus and Infiniti in overall value.
Overview
Borrowing styling touches from the larger 7-Series, an all-new mid-range sedan debuted for 1989 on a longer wheelbase than the prior 5-Series. Two rear-drive sedans were available: the 525i with a 2.5-liter 6-cylinder engine, and the 535i, whose 3.4-liter six developed 208 horsepower. For 1990, both models had a driver-side airbag. The 535i's interior gained more leather, plus new wood trim.
Yearly Updates
1991 5-Series
Automatic Stability Control (ASC) traction control became optional on the 535i, while the 525i gained a more powerful engine, rated at 189 horsepower. The 535i's automatic transmission got a shorter final-drive ratio and reprogrammed management system, to produce quicker acceleration. Both models gained a standard telescoping steering wheel. The new high-performance M5 sedan carried a 310-horsepower 3.5-liter engine and 5-speed manual shift.
1992 5-Series
This season saw little more than revisions in standard equipment. A 525i Touring station wagon debuted in spring 1992 with a two-panel sunroof that opens over both the front and rear seats. Wagons feature a load-leveling suspension, and ride larger tires than the sedan.
1993 5-Series
Engines in the 525i series got variable valve timing this year, while their cabins gained standard leather and wood trim.
1994 5-Series
New V8 engines became available, in the 530i sedan and wagon, and 540i sedan. The first two got a 3.0-liter V8, rated at 215 horsepower, while the 540i benefited from a 282-horsepower, 4.0-liter. All models gained a passenger-side airbag. Two models were dropped: the 535i with its 3.4-liter 6-cylinder engine, and the limited-production M5.
1995 5-Series
A new 6-speed manual transmission could be installed in the top 540i sedan, replacing the standard 5-speed automatic unit. All 525 models switched from black to body-color lower body panels, to more closely resemble the V8 versions.
1996 5-Series
Awaiting the arrival of an all-new 1997 5-Series, BMW sold only leftover '95s in the early part of the 1996 model year. One new model debuted: 540i Sport.