Large SUV; Built in USA
longitudinal front-engine/rear- or 4-wheel drive
Good condition price range: $1,200 – $3,100*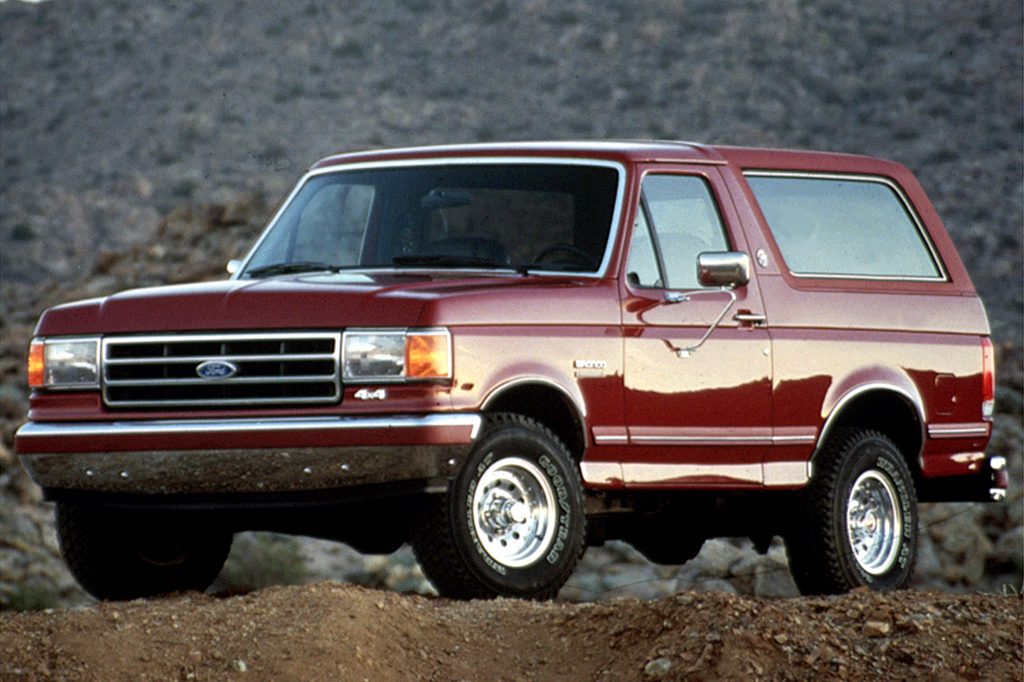 1991 Ford Bronco 4WD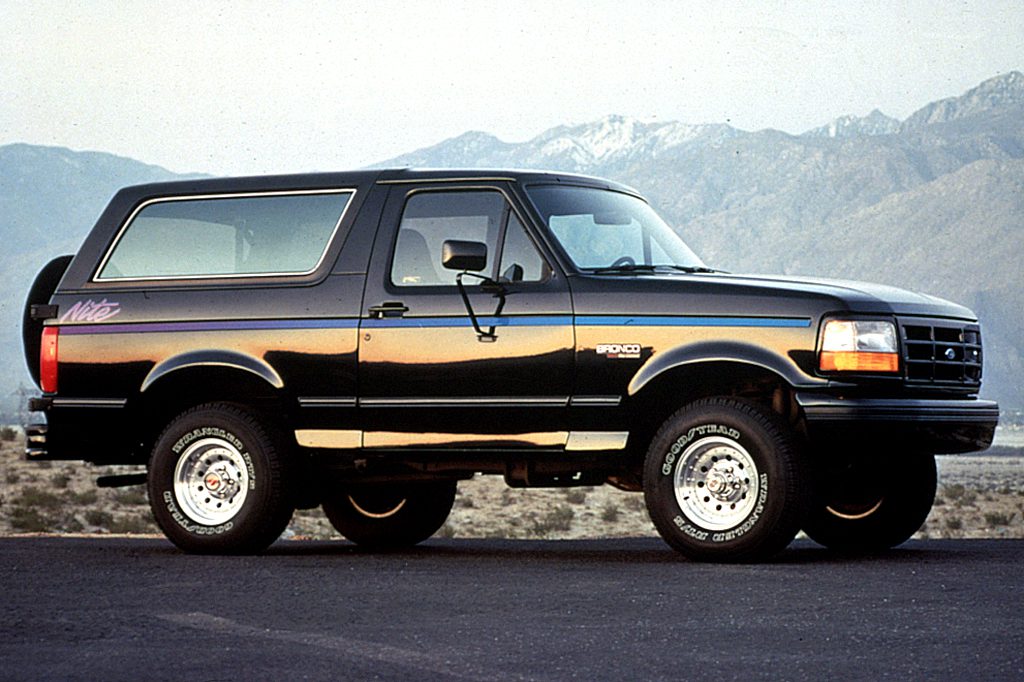 1992 Ford Bronco Nite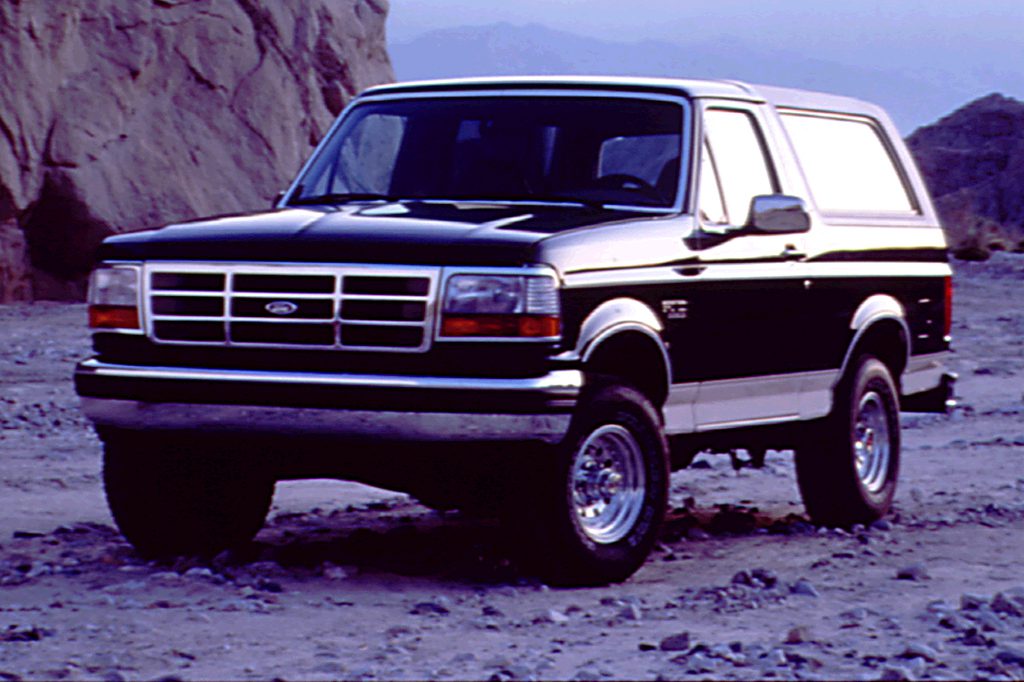 1993 Ford Bronco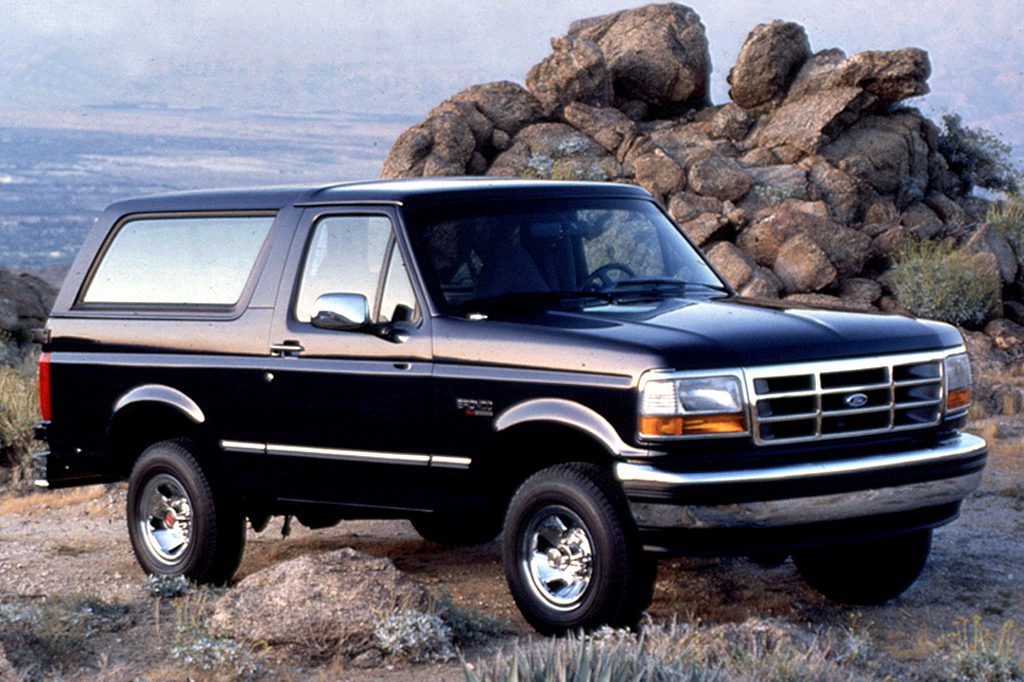 1994 Ford Bronco XLT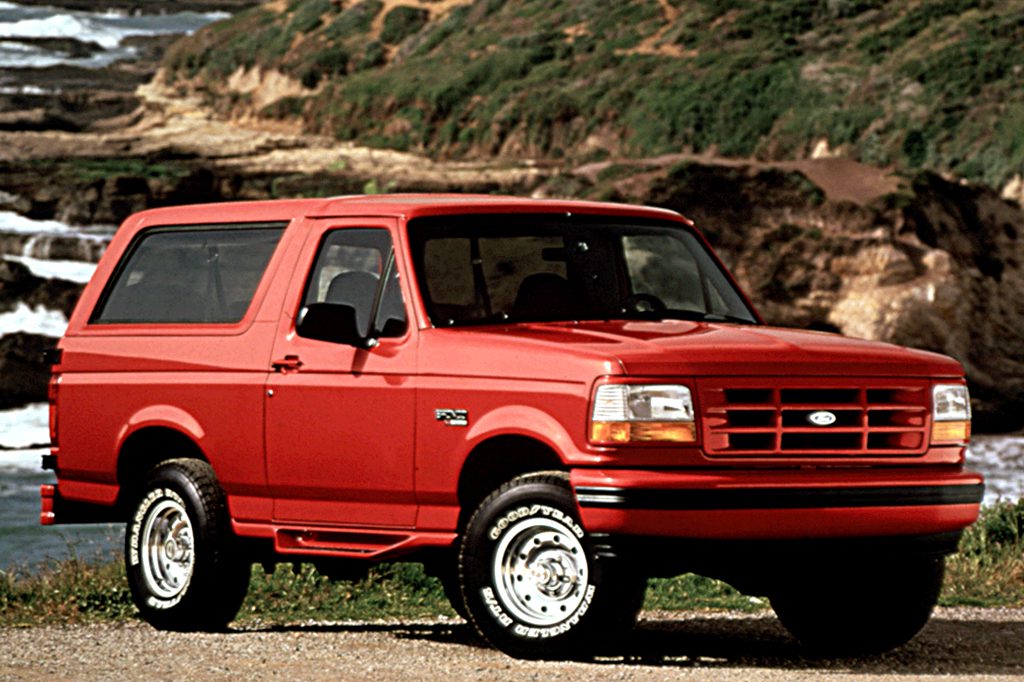 1996 Ford Bronco Sport
Pros:

Cargo room
4WD traction
Trailer-towing capability

Cons:

Fuel economy
Maneuverability
Ride/handling
With only two side doors, a Bronco is less convenient for family use than a 4-door Grand Wagoneer or smaller Cherokee/Wagoneer.
Overview
Ford's full-size 4-wheel-drive utility vehicle could hold more than 100 cubic feet of cargo or seat six people in a roomy interior. It could also haul as much as 7800 pounds. Essentially a Ford F-Series pickup truck with expanded passenger area and fiberglass rear-roof section, Broncos came only in a 2-door body style, with a 2-way tailgate. Antilock rear braking was standard by the late 1980s, operating only in 2WD. A 4-speed automatic transmission edged aside the 3-speed unit, starting during 1990 as a running change. Base engine until 1993 was a 4.9-liter inline 6-cylinder, packing 150 horsepower, with a choice of optional V8s. A 185-horsepower 5.0-liter V8 was standard on the Eddie Bauer edition, optional on others. Also available: a 210-horsepower 5.8-liter V8, offered only with 3-speed automatic. Standard on-demand, part-time 4WD (not for use on dry pavement) had a conventional transfer-case shift lever on the floor.
Yearly Updates
1991 Bronco
An anniversary-edition model marked the Bronco's 25th season. The 3-speed automatic transmission had disappeared, making an electronically controlled 4-speed unit available with all engines.
1992 Bronco
Front ends featured a new grille and rounded sheetmetal. Mirrors also were new. The 5.8-liter engine dipped from 210 to 200 horsepower. An XLT Nite model flaunted a monochrome black exterior and Nite insignia, but would last only a single season.
1993 Bronco
Four-wheel ABS was installed in '93, replacing a 2-wheel setup. The 5.0-liter V8, at 185 horsepower, became standard. This year, the regular XLT got a monochromatic exterior (but black was not the only color offered). All but the Custom could have Touch Drive, which required an automatic transmission.
1994 Bronco
A driver-side airbag came in '94. The 5.0-liter V8 added 20 horsepower and the 5.8-liter reverted to 210 horses.
1995 Bronco
A new sport trim package for the XLT included a body-colored grille and bumpers, new running-board steps, and deep-dish aluminum wheels. The Eddie Bauer got a new bumper with air intakes.
1996 Bronco
As an industry first, Broncos got optional futuristic mirrors that displayed turn-signal pointers in the glass surface. Bronco was replaced by the New Ford Expedition for 1997.