Sporty/performance car; Built in Japan
2-door convertible
2-door hatchback
2-door hatchback
longitudinal front-engine/rear-wheel drive
Good condition price range: $1,900 – $7,500*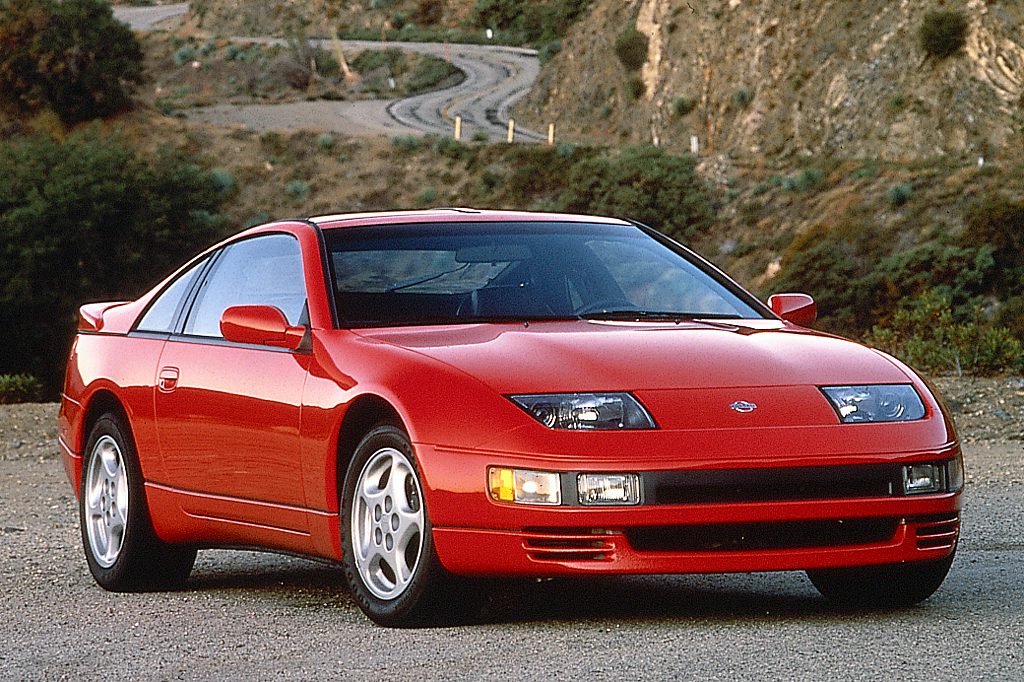 1992 Nissan 300 ZX Turbo 2-door coupe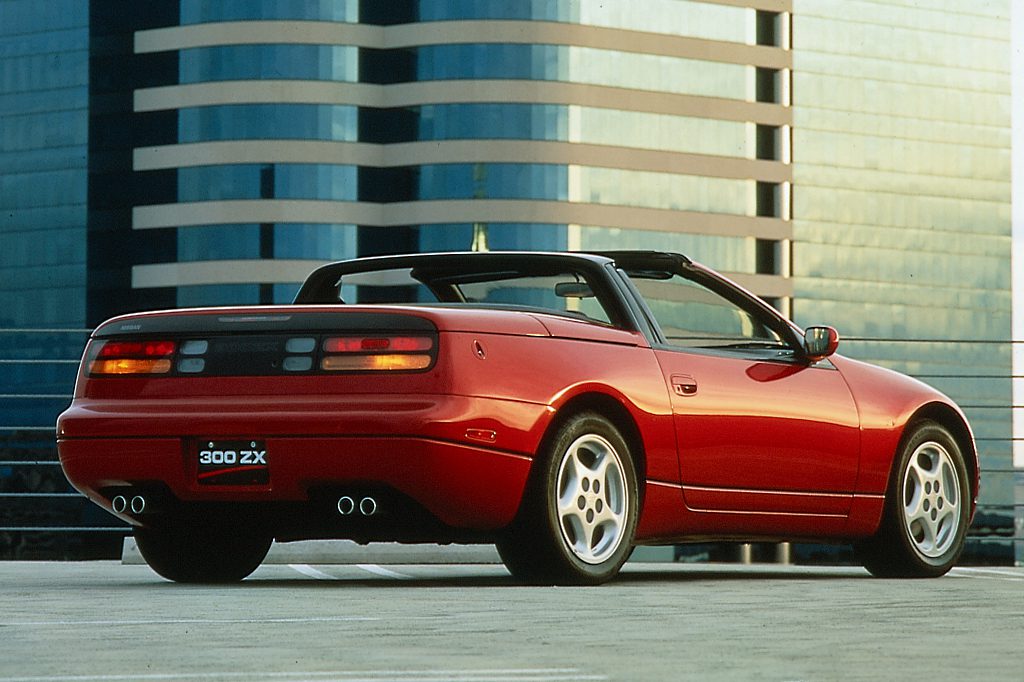 1993 Nissan 300 ZX 2-door convertible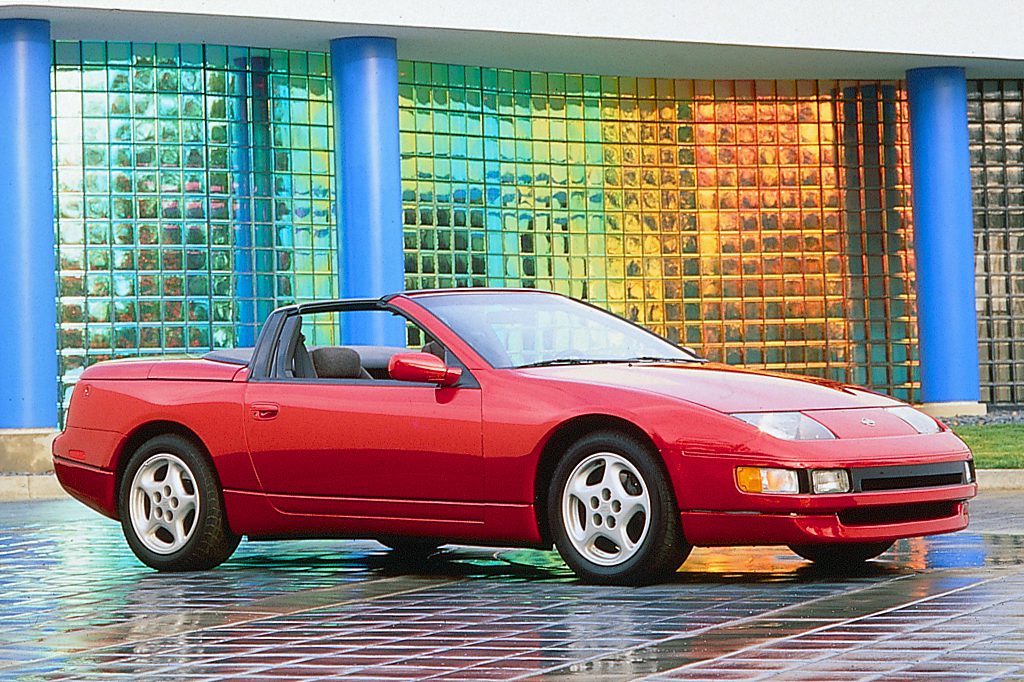 1994 Nissan 300 ZX 2-door convertible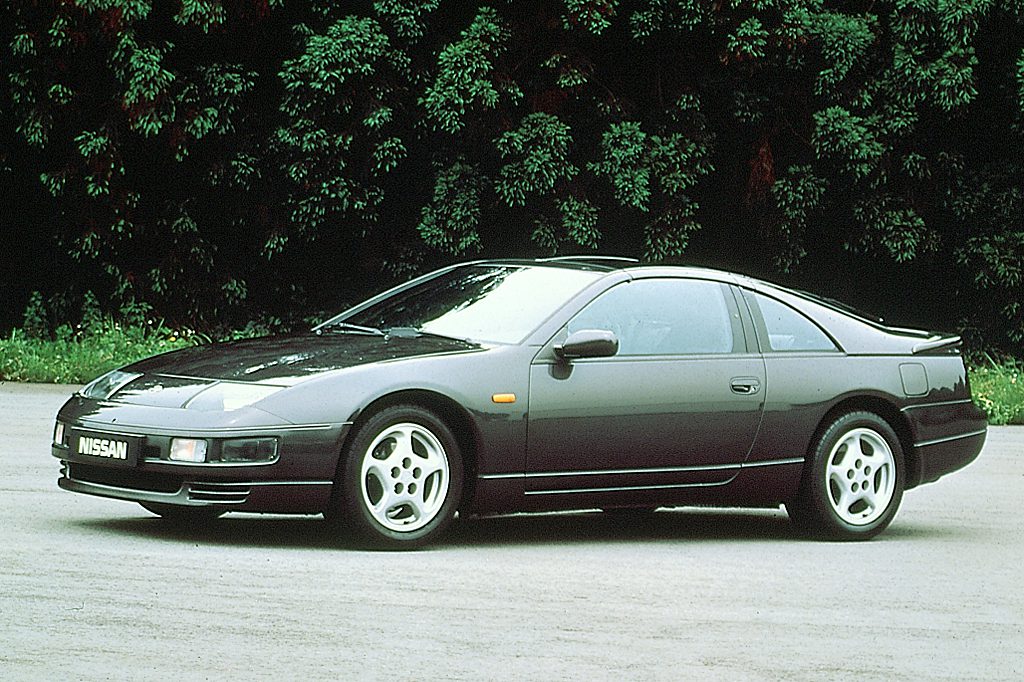 1991 Nissan 300 ZX 2-door coupe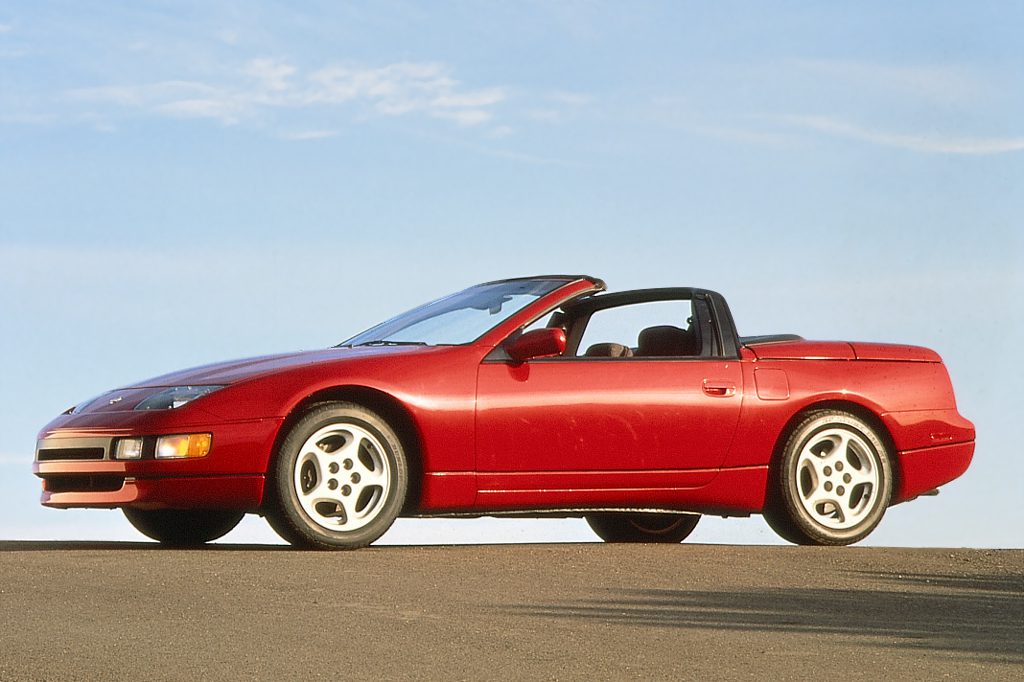 1993 Nissan 300 ZX 2-door convertible
Pros:

Acceleration
Steering/handling

Cons:

Cargo room
Fuel economy
Noise
Ride
Visibility
For performance and image above all else, the well-assembled 300ZX is a fine choice–but at a high cost. Then again, its principal rivals–the Mazda RX-7, Mitsubishi 3000GT, and Toyota Supra–are not exactly cheap, either.
Overview
Nissan redesigned its rear-drive sports car for introduction in spring 1989, adding a turbocharged model that fall. Two curvaceous body styles were offered: a 2-passenger coupe, and a 2+2 coupe with a small back seat.
A 222-horsepower, 3.0-liter V-6 was standard in all models except the 300ZX Turbo, which came only in 2-seater form. Equipped with twin turbochargers and twin intercoolers (one set for each cylinder bank), the four-cam, 24-valve 3.0-liter engine developed 300 horsepower with 5-speed manual shift, or 280 horsepower when fitted with a 4-speed automatic transmission. Automatic also was available with the less-powerful engine.
Turbos had intercooler inlets in the front air dam, a rear spoiler, Z-rated tires, and super HICAS (High Capacity Actively Controlled Steering) 4-wheel steering. That meant the rear wheels first turned slightly in the opposite direction from the front wheels, then in the same direction, to improve stability in fast lane-changes.
Antilock braking was standard. Door-mounted front seatbelts could be left buckled, to deploy automatically. A T-top roof was standard on the Turbo model. Other 2-passenger coupes could have a fixed roof or the removable roof panels.
Yearly Updates
1991 300ZX
A driver's airbag became optional this year, and a new base model joined the lineup. Additional standard equipment included heated mirrors, an illuminated entry system, a cargo cover, and automatic temperature control. All except the base model had a Nissan/Bose audio system. Base models seated two, had no T-bar roof, and came only with 5-speed manual shift.
1992 300ZX
Optional in 1991 models, the driver's airbag became standard this year. Otherwise, the 300ZX was little changed.
1993 300ZX
For the first time, the Z-car lineup included a factory-built convertible, introduced as an early 1993 model. Fitted with leather upholstery, the convertible had a manually folding top and a rear "hoop" over the interior, to increase structural rigidity and provide upper anchor points for the manual lap/shoulder belts. No other significant changes were evident.
1994 300ZX
A passenger-side airbag joined the driver's airbag for 1994. New standard features included remote keyless entry for all models, and a power passenger seat for the convertible.
1995 300ZX
No change was evident in the sixth season of this generation of Nissan's Z-car.
1996 300ZX
For its final season in Nissan's lineup, no significant change was announced. Nissan chose to focus its attention on higher-volume models, letting the 300ZX disappear. As before, the selection consisted of base and hatchback coupes (with or without T-bar roof), a Turbo coupe, a 2+2 coupe, and a convertible with leather upholstery. Since its demise, several versions of a potential Z-car for the future have been seen at auto shows.