Sporty/performance car; Built in USA
longitudinal front-engine/rear-wheel drive
Good condition price range: $1,000 – $2,400*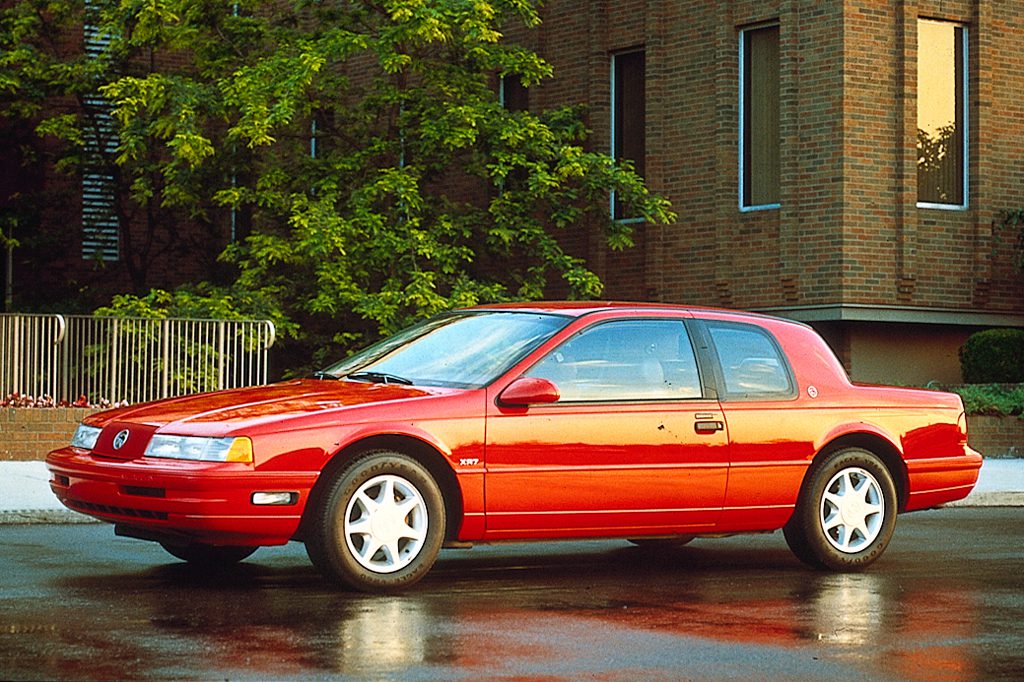 1991 Mercury Cougar XR7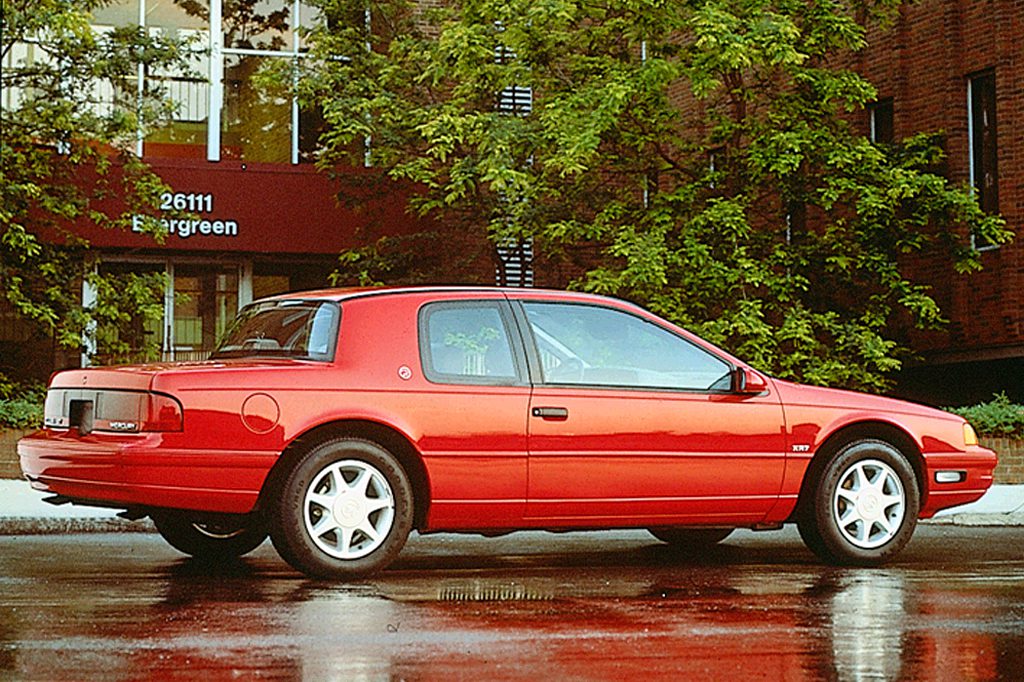 1991 Mercury Cougar XR7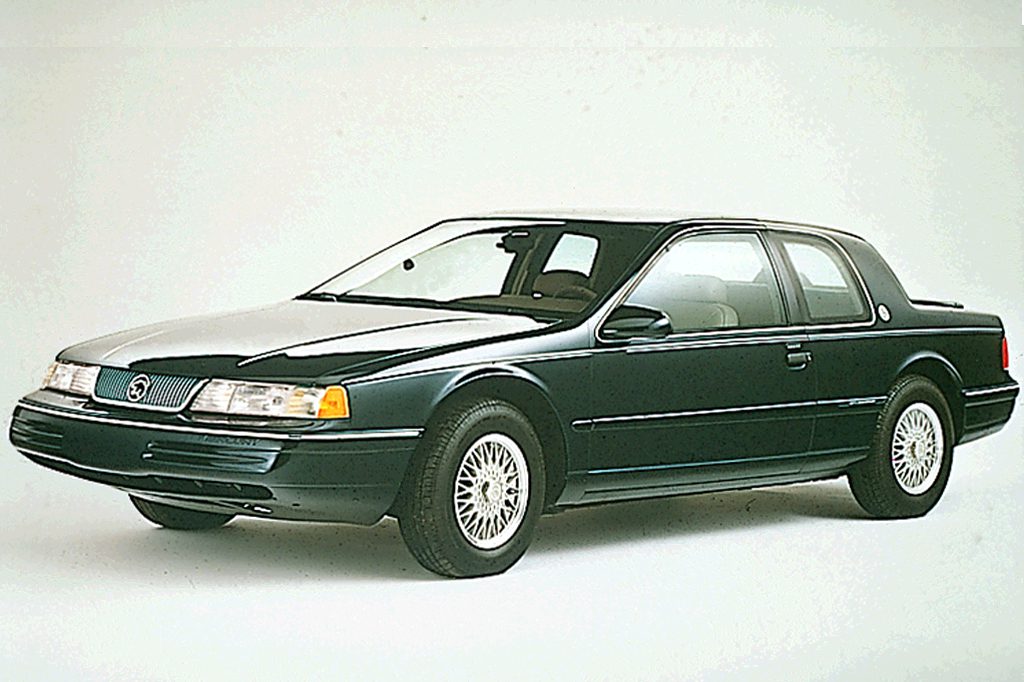 1992 Mercury Cougar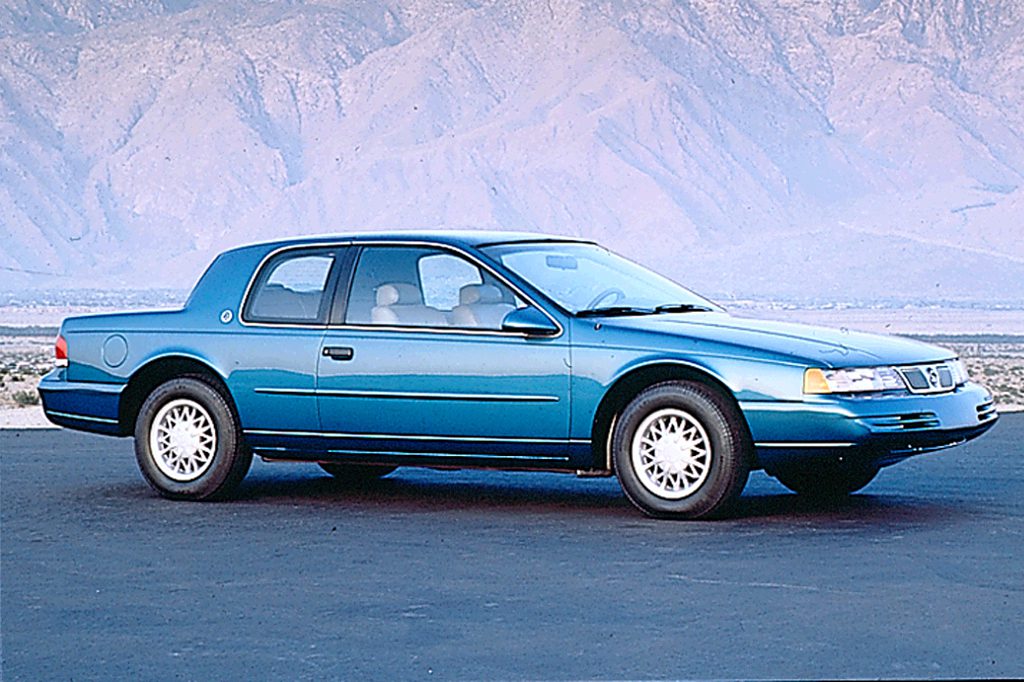 1992 Mercury Cougar XR7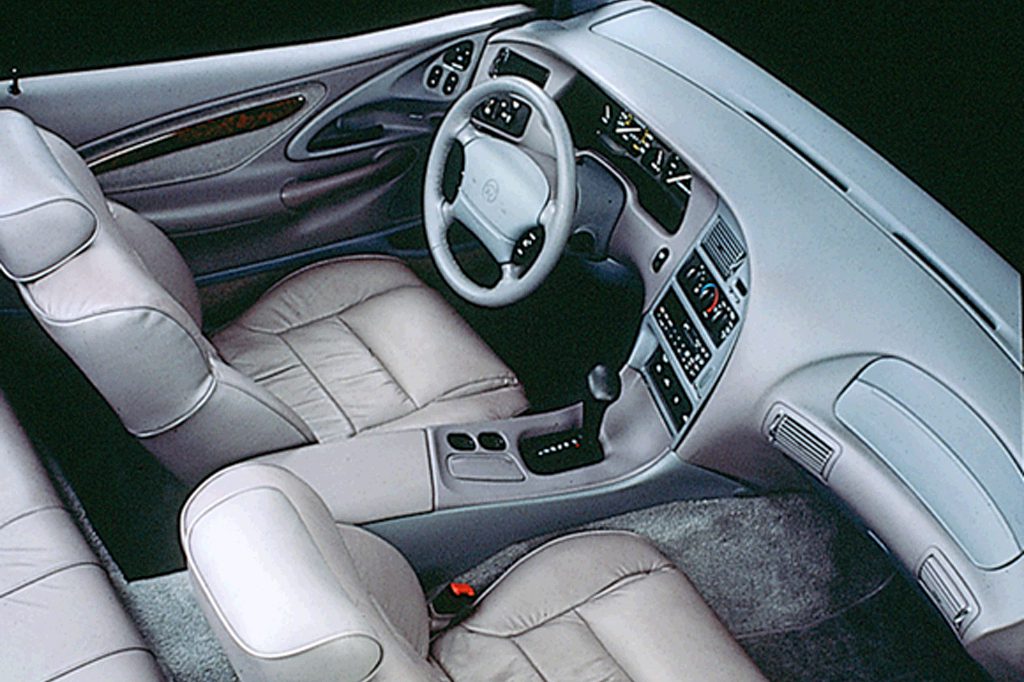 1992 Mercury Cougar XR7 interior
Pros:
Cons:

Acceleration (V6)
Fuel economy
Visibility
All-in-all, Cougar is a solid choice in the coupe market, but its rear-wheel drive and gas-guzzling engines are too big a disadvantage in this hotly contested market segment.
Overview
The Mercury Cougar got a clean-sheet redesign for 1989, and saw no major changes for 1990. As before, the new Cougars differed from the mechanically similar Ford Thunderbird primarily in their formal roofline and Mercury grille. A 140-horsepower, 3.8-liter V6 and 4-speed overdrive automatic came standard in the base LS. For the premium XR7, Mercury added a supercharged and intercooled version of the overhead-valve V6, which delivers 210 horsepower and 315 pound-feet of torque. Both engines were paired with either a 5-speed manual or optional automatic. Four-wheel antilock disc brakes came standard on the XR7, but were optional on the LS.
Yearly Updates
1991 Cougar
The supercharged V6 engine and 5-speed transmission have both been dropped from the powertrain lineup for 1991 and replaced with Ford's 5.0-liter High Output V8, also used in the Mustang and Lincoln Mark VIII. The engine comes standard on the performance-oriented XR7 and optional on the Cougar LS. Exterior detail changes include a revised hood, grille, headlamps, and taillamps, plus new side molding.
1992 Cougar
The 1992 XR7 hit the showrooms with new alloy wheels and a freshened interior that includes new seat and door trim. In addition, the parking brake is now activated by a floor-mounted pedal instead of a console-mounted lever. To mark the 25th anniversary of the Cougar a special LS model arrives midyear, equipped with a distinctive monochromatic color scheme, the H.O. 5.0-liter V8, BBS aluminum wheels, and special trim.
1993 Cougar
For 1993, all Cougars are listed as XR7 models. However, Mercury has purposely de-emphasized Cougar's former performance image by dropping most of the XR7 model's sporty equipment. The surviving model is equipped much like last year's LS. Both the adjustable suspension and performance tires on last year's XR7 are gone, while the antilock brakes and limited-slip axle are now optional.
1994 Cougar
Dual airbags join a new 4.6-liter V8 in the revamped 1994 Cougar. While a decontented XR7 with a 3.8-liter V6 remains the standard offering, the optional V8 is now Ford's new all-aluminum overhead-cam V8, providing 205 horsepower when applied to the 1994 Cougar. The 4-speed automatic remains the only transmission, but gains new electronic shift controls. Also added to improve handling is an optional traction control system. Mercury has made minor appearance changes to the car's grille, front and rear fascias, headlamps, and taillamps.
1995 Cougar
Following four model years with nearly constant changes, the Cougar enters the 1995 model year with no significant changes.
1996 Cougar
New front and rear fascias have been added, plus a new hood, necessitated by the addition of a smaller, more rounded grille and new headlamps equipped with complex reflectors. The headlamps now taper at the inside edges to blend better with the new grille. Under the hood, the Cougar's standard 3.8-liter V6 receives significant changes, resulting in a new output of 145 horsepower. The optional V8 has also been improved. While horsepower remains constant, torque is up 15 to 280 pound-feet at 3000 rpm.
1997 Cougar
An all-new instrument panel has a new gauge cluster with graphics on a black background. In addition, a new dual cupholder, coin slots, and more storage were added to the revised center console. Finally, a new "one-touch open" switch comes with the optional moonroof. The rear-drive Cougar was discontinued this year. A new front-drive version appeared in 1999.