Premium large SUV; Built in Japan
4-door wagon
4-door wagon
longitudinal front-engine/4-wheel drive
Good condition price range: $1,900 – $7,500*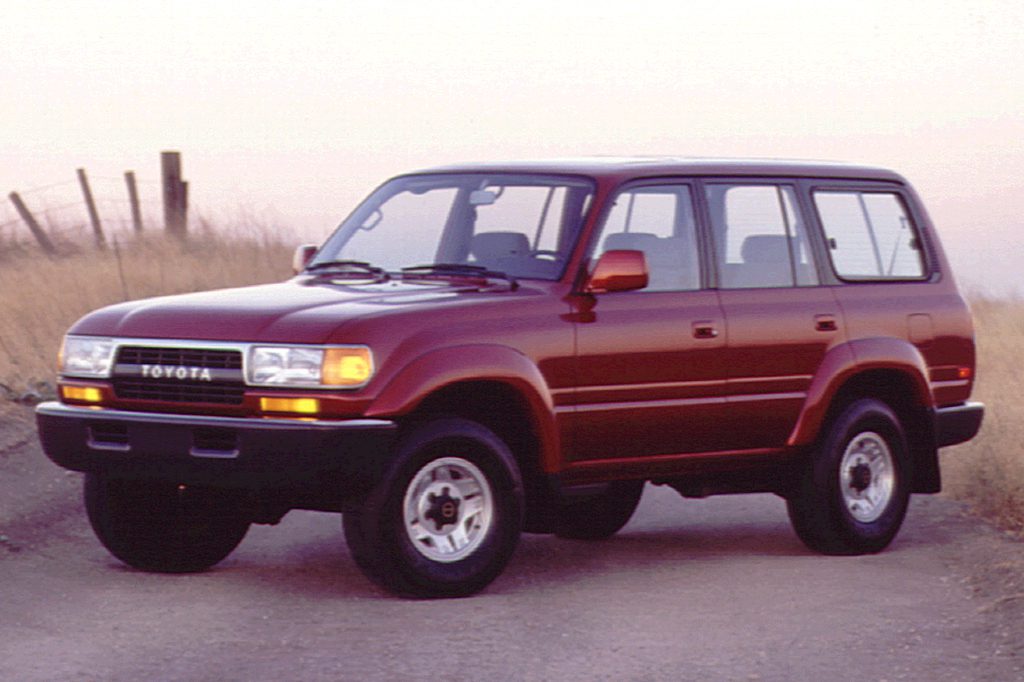 1992 Toyota Land Cruiser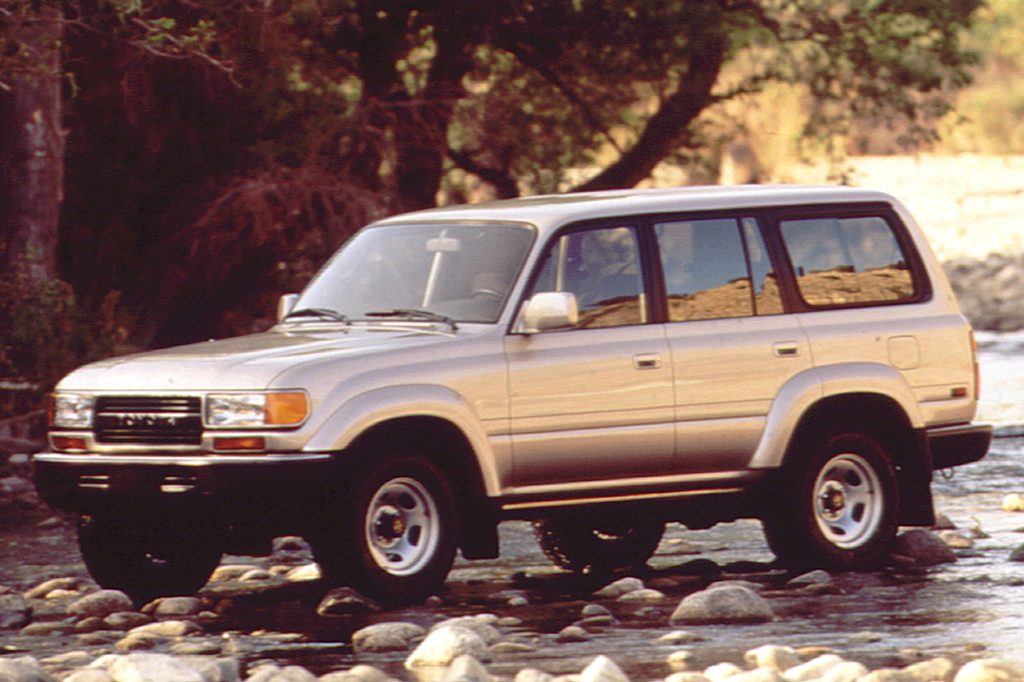 1993 Toyota Land Cruiser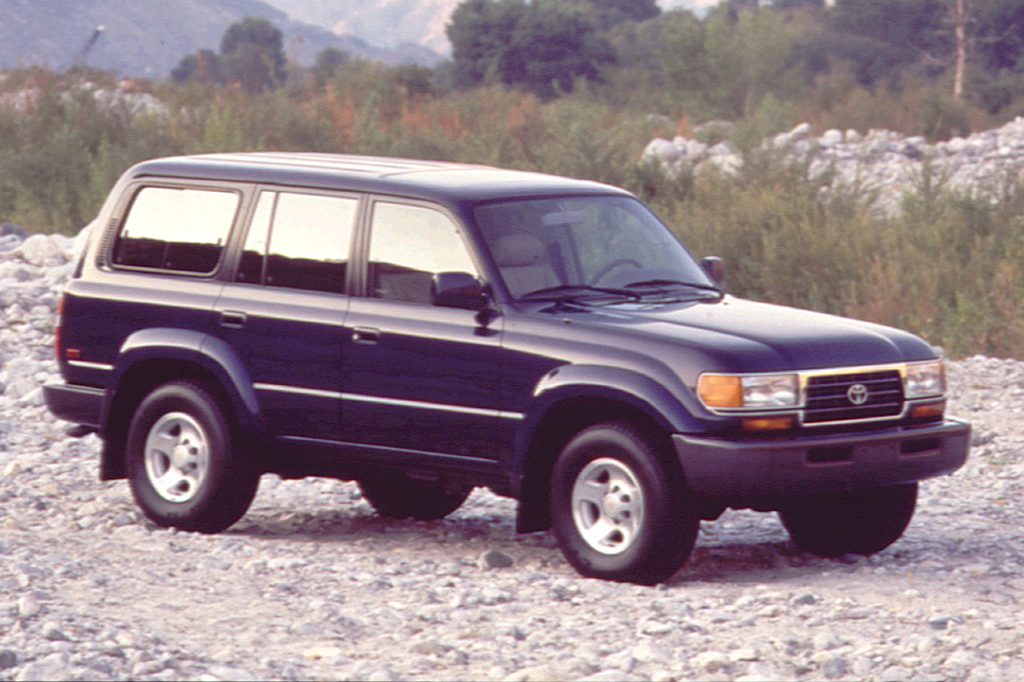 1995 Toyota Land Cruiser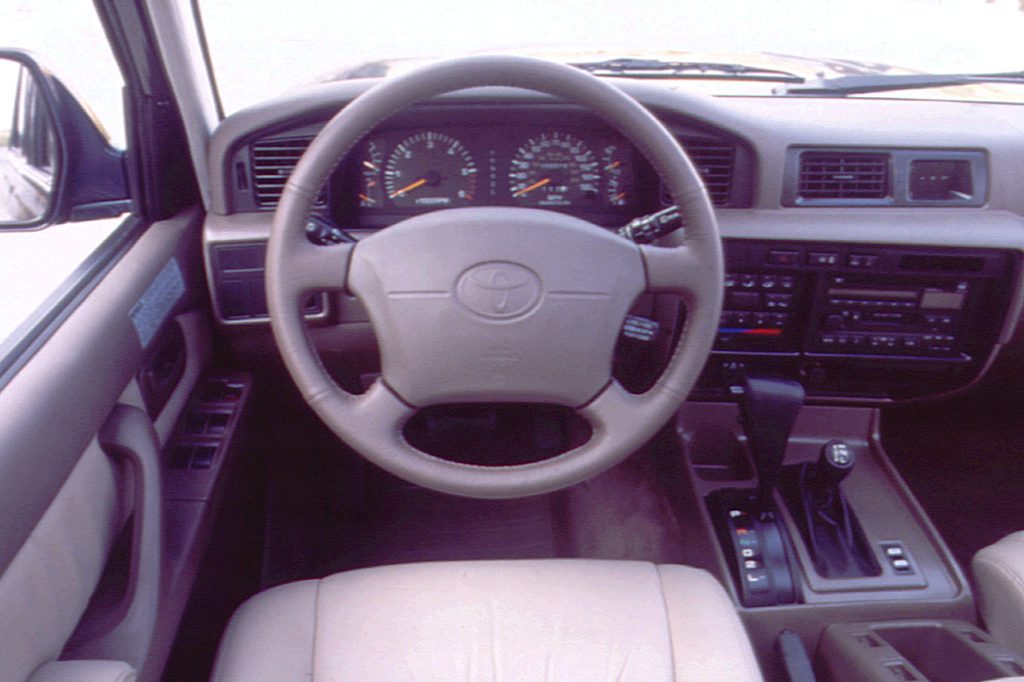 1995 Toyota Land Cruiser interior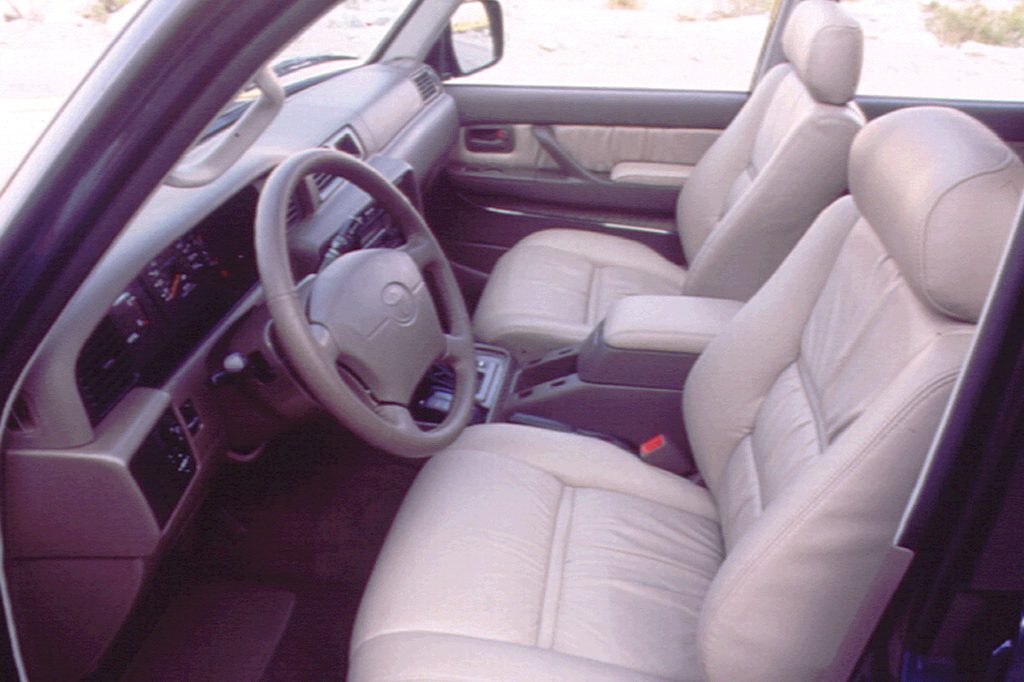 1995 Toyota Land Cruiser interior
Pros:

4WD traction
Antilock brakes (later models)
Passenger and cargo room

Cons:

Acceleration (4.0-liter)
Entry/exit
Fuel economy
Price
Ride
Expensive and sold in modest numbers, Land Cruisers continue to attract a modest but eager following. Still, most buyers find a Ford Explorer or Jeep Cherokee to be a better value.
Overview
Toyota launched this generation of its 4-wheel-drive wagon way back in 1981. By 1990, power came from a fuel-injected 4.0-liter inline 6-cylinder engine, making 155 horsepower and driving a 4-speed automatic transmission. All Land Cruisers had on-demand 4-wheel drive. Front hubs still had to be locked and unlocked by hand. A Land Cruiser could tow 3500 pounds.
Yearly Updates
1991 Land Cruiser
Land Cruisers were redesigned as early 1991 models, on a longer wheelbase. Permanently engaged 4WD replaced the prior part-time system with its manually locking front hubs, but the powertrain remained as before. Seating for five was standard, and an optional 3-place third seat boosted capacity to eight.
1992 Land Cruiser
Power locks, windows, and mirrors became standard rather than optional. Variable-intermittent wipers also were installed.
1993 Land Cruiser
In response to criticism about lack of power, a larger (4.5-liter) engine went into 1993 models. The new engine had dual-overhead camshafts and four valves per cylinder, producing 57 more horsepower than before, and 55 more pound-feet of torque. Newly optional were front and rear differential locks for the standard permanent 4-wheel-drive system, including antilock brakes with rear discs (rather than drums). ABS also was available as a separate option.
1994 Land Cruiser
Except for a switch from five to nine speakers in the stereo system, and adoption of safety belts with an automatic-locking retractor, no changes were evident in 1994 Land Cruisers.
1995 Land Cruiser
Land Cruisers sold early in the 1995 model year were actually '94 models. An updated version arrived in spring of 1995, including dual airbags and standard antilock braking as well as a restyled front end.
1996 Land Cruiser
Lexus, Toyota's luxury division, issued its own version of the Land Cruiser this year, called the LX 450.
1997 Land Cruiser
A 2-person third seat was available for 7-passenger capacity. Land Cruisers were redesigned for 1998.