Compact SUV; Built in Japan, Canada
2-door convertible
4-door wagon
longitudinal front-engine/rear- or 4-wheel drive
Good condition price range: $1,000 – $2,700*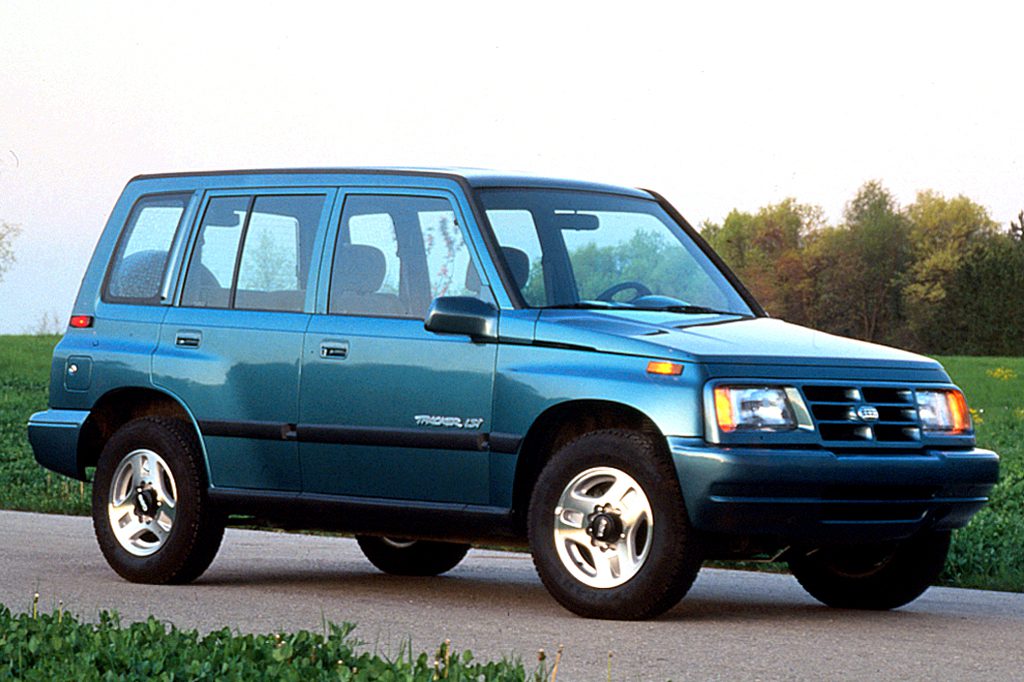 1996 Geo Tracker LSi 4-door wagon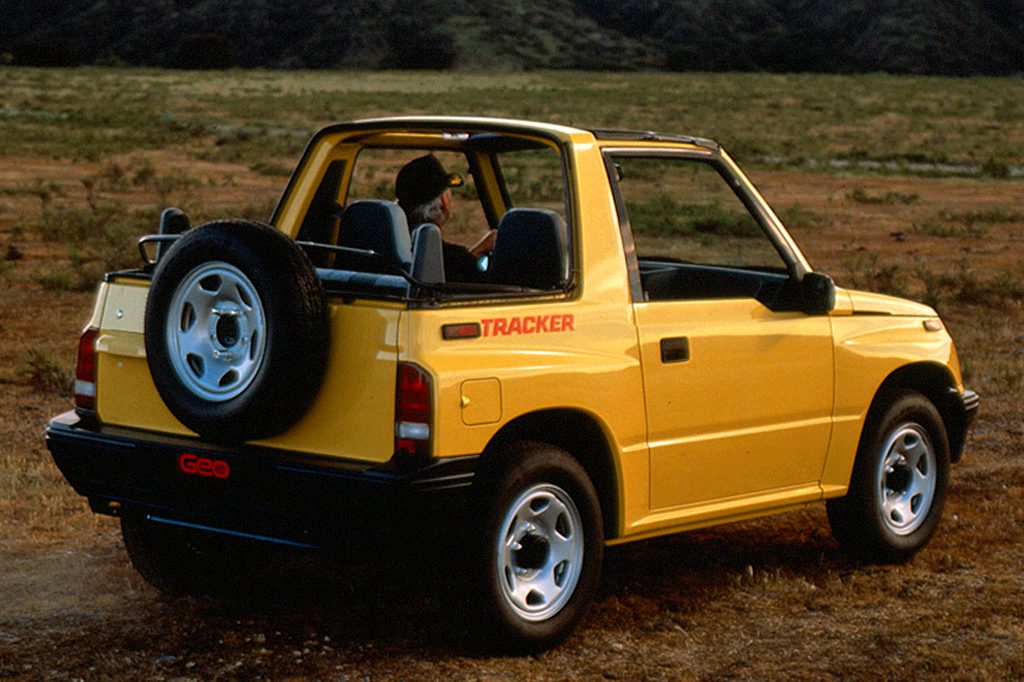 1991 Geo Tracker 2-door wagon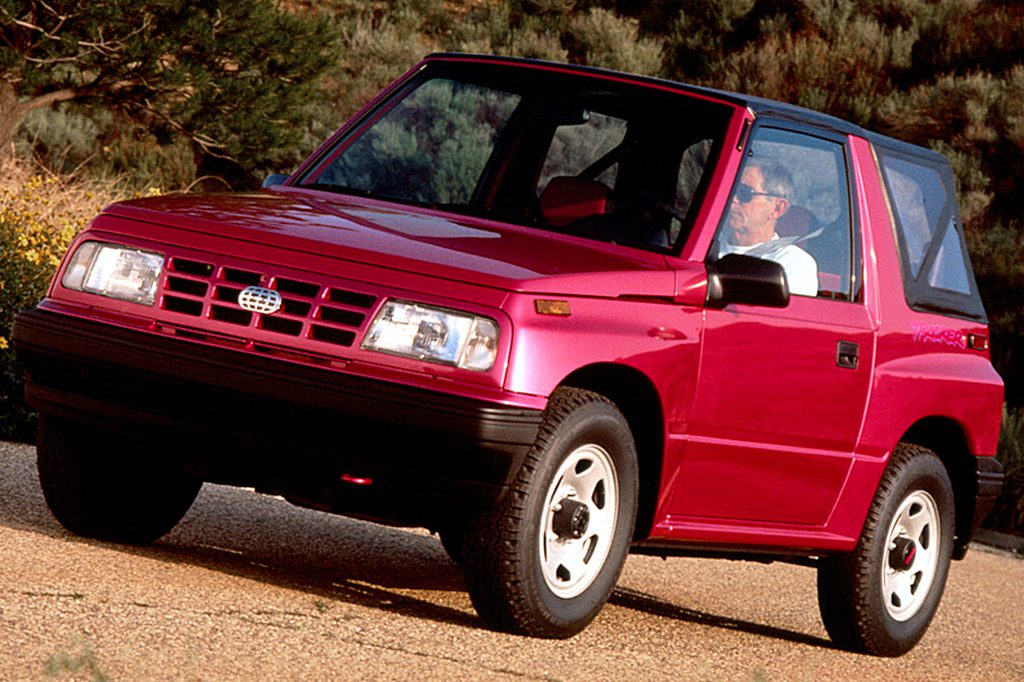 1993 Geo Tracker 2-door wagon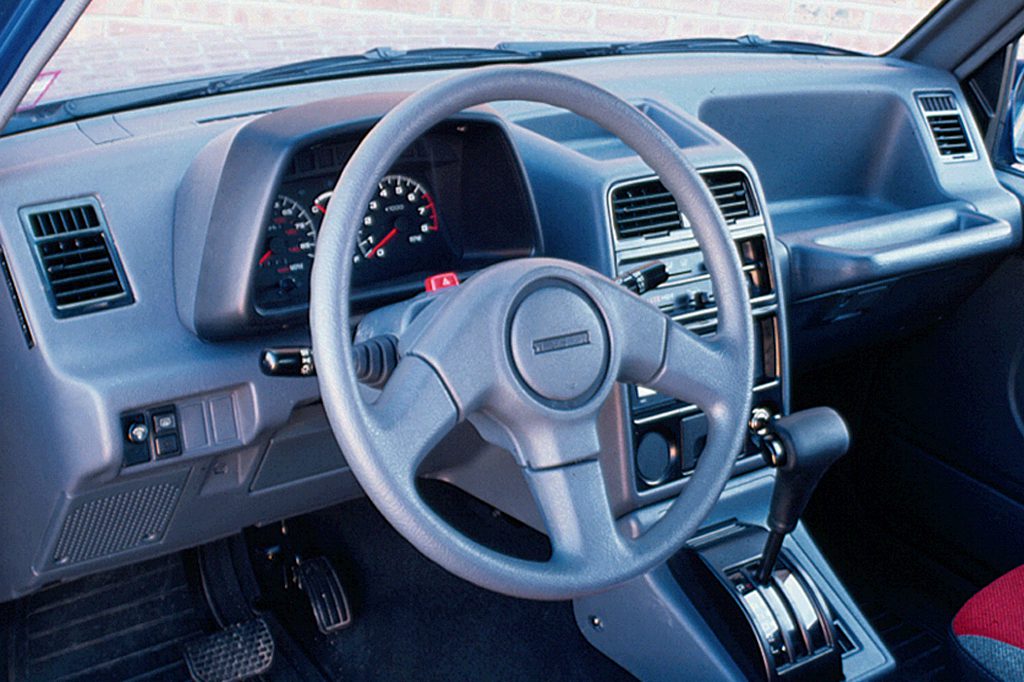 1990 Geo Tracker LSi interior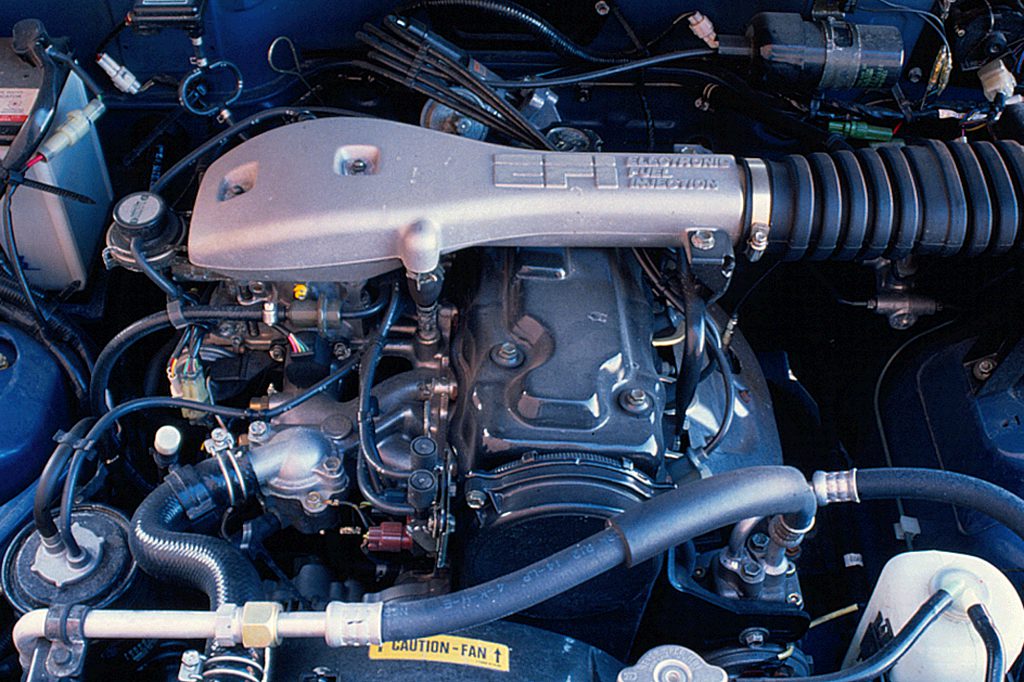 1990 Geo Tracker LSi engine
Pros:

Fuel economy
4WD traction (4WD)

Cons:

Noise
Rear-seat room
Ride
More modern and refined than the paramilitary Jeep Wrangler, Trackers are appealing in many ways. Still, Trackers and Suzuki Sidekicks are just too rough and noisy for service as daily drivers.
Overview
Originally marketed under the Geo name by Chevrolet dealers, this 4-wheel-drive (part-time) compact sport-utility came in 2-door wagon and 2-door convertible bodystyles. Suzuki marketed its own version as the Sidekick. Hardtop and convertible Trackers came in base and LSi trim levels. Both use a 1.6-liter 4-cylinder engine. Power steering was not available, but Trackers had 5-mph bumpers and rear shoulder belts. Convertible tops fold backward part way, to produce a sunroof style effect.
Yearly Updates
1991 Tracker
Suzuki had offered rear-drive and 4WD versions from the start. This year, Geo added the 2-wheel-drive convertible, available only with 5-speed manual shift. All Trackers added antilocking for their rear drum brakes. Standard 4WD and base convertibles got new black bumpers, door handles, and bodyside moldings. Base models kept manual hubs, but LSi Trackers got automatic-locking hubs.
1992 Tracker
Tilt steering wheel was a new option, and dashboards looked a little different.
1993 Tracker
Except for new colors and revised radio controls, Trackers again showed nearly no change.
1994 Tracker
California Trackers got a different engine: a 95-horsepower rendition with four valves per cylinder.
1995 Tracker
All 4-wheel-drive Trackers adopted the 95-horsepower engine.
1996 Tracker
All Trackers added dual airbags and a 4-door wagon was available for the first time. The 4-door measured 11 inches longer in wheelbase and 15 inches longer overall than the convertible. Trackers also had a revised front-end look and new wheels. Three-door hardtop bodies were gone. New options included 4-wheel antilock braking, which worked in both 2- and 4-wheel drive.
1997 Tracker
The upscale 2-door LSi convertible was dropped for '97. Meanwhile, the base ragtop gained a folding rear bend seat as standard equipment.
1998 Tracker
Tracker puts on a Chevy bow tie badge and loses its top LSi trim level for 1998. Other changes are minimal. An all-new Tracker, again under the Chevrolet name, was waiting for '99.