Large pickup truck; Built in USA, Canada
ext. cab long bed
ext. cab short bed
reg. cab long bed
reg. cab short bed
longitudinal front-engine/rear- or 4-wheel drive
Good condition price range: $1,100 – $5,100*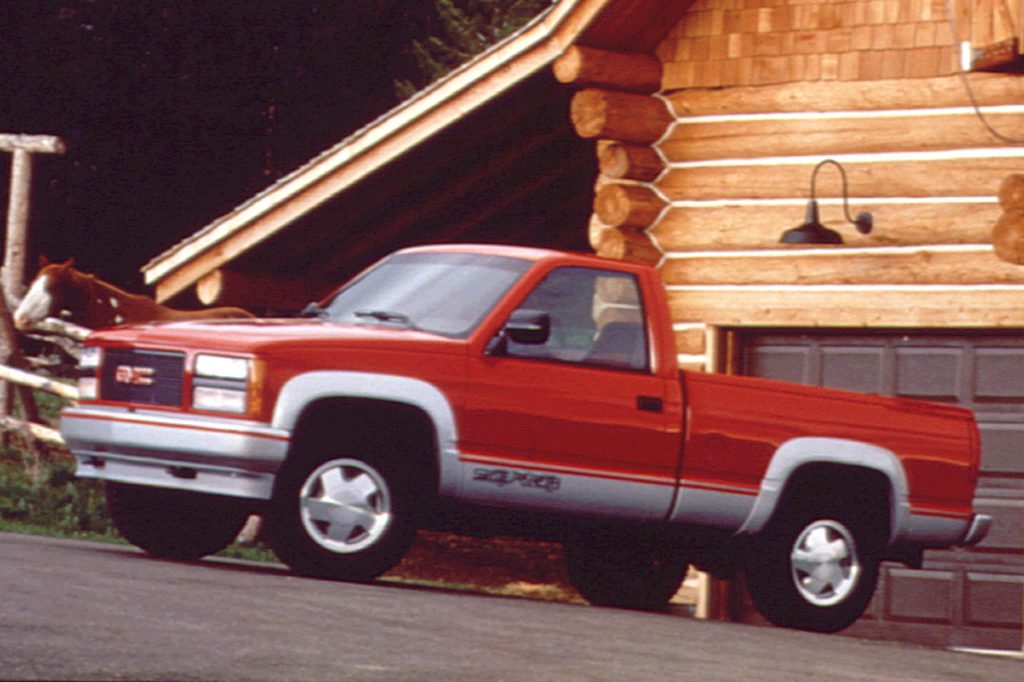 1992 GMC Sierra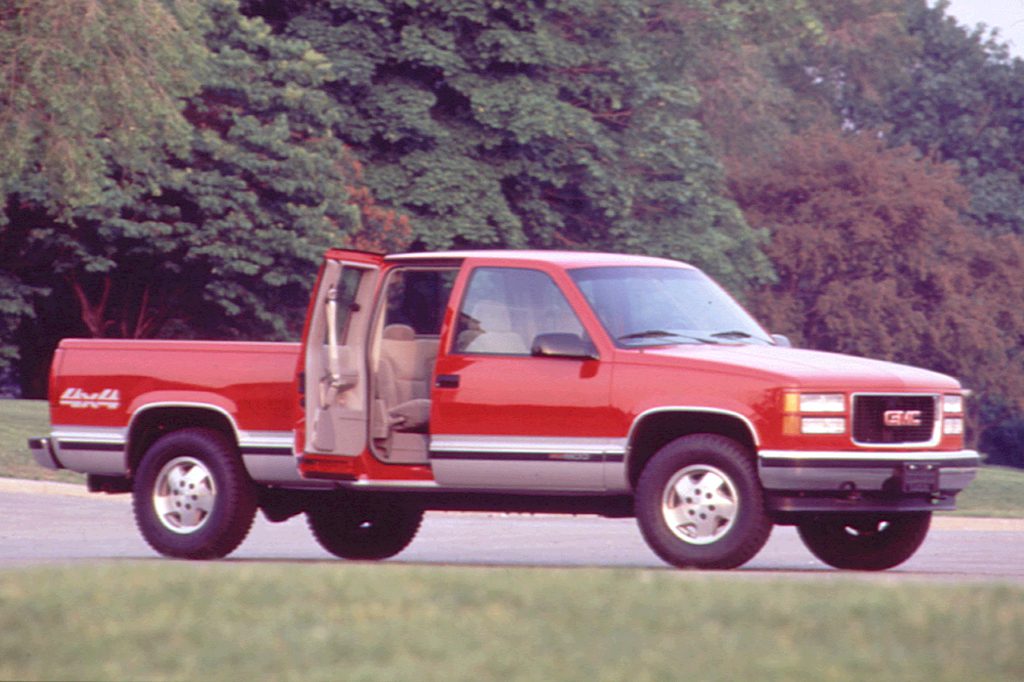 1996 GMC Sierra extended cab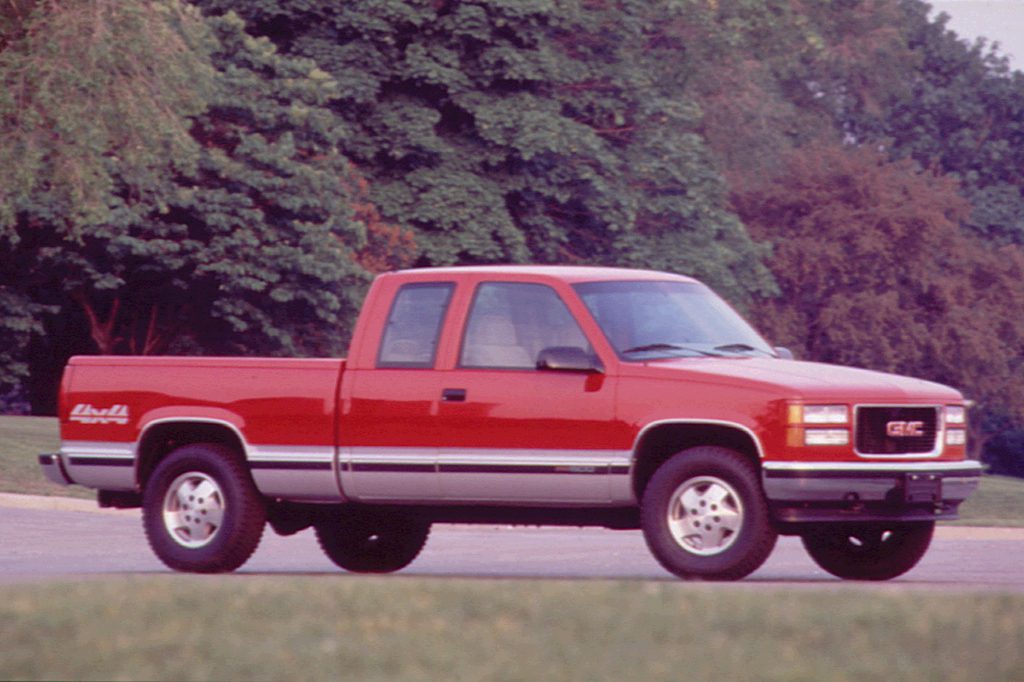 1996 GMC Sierra extended cab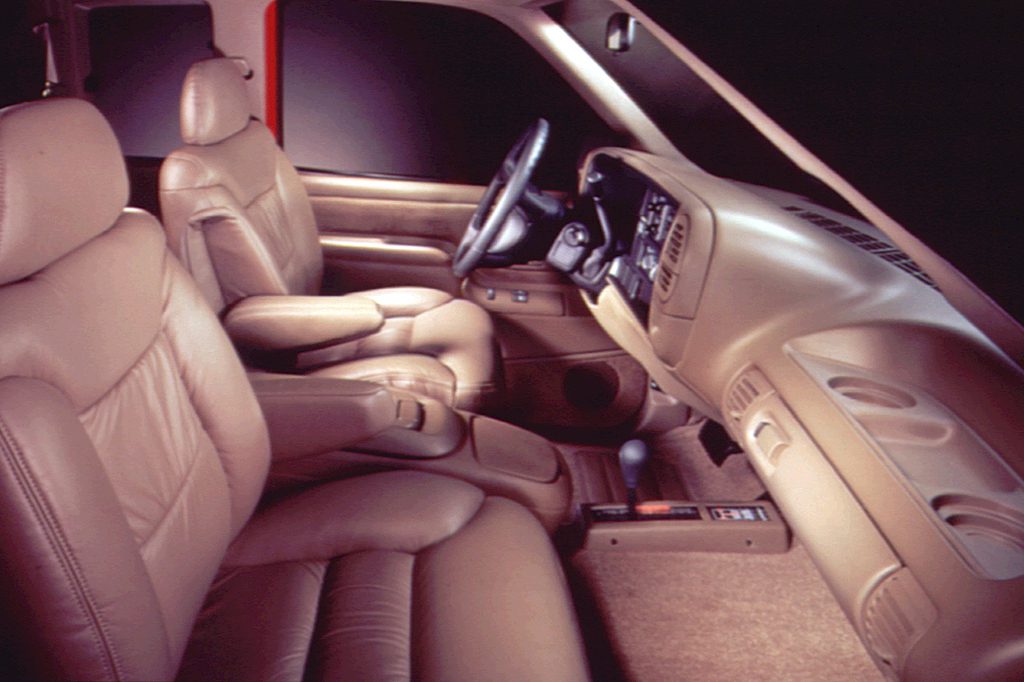 1995 GMC Sierra interior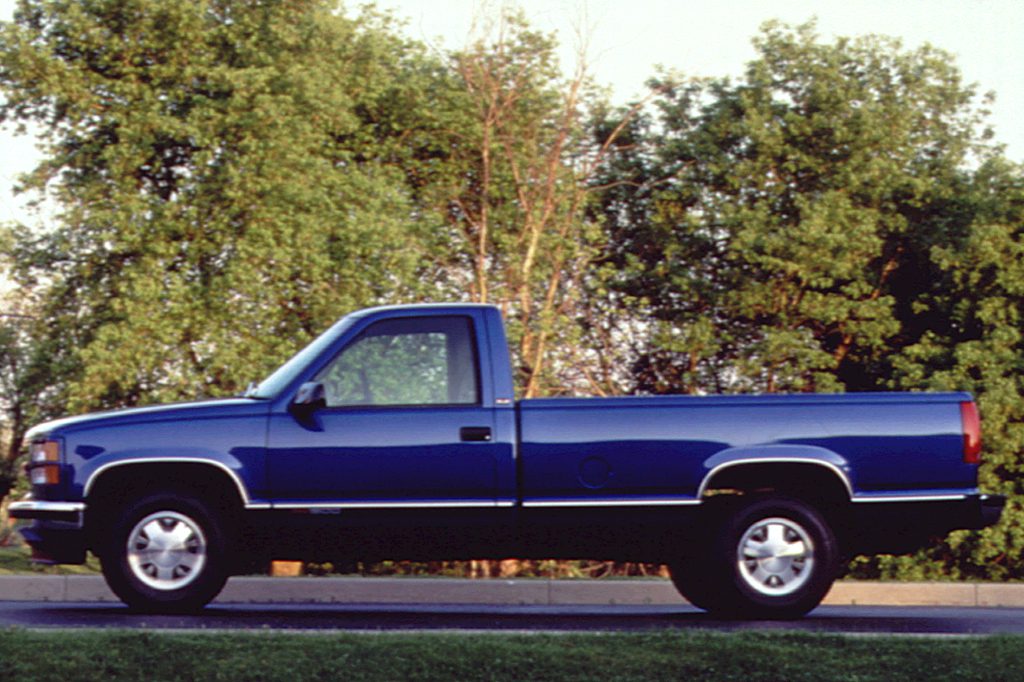 1997 GMC Sierra regular cab
Pros:

Acceleration (V8)
Antilock brakes (later models)
Passenger and cargo room
Trailer-towing capability
Visibility

Cons:

Climate controls (early)
Fuel economy
Noise
Ride
GM, Ford, and Dodge are closely matched in powertrain, body style, trim, and payload choices. Therefore, many buying decisions boil down to personal preference. Before deciding, be sure to try all three.
Overview
GMC's Sierra and the nearly identical Chevrolet C/Ks had been redone as early 1988 models, in three series: 1500 (1/2 ton), 2500 (3/4 ton), and 3500 (1-ton). C pickups were 2-wheel drive; K indicated Insta-Trac part-time 4WD. Models without flared rear fenders were called Wideside, models with flared rear fenders Sportside. The short-bed had a 117.5-inch wheelbase and 6.5-foot bed. Long-bed trucks rode a 131.5-inch wheelbase with 8-foot bed. Extended-cab models had a 141.5-inch wheelbase with 6.5-foot bed, or a 155.5-inch wheelbase with 8-foot bed.The 6-passenger extended-cab (2500 only) had two full-width bench seats. A folding bench was available in other extended-cabs. Others got a 3-place bench seat or two buckets. Base engine was a 4.3-liter V6, making 160 horsepower. Options included 5.0- and 5.7-liter gasoline V8s, and a 6.2-liter diesel. All models had antilock rear brakes, and either manual shift or an automatic transmission.
Yearly Updates
1991 Sierra Pickup
A substantially revised 7.4-liter V8 could now be mated to an automatic transmission. Front bucket seats and a new gauge cluster while a tachometer joined the option list.
1992 Sierra Pickup
A flare-fendered cargo box became available on extended-cab models for '92. No more 4-speed manual gearboxes were installed.
1993 Sierra Pickup
Sierra's new automatic transmission gained electronic controls. A passenger seatback recliner was added to 40/60 split bench seats and low-back buckets. All windows now had tinted glass.
1994 Sierra Pickup
Grilles earned modest revision as new door guard beams and a center high-mounted stoplamp were installed. Two 6.5-liter diesel V8s joined the option list: a normally aspirated version rated 155 horsepower, and a 180-horsepower turbodiesel.
1995 Sierra Pickup
A driver-side airbag went into a revised interior, and 4-wheel antilock braking was installed on all models. The new dashboard featured cupholders and rotary climate controls.
1996 Sierra Pickup
Vortec engines arrived in '96, delivering more power. The new 4.3-liter V6 gained 40 horsepower (reaching 200). The 5.0-liter V8 gained 45 horsepower, the 5.7-liter added 50 horses, and the 7.4-liter V8 gained 60 horsepower (now 290). The heavy-duty 5.7-liter V8 now was rated 245 horsepower (up 65). An optional rear side door (on the passenger side) was available only on the C/K 1500 series Club Coupe short-bed SLE and SLT. It cannot be used unless the front door has been opened.
1997 Sierra Pickup
A passenger-side airbag went into all 1500 models and the rear-drive 2500 series. A dashboard switch could shut off the airbag if a rear-facing infant seat was installed.
1998 Sierra Pickup
Sierra saw only modest changes for 1998, and a new model was released in '99.