Large car; Built in USA
4-door sedan
4-door wagon
longitudinal front-engine/rear-wheel drive
Good condition price range: $1,100 – $6,200*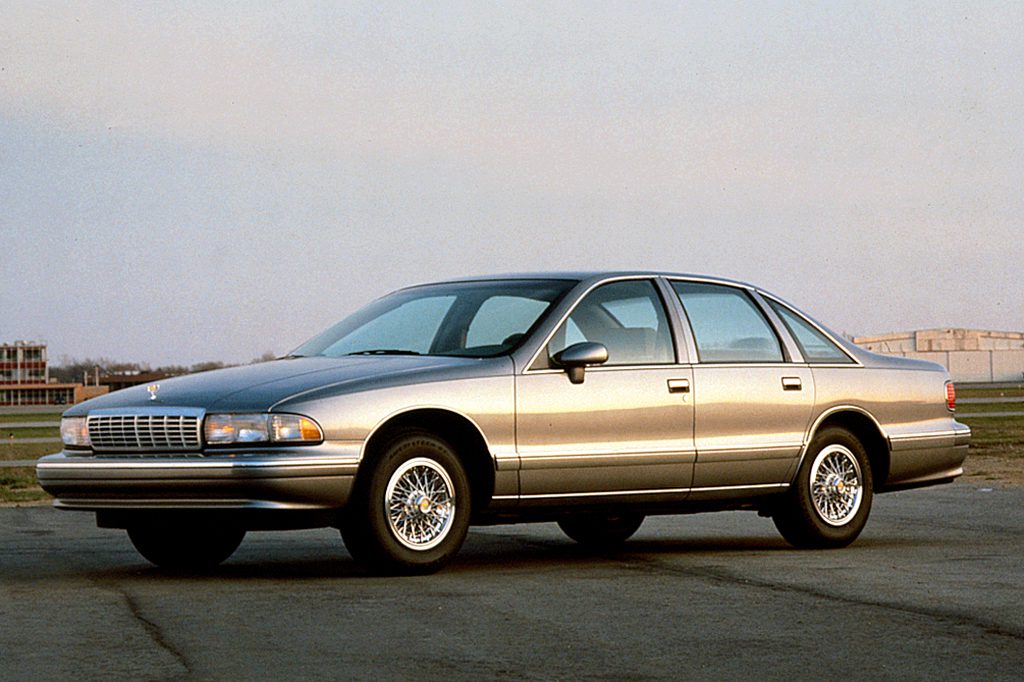 1994 Chevrolet Caprice Classic 4-door sedan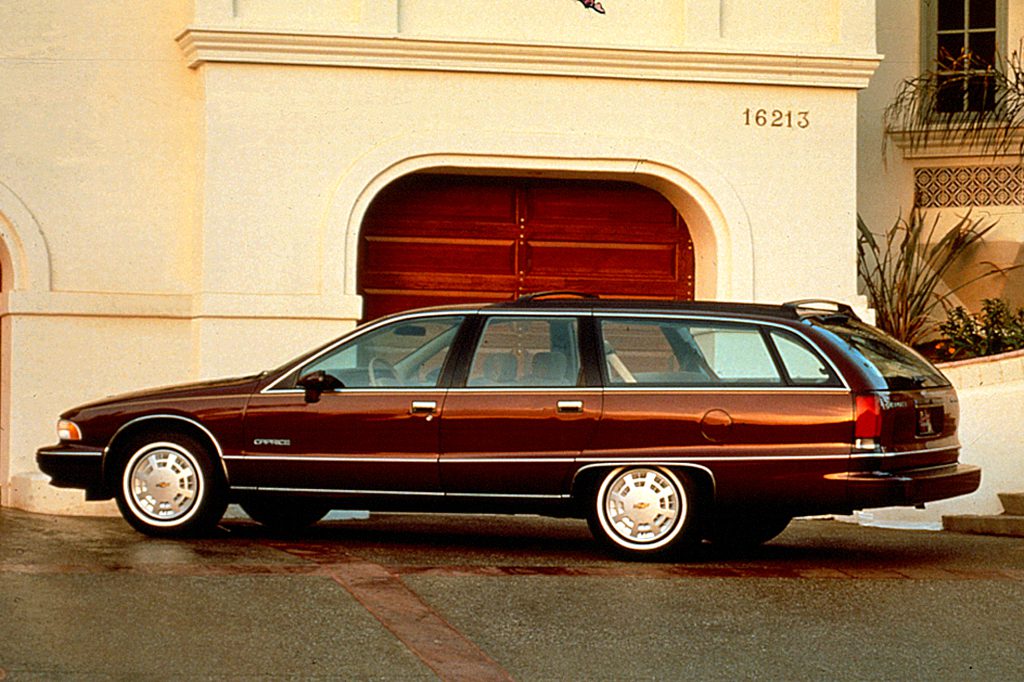 1991 Chevrolet Caprice 4-door wagon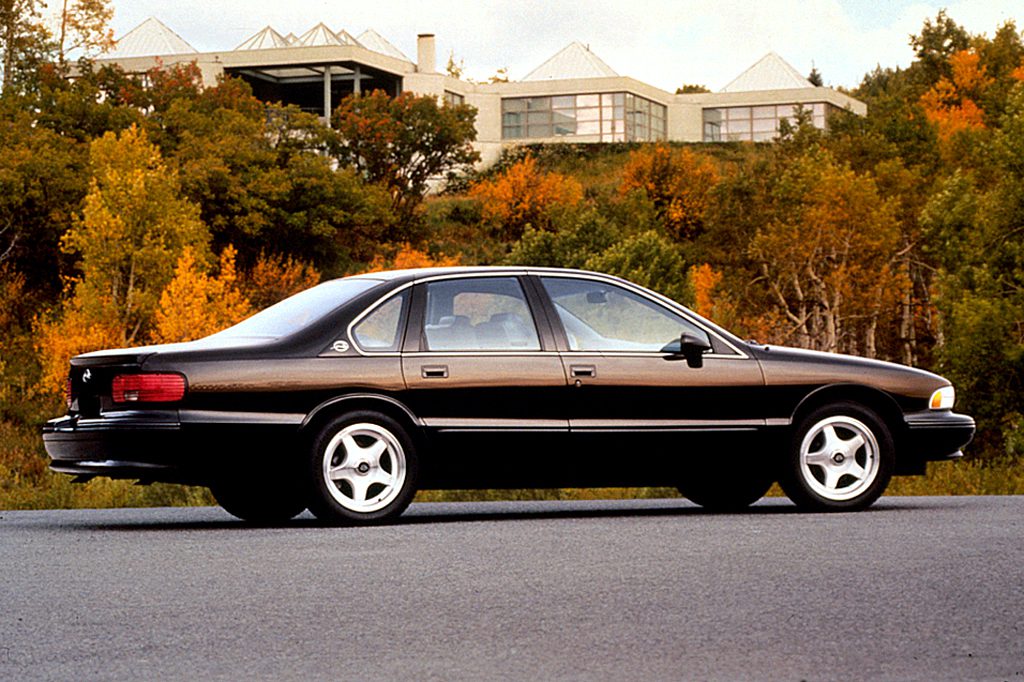 1994 Chevrolet Impala SS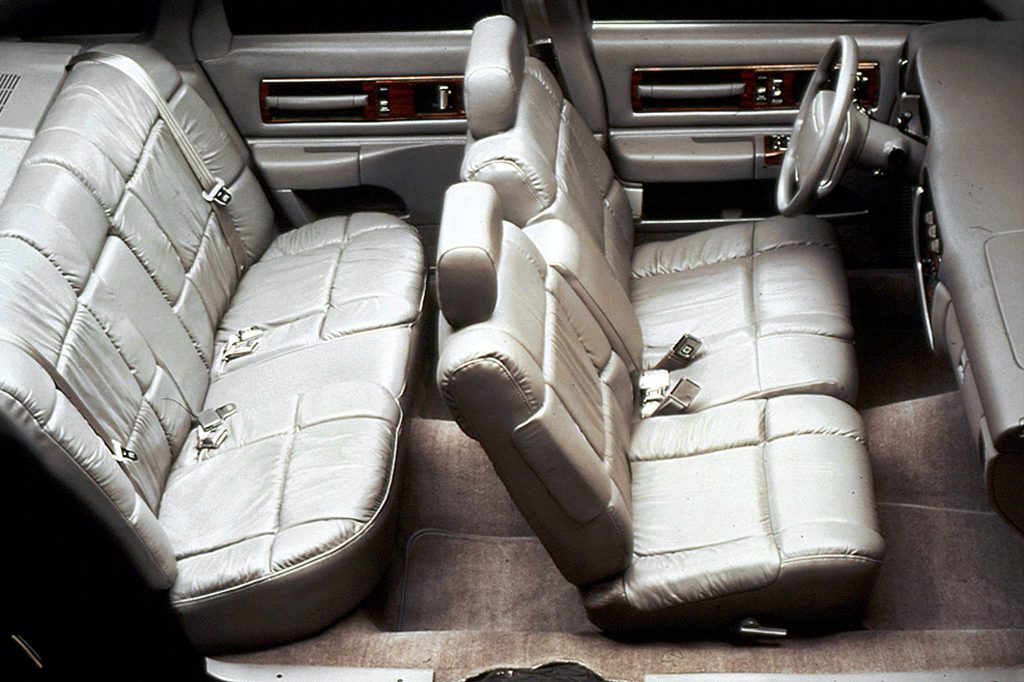 1996 Chevrolet Caprice Classic interior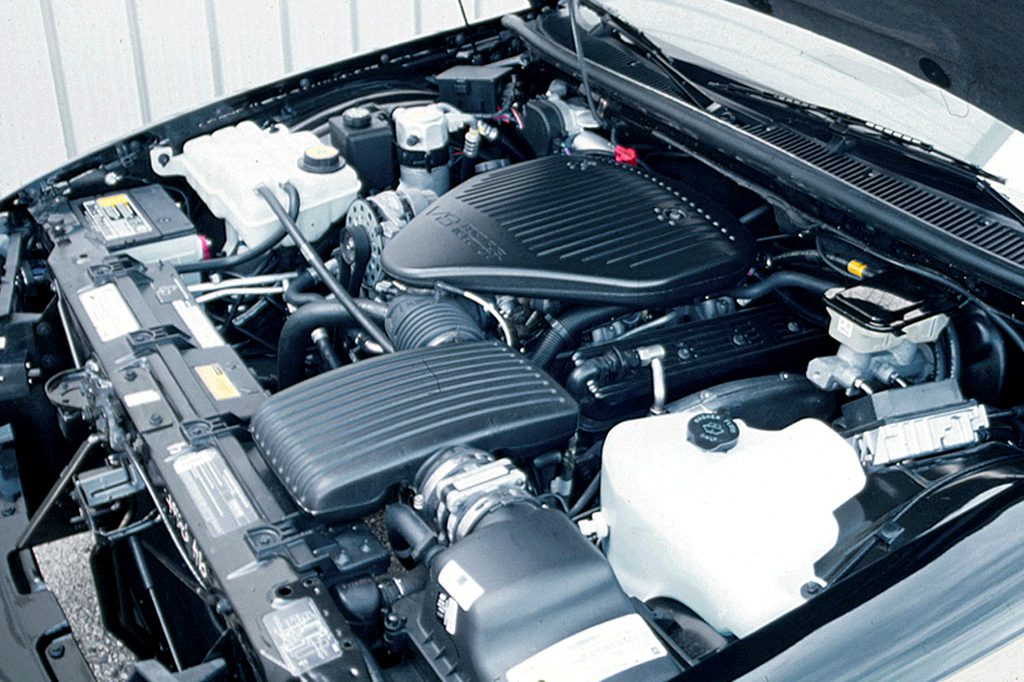 1994 Chevrolet Impala SS engine
Pros:

Acceleration
Antilock brakes
Passenger and cargo room
Trailer towing capability

Cons:

Fuel economy
Ride/handling/roadholding (Caprice w/base suspension)
Steering feel (Caprice)
Wind noise
GM's front-drive full-size sedans (Buick LeSabre, Olds Eighty Eight, Pontiac Bonneville) handle better and consume less fuel, but can't match Caprice's towing ability.
Overview
Introduced as an early '91 model, the full-size Chevrolet wore a new aero look atop its elderly rear-drive chassis. Sedans arrived in April 1990 in standard and upscale Classic trim; a station wagon followed that fall. Wagons are similar to the Buick Roadmaster and Olds Custom Cruiser. Bigger than prior Caprices, the '90s edition got antilock brakes and a driver-side airbag. Outboard rear occupants gained 3-point seatbelts. Six-passenger seating was standard in wagons, or an optional rear-facing third seat increased capacity to eight. Wagons included a roof rack, rear wiper/washer, and a tailgate that swung out or down. A sporty LTZ, added at midyear, offered a sports suspension and wider tires.
Yearly Updates
1992 Caprice/Impala SS
A larger optional V8 engine became available for Caprice wagons, which came in a single model. Speedometers now read to 100 mph, and a tilt wheel was standard.
1993 Caprice/Impala SS
Rear wheelwells on Caprice sedans lost their "fender-skirt" look, turning instead to rounded wheel openings. Taillamps and rear trim were new, and rear track width grew by 1.6 inches. Both sedans now were known as Caprice Classics, in base or step-up LS trim. A larger (5.7-liter) V8, developing 180 horsepower, went into the performance-oriented LTZ sedan, and was optional in wagons.
1994 Caprice/Impala SS
A passenger-side airbag joined the one on the driver's side. Not one, but two new engines replaced their '93 predecessors: a 4.3-liter V8, and a high-performance 5.7-liter derived from the Corvette's LT1 V8. Later in the model year, an aggressively styled, performance-oriented Impala SS joined up, carrying that toned-down LT1 V8 and police-type suspension. Caprices got a redesigned dashboard with digital speedometer, and an electronic automatic transmission replaced the hydraulically controlled unit.
1995 Caprice/Impala SS
Caprice sedans adopted the rear roof pillar introduced in '94 on the Impala SS. That performance-oriented Impala SS now came in three colors, not just black. Seats were reshaped, foldaway mirrors added.
1996 Caprice/Impala SS
The gearshift lever in the Impala SS moved from the steering column to the console. An analog speedometer replaced the digital unit, and a tachometer was installed. Production of both models halted during 1996.