Sporty/performance car; Built in USA
transverse front-engine/front-wheel drive
Good condition price range: $1,100 – $2,000*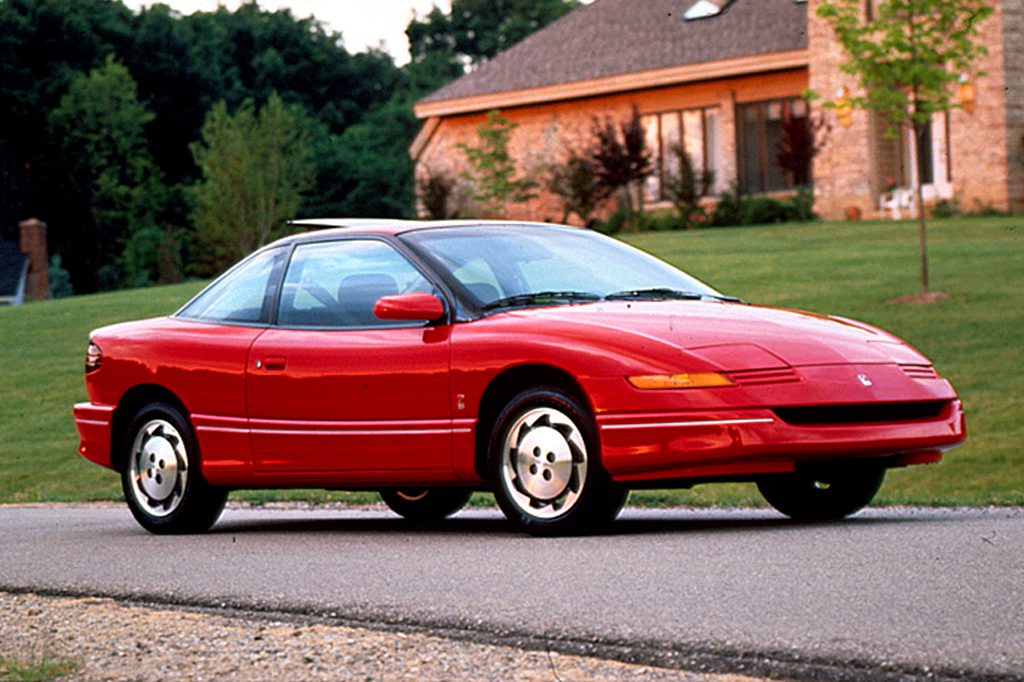 1995 Saturn SC2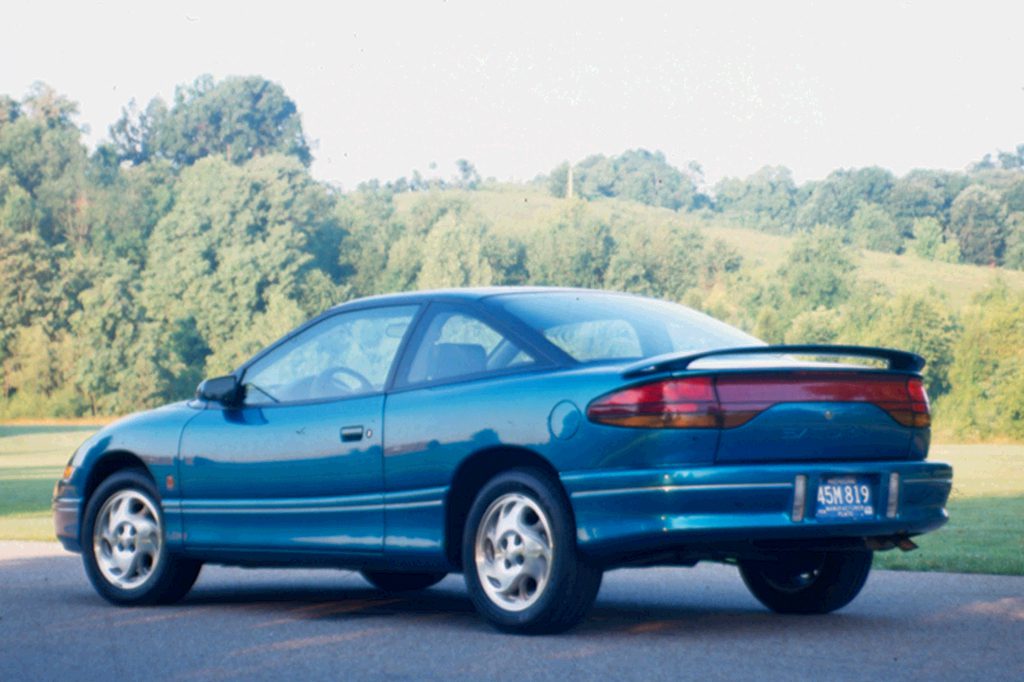 1992 Saturn SC2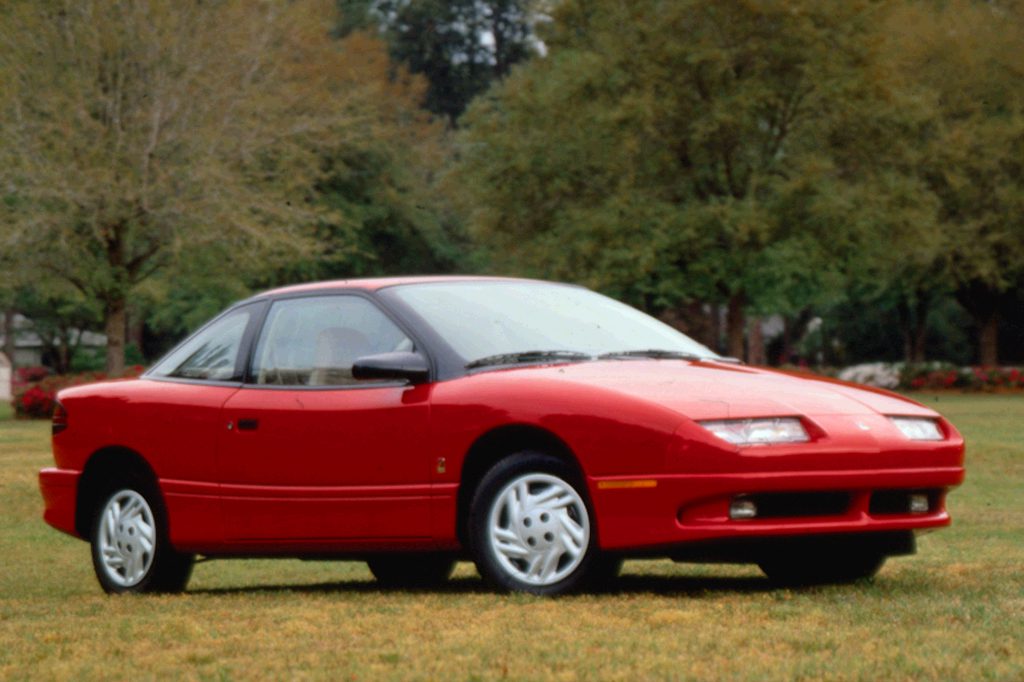 1996 Saturn SC1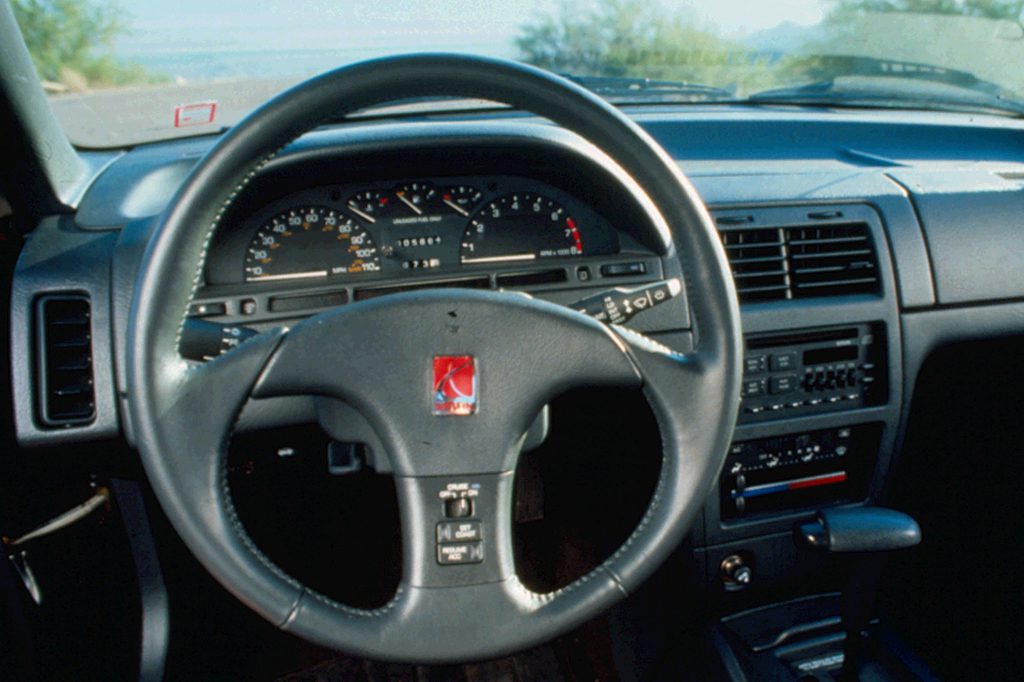 1995 Saturn SC interior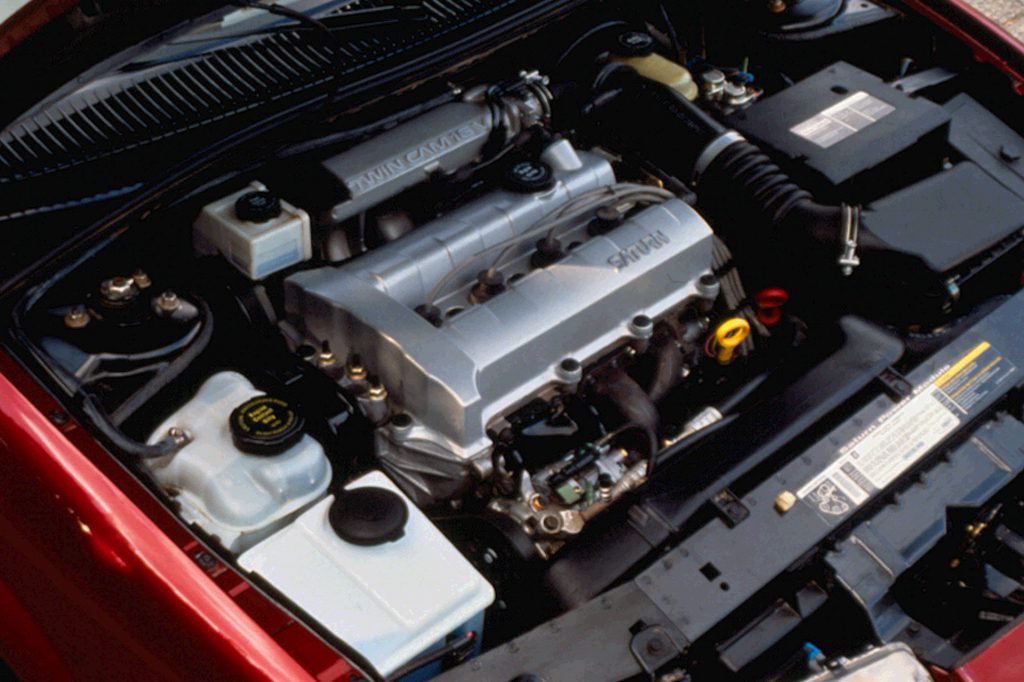 1992 Saturn SC 16-valve engine
Pros:

Acceleration (SC2)
Antilock brakes (optional)
Fuel economy
Instruments/controls

Cons:

Acceleration (SC1)
Engine noise
Entry/exit
Rear-seat room
Road noise
Saturn coupes began to get lots of competition from rivals, but the used-car certification program from Saturn dealerships could help ensure that buyers will get a good deal on a used Saturn. You also have the promise of higher-than-average customer service on repairs and warranty work after the purchase.
Overview
The newest member of the GM family was Saturn. Initially they offered a 2-door coupe and 4-door sedans and wagons. All came with doors, fenders, and side body panels made from a rustproof plastic. However, hoods, trunklids, and roofs were still made of steel. Saturn coupes rode on a 99.2-inch wheelbase and measured 173.2 inches from front to back. For its first year, only one coupe model was offered–the SC. The only engine for the SC coupe was a twin-cam, 124-horsepower, 1.9-liter 4-cylinder. All Saturns are front-wheel drive and had antilock brakes optional.
Yearly Updates
1992 Coupe
Saturns return for their sophomore season with few changes. The most significant being the arrival of an optional driver-side airbag and a new mounting system for the engine and transmission, designed to reduce noise and vibration.
1993 Coupe
A standard driver-side airbag is added to all Saturn subcompacts, while a new base coupe is added. The new entry-level coupe is dubbed SC1 and comes equipped with the 85-horsepower single-cam version of Saturn's 1.9-liter 4-cylinder. Last year's coupe is renamed SC2 and retains the 124-horsepower twin-cam version. For both engines, a 5-speed manual is standard and a 4-speed automatic is optional.
1994 Coupe
Revised power door locks, a recalibrated transmission, and CFC-free air conditioning sum up the changes to Saturn's sports coupes for 1994.
1995 Coupe
A standard passenger-side airbag, extra power for the base engine, and minor styling changes are making headlines this year at Saturn. Saturn completely redesigned the interior with a new dashboard and dual airbags. In addition, the base engine provides 15 more horsepower–100 instead of 85. With the addition of dual airbags, motorized shoulder belts have been discarded for new height-adjustable manual 3-point belts. Among the styling changes, the SC1 gets a new front end, while revisions were made to both the front and tail of the SC2.
1996 Coupe
For 1996, the electronic 4-speed automatic has new adaptive shift program that changes based on how the car is driven. The other big change is that traction control, previously included only with the optional ABS and automatic transmission, can now be included when ABS and the 5-speed manual gearbox are paired. The Saturn coupe would be redesigned for '97.