Premium sporty/performance car; Built in Germany
longitudinal front-engine/rear-wheel drive
Good condition price range: $4,800 – $13,700*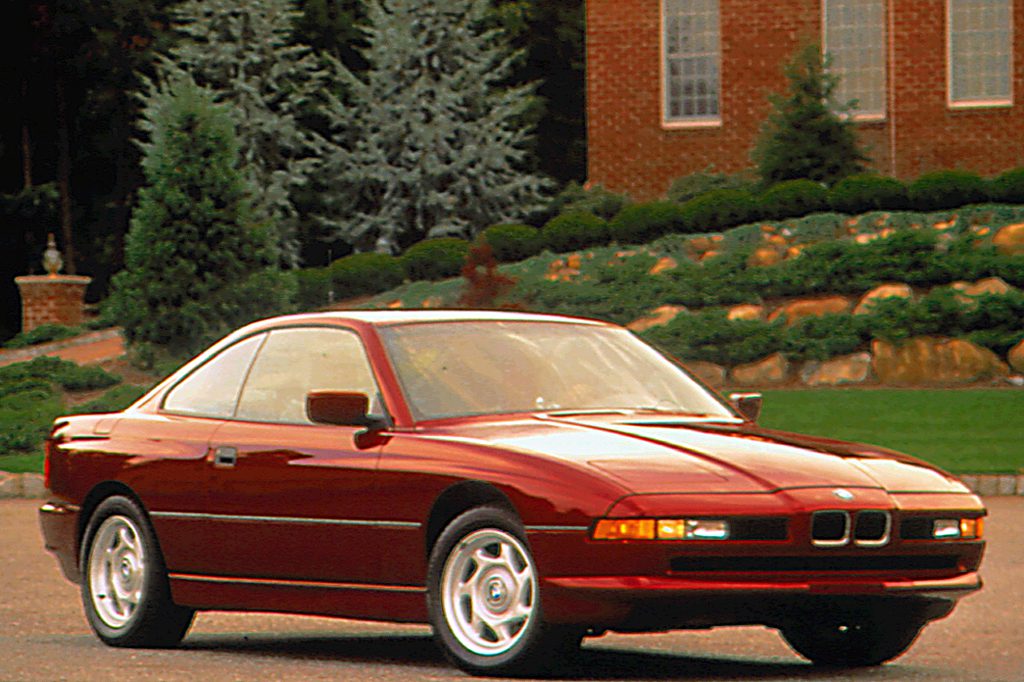 1997 BMW 850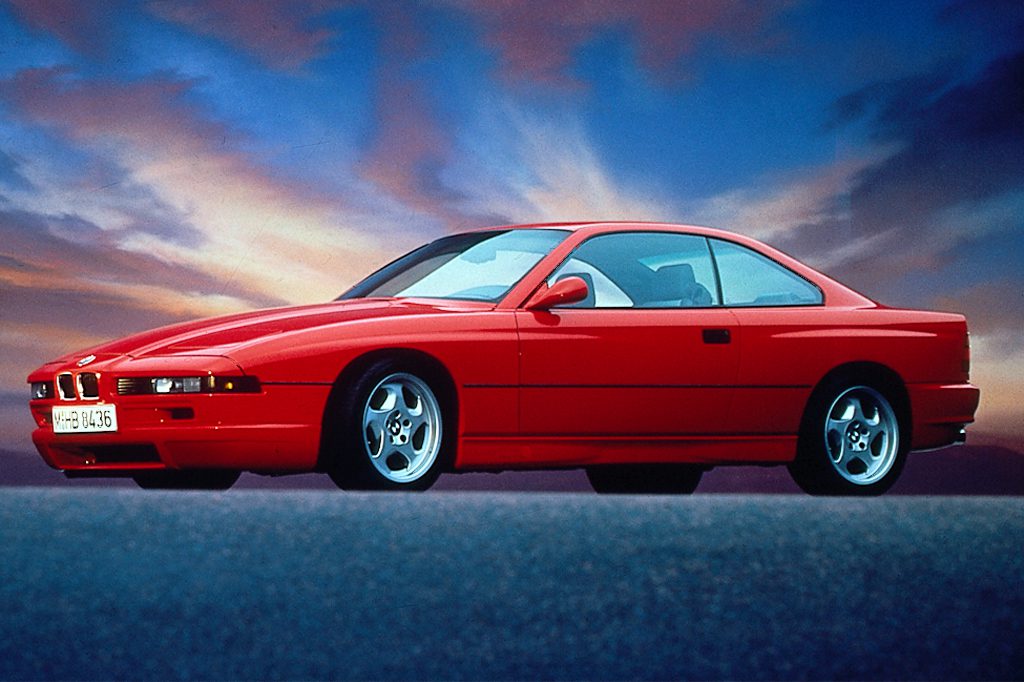 1995 BMW 8-Series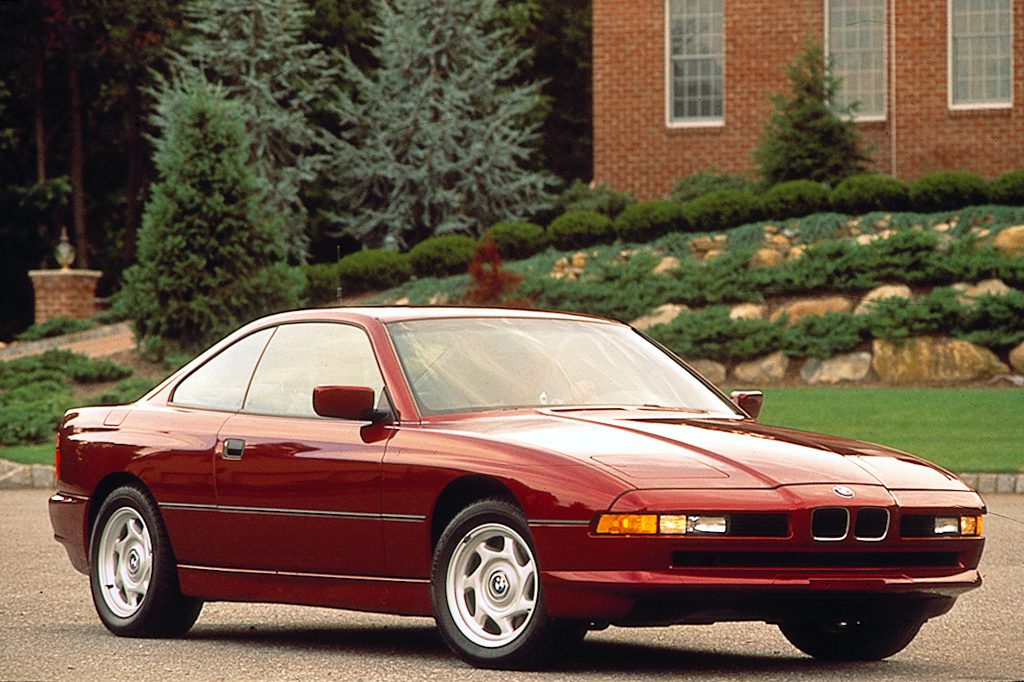 1995 BMW 8-Series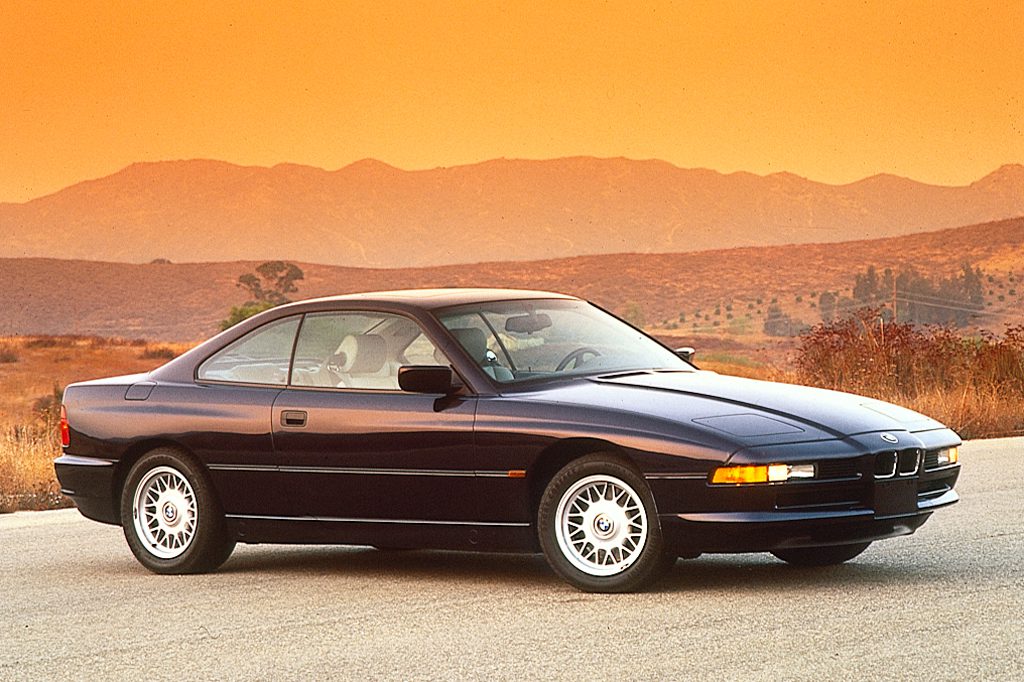 1996 BMW 8-Series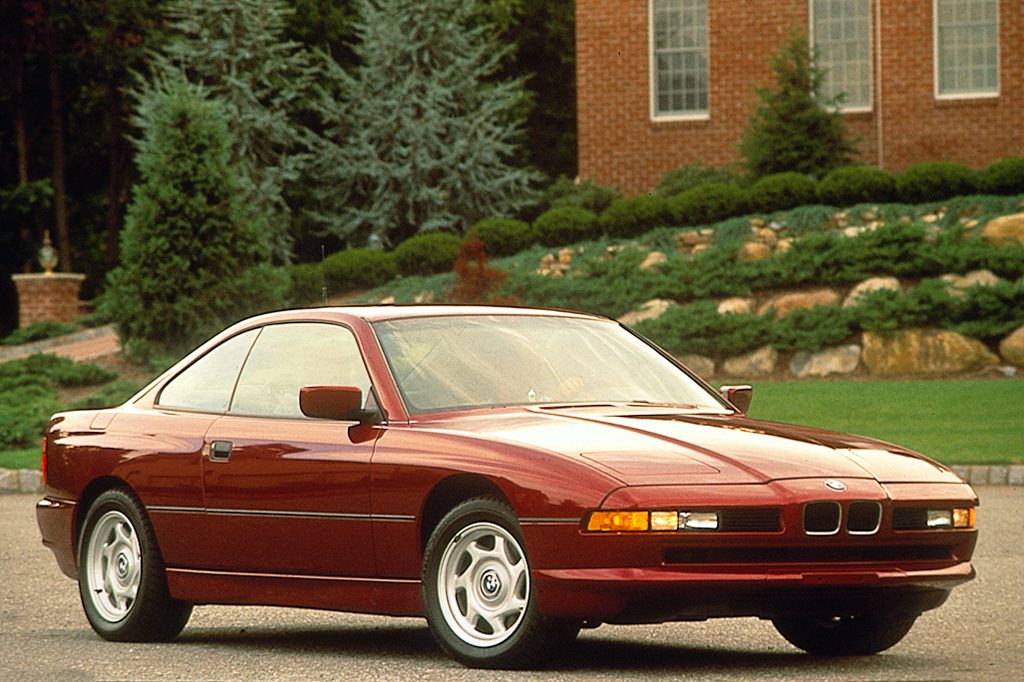 1996 BMW 8-Series
Pros:

Acceleration
Antilock brakes
Traction control
Ride
Steering/handling

Cons:

Fuel economy
Passenger room
Price
The 8-Series was a slow seller from the start, partly due to its being prohibitively expensive for all but the very rich. Used-car prices are no bargains, either. An 840Ci always made the most sense from a cost standpoint, because the V12 engine in the 850Ci was not far enough ahead in performance to justify its markedly higher price.
Overview
Building upon the idea of its luxurious 750iL sedan, BMW turned to a comparable 2+2 coupe for 1991. Introduced in June 1990, it served as the successor to BMW's 635CSi coupe and cost even more than the 750iL. BMW's familiar "twin-kidney" grille was installed, but the rear-drive 850i wore hidden headlamps, a feature never before seen on BMW models in the U.S.
Although its 296-horsepower, 5.0-liter V12 engine came from the 750iL, the new 850i was created with a more sporty demeanor. Either a 4-speed automatic or a new 6-speed manual transmission could be installed. Standard 850i features included Automatic Stability Control (ASC), which limited power to the rear wheels when wheel slippage was detected during acceleration. Models with manual shift got a different version, ASC + T, which also applied brakes to the rear wheels to restore traction. The 850i was the first model to use BMW's new Seat-Integrated Belt system, which integrated the belt system into the seat instead of anchoring it to the floor and/or roof pillars. All 850i coupes had a driver's airbag and antilock braking.
Electronic Damping Control (EDC III) became optional in the fall, several months after the 850i went on sale. With EDC III, suspension firmness adjusted automatically based on how the car was being driven. In addition, the driver could choose Comfort or Sport setting, using an interior switch. Rivals included the Mercedes-Benz 500SL roadster, joined later by the Lexus SC 400.
Yearly Updates
1992 8-Series
A gearshift interlock was among the few changes to BMW's high-level 2+2 coupe in its second season, to prevent the automatic transmission from shifting out of park unless the brake pedal was applied. BMW's optional Electronic Damping Control gained a more pronounced differentiation between its Comfort and Sport modes. Pressing the end of the wiper and turn-signal stalks now allowed the driver to scroll through the cellular phone's stored numbers, place a call, or end a call.
1993 8-Series
BMW renamed its 2+2 coupe the 850Ci, thus emphasizing its coupe body style. A passenger-side airbag joined the original driver's airbag, and the cabin gained maple trim. Rear seatbacks now split and folded, and contained a new trunk pass-through. Either a 6-speed manual transmission or a 4-speed automatic could be installed.
1994 8-Series
A new V8 model, named 840Ci, joined this lineup this year. It used the same 282-horsepower, 4.0-liter V8 engine as the 740i/iL sedan, driving a 5-speed automatic transmission. Also new was a limited-edition 12-cylinder model, called 850CSi, fitted with a 372-horsepower, 5.6-liter V12. That one came with a 6-speed gearbox, sport suspension, lower ride height, and 17-inch tires. Only a 4-speed automatic transmission was available in this year's 850Ci coupe, which added such standard features as interior wood trim, a remote control antitheft alarm, front center armrest, and 250-watt stereo system.
1995 8-Series
As the 1995 model year began, the 840Ci was the only model to reach dealerships, essentially unchanged. Later, only a few 840Ci and 850CSi coupes arrived for sale. The regular V12 engine for the 850Ci grew in size, to 5.4 liters and a 322-horsepower rating.
1996 8-Series
The high-performance 850CSi coupe was gone, leaving only the 840Ci and 850Ci. The 840Ci got a new 4.4-liter V8 engine when production began early in 1996. Servotronic variable-assist power steering was standard on both models. Maple interior trim, already in the 850Ci, was added to the 840Ci's interior. Electronic Damping Control, adjusting suspension firmness based on how the car was driven, was standard on the 850Ci and a new option for the 840Ci.
1997 8-Series
Final versions of BMW's biggest coupe went on sale in summer 1996, showing no significant change.