Midsize SUV; Built in USA
longitudinal front-engine/front- or 4-wheel drive
Good condition price range: $1,000 – $2,600*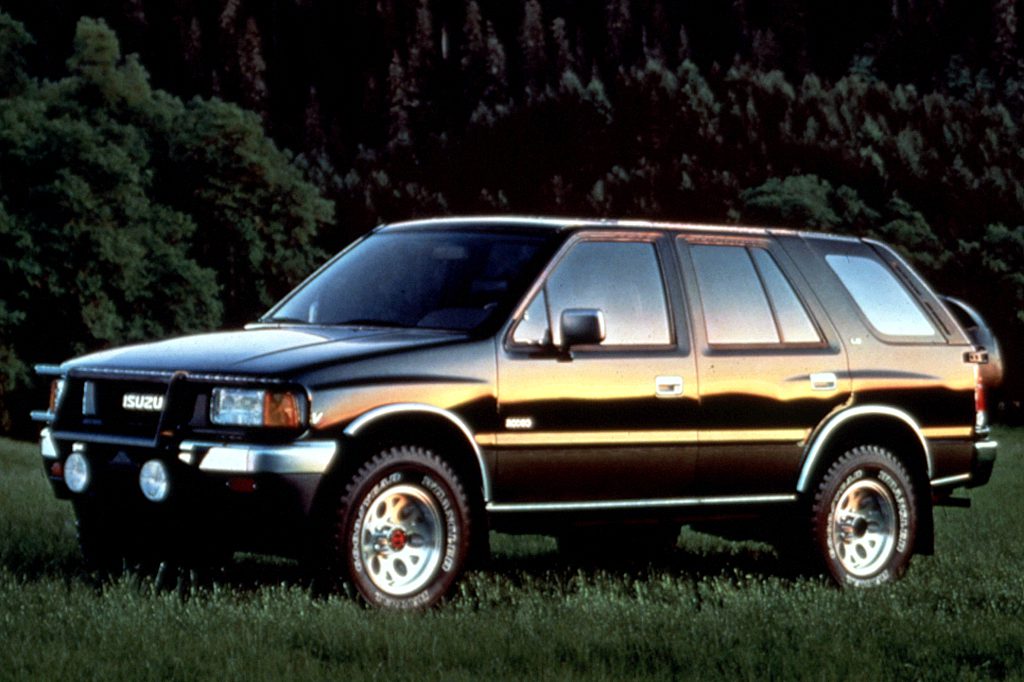 1992 Isuzu Rodeo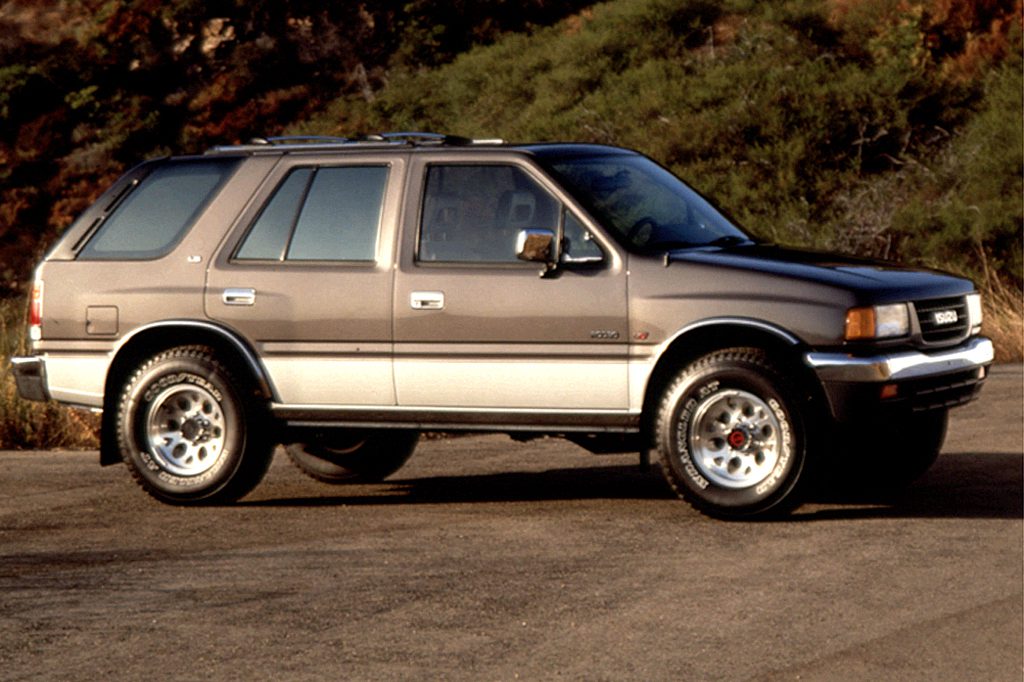 1993 Isuzu Rodeo LS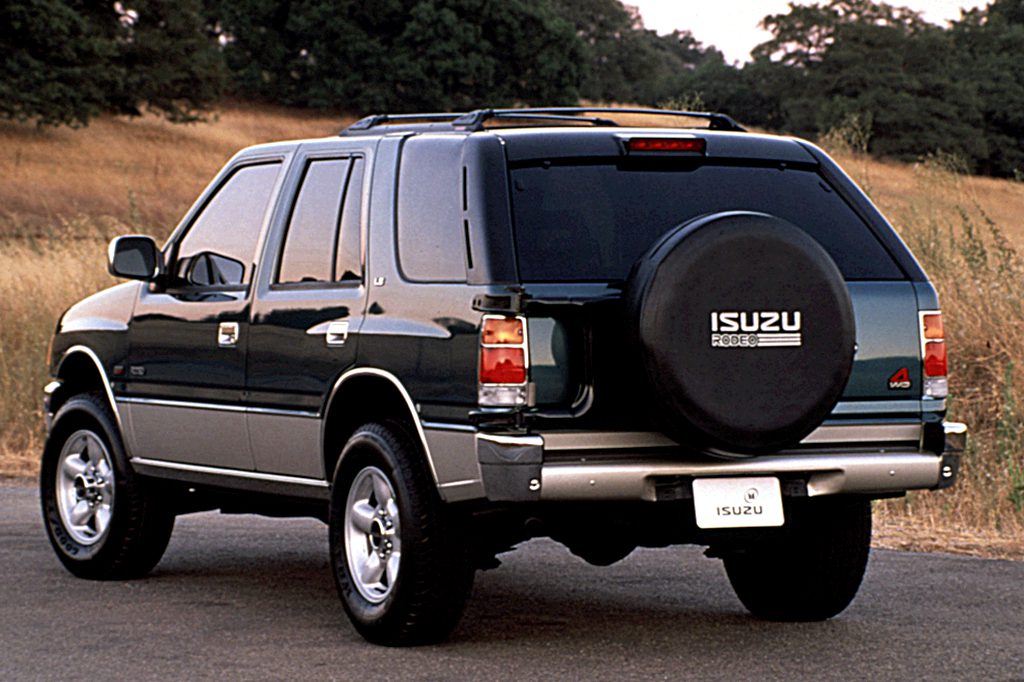 1996 Isuzu Rodeo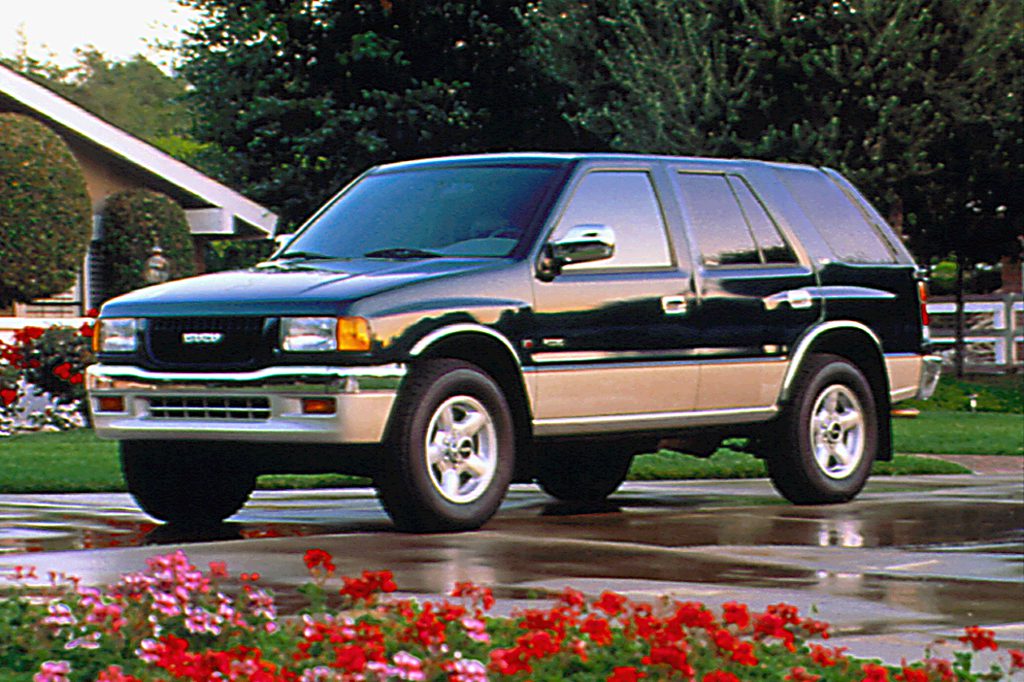 1997 Isuzu Rodeo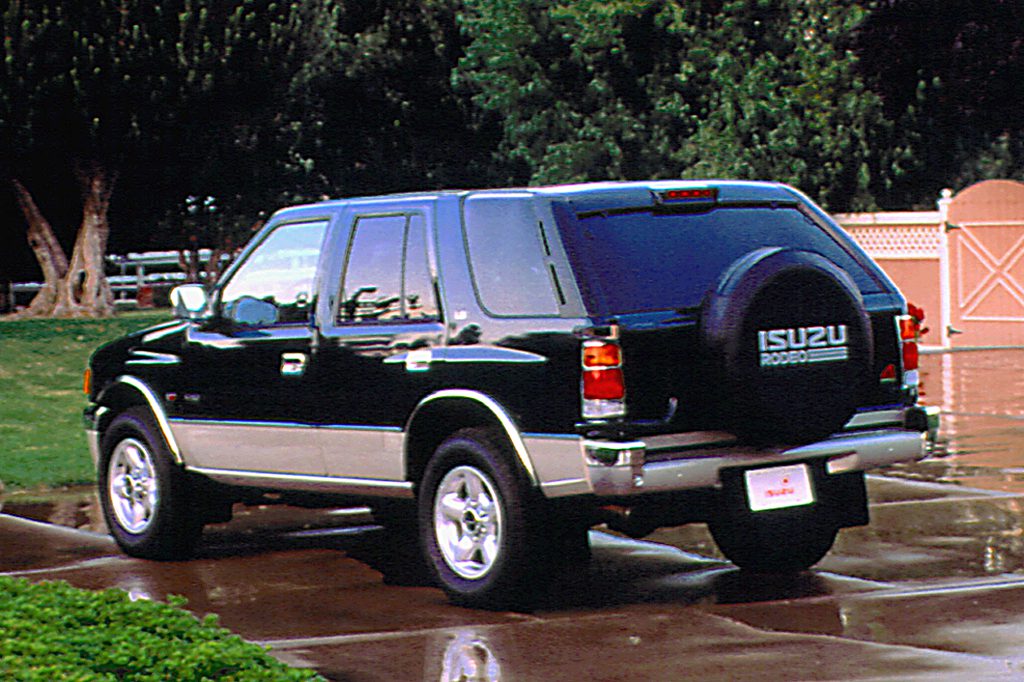 1997 Isuzu Rodeo
Pros:

Antilock brakes (4-wheel opt. after '96)
4WD traction
Passenger and cargo room
Ride

Cons:

Entry/exit
Fuel economy
No shift-on-the-fly (pre '96)
Road noise
Wind noise
The need to stop the vehicle to engage 4WD, then stop and back up to disengage it, is an inconvenience. Otherwise, the competent and tightly constructed Rodeo deserves a serious look, as it just might be the best Isuzu model on the market.
Overview
Like the smaller Amigo, the Rodeo shared its front-end, chassis, and powertrains with pickup trucks. Price leader was the 2-wheel-drive S, with a 4-cylinder engine and 5-speed manual shift. GM's 3.1-liter V6 was standard on the 4-wheel-drive S, as well as 2WD and 4WD models in midrange XS and top-level LS trim. The V6 also was optional in the 2WD S. All but the basic Rodeo could get an optional 4-speed automatic transmission. The 4×4 models used a part-time, on-demand 4WD system and rode larger tires on 7-inch aluminum wheels. Automatic-locking front hubs were standard on all but the 4WD S model, which used manual hubs. All-disc brakes had rear antilock control.
Yearly Updates
1992 Rodeo
Following their debut for 1991, Rodeos continued with little change into '92.
1993 Rodeo
Borrowed from the Trooper, a new 3.2-liter 175 horsepower V6 replaced the prior GM V6 engine. The 3.2-liter engine was standard on the midrange XS and top-line LS, as well as the base S model when equipped with 4WD.
1994 Rodeo
Formerly optional on the base 4-cylinder S model, power steering became standard this year. Air conditioning went into all LS Rodeos. Front vent windows were deleted. Honda began to market its own version of the Rodeo this year, named Passport.
1995 Rodeo
Dual airbags were installed in mid 1995, when Rodeo interiors were revamped and a new dashboard was installed.
1996 Rodeo
Introduced after the start of the model year, '96 Rodeos got a more-powerful V6 engine, shift-on-the-fly 4-wheel drive, and available 4-wheel antilock braking.
1997 Rodeo
Awaiting a substantial redesign for '98, Rodeo continued with no significant changes.