Sporty/performance car; Built in Japan
2-door convertible
2-door coupe
transverse front-engine/front- or all-wheel drive
Good condition price range: $1,600 – $16,000*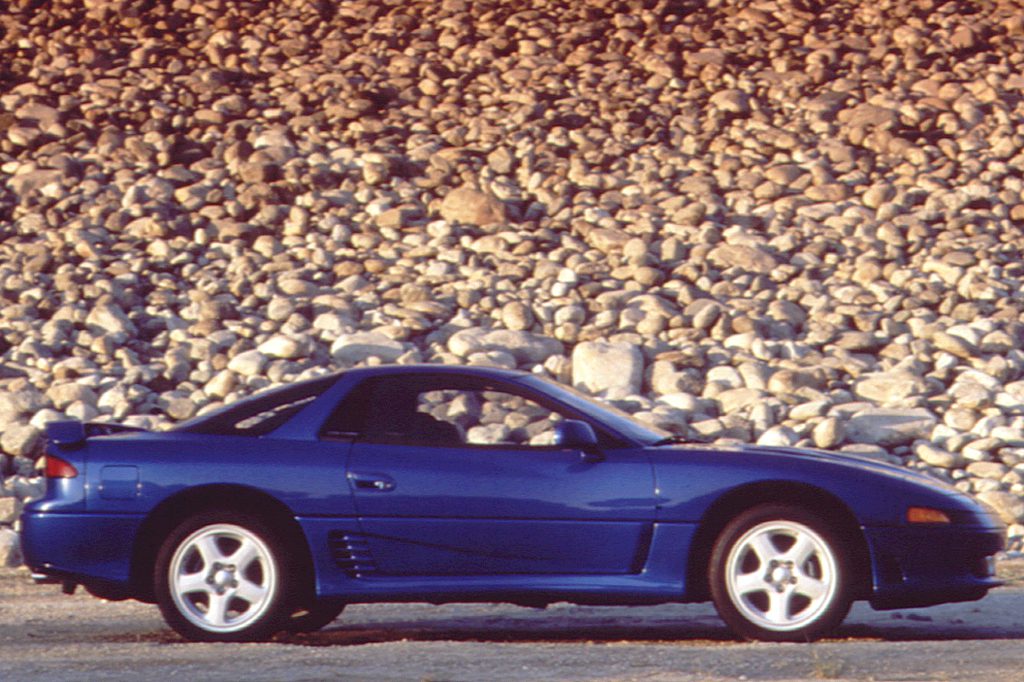 1991 Mitsubishi 3000GT VR-4 2-door coupe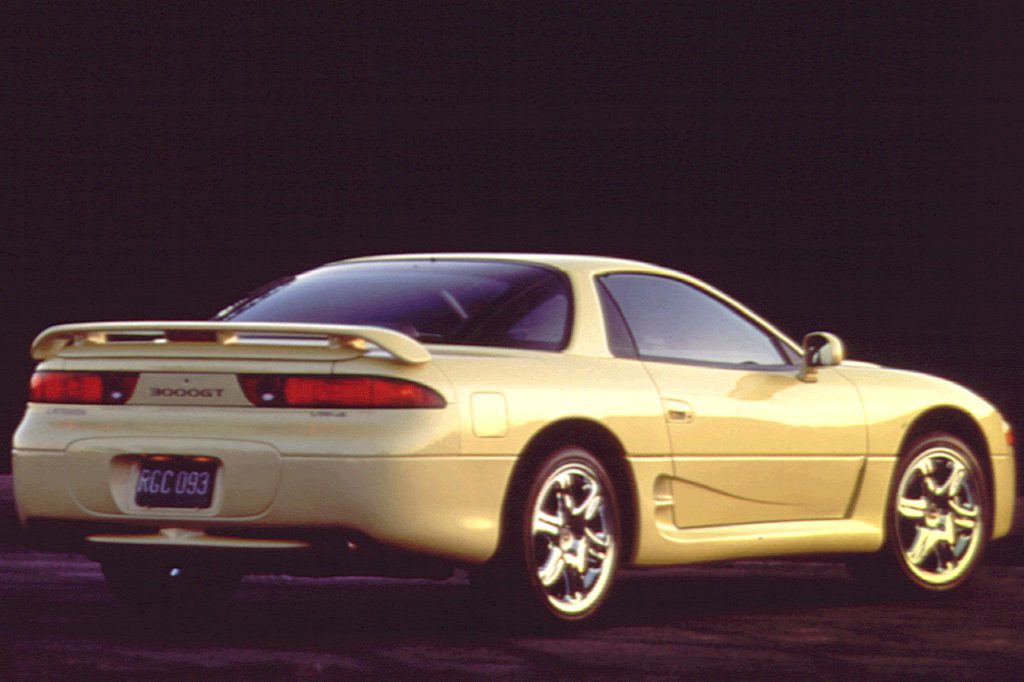 1995 Mitsubishi 3000GT VR-4 2-door coupe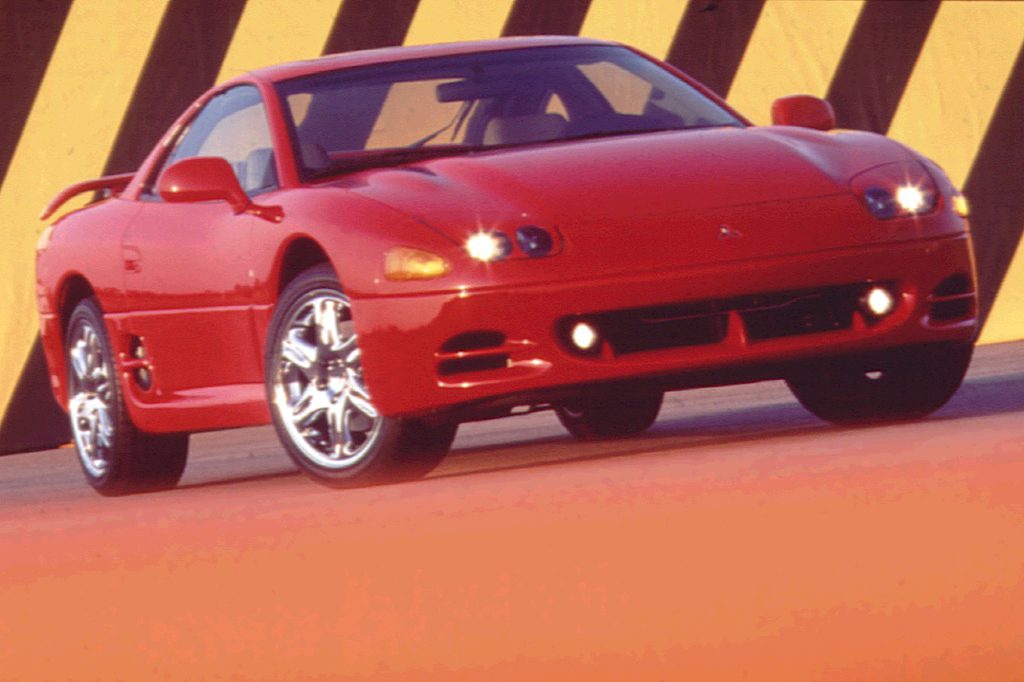 1996 Mitsubishi 3000GT VR-4 2-door coupe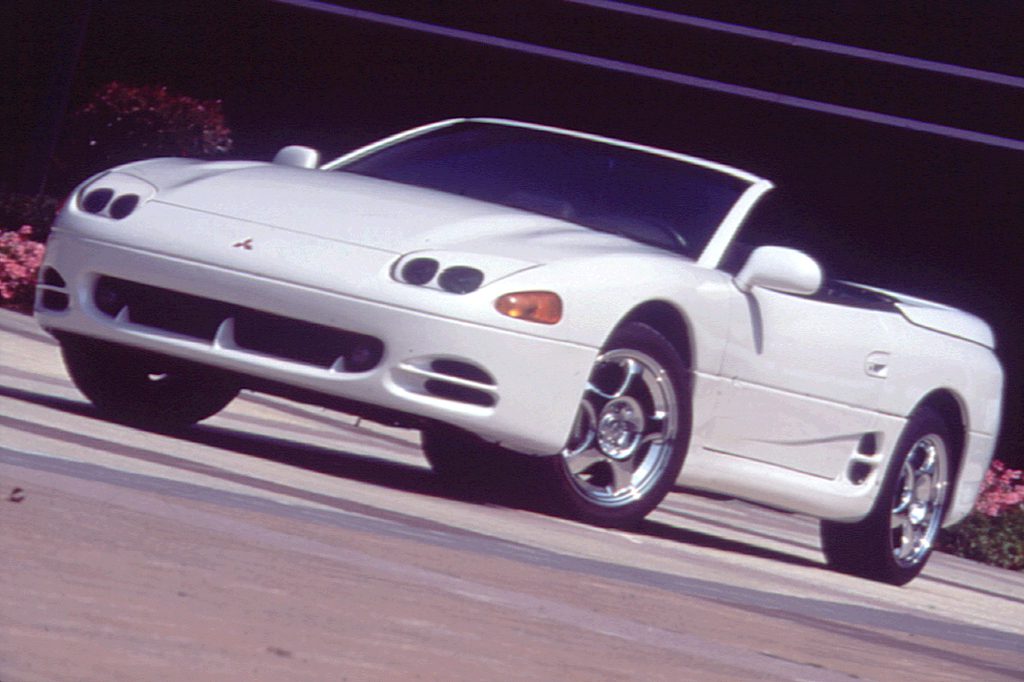 1996 Mitsubishi 3000ST Spyder VR-4 2-door convertible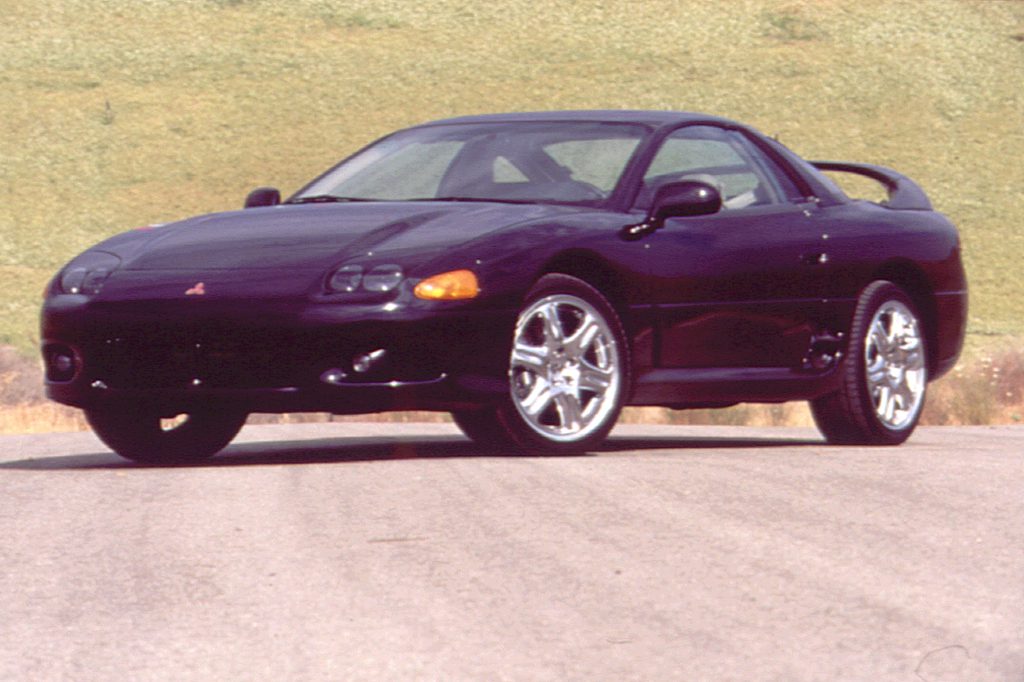 1997 Mitsubishi 3000GT VR-4 2-door coupe
Pros:

Acceleration
All-wheel drive (VR-4)
Antilock brakes (except base)
Handling/roadholding

Cons:

Fuel economy (VR-4)
Passenger and cargo room
Ride
A VR-4 delivers outstanding performance and all-wheel-drive action, but you pay a penalty in its stiff ride, as well as the high price. Base and SL models are more reasonable alternatives.
Overview
Mitsubishi entered the sports-car arena with its new 2+2 sport coupe. The Dodge Stealth was mechanically identical. Base and midrange 3000GT models got a twin-cam, 24-valve 3.0-liter V6, rated at 222 horsepower. The flagship VR-4 had 4-wheel steering, permanent 4-wheel drive, and a twin-turbo engine with dual intercoolers that made 300 horsepower. The VR-4 came only with 5-speed manual shift, but others might have an electronic 4-speed automatic transmission. A driver-side airbag was standard. Four-wheel disc brakes were standard across the board, and antilock braking was standard on the SL and VR-4 (optional on base coupe).
Yearly Updates
1992 3000GT
Except for three new paint colors, nothing changed for '92 in Mitsubishi's sport-coupe group.
1993 3000GT
Standard leather upholstery went into the VR-4 for '93, and the base coupe added some comfort features. Chrome-plated alloy wheels were offered for the first time, as was a CD changer.
1994 3000GT
Dual airbags were installed in 1994, as the Mitsubishi sports coupes got a modest facelift. The VR-4's engine got a boost to 320 horsepower, along with a switch from 5-speed manual shift to a 6-speed. All models wore a reshaped nose with four exposed headlamps, which replaced hidden flip-up units.
1995 3000GT
Costly retractable-hardtop Spyders debuted in spring 1995. The top was an articulated design, made of plastic composites, and production was very limited.
1996 3000GT
Few changes marked the coupes or the Spyders for '96.
1997 3000GT
Dodge Stealths dropped out of the market after 1996, but the Mitsubishi 3000GT carried on with minor styling touch-ups. A lower-priced base coupe joined the 3000GT lineup, carrying a single cam Mitsubishi-built 3.0-liter V6 that produced 161 horsepower. The dual-cam engine in the SL lost four horsepower.
1998 3000GT
3000GT sees no change for 1998.
1999 3000GT
3000GT received cosmetic changes front and rear and VR-4 models got a huge rear spoiler. Slow sales would eventually kill the Mitsubishi sports car for the year 2000.