Large SUV; Built in USA, Mexico
2-door wagon
4-door wagon
longitudinal front-engine/rear- or 4-wheel drive
Good condition price range: $1,400 – $5,300*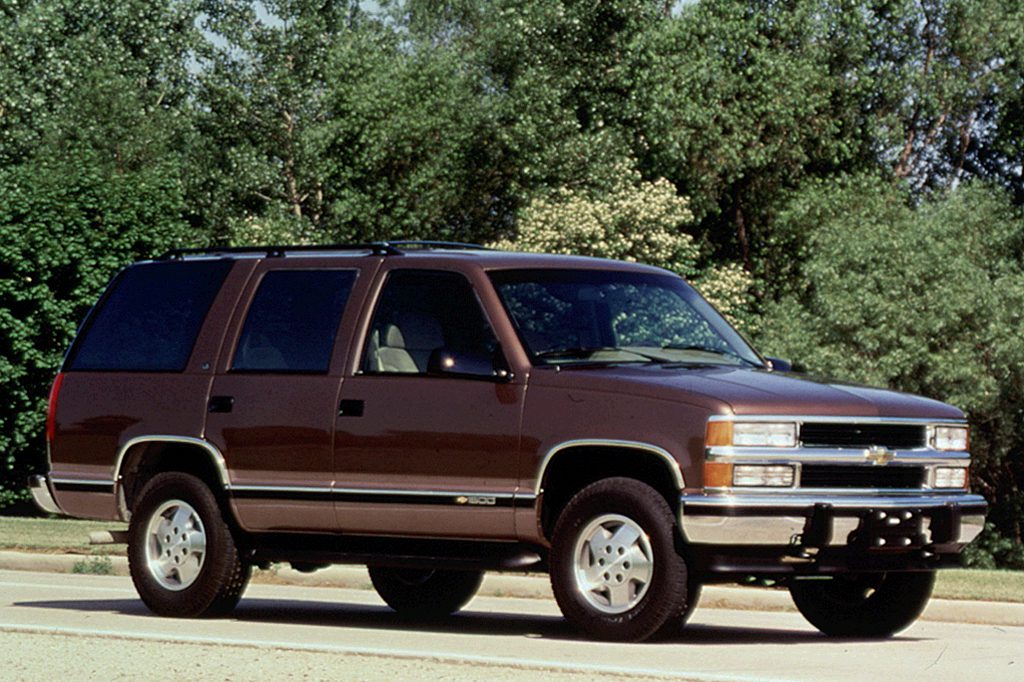 1995 Chevrolet Tahoe C1500 4-door wagon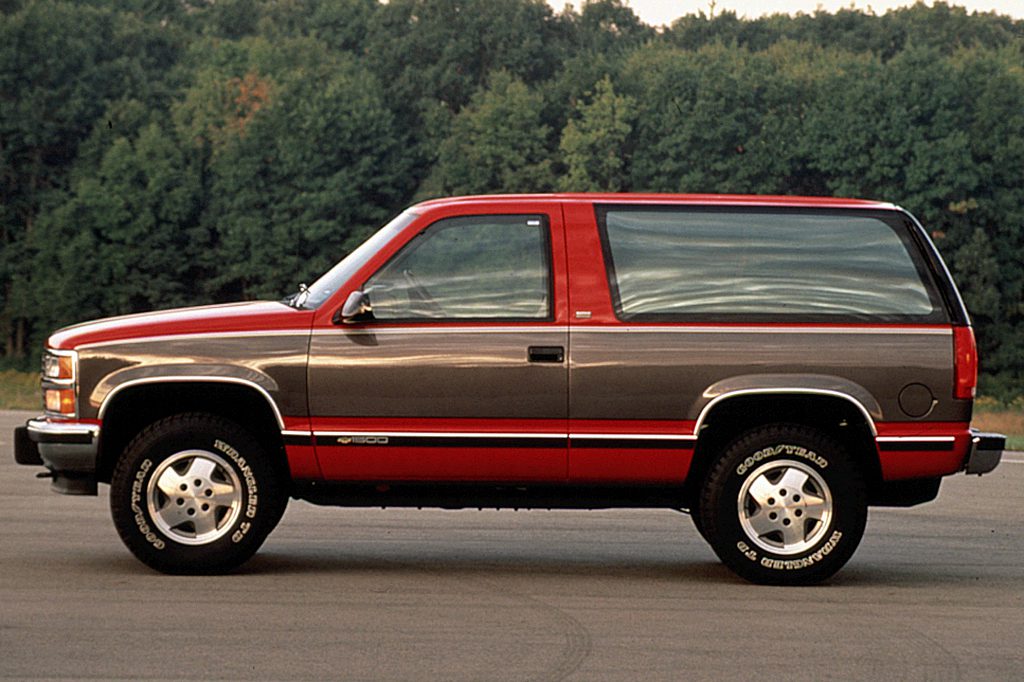 1993 Chevrolet Blazer K1500 2-door wagon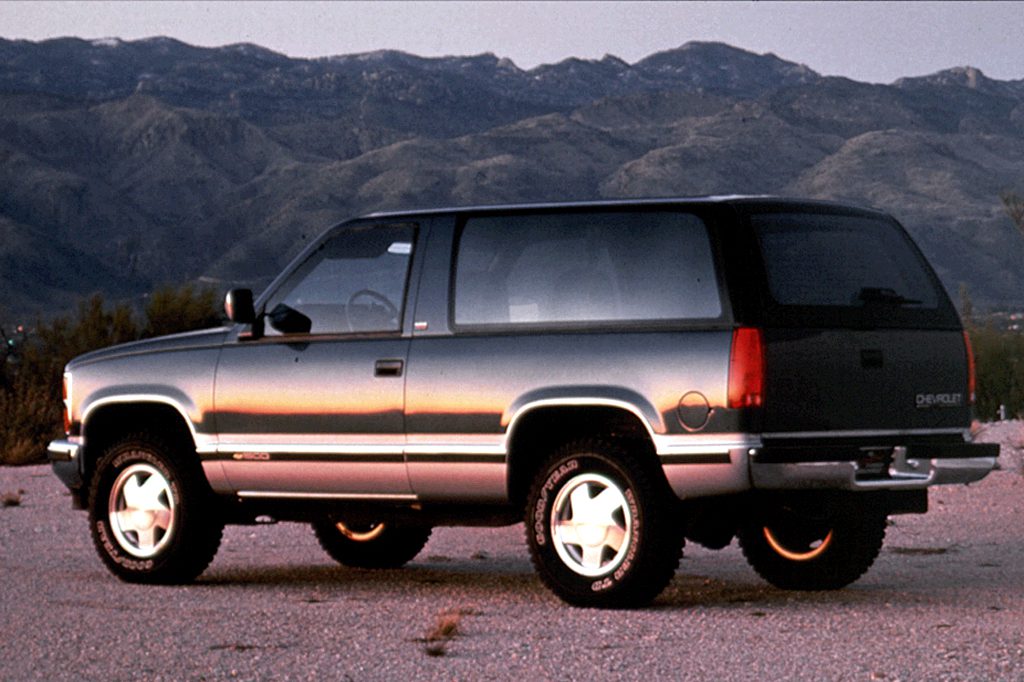 1992 Chevrolet Blazer K1500 2-door wagon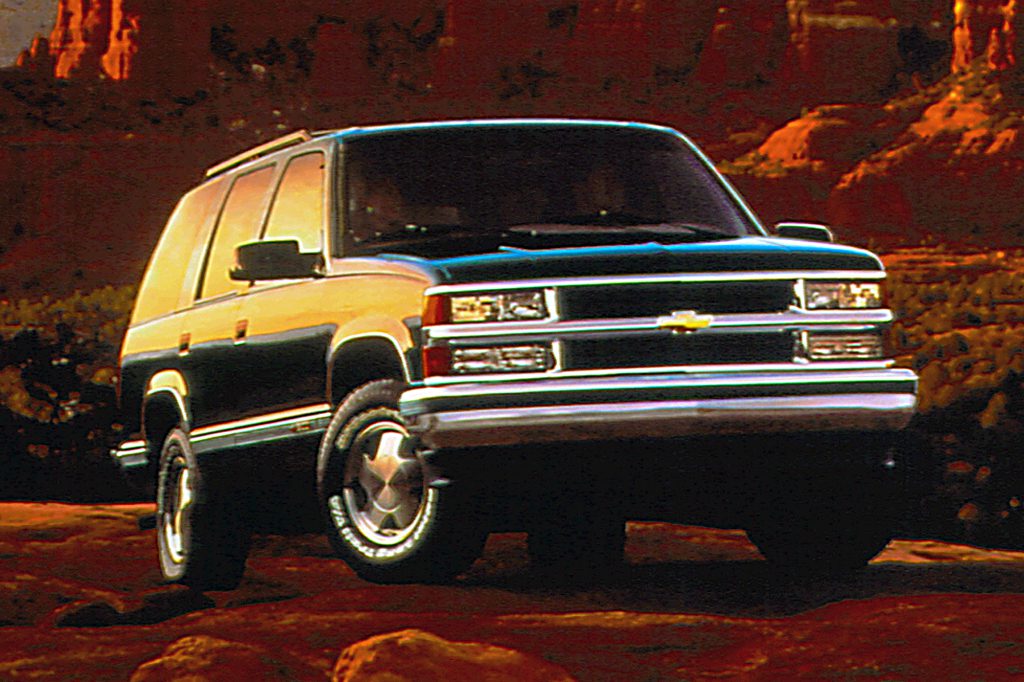 1997 Chevrolet Tahoe LT 4-door wagon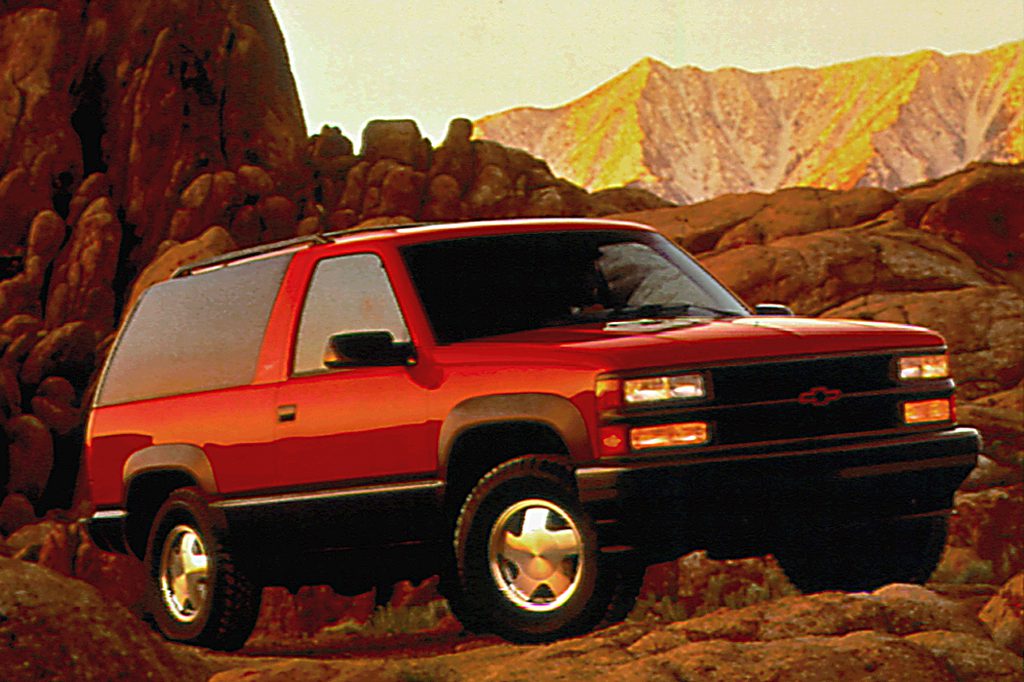 1997 Chevrolet Tahoe LS 2-door wagon
Pros:

Acceleration (5.7-liter)
Driver-side and dual airbags (later models)
Passenger and cargo room
Ride
Trailer-towing capability

Cons:

Entry/exit (2-door and 4WD)
Fuel economy
Ride (2-door)
Sure, a compact sport utility is more sensible and economical for everyday driving. But if you require real muscle, especially for towing, try the 4-door Tahoe and also Ford's Expedition.
Overview
Chevy's full-size Blazer 4-wheel-drive sport utility and its GMC Yukon counterpart were redesigned for 1992. Passenger capacity rose from five to six. Wheelbase grew by five inches, overall length by three. A 2-door wagon was again the only body style, with a tailgate and top-hinged window at the rear. Standard antilock brakes now worked on all four wheels, in both 2- and 4-wheel drive. Only one engine was available: a 5.7-liter gasoline V8, delivering 210 horsepower. A 5-speed manual gearbox replaced the 4-speed unit, with 4-speed automatic again optional. All models had Insta-Trac 4WD.
Yearly Updates
1993 Blazer
An electronically controlled automatic transmission went into '93 Blazers, and claimed to deliver smoother and more-precise shifts.
1994 Blazer
A turbodiesel V8 engine option arrived in 1994. Side-door guard beams and a center high-mounted stoplamp were installed. The 2-door wagon was still the only Blazer body style.
1995 Tahoe
Chevrolet's version changed its name from Blazer to Tahoe, and a driver-side airbag was installed. A 4-door wagon arrived in spring 1995, available with either 2- or 4-wheel drive. The 4-door model rode a wheelbase six inches longer and measured 10.6 inches longer overall. The standard V8 dropped ten horsepower, to 210.
1996 Tahoe
The standard 5.7-liter V8 jumped from 200 to 250 horsepower for '96, when daytime running lights were installed. No more manual-shift Tahoes were available as all had a 4-speed automatic. A 2WD 2-door model joined the lineup, so both the 2-door and 4-door could have either 2WD or 4WD. A newly optional electronic transfer case allowed switching between 2WD and 4WD by touching dashboard buttons.
1997 Tahoe
A passenger-side airbag went into '97 models. Also, a new center console was included with bucket seats, and contained a fold out writing surface. The 5.7-liter V8 gained five horsepower.
1998 Tahoe
Tahoe's big news is a full-time 4WD system. Called Autotrac, the newly optional system allows the use of 4WD on any surface.
1999 Tahoe
The '99 Tahoe arrived early in 1998, but there were no changes.
2000 Tahoe
Chevrolet redesigned the Tahoe for 2000, with new V8 engines. However, specialty versions of the 1995-99 vintage Tahoes remained, sold alongside the all-new 2000 models. The Tahoe Limited and Z71 remained available only through part of the year. Both used the 5.7-liter, 255-horsepower V8. The Z71 featured off-road-oriented equipment, including Autotrac 4-wheel drive. The style-conscious Limited came only with rear-wheel drive and was built around police-package equipment.