Large SUV; Built in USA, Mexico
2-door wagon
4-door wagon
longitudinal front-engine/rear- or 4-wheel drive
Good condition price range: $1,300 – $5,900*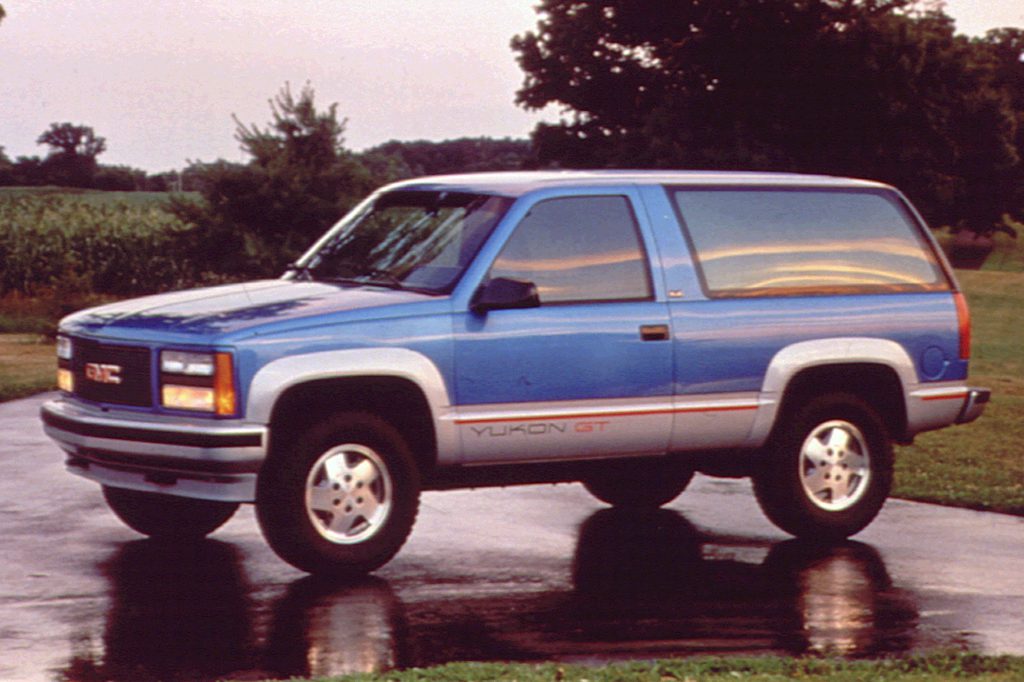 1992 GMC Yukon 2-door wagon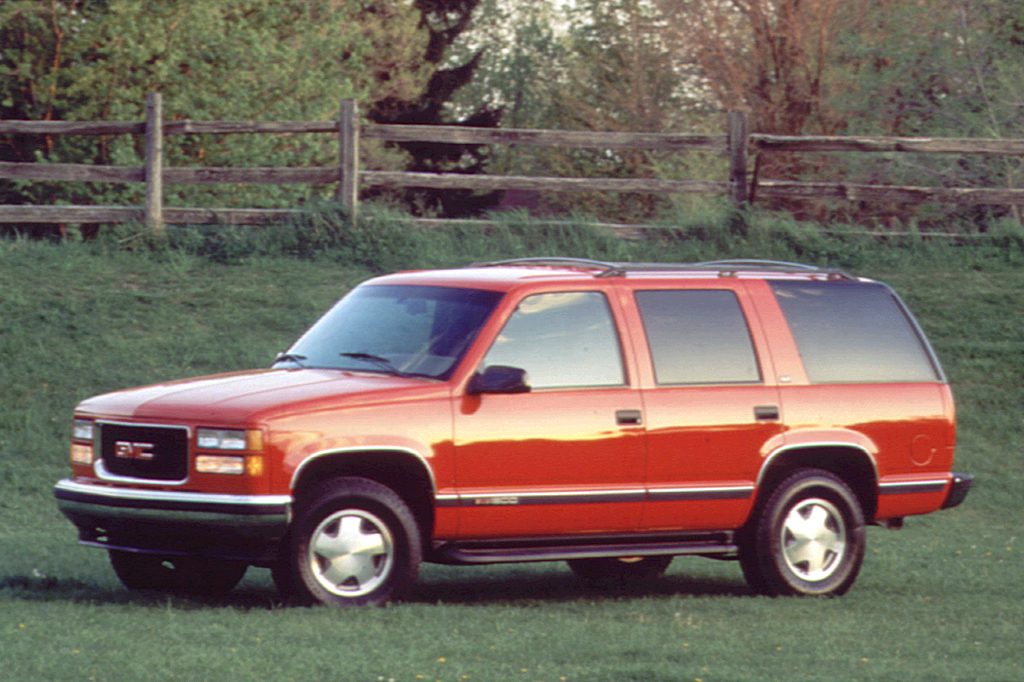 1996 GMC Yukon 4-door wagon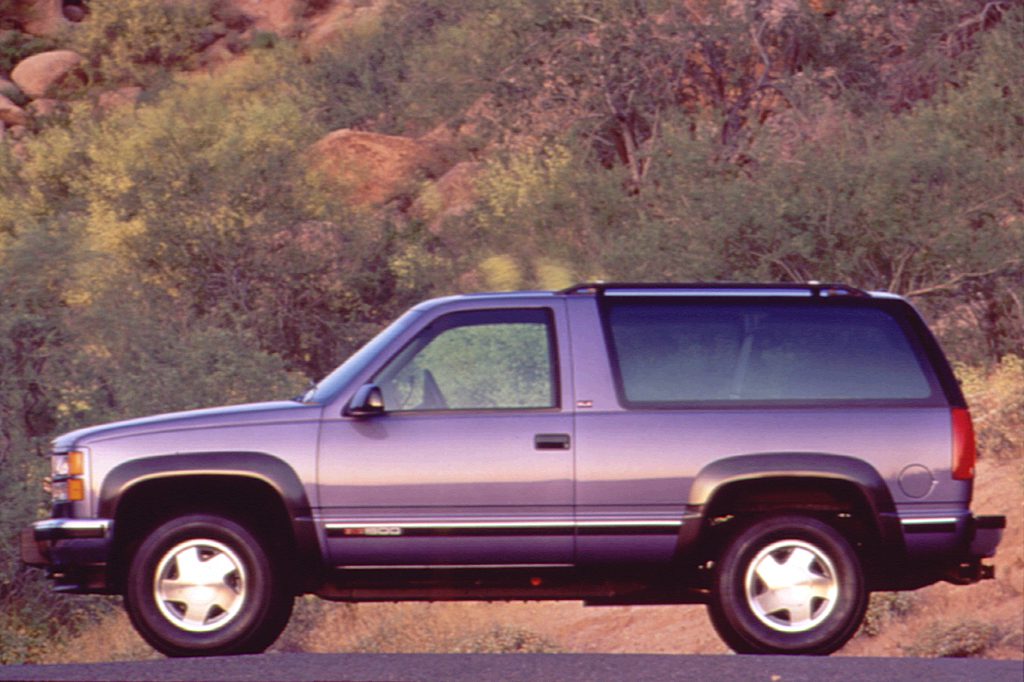 1994 GMC Yukon 2-door wagon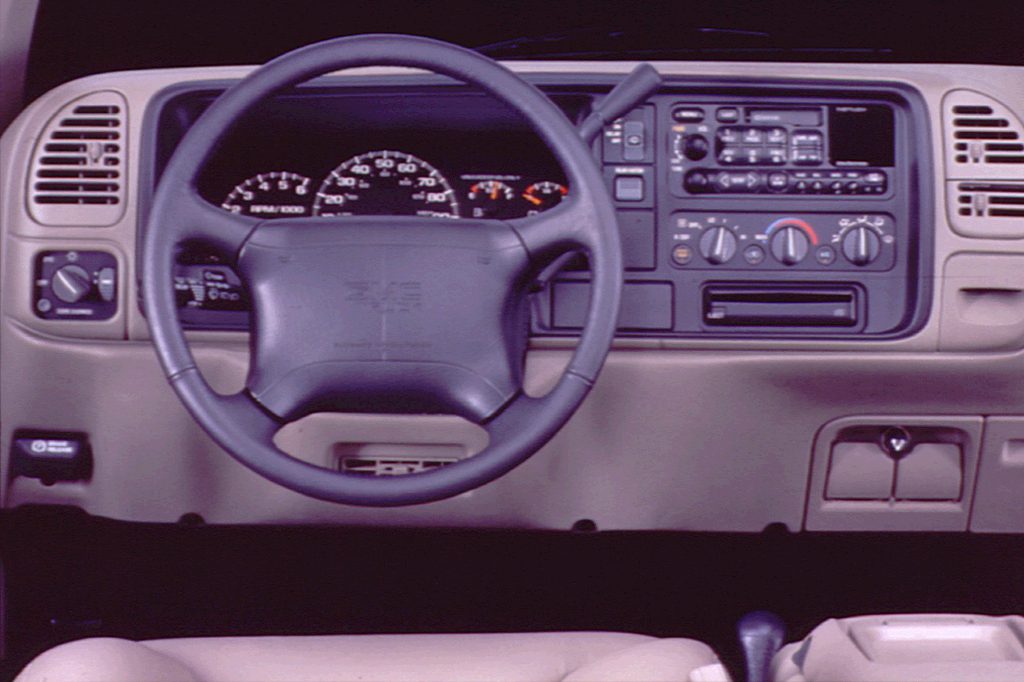 1997 GMC Yukon interior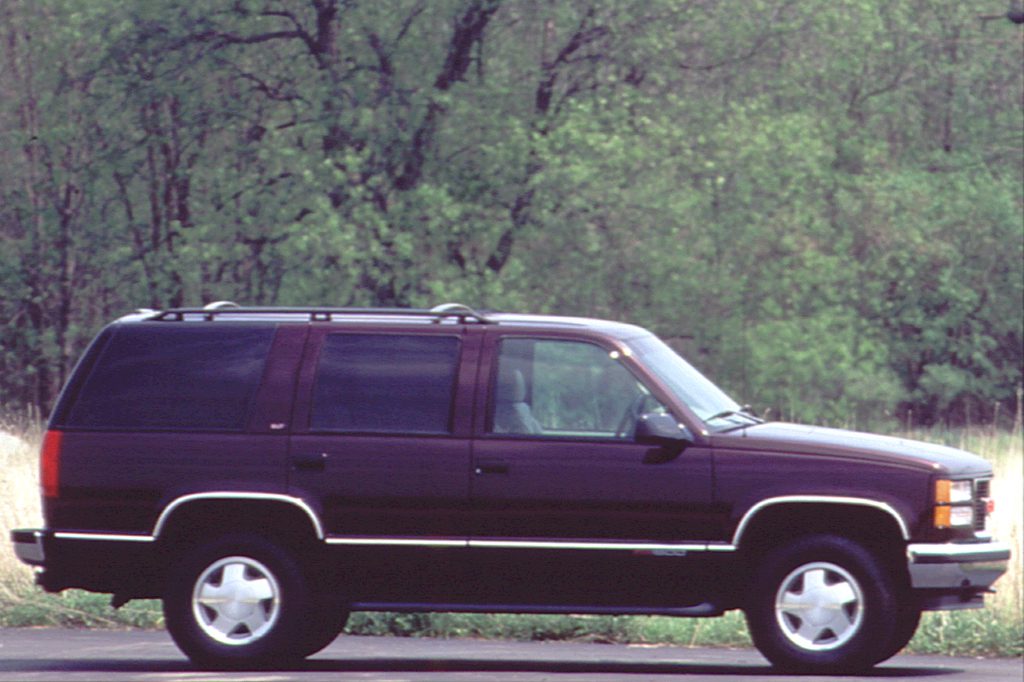 1997 GMC Yukon 4-door wagon
Pros:

Antilock brakes
Passenger and cargo room
Quietness
Ride (4-door)
Trailer-towing capability

Cons:

Entry/exit (2-door & 4WD)
Fuel economy
Maneuverability
Ride (2-door)
Yukons offer the strength and toughness of a full-size truck, but carlike comfort and a full load of convenience features. Before turning to Yukon or Tahoe, however, take a look at Ford's Expedition.
Overview
GMC's full-size 4-wheel-drive sport-utility and its Chevrolet Blazer (later renamed Tahoe) counterpart were redesigned for 1992. Wheelbase grew five inches. Just one bodystyle went on sale: a 2-door wagon, with a full metal roof and drop-down tailgate, plus a separate, top-hinged rear window. Standard 4-wheel antilock brakes worked in both 2- and 4-wheel drive. Only one engine was available: a 5.7-liter gas V8, delivering 210 horsepower. A 5-speed manual gearbox replaced the prior 4-speed unit, with a 4-speed automatic transmission again optional. All models had Insta-Trac part-time 4-wheel drive.
Yearly Updates
1993 Yukon/Denali
Yukon's automatic transmission gained electronic shift controls and a second-gear start feature. To reduce noise, the engine fan no longer engaged upon start-up. A new sport package called Yukon GT, included monochromatic exterior trim and a color-keyed grille, plus wheelarch flares.
1994 Yukon/Denali
An optional turbodiesel engine arrived in 1994. New safety features included side door guard beams, plus a center high-mounted stoplamp mounted in the roof.
1995 Yukon/Denali
Chevrolet's version changed from Blazer to Tahoe for 1995, but GMC's stuck with Yukon. A driver-side airbag was installed in a revamped interior, and a 4-door mate to the 2-door arrived in spring 1995. The 4-door's wheelbase was six inches longer than the 2-door's, it measured 10.6 inches longer overall, and the spare tire went under the body to provide extra cargo space. Unlike the 2-door, it was available with either 2WD or 4WD. Buyers of either body style could choose between a bottom-hinged tailgate (with separate-opening top-hinged rear window), or two side-hinged rear panel doors.
1996 Yukon/Denali
The standard V8 jumped to 250 horsepower for '96. Daytime running lights were added. Two-door models now were available with either 2WD or 4WD. A 5-speed manual transmission no longer was available.
1997 Yukon/Denali
A passenger-side airbag went into in '97 models, and the standard gasoline engine gained five horsepower. A new center console with bucket seats contained a fold-out writing surface, and a new switch in the cargo area controlled the power door locks.
1998 Yukon/Denali
The 2-door and diesel engine were history this year, and GMC added a top-level trim model called Denali. It added a full-time 4WD system called AutoTrac and loads of luxury goodies.
1999 Yukon/Denali
Yukon and Denali saw no changes for 1999 as an all-new model was in the works.
2000 Yukon/Denali
Yukons were redesigned for 2000, but the Denali continued for 2000 in its previous form. GM's OnStar communications system was standard.