Midsize car; Built in USA, Japan
2-door coupe
4-door sedan
4-door wagon
transverse front-engine/front-wheel drive
Good condition price range: $1,200 – $2,900*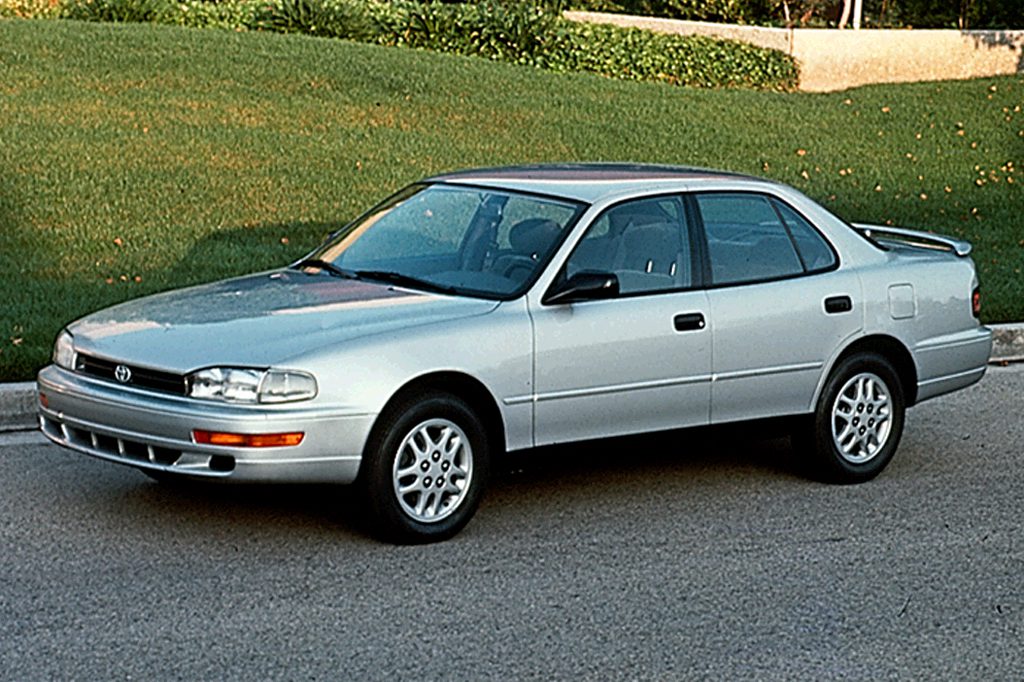 1992 Toyota Camry SE 4-door sedan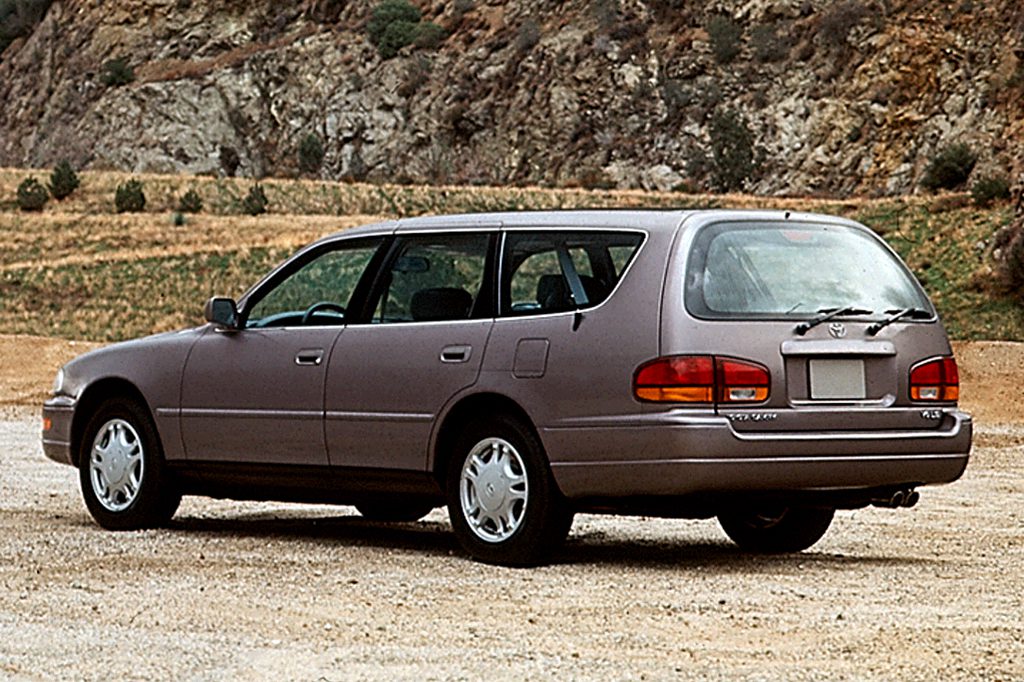 1992 Toyota Camry LE 4-door wagon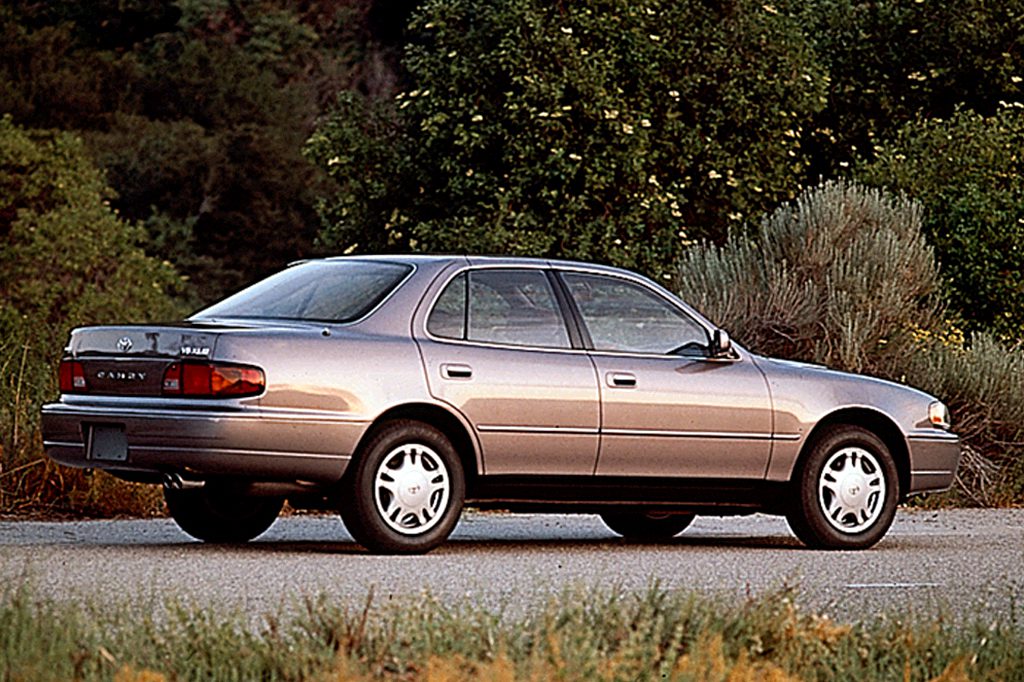 1995 Toyota Camry XLE 4-door sedan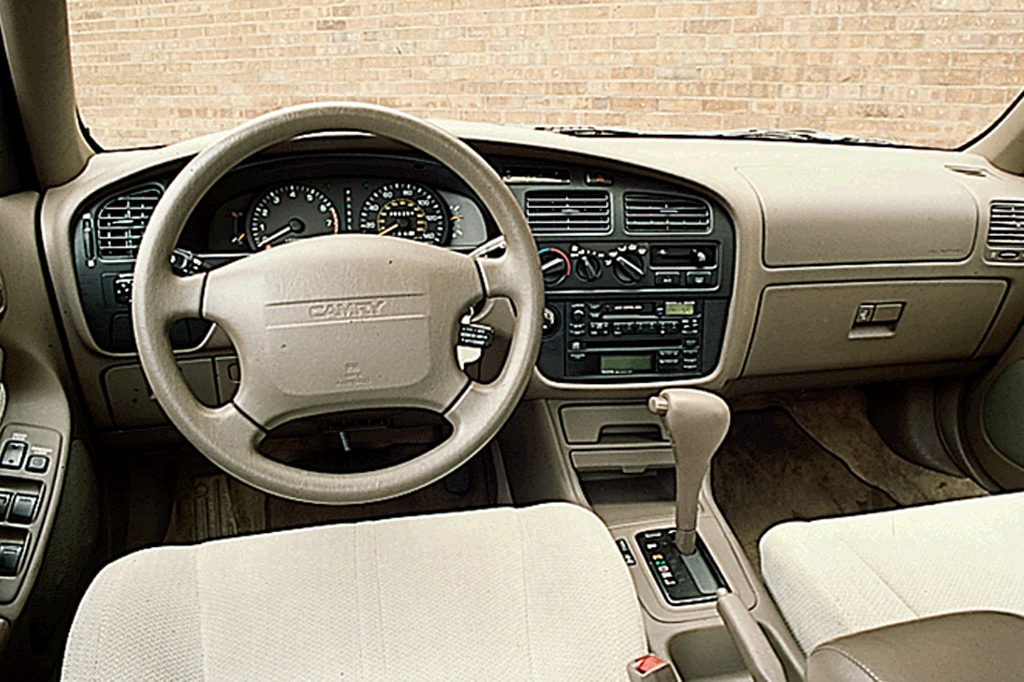 1994 Toyota Camry LE interior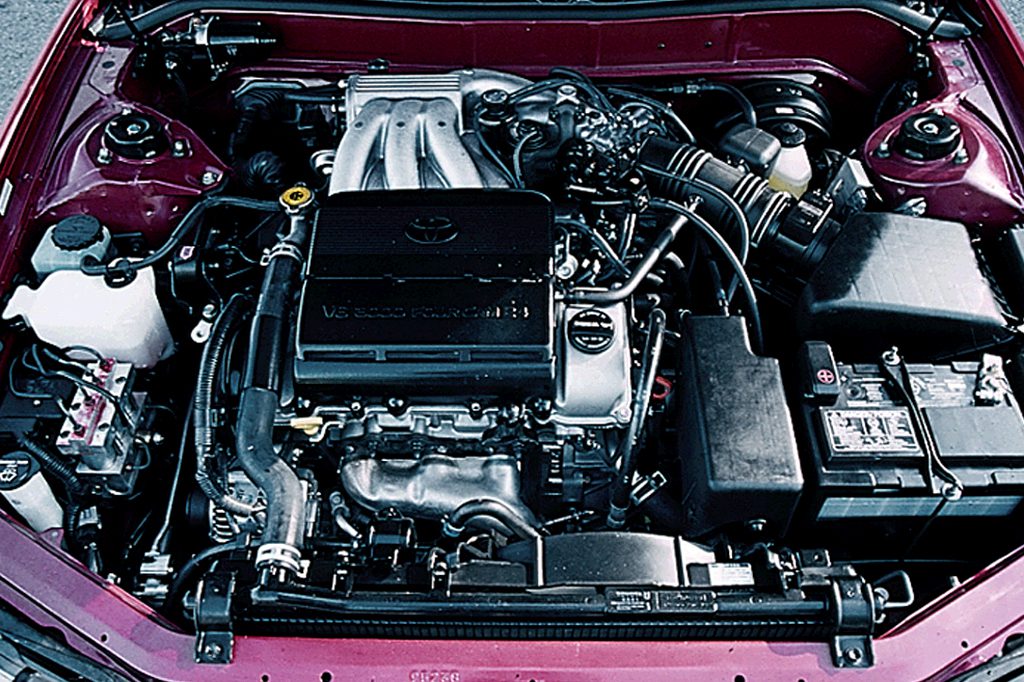 1994 Toyota Camry SE engine
Pros:

Acceleration (V6)
Antilock brakes (optional)
Passenger and cargo room
Quietness
Ride

Cons:

Fuel economy (V6)
Rear-seat comfort
There's a lot of the Lexus ES 300 in the Camry, which we believe set the standard for refinement among midsize and compact family cars. It's smoother, quieter, and built with higher levels of quality than some luxury sedans costing thousands more. New Camrys generally sold for more than its compact rivals, so expect preowned models to also be priced a bit more, given Toyota's generally high resale value and strong reputation for reliability.
Overview
Toyota's most popular model was redesigned for 1992, with new sedan and wagon models gaining a standard driver-side airbag. The Camry's wheelbase grew by less than an inch, but the body was now six inches longer and two inches wider. The 4-door models were offered in base Deluxe, LE, SE, and new XLE trim levels. Standard engine was a 135-horsepower, 2.2-liter 4-cylinder. Optional on all models was a 185-horsepower, 3.0-liter V6. A 5-speed manual transmission was standard on the Deluxe model and unavailable elsewhere. Antilock brakes were optional on all models. Like the previous Camry, the new one shared most of its front-drive chassis components with the ES 300.
Yearly Updates
1993 Camry
Entry-level DX (Deluxe) Camrys get standard color-keyed bodyside moldings and an oak-color interior. Bronze-tint glass is newly optional for all models.
1994 Camry
Toyota makes big news for '94 by adding a new 2-door coupe body style, a standard passenger-side airbag, and a more muscular V6 engine. Except for a slightly lower height and different roof, the coupe's notchback styling is the same as the sedan's. Model choices for the coupe include DX, midlevel LE, and sporty SE. It also features the same 130-horsepower 2.2-liter standard on the entire Camry line. New 1994 Camrys equipped with a V6 now come with a new aluminum block 3.0-liter V6 that delivers 188 horsepower.
1995 Camry
The 2-door and 4-door sedans have minor appearance changes, and all Camrys now meet the government's more stringent 1997 side-impact requirements. Antilock brakes are now standard on the top-line XLE sedan. Also, the DX 4-door wagon has been dropped, but the rest of last year's lineup returns. The mainstay 2.2-liter engine, which drops 5 horsepower (to 125) from new tuning implemented to meet stricter emissions limits in all states.
1996 Camry
The popular front-drive Camry sees few changes after getting a mild facelift last year. Toyota unveiled an all-new Camry for '97.