Compact car; Built in USA
2-door coupe
4-door sedan
transverse front-engine/front-wheel drive
Good condition price range: $1,000 – $2,100*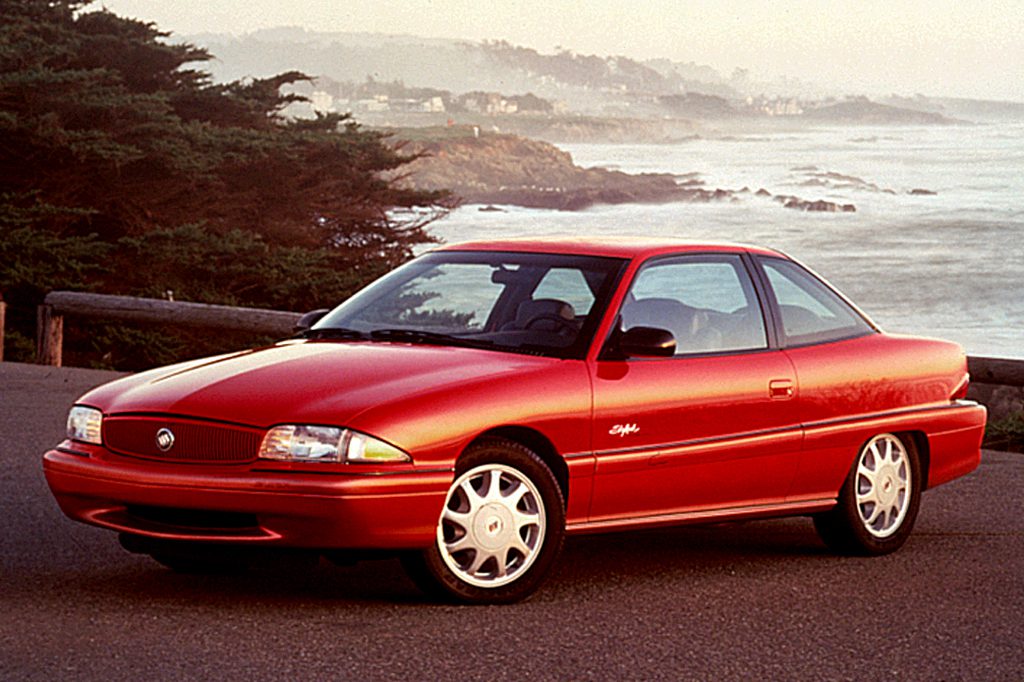 1996 Buick Skylark GS 2-door coupe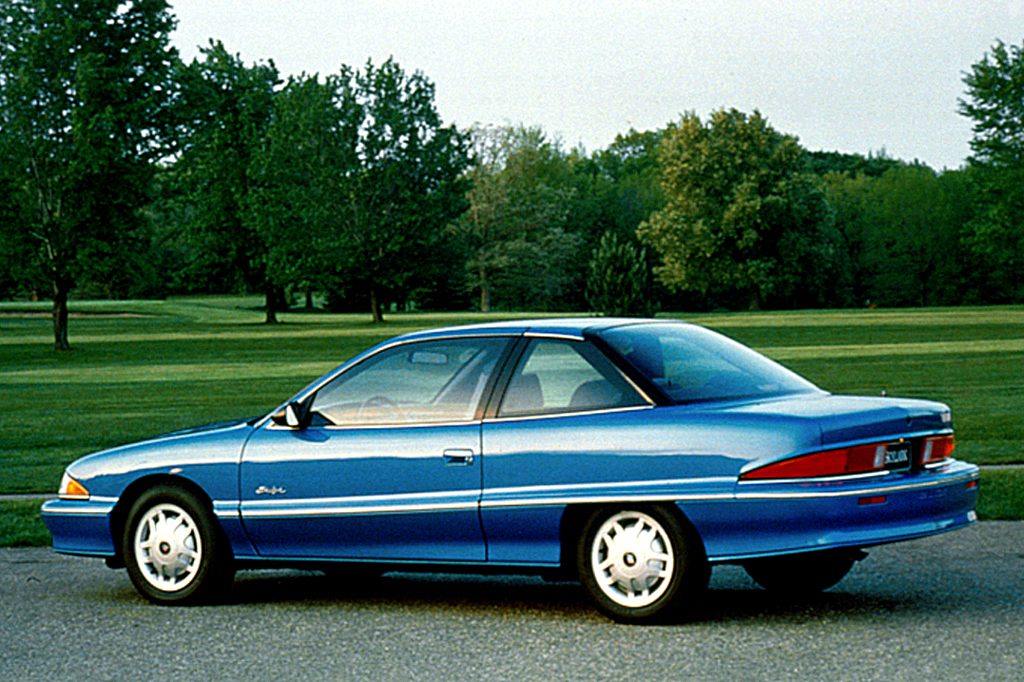 1992 Buick Skylark 2-door coupe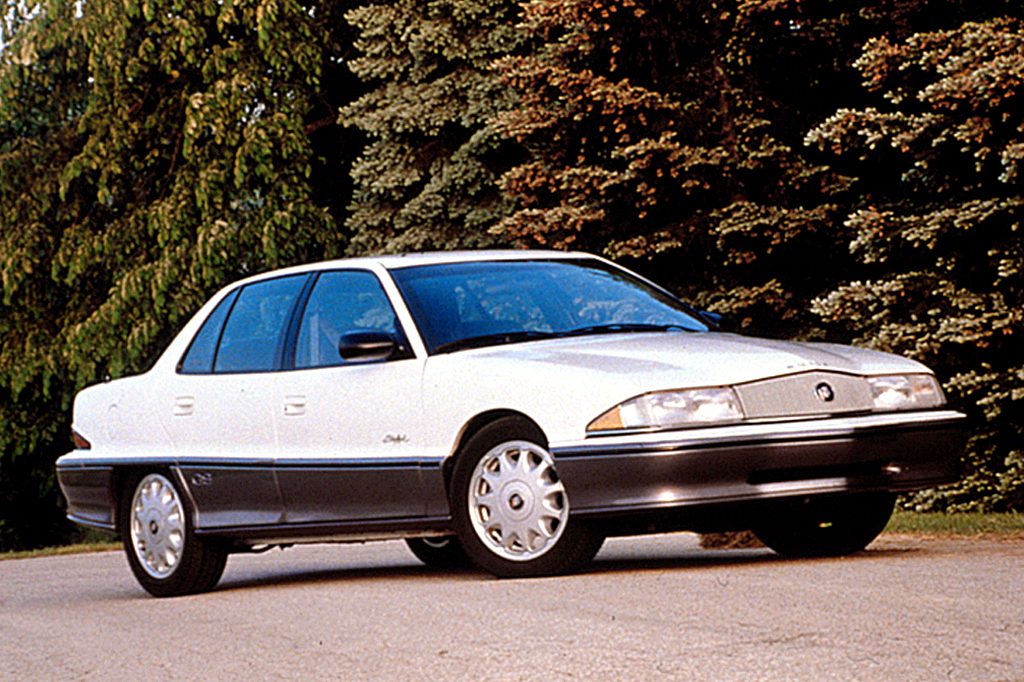 1993 Buick Skylark Gran Sport 4-door sedan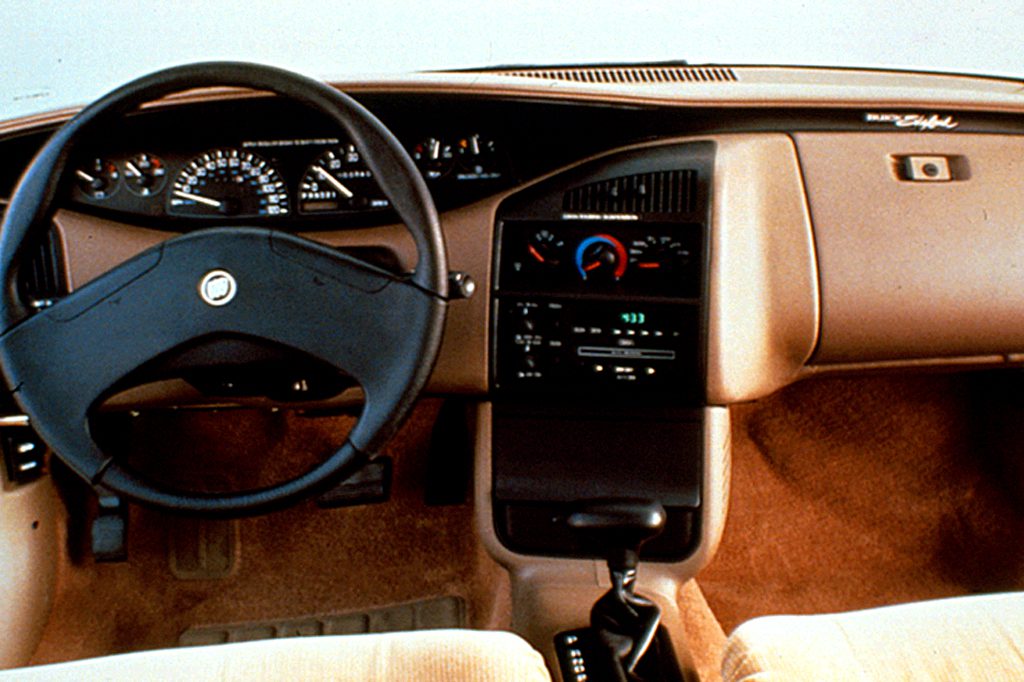 1992 Buick Skylark interior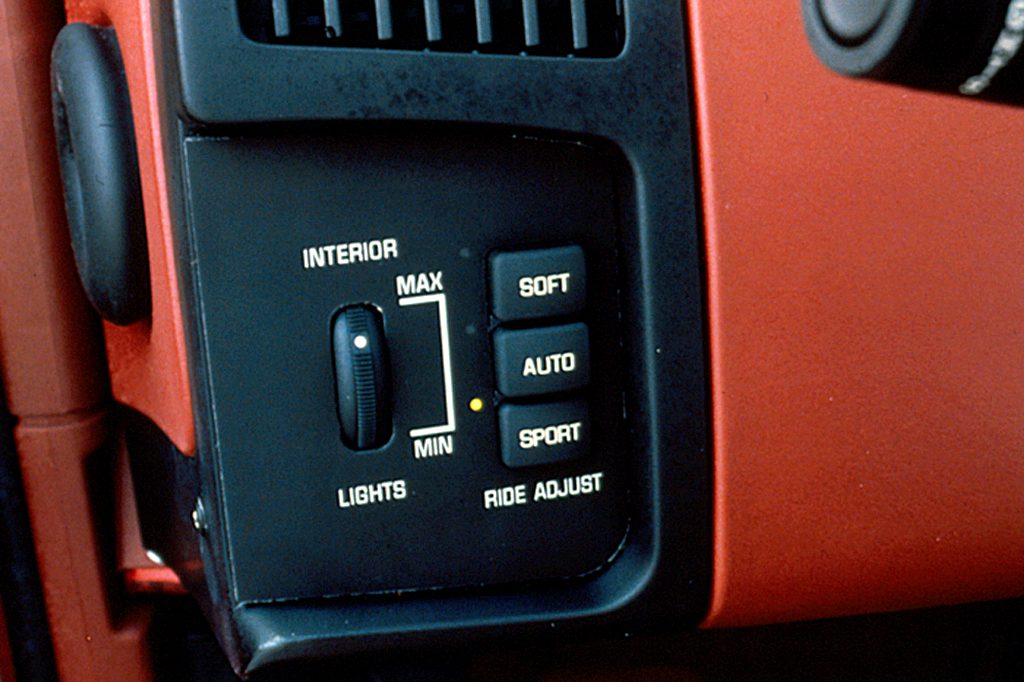 1992 Buick Skylark interior
Pros:

Acceleration (V6)
Antilock brakes
Automatic-transmission performance

Cons:

Instrument cluster (early models)
Noise
Rear-seat entry/exit
Steering/handling (base suspension)
Riding and handling better than prior Skylarks, this more modern Buick can still be a sensible choice, despite loud engines and poor insulation.
Overview
Buick redesigned its front-drive compact for 1992, with striking "new age" styling. Wheelbase was the same as before, but overall length grew by 9 inches. Oldsmobile's Achieva and Pontiac's Grand Am, on the same platform, look totally different. Base and Gran Sport (GS) editions came in 2- and 4-door sedan body styles. Base models got a Quad OHC 2.3-liter 4-cylinder engine; Gran Sports, a 3.3-liter V6. All Skylarks had antilock brakes, power door locks, and a split folding rear seat. Instead of an airbag, Skylarks had GM's door-mounted front seatbelts, which could be left buckled for automatic deployment.
Yearly Updates
1993 Skylark
Adjustable Ride Control dropped to an option, as Gran Sports adopted a Gran Touring suspension. A stripped entry-level model joined the line, along with a midlevel Limited–equivalent to the '92 base model. Gran Sport coupes and sedans again topped the line. The base Quad OHC engine lost 5 horsepower. New features included a child-height anchor for the rear shoulder belt.
1994 Skylark
A 3.1-liter V6 replaced the 3.3-liter, as Skylarks added a driver-side airbag and optional 4-speed automatic transmission.
1995 Skylark
Skylarks got a new Quad 4 base engine with plenty of zest: 150 horsepower, to be precise. A new tubular rear axle put springs and shock absorbers on the same line as the back wheels. Automatic-transmission fluid now was supposed to last 100,000 miles.
1996 Skylark
A passenger-side airbag arrived for 1996, along with toned-down styling and a larger Twin Cam base engine. This latest version gained a new grille, hood, and headlamps, resulting in an appearance more closely related to other Buick models. The dashboard had a more traditional layout than the prior one, which had been criticized for oddly placed gauges and controls.
1997 Skylark
Given the extensive modifications made last year, the 1997 Skylark returns with few changes for its final season.