Premium midsize car; Built in USA
transverse front-engine/front-wheel drive
Good condition price range: $1,400 – $3,200*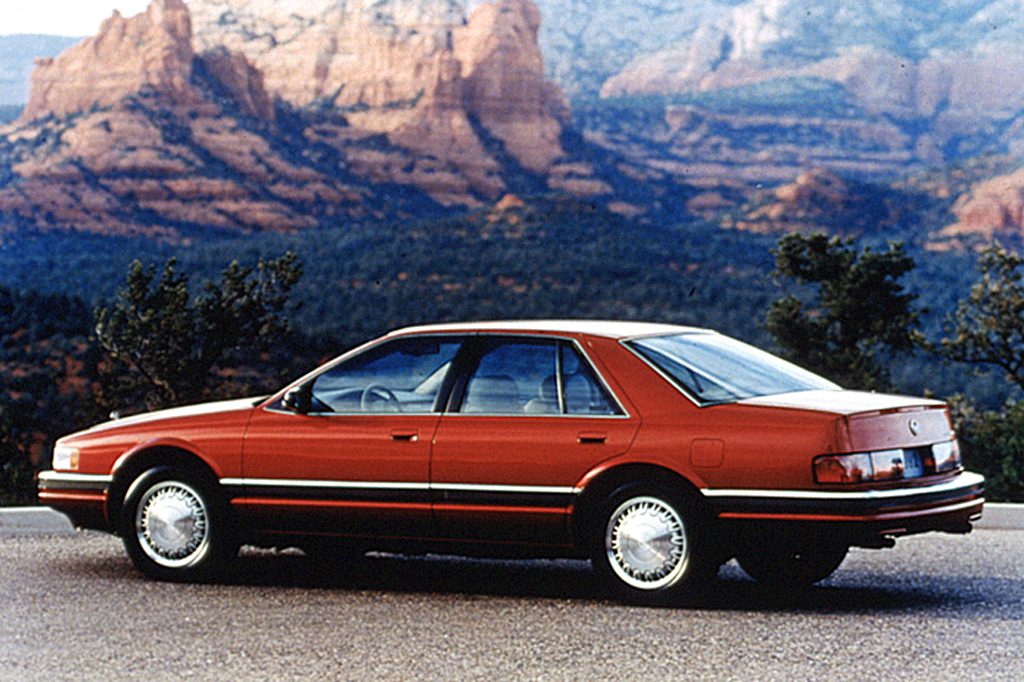 1992 Cadillac Seville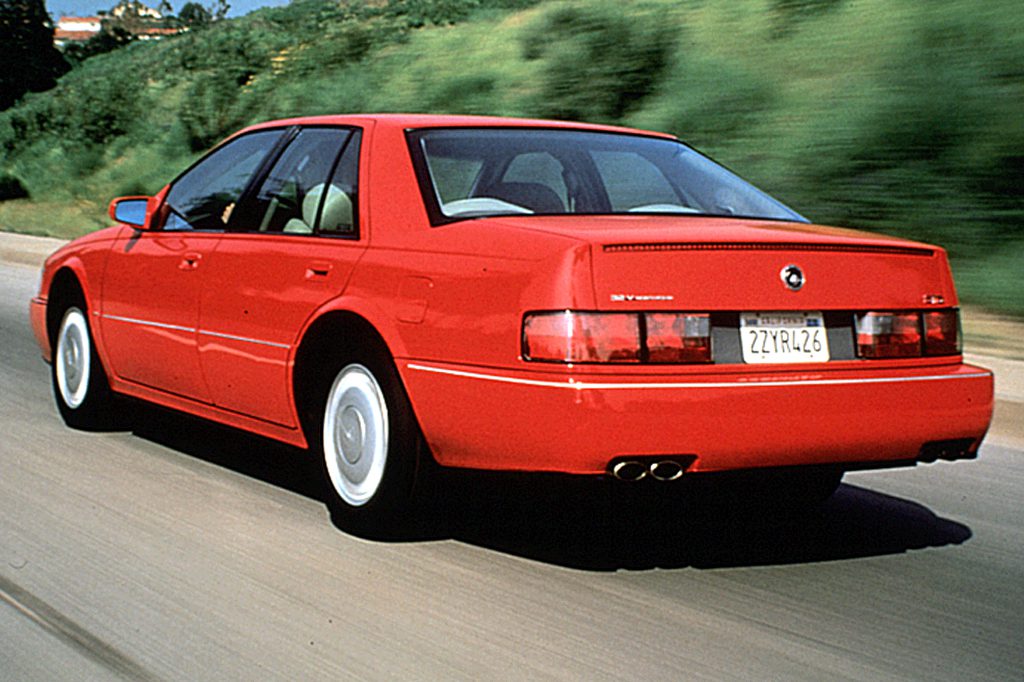 1993 Cadillac Seville STS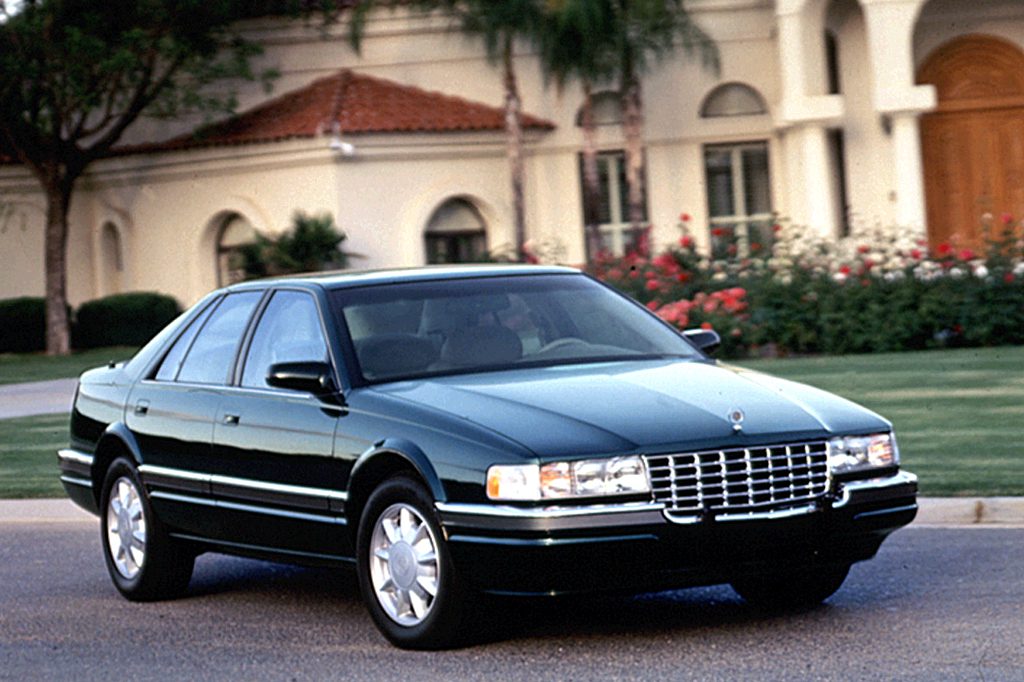 1996 Cadillac Seville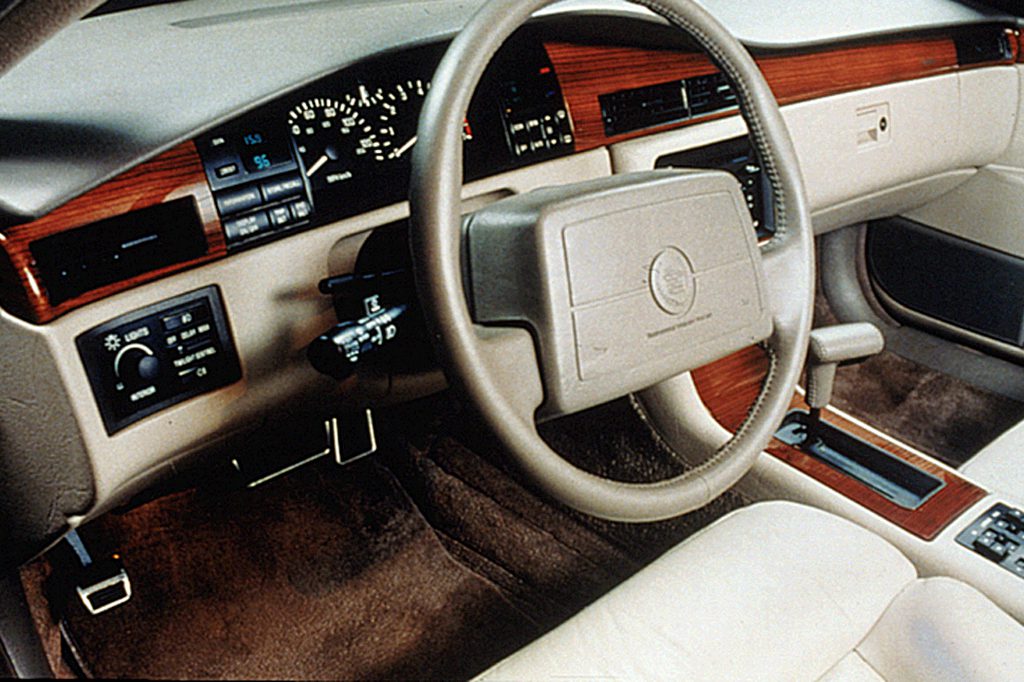 1992 Cadillac Seville STS interior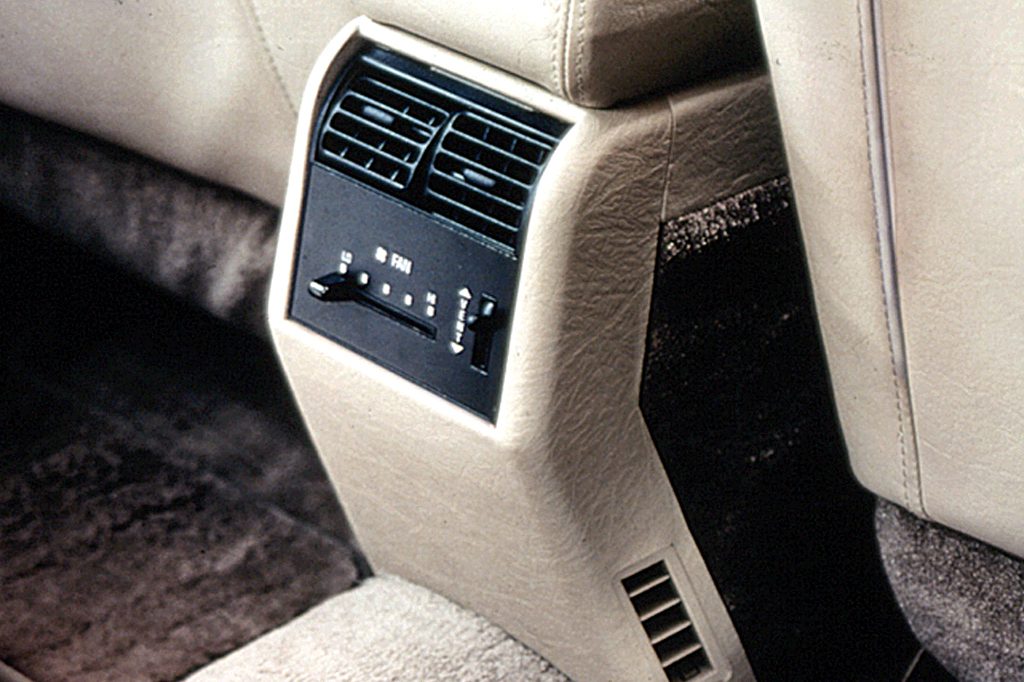 1992 Cadillac Seville STS interior
Pros:

Acceleration
Standard antilock brakes and traction control (later models)
Passenger and cargo room
Steering/handling

Cons:

Climate controls (early models)
Fuel economy
Rear visibility
Ride (later STS)
Especially in STS trim, the Seville is Cadillac's best premium sedan in ages, scoring strongly against such imported rivals as the BMW 740iL, Lexus LS 400, and Infiniti Q45.
Overview
Though riding the same platform as the Eldorado coupe, Seville's '92 redesign showed radically different styling. On a 111-inch wheelbase, Seville sedans measured a foot longer than before, which translated to extra leg room inside–3.5 inches. Width grew as well. Antilock braking and a driver's airbag were standard. A sport interior option included analog gauges to replace the customary digital units, along with a console-mounted gearshift–which otherwise sat on the steering column. Hottest member of the line was the STS (Seville Touring Sedan), flaunting monochromatic body paint, quicker steering, and thicker stabilizer bars. Each STS held analog gauges and leather seating surfaces (optional on base Sevilles).
Yearly Updates
1993 Seville
Dual airbags went into '93 Sevilles. So did a brand-new Northstar V8 engine. Standard in the STS, the 4.6-liter dual-cam Northstar developed 295 horsepower. This year's 4-speed automatic transmission adopted electronic controls. A new STS traction-control system applied brakes and reduced engine power to deliver top tire grip on slippery surfaces. STS sedans also gained a new Road Sensing Suspension, which used a computer to "read" the road surface, then adjust firmness. Base Sevilles added Speed Sensitive Suspension, which alters suspension settings according to speed.
1994 Seville
Both models carried Northstar engines in '94. The 270-horsepower V8 of 1993 now served as base engine for the Seville Luxury Sedan (SLS), while the STS kept its 295-horsepower version. All Sevilles had traction control and a Road Sensing Suspension.
1995 Seville
Engines added a little power, and an Integrated Chassis Control System arrived to improve braking, handling, and traction control. Headlights turned on automatically with the wipers.
1996 Seville
Sevilles got daytime running lights and a new dashboard with larger analog gauges, plus climate and stereo controls grouped in the center. Radios added redundant controls in the steering wheel, where climate controls also could be found.
1997 Seville
The addition of new high-tech systems were the primary changes for 1997. New features added to the STS included Cadillac's Stabilitrack emergency-traction system and Rainsense automatic wipers. Seville was redesigned for 1998.