Large SUV; Built in USA, Mexico
longitudinal front-engine/rear- or 4-wheel drive
Good condition price range: $1,200 – $4,500*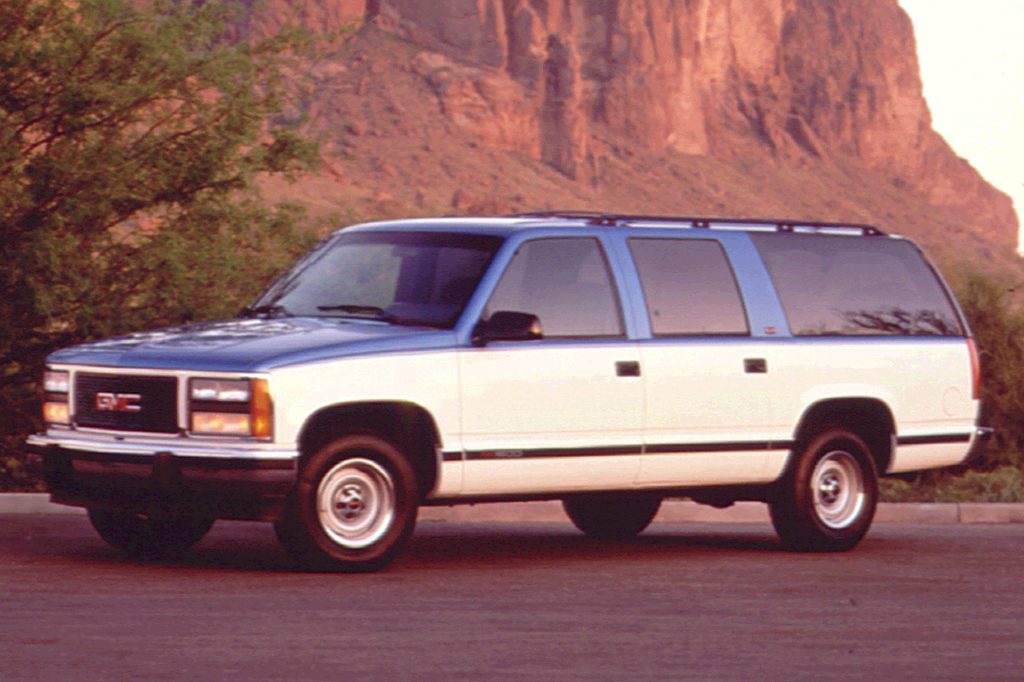 1992 GMC Suburban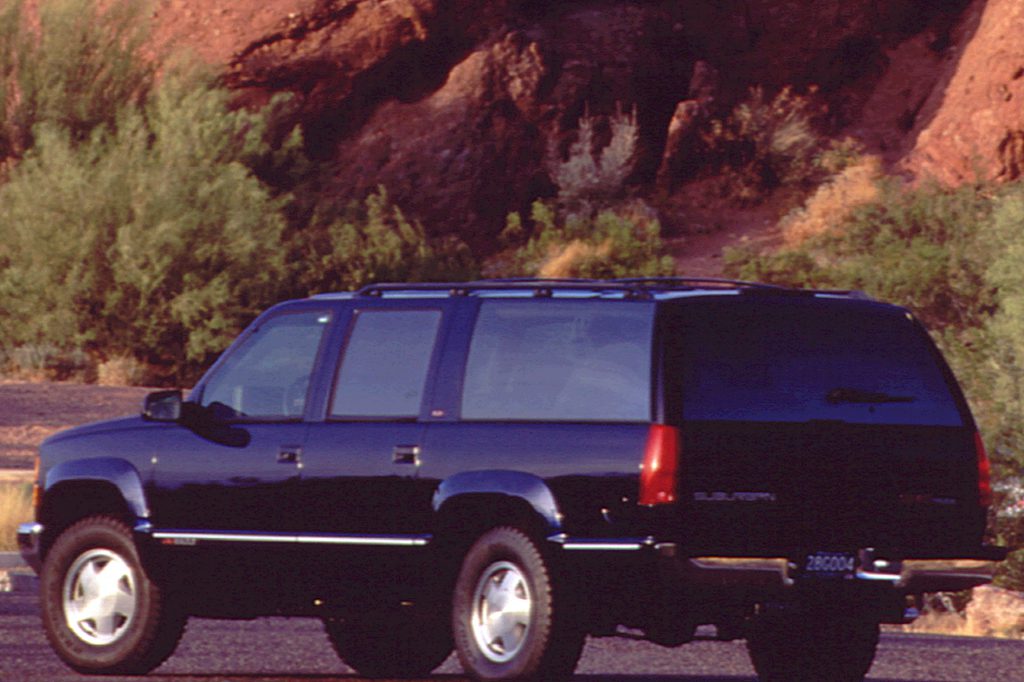 1994 GMC Suburban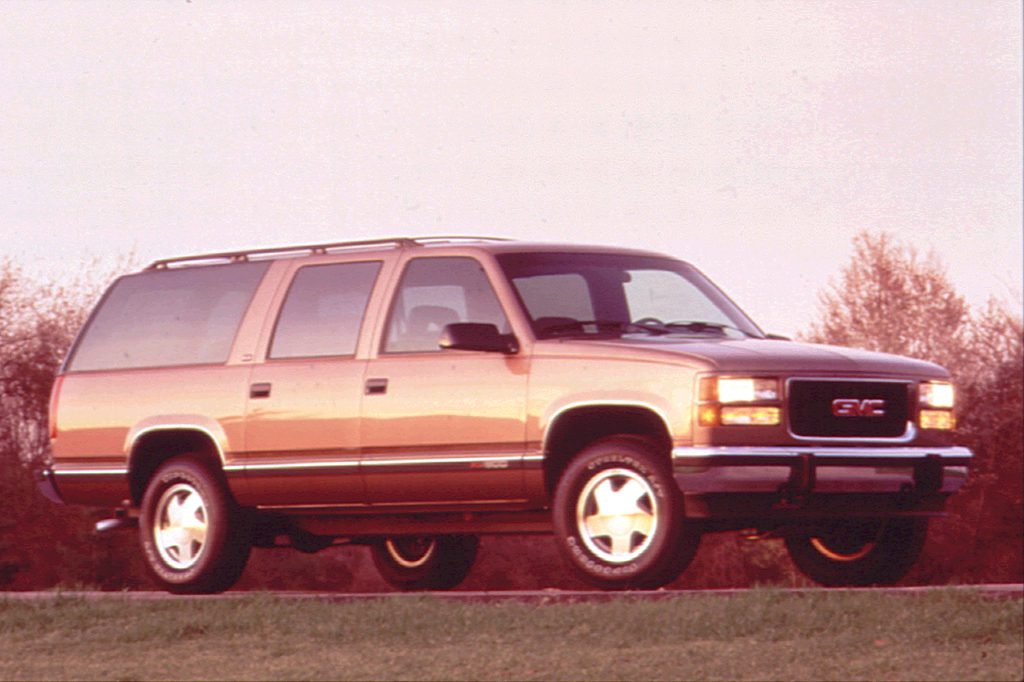 1996 GMC Suburban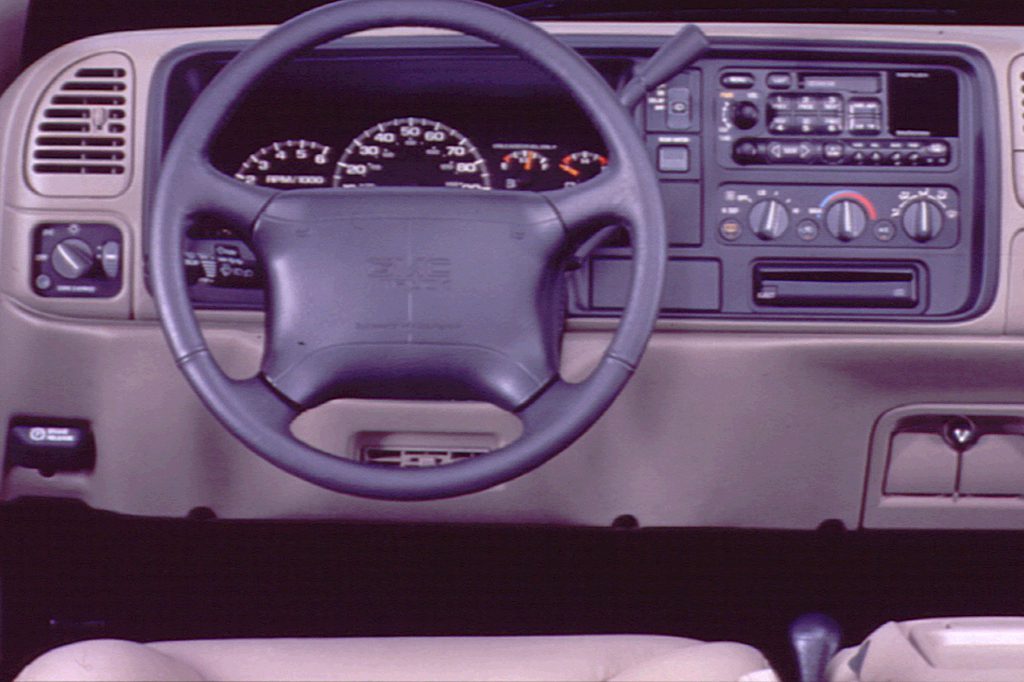 1997 GMC Suburban interior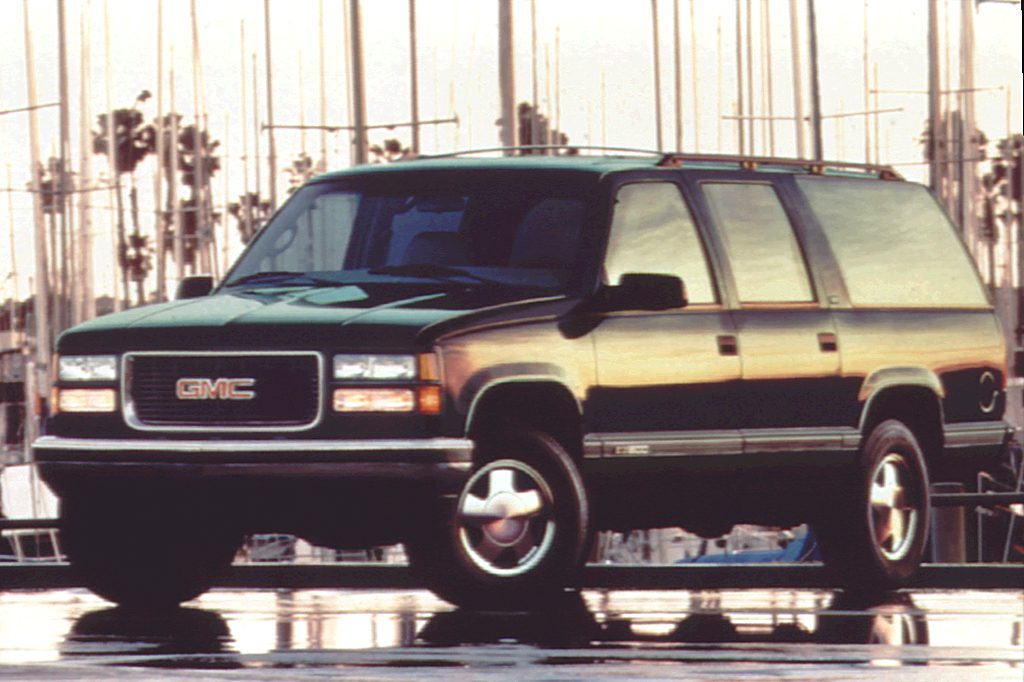 1997 GMC Suburban
Pros:

Acceleration (7.4-liter)
Passenger and cargo room
Highway ride
Trailer-towing capability

Cons:

Acceleration (early models)
Fuel economy
Rear-seat entry/exit
If you must have space for nine occupants and a heavy load of luggage, or need to tow a trailer or boat, only Ford's Expedition comes close. But we prefer the more-nimble GMC Yukon.
Overview
Suburbans moved to the platform of the then-current full-size General Motors C/K pickup trucks for 1992. Bodies measured slightly shorter and narrower. Cargo space and towing capacity increased. As before, Suburbans were sold in nearly identical form by GMC and Chevrolet dealers. Rear-wheel-drive models got a C designation, while 4-wheel-drive Suburbans were named K. A 1500 suffix indicates a 1/2-ton payload, whereas 2500 indicates 3/4-ton. A 210-horsepower 5.7-liter V8 continued as standard, but a heavy-duty 190-horsepower version went into some 2500-series models. Diesel V8 engines departed, but a 7.4-liter gasoline V8 was available. All Suburbans had a 4-speed automatic transmission and four-wheel antilock brakes. Part-time Insta-Trac 4WD had automatic-locking hubs. Suburbans could be equipped to seat up to nine passengers. The standard configuration consisted of four side doors and two swing-open rear doors. A tailgate with top-hinged rear window was optional.
Yearly Updates
1993 Suburban
A new transmission was one of few alterations for 1993, gaining electronic shift controls plus a second-gear start feature that increased traction on slippery surfaces.
1994 Suburban
A turbodiesel V8 engine returned in 1994. Side door-guard beams and a center high-mount stoplamp were installed.
1995 Suburban
A driver-side airbag was added for 1995, in a revised interior with recontoured seats. The turbodiesel engine was now available in the 1500 series. The standard V8 engine lost 10 horsepower.
1996 Suburban
More potent Vortec engines joined for '96. The 5.7-liter V8 leaped from 200 to 250 horsepower, while the 7.4-liter went from 230 to 290 horses. Pushbutton engagement for the 4WD system became available.
1997 Suburban
A passenger-side airbag joined the driver's airbag for '97. A new button in the cargo area controlled power door locks.
1998 Suburban
GMC added a full-time 4WD system, standard anti-theft system, and optional satellite tracking system for 1998. Called AutoTrac, the new 4WD replaced the part-time system but kept the two-speed transfer case for off-road driving.
1999 Suburban
GM's biggest wagon was all but unchanged for '99 pending the arrival of a redesigned 2000 model, to be known as the Yukon XL rather than the Suburban.