Large car; Built in USA
transverse front-engine/front-wheel drive
Good condition price range: $1,100 – $3,200*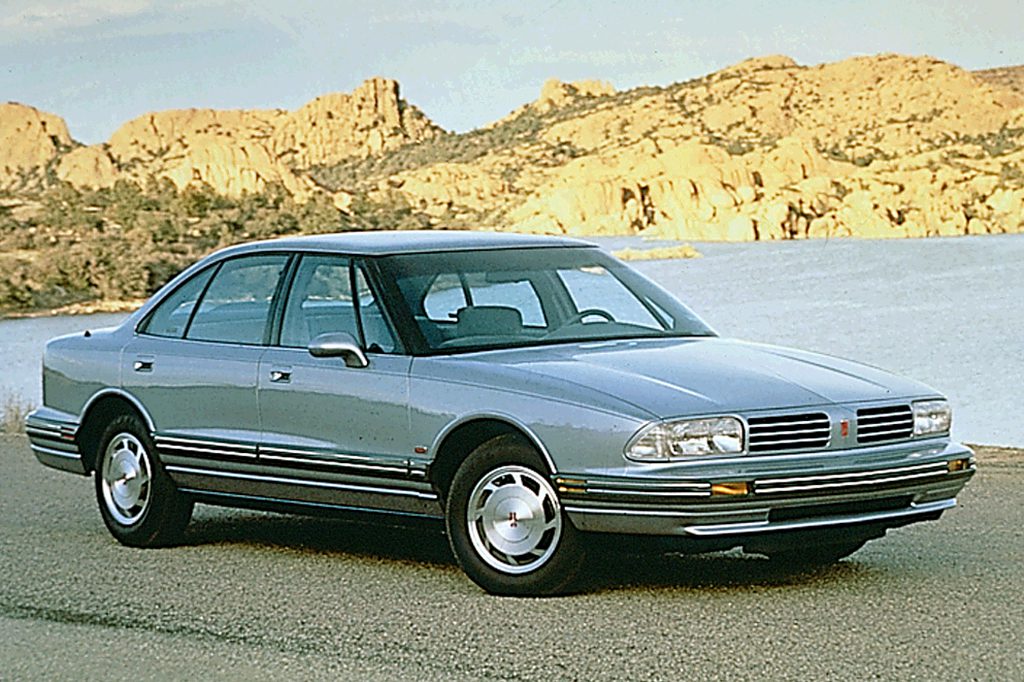 1994 Oldsmobile Eighty Eight Royale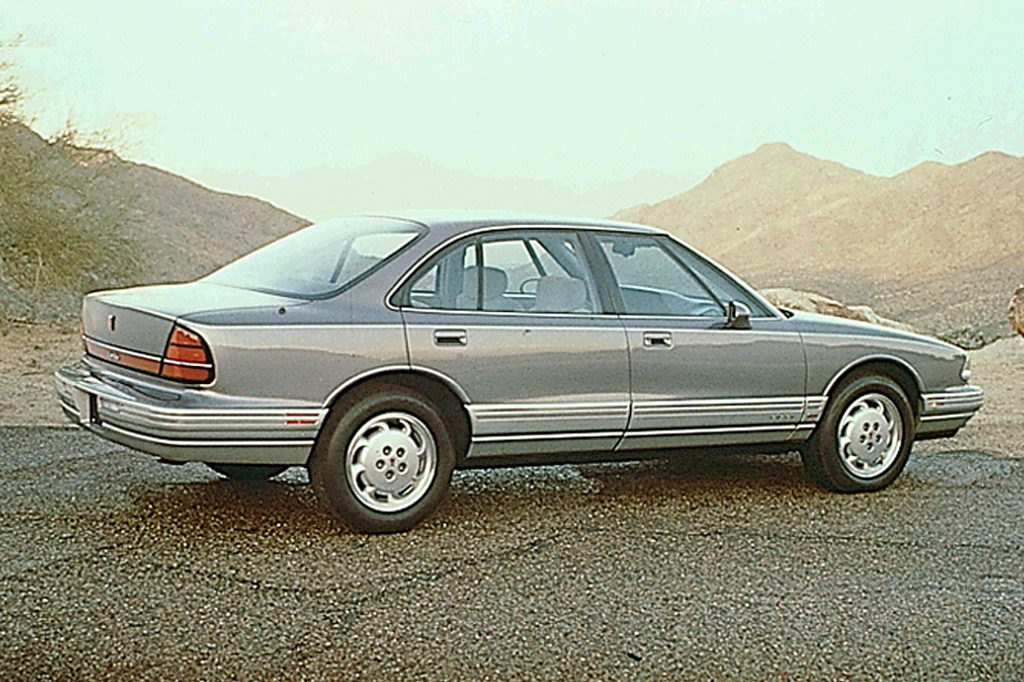 1992 Oldsmobile Eighty Eight Royale LS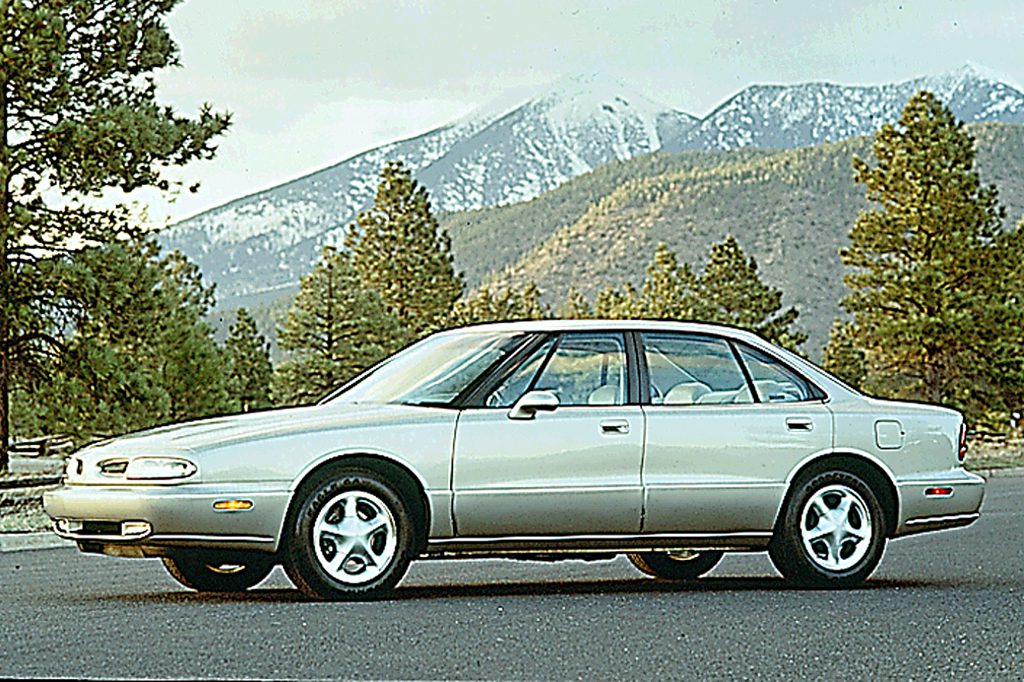 1996 Oldsmobile Eighty Eight LSS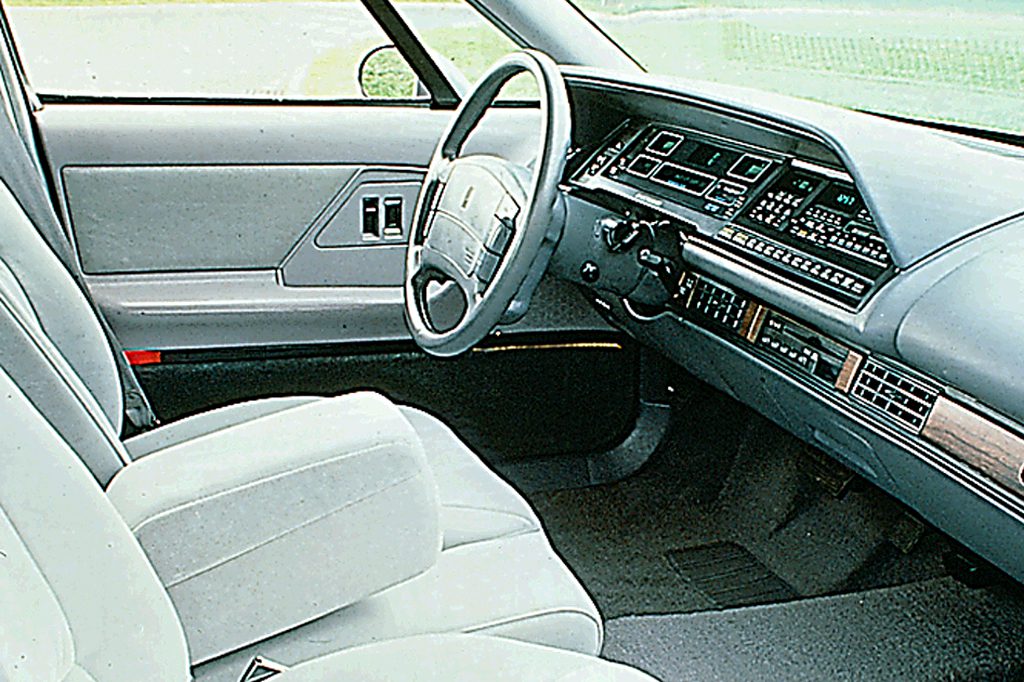 1992 Oldsmobile Eighty Eight dashboard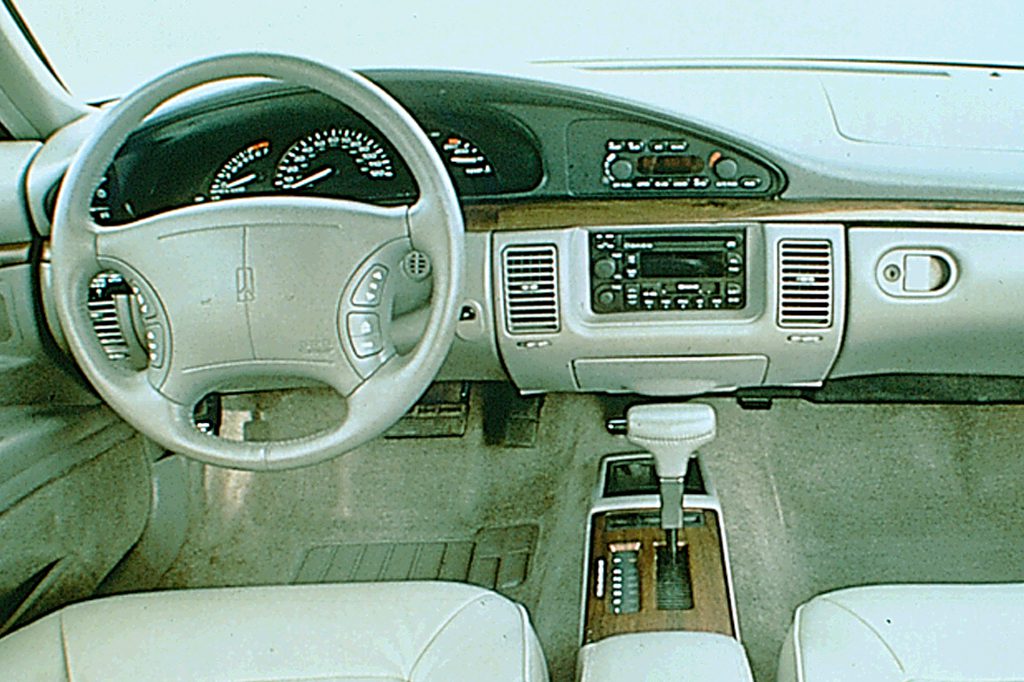 1994 Oldsmobile Eighty Eight LSS dashboard
Pros:

Acceleration
Antilock brakes (optional)
Automatic-transmission performance
Passenger and cargo room

Cons:

Fuel economy
Steering feel
If you are searching for a big sedan, capable of holding lots of people and cargo, put the Eighty Eight at the top of your shopping list.
Overview
GM's trio of front-drive full-size sedans–Buick LeSabre, Pontiac Bonneville, and Olds Eighty Eight–all dropped their boxy look for new aerodynamic styling in 1992. While the wheelbase was unchanged (at 110.8 inches), the new car was 4.1 inches longer. With the extra room, Oldsmobile was able to increase the interior dimensions and add 1.2 cubic feet of trunk space. Under the hood sits the same overhead-valve 3.8-liter V6 paired with an electronic 4-speed overdrive automatic transmission. However, GM upped horsepower to 170. A driver-side airbag was standard and antilock brakes optional.
Yearly Updates
1993 Eighty Eight/Regency
Antilock brakes become standard on all versions of the 1993 Eighty Eight. The 3.8-liter V6 remains the only engine, but torque rises slightly to 225 pound-feet at 3200 rpm. Traction control, introduced last year on the sporty LSS, becomes an available option for the LS model as well.
1994 Eighty Eight/Regency
A redesigned dashboard, complete with a passenger-side airbag, is the primary highlight for 1994. The new dash has a more compact control layout and far fewer buttons than the previous unit. Exterior changes include a new body-color grille, plus new headlamps and cornering lamps.
1995 Eighty Eight/Regency
To spur interest in its new Eighty Eight, a revised standard engine is added, along with a supercharged V6 as an option. The new engine is a reengineered version of the previous 3.8-liter V6, now called the Series II 3800 V6. It delivers 205 horsepower–35 more than before–and 230 pound-feet torque, up 5 from last year's version. Also, a new 225-horsepower supercharged version is an available option for the sporty LSS model.
1996 Eighty Eight/Regency
Changes to the 1996 Eighty Eight include a mild facelift and a more-powerful optional engine. Now available for the LSS is a more-powerful supercharged engine, now providing 240 horsepower, 15 more than before. This year's revised look features a twin-nostril grille, new front fenders, taillight, and headlights.
1997 Eighty Eight/Regency
Oldsmobile added a new deluxe Regency model to the Eight Eight model line for 1997 to help compensate for the loss of the Ninety Eight model, which was dropped. The Regency comes fully loaded and wears the same front fenders, chrome grille, and whitewall tires as the departed Ninety Eight.
1998 Eighty Eight/Regency
No changes are made to the Eighty Eight for '98.
1999 Eighty Eight/Regency
Eighty Eight celebrated its 50th and last birthday in 1999. Changes were limited to an Anniversary edition and the addition of GM's OnStar satellite/cell phone communication system.