Large car; Built in USA
transverse front-engine/front-wheel drive
Good condition price range: $1,100 – $3,300*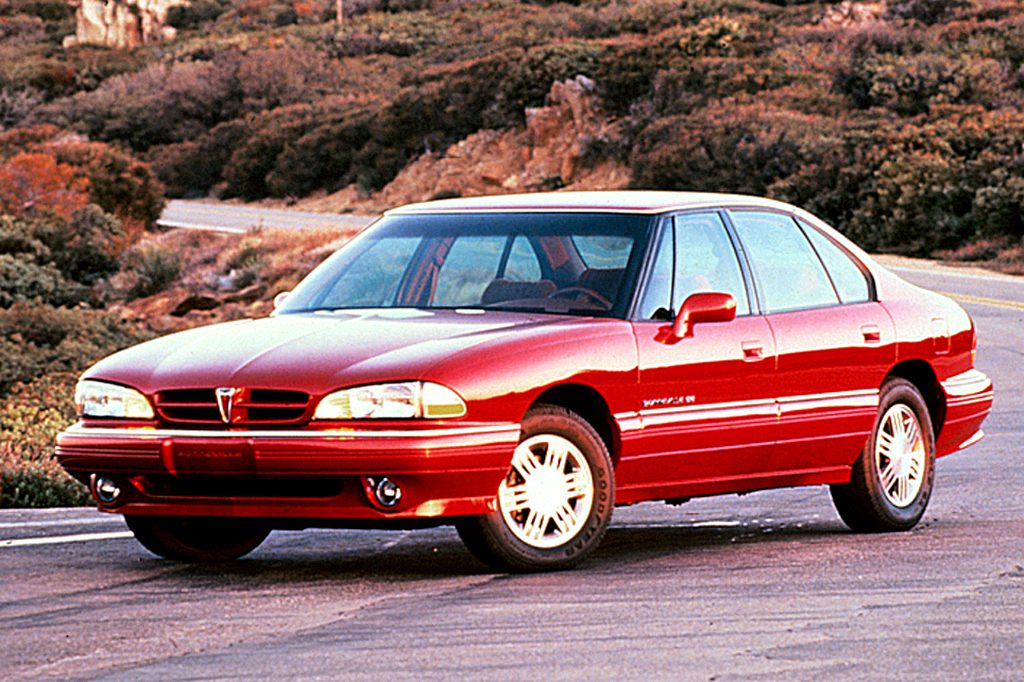 1992 Pontiac Bonneville SE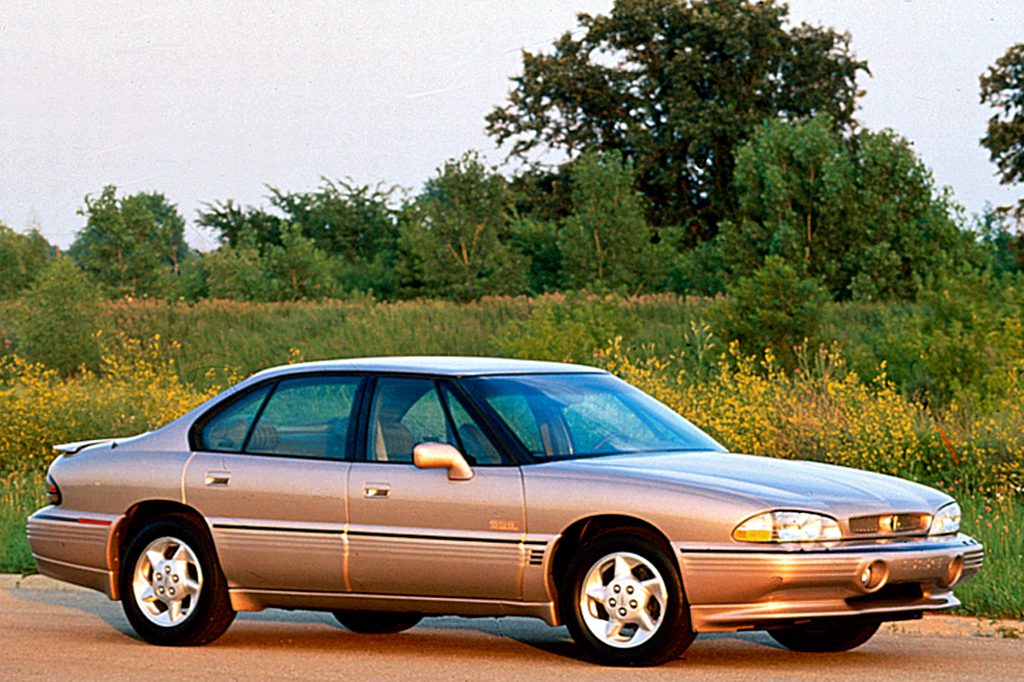 1992 Pontiac Bonneville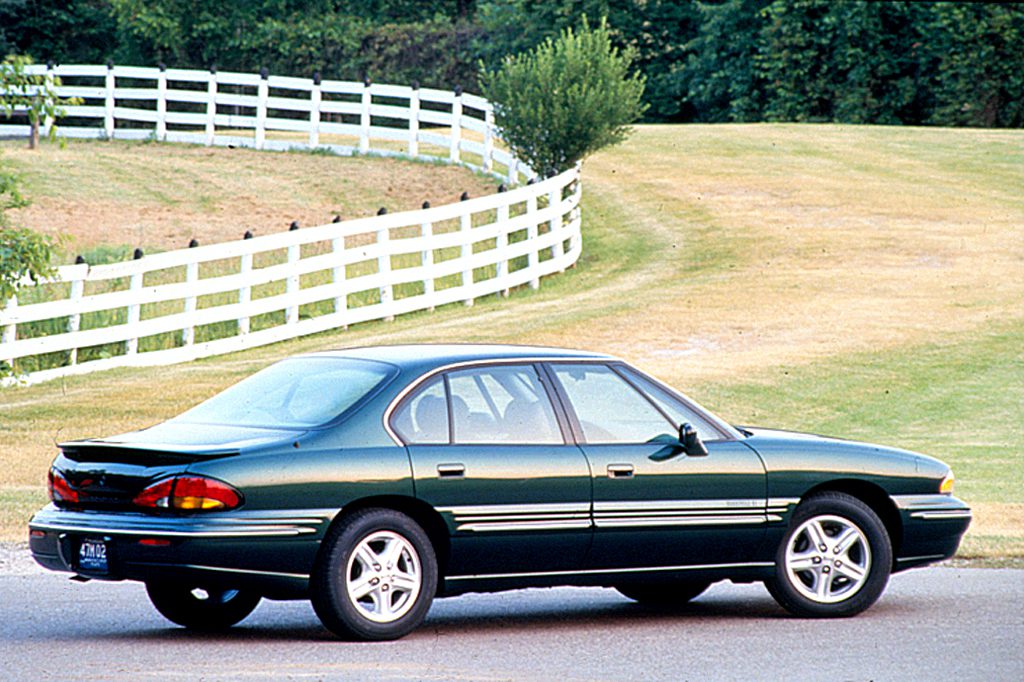 1996 Pontiac Bonneville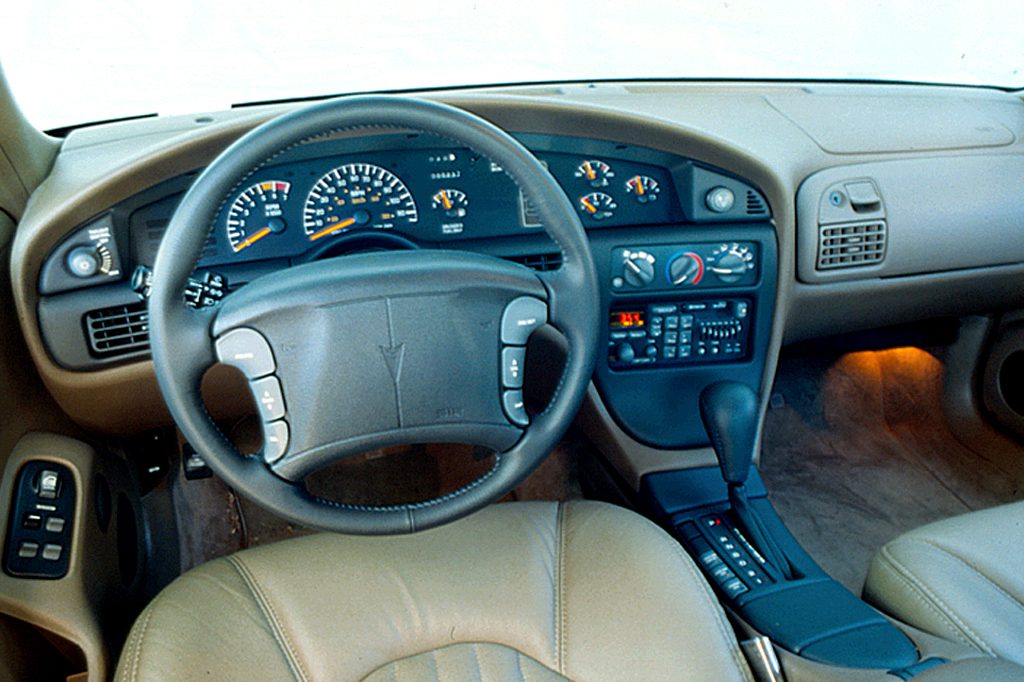 1992 Pontiac Bonneville SE interior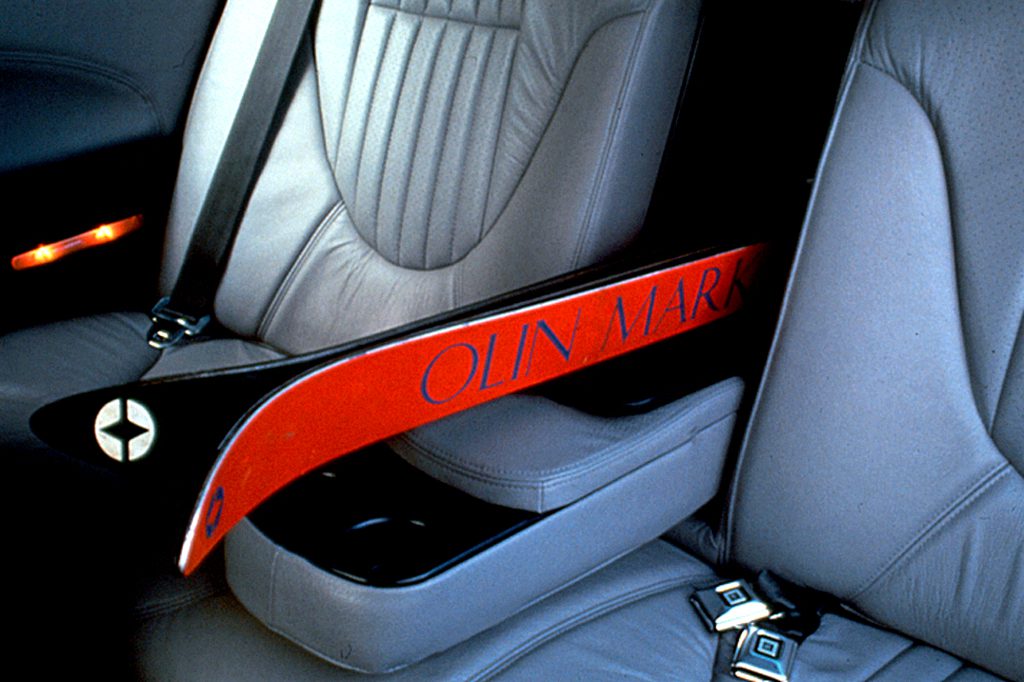 1992 Pontiac Bonneville SSEI interior
Pros:

Acceleration
Automatic transmission performance
Cargo room

Cons:

Fuel economy
Ride (SSE, SSEi)
The Chrysler LH/LHS sedans are roomier and have more daring styling, but the Bonneville and its GM cousins are high-quality cars that can be tailored to suit a variety of tastes, from cushy luxury to sporty performance.
Overview
For '92, Pontiac's full-size front-drive sedan gained a fresh skin and plastic front fenders. While the Buick LeSabre and Oldsmobile Eighty Eight rode on the same basic platform, the Bonneville featured its own distinctive Pontiac "look." Three trim levels were offered: SE, SSE, and SSEi. The base and midlevel models were provided with GM's basic 3.8-liter V6, while the SSEi received the hotter supercharged version. All engines came paired with a 4-speed overdrive automatic transmission. SSEi models got dual airbags and antilock brakes. SE and SSE models made due with a driver-side airbag and optional antilock brakes.
Yearly Updates
1993 Bonneville
Pontiac makes the supercharged V6 an available option for the midlevel SSE trim level for '96 and all models now come equipped with antilock brakes as standard equipment. Both the SE and SSE get a 170-horsepower 3.8-liter V6, which receives 5 extra pound-feet of torque, now 225.
1994 Bonneville
All Bonnevilles get dual airbags and return in base SE trim and better-equipped SSE. However, the former SSEi has been relegated to a new SSEi Supercharger Package. Newly optional for the '94 SSE models equipped with traction control is GM's Computer Command Ride suspension. Designed specifically to reduce body lean and pitch, it automatically adjusts the suspension from soft to firm when cornering, accelerating, or stopping.
1995 Bonneville
The arrival of a more powerful standard engine heads the list of changes to the '95 Bonneville. The new powerplant is a reengineered version of GM's 3.8-liter V6, now dubbed the 3800 Series II. In this form, it provides 205 horsepower and 230 pound-feet of torque.
1996 Bonneville
Revised front and rear styling, plus more power for the available supercharged engine are the key changes to the '96 Bonneville.
1997 Bonneville
The Bonneville returns virtually unchanged for 1997.
1998 Bonneville
Bonneville gets no major changes for 1998.
1999 Bonneville
Bonneville essentially stood pat for '99 as an all-new model would arrive in 2000.