Compact car; Built in Japan
2-door coupe
4-door sedan
4-door wagon
transverse front-engine/front- or all-wheel drive
Good condition price range: $1,000 – $3,800*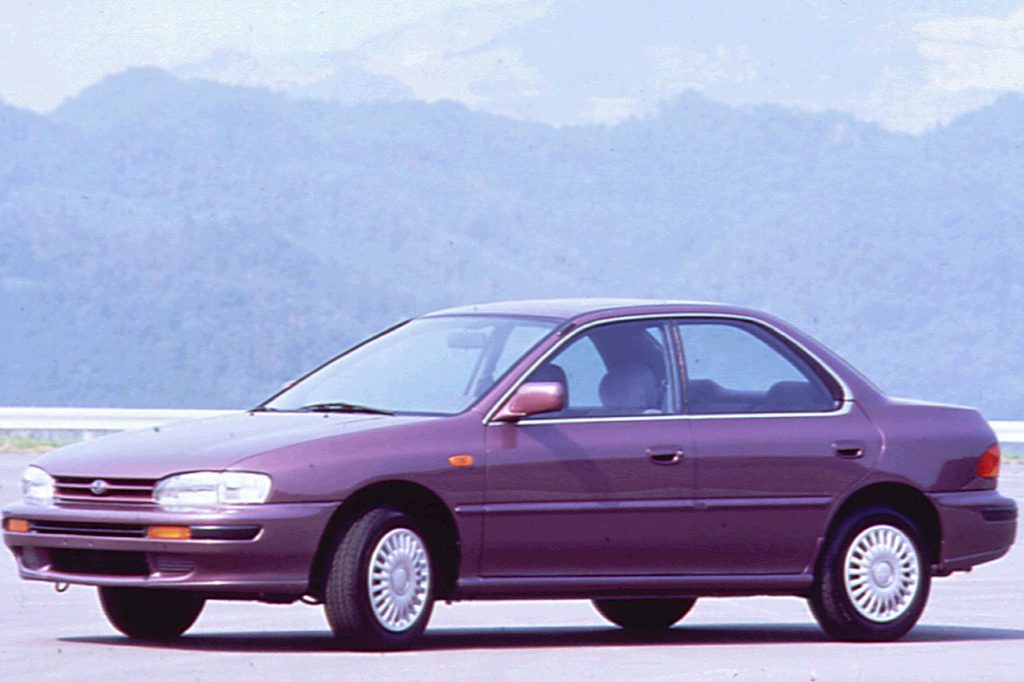 1993 Subaru Impreza 4-door sedan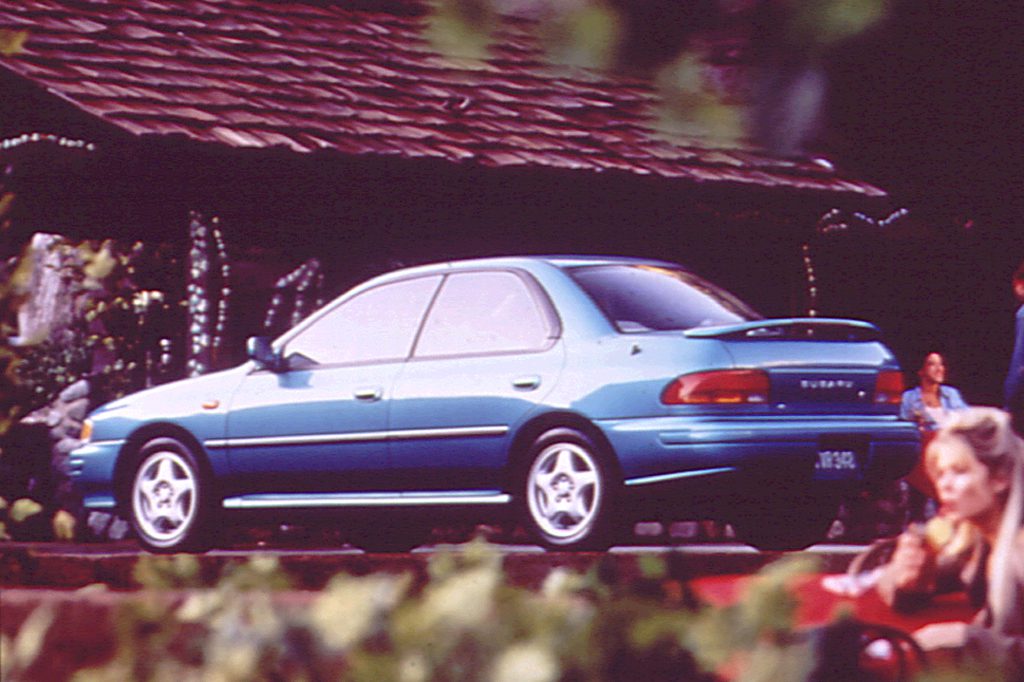 1996 Subaru Impreza 4-door sedan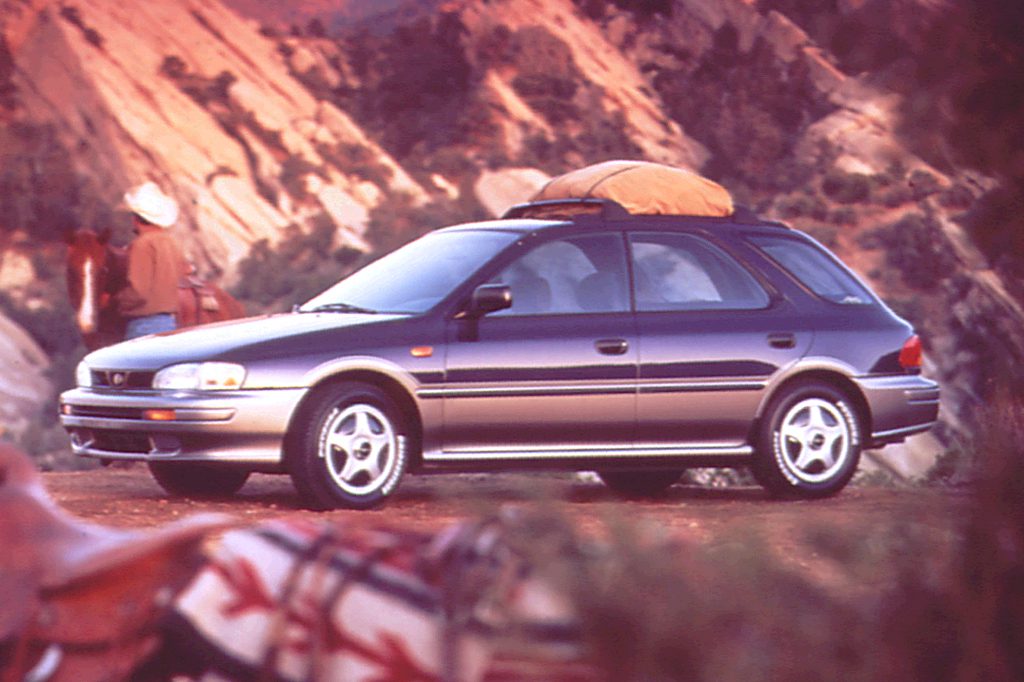 1996 Subaru Impreza Outback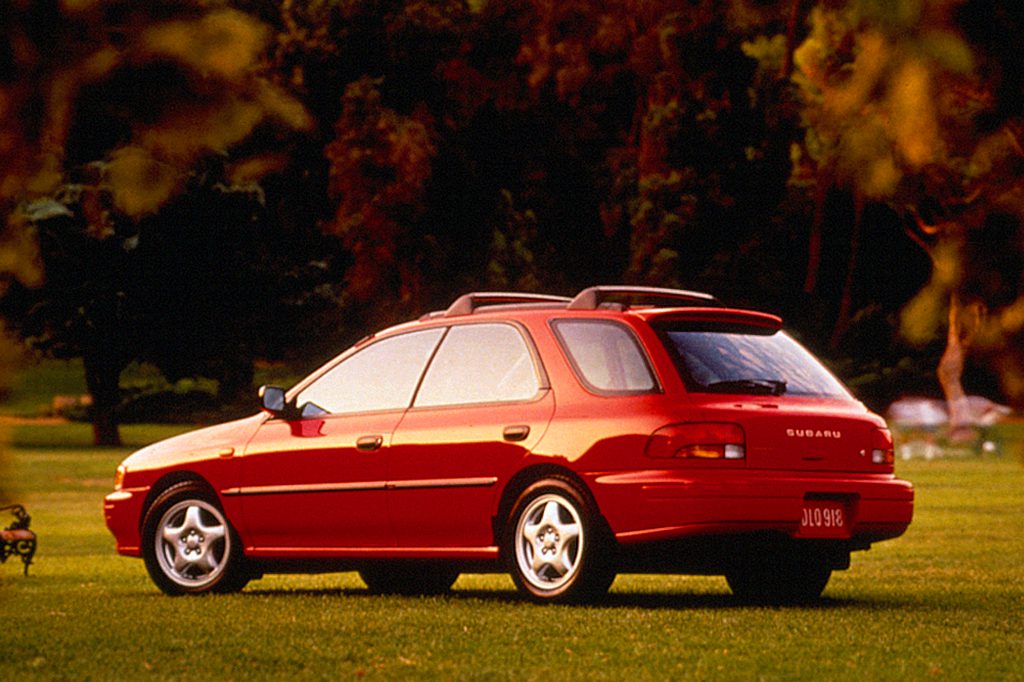 1996 Subaru Impreza 4-door wagon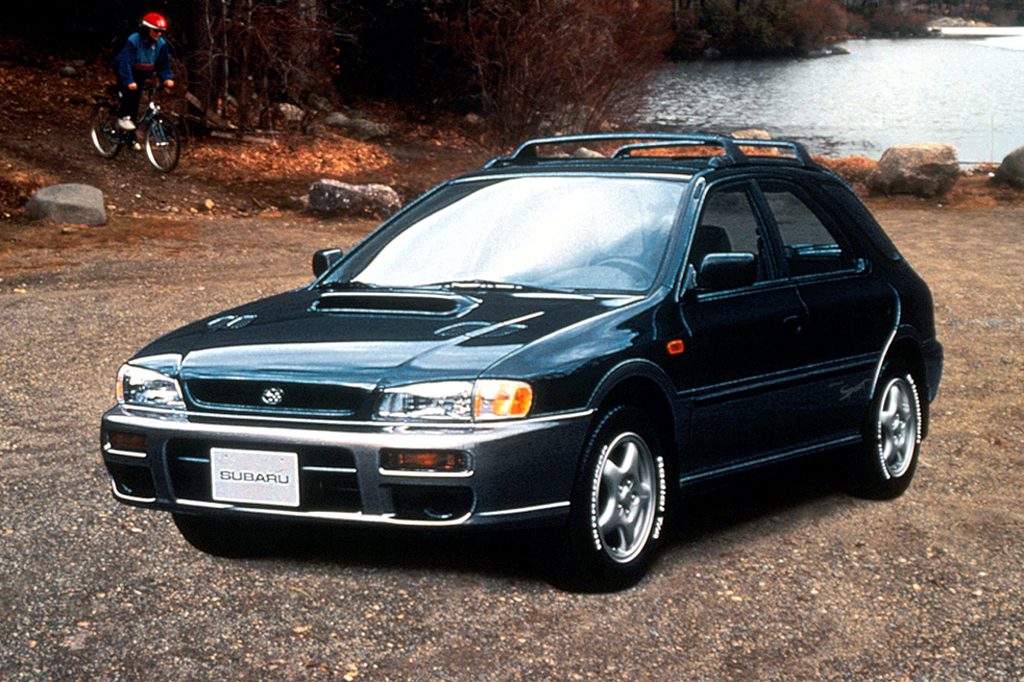 1997 Subaru Impreza Outback Sport
Pros:

Airbags, dual (later models)
All-wheel drive (AWD models)
Optional antilock brakes
Instruments/controls

Cons:

Acceleration (early AWD models)
Cargo room
Rear-seat entry/exit
Rear-seat room
With the exception of available AWD, the Impreza fails to stand apart. Later models might be more tempting–especially the Outback Sport wagon or the 2.5 RS coupe.
Overview
Replacing Subaru's aging Loyale, the subcompact Impreza came in 4-door sedan and station wagon form, with standard front drive or optional permanently engaged all-wheel drive. Sales began in spring of 1993. Both body styles came in L or step-up LS trim, and seated five. A driver-side airbag was standard; antilock braking standard on the LS. Sole engine at first was a horizontally opposed 1.8-liter 4-cylinder, developing 110 horsepower. A 5-speed manual transmission was standard on base/L models; electronically controlled 4-speed automatic optional on the L (but standard on LS).
Yearly Updates
1994 Impreza
Dual airbags went into 1994 Imprezas, and antilock brakes became available on L models (still standard on LS).
1995 Impreza
A 2-door coupe joined the other body styles for '95, and station wagons now came only with all-wheel drive. A 2.2-liter engine, borrowed from the Legacy, became available in 1995 models (automatic transmission only). Coupes and sedans came in three price levels: base, L, and LX (formerly called LS). Wagons came in L, LX, and a new Outback edition. Base and L cars had the 1.8-liter engine. Top-line LX models included the 2.2-liter engine with automatic and all-wheel drive. Targeting outdoor-oriented buyers, the Outback wagon had 2-tone paint, a roof rack, and mud guards.
1996 Impreza
In line with Subaru's growing emphasis on all-wheel drive, a "value-priced" Brighton AWD coupe joined the lineup, with 5-speed manual shift and the smaller (1.8-liter 4-cylinder) engine. Outback wagons now had the 2.2-liter engine and AWD as standard equipment. Base models were gone, leaving the L coupe and sedan as the sole front-drive offerings.
1997 Impreza
Front-drive and LX models disappeared, but the remaining Imprezas gained a bit of power and a mild facelift. All versions now had all-wheel drive. Automatic transmissions were limited to 2.2-liter models. A more aggressive Outback "sport-utility wagon" debuted, with a raised suspension, wider wheels with 15-inch tires, plus a bold hood scoop and vents.
1998 Impreza
Imprezas enjoy a mild redesign for '98. Gone is the 1.8-liter engine. New interiors feature larger gauges, new seat fabrics, and revised door panels. Also new is a 2.5 RS model. It comes only as a coupe and gets the 2.5-liter 165-horsepower engine from the larger Legacy model and a rear wing, gold-colored alloy wheels, a non-functional hood scoop, and a sport suspension.
1999 Impreza
Still the only small car with standard all-wheel drive, Impreza returned with few changes among its five models.
2000 Impreza
A sportier 2.5 RS sedan joined the lineup, with all-wheel drive like all Subarus and a 2.5-liter engine.
2001 Impreza
No significant changes were made for 2001. A new model was waiting in the wings for '02.