Compact SUV; Built in England
2-door convertible
2-door wagon
4-door wagon
longitudinal front-engine/4-wheel drive
Good condition price range: $7,200 – $13,500*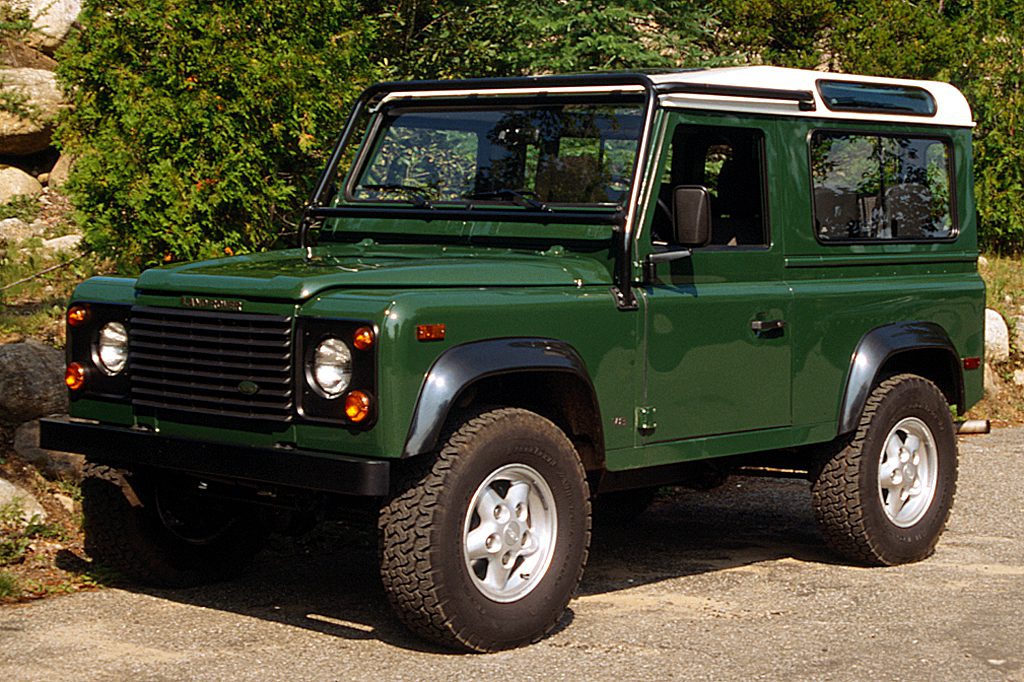 1995 Land Rover Defender 90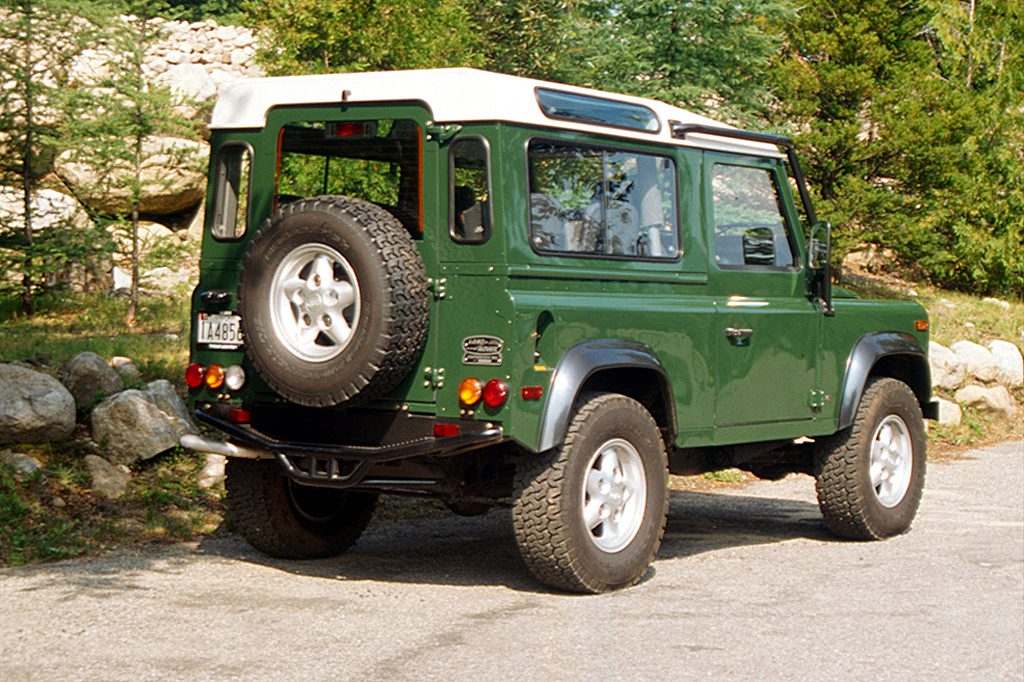 1995 Land Rover Defender 90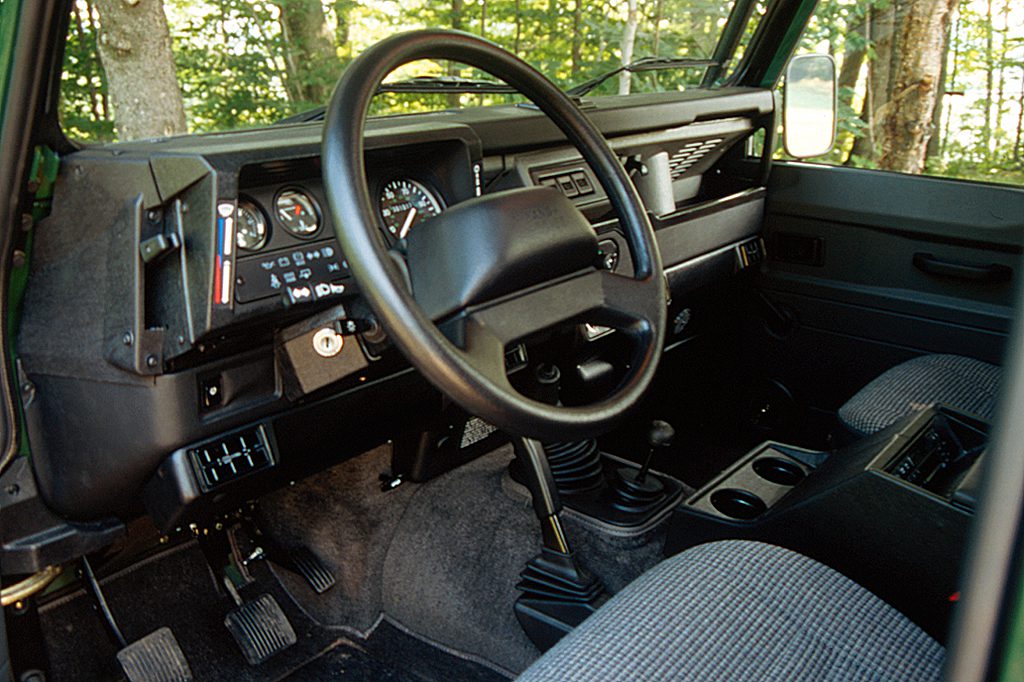 1995 Land Rover Defender 90 interior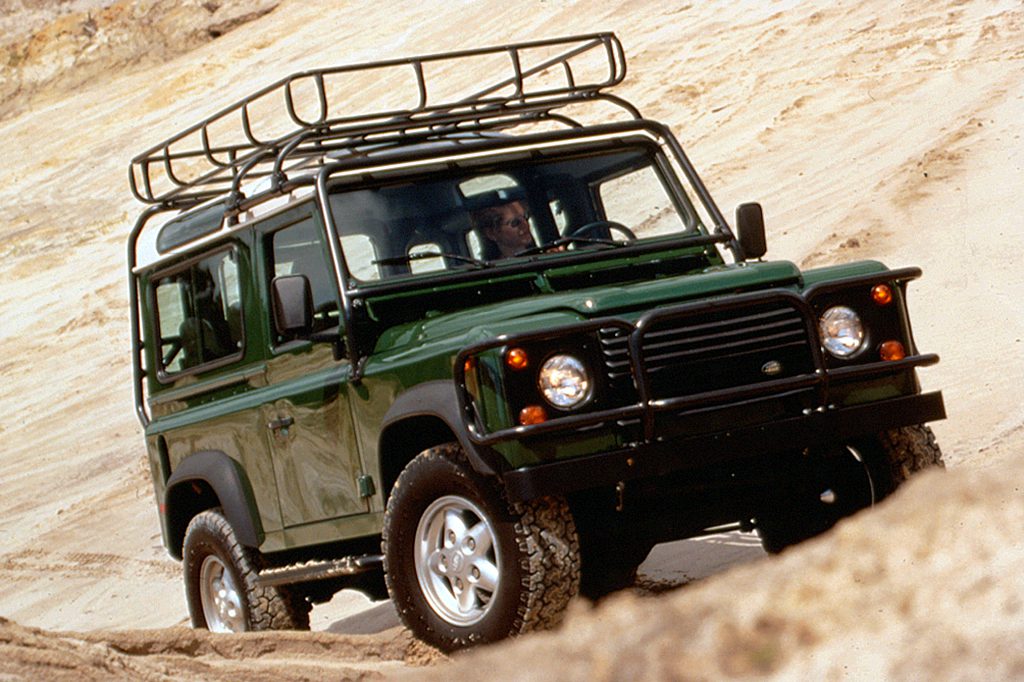 1997 Land Rover Defender 90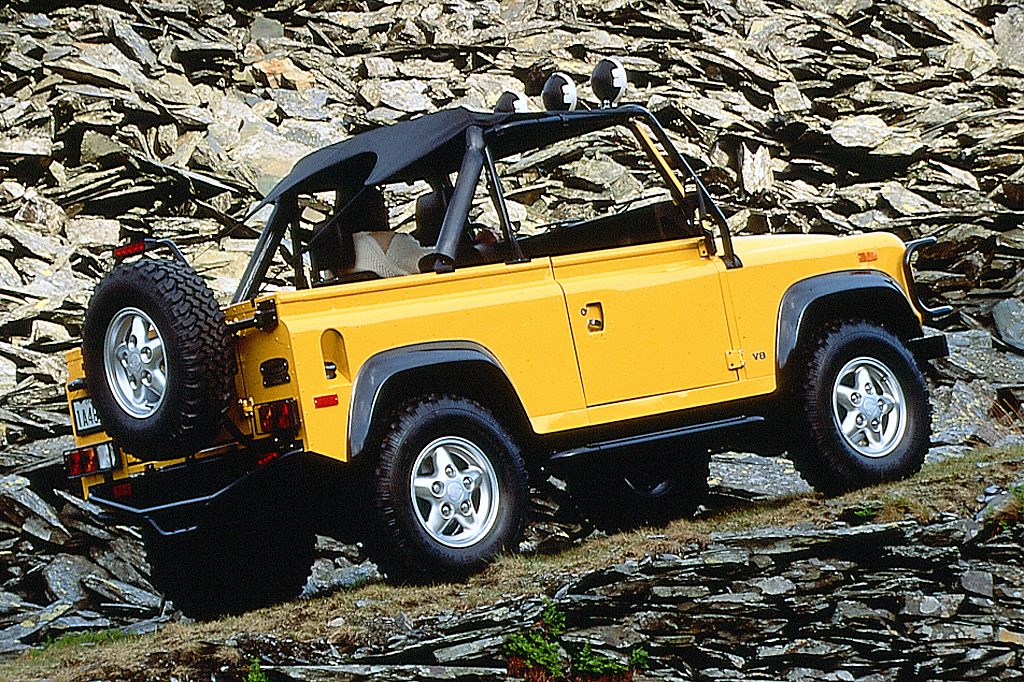 1994 Land Rover Defender 90
Pros:

Low-speed acceleration
Trailer-towing capability

Cons:
Defender 110 wagons, if one can be found, appeal mainly to people who appreciated the merits of the old Land Rovers, seen in many movies forging their way through African jungle. The Defender 90 ranked more as a lifestyle accessory for "high rollers" than a real sport-utility value. After all, the convertible cost $27,900 in 1994, without a roof or back seat. Neither qualifies as acceptable value today.
Overview
Descended from the old slab-sided, utilitarian Land Rovers of the distant past (last sold in the U.S. in 1974), the Defender 110 appeared as a limited edition for 1993. The 4-door wagon was designed primarily for off-road use, and powered by a 3.9-liter V8 engine that made 182 horsepower. Only 500 were built for 1993, the model's sole season on the market.
With a 110-inch wheelbase, the Defender 110 was 10 inches longer between the axles than a standard Range Rover, and 2 inches more than the new long-wheelbase version of the Range Rover. Overall length ranked between the two Range Rover models. Defender's V8 engine was similar to the one used in the Range Rover County.
Only a 5-speed manual transmission was offered. Permanently engaged 4-wheel drive was standard.
Body panels were made of aluminum. Seating for nine was standard, including two front buckets, a split folding middle bench, and four folding side-facing jump seats in the cargo area. Standard equipment included air conditioning, a front brush guard, rear step bumper, rear defroster, tinted glass, roof rack, cassette stereo, running boards, and ride-leveling suspension.
Yearly Updates
1994 Defender
A different sort of Defender debuted for 1994. Dubbed the Defender 90, this one was a 2-door convertible. It was the first product marketed under the new company name in the U.S.: Land Rover North America. Considered Land Rover's entry-level model, the Defender 90 was the only convertible sport-utility vehicle in the U.S. with a V8 engine. Like the V8 in the previous Defender 110 wagon, the 3.9-liter engine developed 182 horsepower. A 5-speed manual was the only transmission offered. Somewhat stubby in appearance, the new convertible was roughly comparable to the Jeep Wrangler–which of course had no V8 engine. The Defender 90 was 7 inches shorter in wheelbase, and 14.5 inches shorter overall, than a regular Range Rover County. At 92.9 inches, its wheelbase was just a tad shorter than a Jeep Wrangler, but the Defender 90 measured 8.6 inches longer overall. A full tonneau cover protected the interior, but the basic Defender 90 came without a roof. A removable, full fabric top with plastic side and rear windows was a dealer-installed accessory. So was a "bikini" half-top. Standard equipment included a front brush guard, rear step bumper, front/rear antisway bars, cassette stereo, front/rear mud flaps, swing-away rear-mounted spare tire, and an 8000-pound winch. The Premium Sort Top package included a full safari cage. Aluminum body panels were attached to a steel frame. All-disc brakes were used, but without antilocking. No airbags were installed. Only two front seats were included with the Defender 90 as it came from the factory. A 2-place folding rear seat was a dealer-installed option. So were air conditioning and full carpeting. Spring of 1994 brought a new manual transmission to the Defender 90.
1995 Defender
A new "fastback" soft top featured plastic sliding windows. As before, an optional plastic top could be dealer installed, as could a surrey-style full fabric top or a fabric half top. Importation of the Defender 90 ceased at the end of 1995, but the vehicle would earn a brief reprieve later. Final '95 versions had standard air conditioning, a more powerful cassette stereo, and newly optional 5-spoke alloy wheels.
1996 Defender
No new Defenders were imported in 1996, but final examples of the limited-edition hardtop model from '95 could still be found at dealerships. They featured a permanent aluminum hardtop with pop-up sunroof, an internal/external safari cage, and four center-facing rear seats.
1997 Defender
After a year's absence, Land Rover resumed importation of the Defender 90, built by the Rover Group (now owned by BMW). A slightly larger 4.0-liter V8 engine went under the hood, along with a 4-speed automatic transmission, both borrowed from the larger Discovery wagon. A hardtop wagon went on sale first, which Land Rover announced would be followed by a soft-top convertible. Enhanced-capacity air conditioning was optional, and a CD changer was standard. So were driving lamps and a 9000-pound winch, in case of difficulty in the wilderness. Neither airbags nor antilock brakes were available, but permanent 4-wheel drive and all-disc braking were standard. The six-passenger Defender 90 wagon had a fixed aluminum roof, swing-out tailgate, roll-down door windows, and sliding rear side windows. Four-passenger convertibles had half-height doors, removable sliding side windows, and a manual canvas roof that fit over the integral roll cage.