Compact car; Built in Mexico
2-door hatchback
4-door hatchback
4-door sedan
transverse front-engine/front-wheel drive
Good condition price range: $1,300 – $3,400*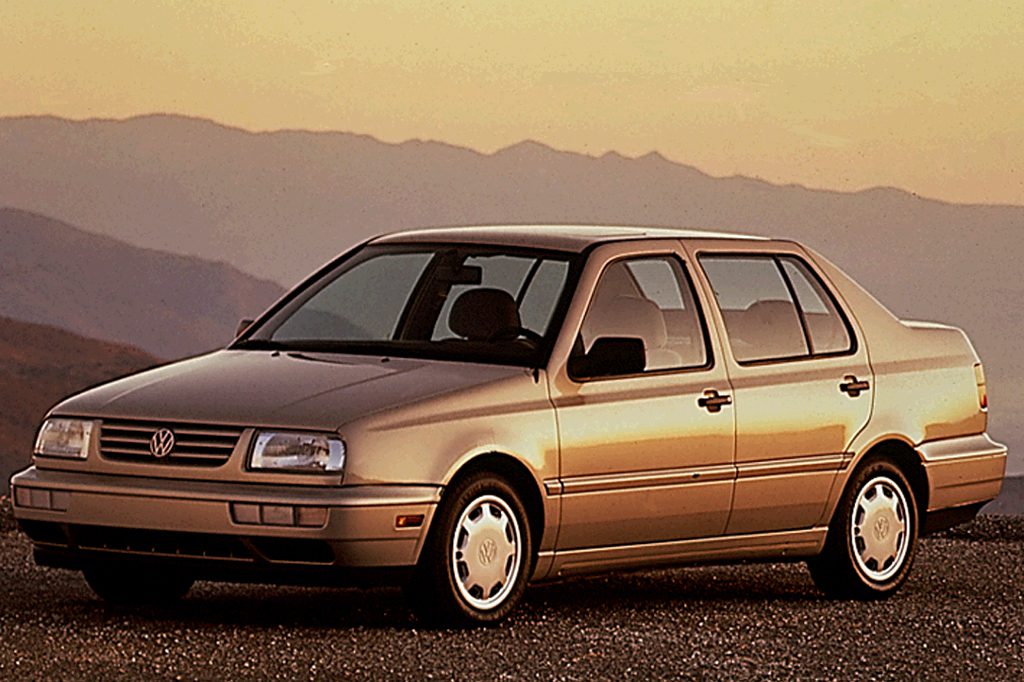 1996 Volkswagen Jetta GL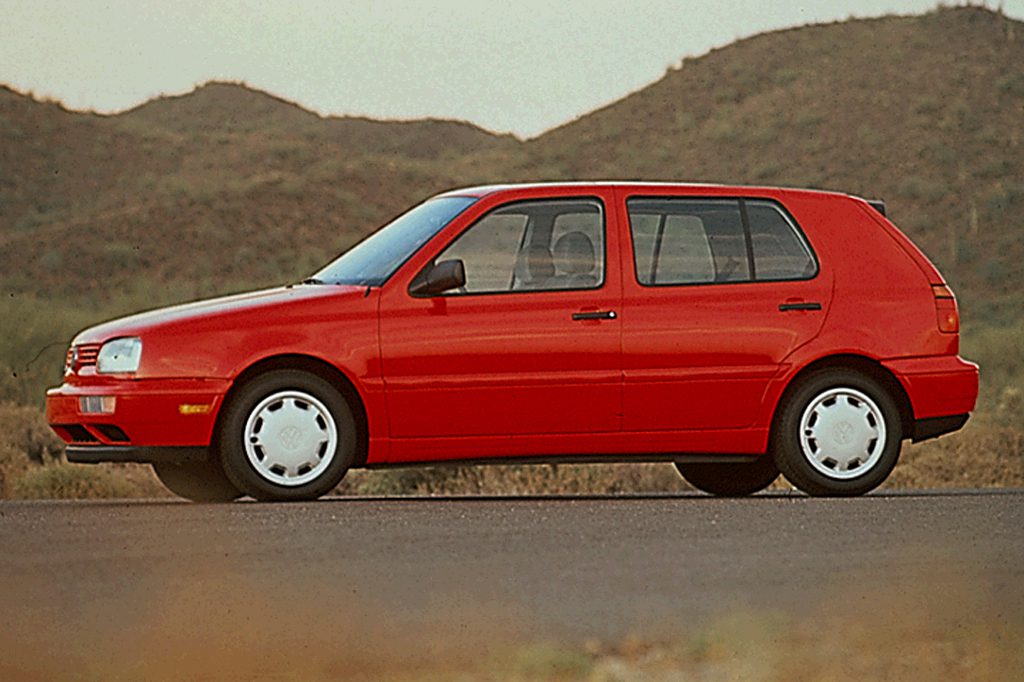 1996 Volkswagen Golf GL 4-door hatchback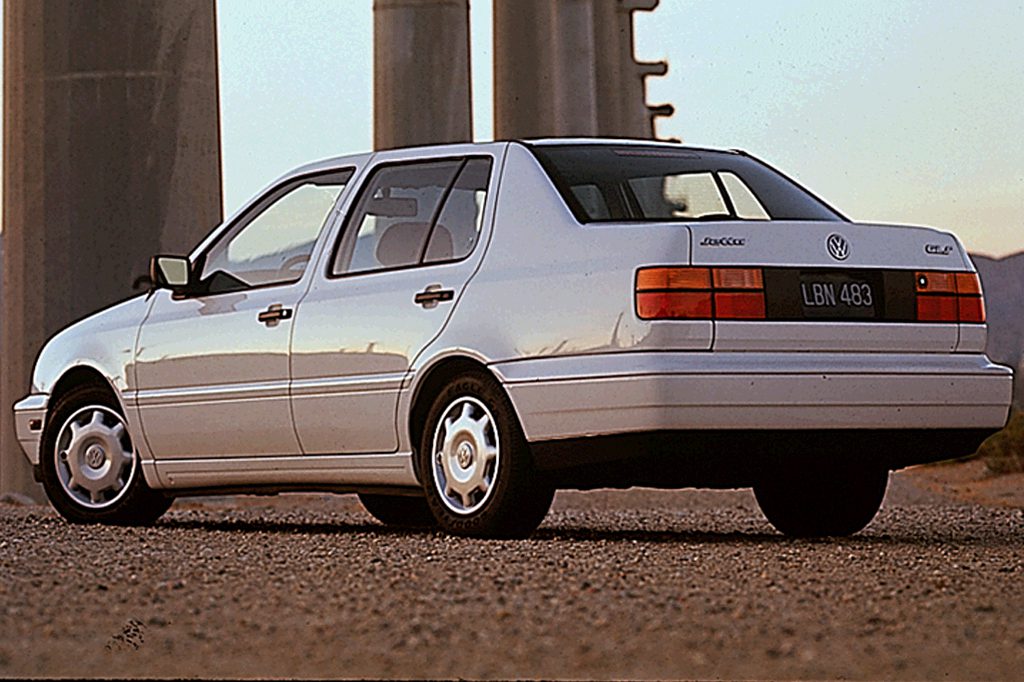 1996 Volkswagen Jetta GL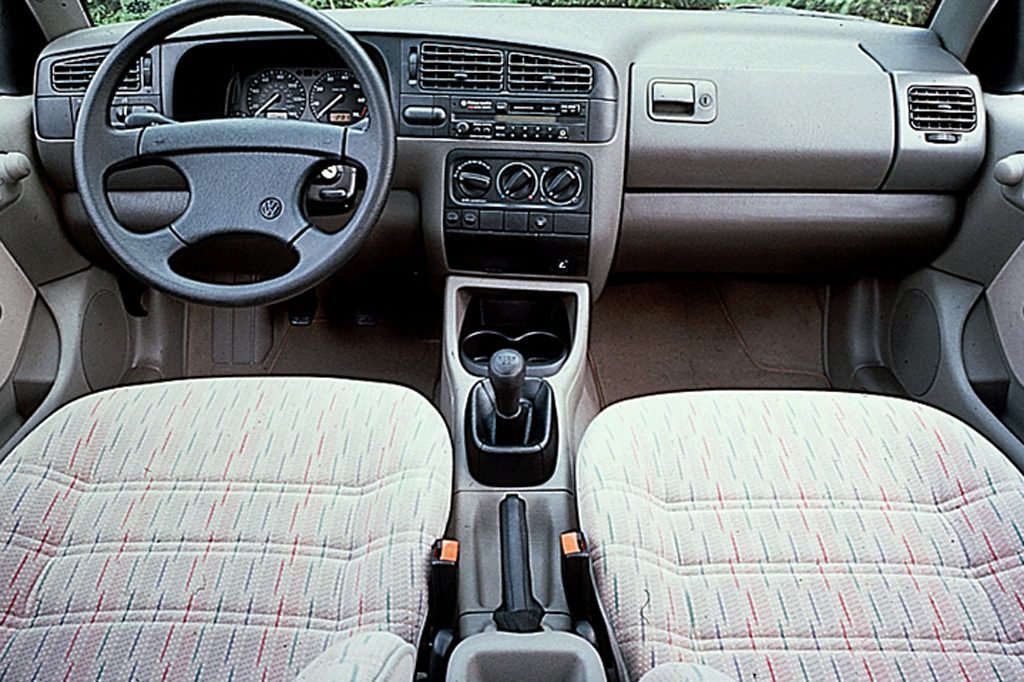 1996 Volkswagen Golf GL interior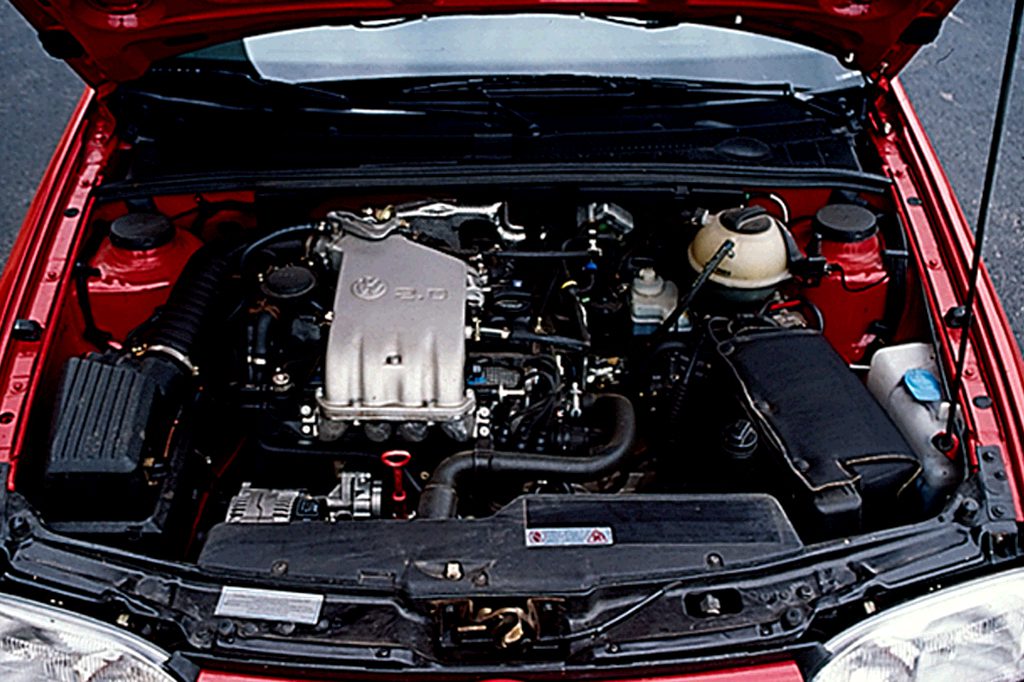 1994 Volkswagen Golf 4-cylinder engine
Pros:

Acceleration
Antilock brakes (optional)
Maneuverability
Passenger and cargo room
Steering/handling

Cons:
Our only reservation with these delightful subcompacts is Volkswagen reliability and high prices. Otherwise, they are an excellent choice that is a little out of the norm.
Overview
Redesigned Golf and Jetta models appeared in California first and then made their way to the rest of the country by 1994. All except the earliest production 1994 models came with standard dual airbags, replacing the door-mounted automatic front shoulder belts. The sole engine for 1993 and '94 Golfs was a 115-horsepower 2.0-liter 4-cylinder. Most Jettas got that engine too, but the top-line GLX model got a 172-horsepower V6. A 5-speed manual transmission was standard on all Golfs and Jettas, and a new 4-speed electronic automatic was optional, except on the GTI.
Yearly Updates
1995 Golf/Jetta
Joining the Golf/Jetta family for 1995 is the hot new Golf GTI VR6, plus two other Golf models. The new GTI comes standard with the 172-horsepower 2.8-liter V6 engine, teamed with a standard 5-speed manual transmission. An electronic 4-speed automatic is optional. Also, all Golfs and Jettas get height-adjustable manual front seatbelts with emergency tensioners, side impact door beams that meet 1997 federal standards, and daytime running lights.
1996 Golf/Jetta
A dashboard-mounted glovebox, absent since it was displaced by a passenger-side airbag during the 1994 model year, returns on all models. Also, the seatbelts now have emergency locking retractors that eliminate the need for locking clips with child safety seats. In addition, a new dashboard switch for the central locking system can lock and unlock all doors and the trunk. Last year's Golf Sport model has been renamed GTI, but is not to be confused with the GTI VR6, which also comes as a 2-door hatchback, but is powered by the 2.8-liter V6 rather than the base 2.0-liter 4-cylinder.
1997 Golf/Jetta
Volkswagen's economical diesel-powered Jetta TDI and new GT models made their U.S. debut. In May, two late-arriving specialty models were also released–the Golf Trek and Jetta Trek–both equipped to appeal to young "Gen-Xers" and others caught up in the mountain-bike craze. The TDI features VW's 90-horsepower, 1.9-liter direct injection diesel, mated to a 5-speed manual transmission. The combo produces eye-popping fuel economy of 40 mpg in the city and 49 mpg on the highway. The new Jetta GT includes many of the sporty touches of the top-line GLX, such as alloy wheels, rear spoiler, and fog lamps. The interesting new Trek models start out as GL models and add the following: roof-mounted bicycle rack, Trek mountain bicycle, special cloth seats, leather-wrapped steering wheel and shifter, sport instrument gauges, delay-off interior lights (Jetta), floormats, cargo net, roof-mounted whip antenna, dark-tinted taillight lenses, foglights, and alloy wheels.
1998 Golf/Jetta
Optional on both the Golf and Jetta are seat-mounted front side airbags. Also, the Golf GTI gets red interior trim accents, silver-faced gauges, and 7-spoke alloy wheels. VW continued selling this generation Golf/Jetta into 1999 until new models were ready.