Midsize car; Built in Canada
2-door coupe
4-door sedan
transverse front-engine/front-wheel drive
Good condition price range: $1,300 – $3,000*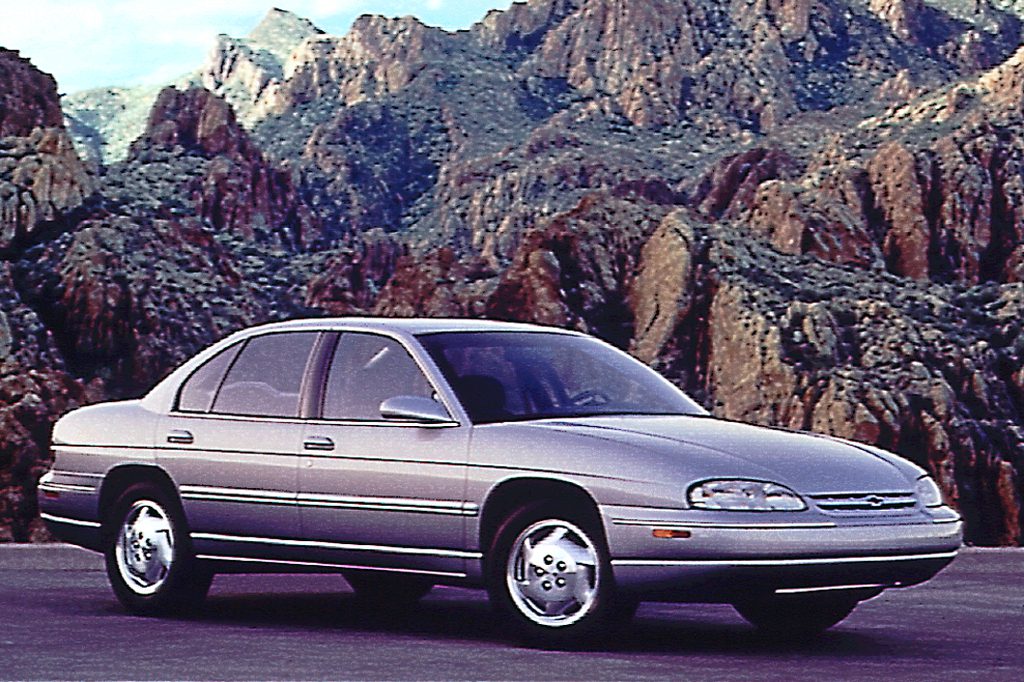 1995 Chevrolet Lumina LS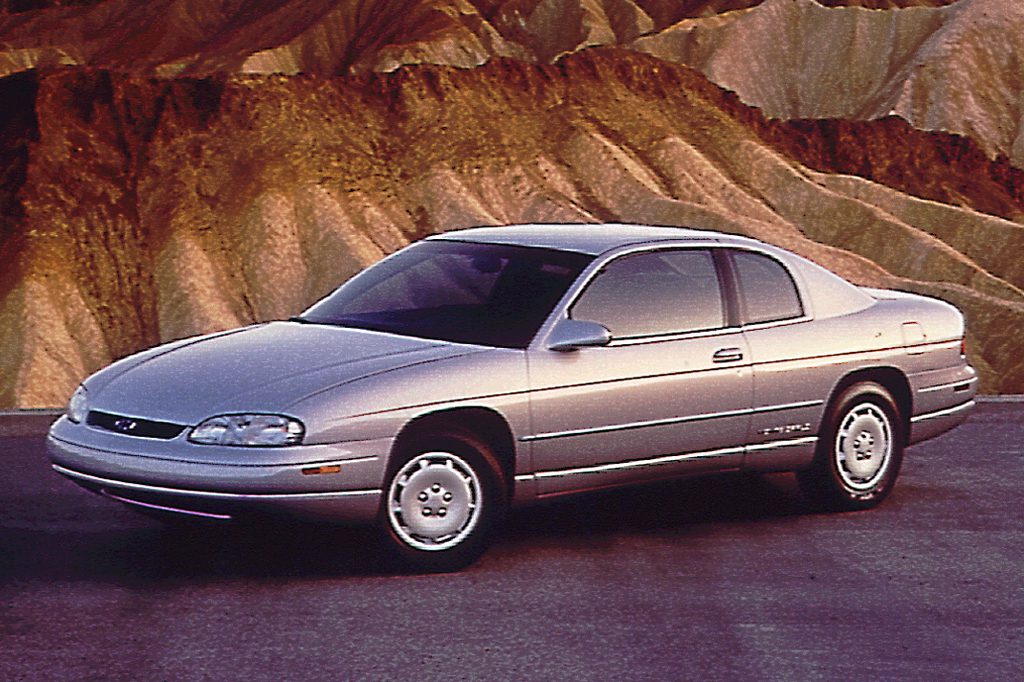 1995 Chevrolet Monte Carlo LS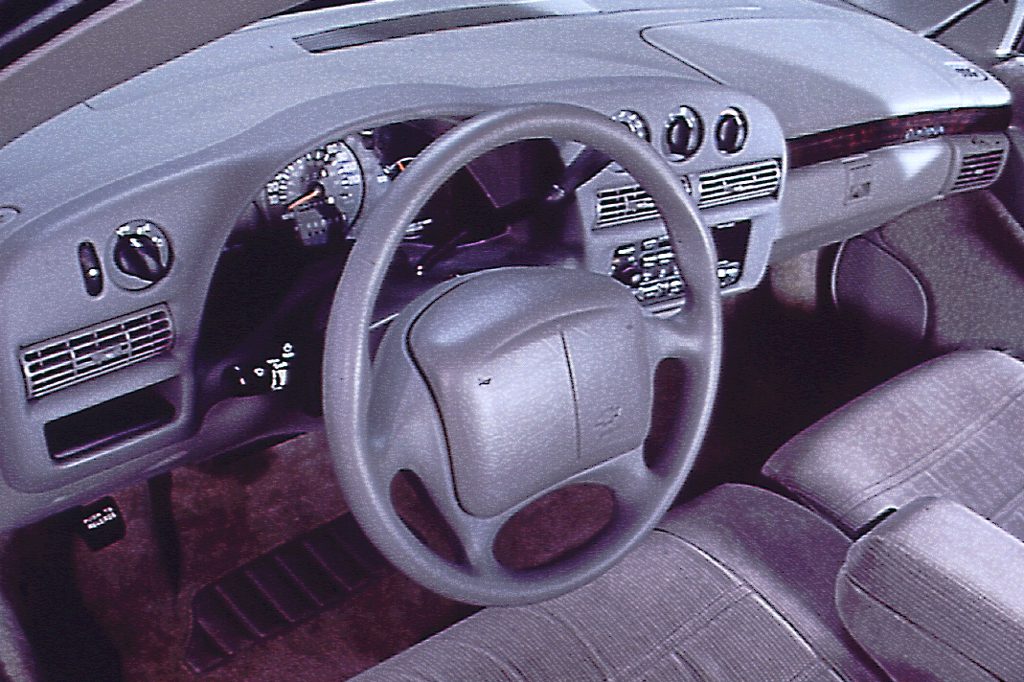 1995 Chevrolet Lumina interior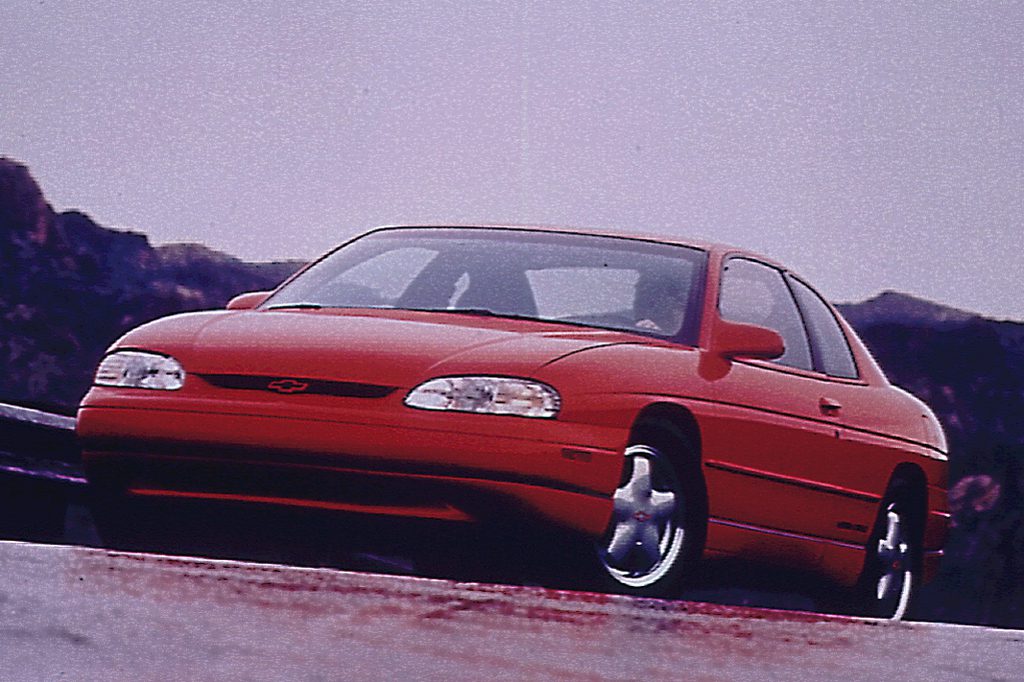 1995 Chevrolet Monte Carlo Z34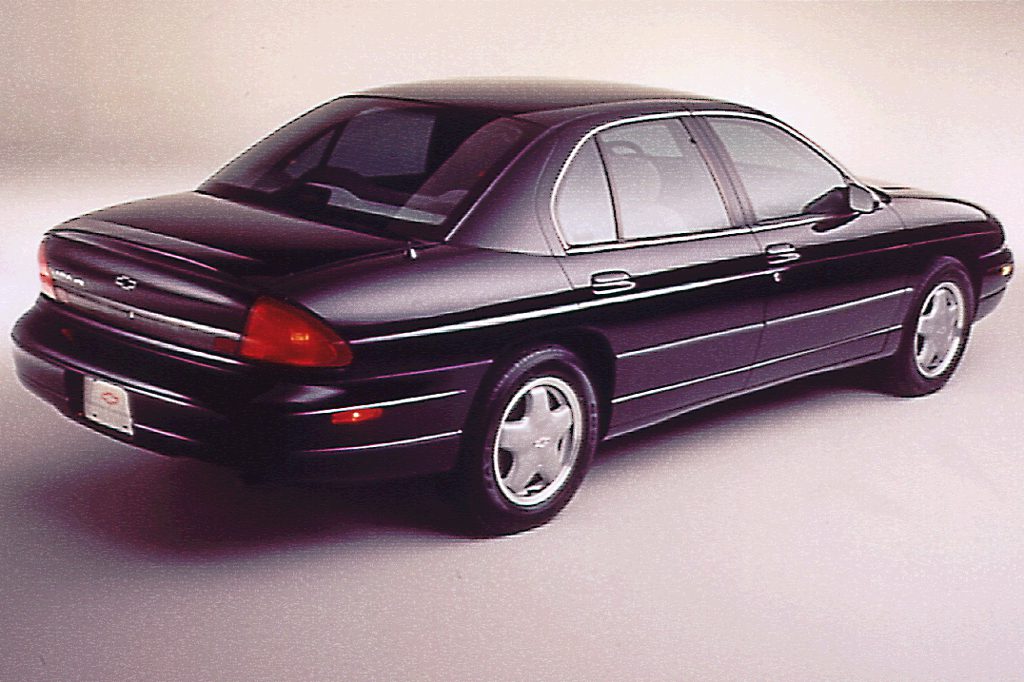 1997 Chevrolet Lumina LTZ
Pros:

Antilock brakes
Automatic-transmission performance
Passenger and cargo room
Ride

Cons:

Engine noise (3.4-liter)
Fuel economy (3.4-liter)
Rear-seat entry/exit (Monte Carlo)
Rear visibility (Monte Carlo)
Steering feel
The Lumina is a pleasant, competent family sedan, which deserves consideration if you're shopping in the midsize field. Monte Carlo shares most of its pluses and minuses, in 2-door coupe form.
Overview
Chevrolet's redesigned front-drive midsize duo rivaled the Ford Taurus and Honda Accord, among others. The 4-door sedan was again called Lumina, but the coupe now adopted a Monte Carlo moniker. Both models got dual airbags, as well as a substantial exterior redesign and reworked interiors. Wheelbase was the same as in the prior generation, but the new models measured three inches longer. As in the 1990-94 generation, the platform was similar to that of the Buick Regal, Oldsmobile Cutlass Supreme, and Pontiac Grand Prix. Luminas came in base and LS price levels; Monte Carlo, in LS or sportier Z34 trim. A 160-horsepower 3.1-liter V6 was standard. Optional in the LS Lumina sedan and standard in the sporty Z34 Monte Carlo coupe was a 210-horsepower, 3.4-liter dual-overhead-cam V6. All had a 4-speed electronic automatic transmission. Antilock brakes were standard (except optional on the base Lumina).
Yearly Updates
1996 Lumina/Monte Carlo
Engine output from the 3.4-liter V6 rose to 215 horsepower in 1996. The Monte Carlo Z34 adopted all-disc braking for '96, which also went into Lumina LS models with the 3.4-liter engine. Other models stuck with front-disc/rear-drum brakes. Air conditioning could now be the dual-zone type, with separate temperature controls for the driver and passenger.
1997 Lumina/Monte Carlo
All models gained daytime running lights, and a sporty new Lumina LTZ sedan arrived during 1997. The LTZ included unique front and rear fascias, a rear spoiler, and alloy wheels, with the 3.4-liter dual-cam engine as an option. The V6 was no longer available in the Lumina LS. A new automatic transmission, used with the 3.4-liter engine, promised smoother, more prompt shifts.
1998 Lumina/Monte Carlo
A 200-horsepower 3.8-liter overhead-valve V6 replaces the dual-cam 3.4-liter V6 on Monte Carlo Z34s and Lumina LTZs. Otherwise, changes are minimal.
1999 Lumina/Monte Carlo
Lumina and Monte Carlo carried on into 1999 with little change. Both got more standard equipment, and the Lumina LTZ lost its rear disc brakes in favor of drums.
2000 Lumina/Monte Carlo
Only one Lumina model was available, equipped between the 1999 base and LS editions. Only the 3.1-liter V6 engine was offered, retuned for 15 extra horsepower. Front bucket seats were no longer available, leaving only a standard 60/40 bench. GM's OnStar communications system disappeared from the options list. A new optional Appearance Package included a CD player and 16-inch aluminum wheels with higher-performance touring tires. Chevrolet redesigned its Monte Carlo coupe for 2000, switching from the Lumina platform to that of the new Impala.
2001 Lumina
No changes were made to the Lumina as it was sold exclusively to fleet buyers.