Midsize SUV; Built in USA
2-door wagon
4-door wagon
longitudinal front-engine/rear- or 4-wheel drive
Good condition price range: $1,000 – $6,100*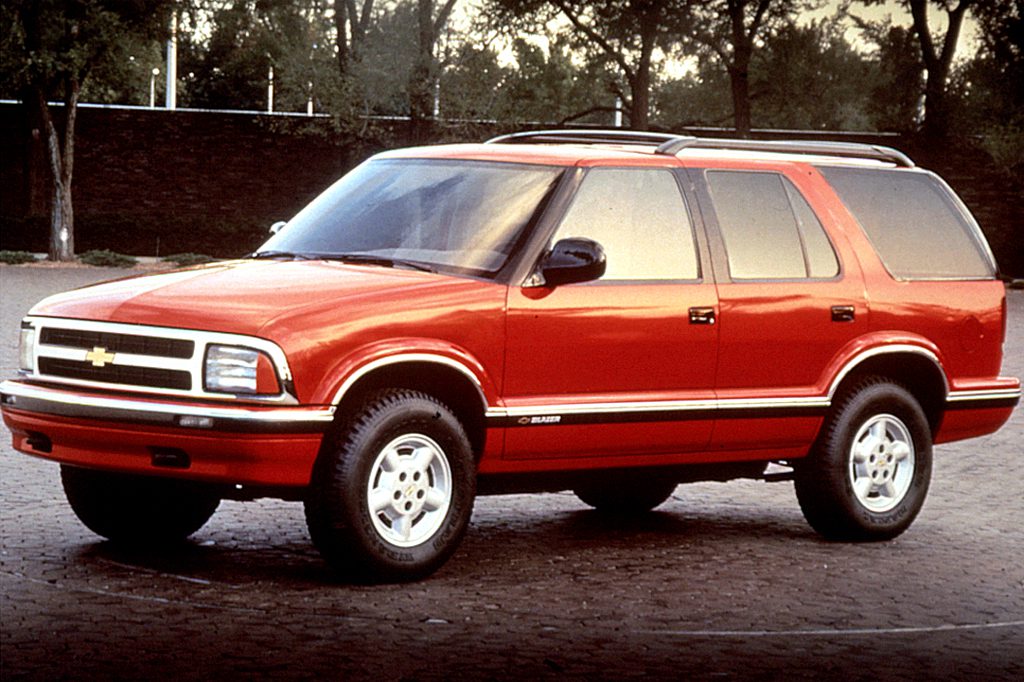 1995 Chevrolet Blazer 4-door wagon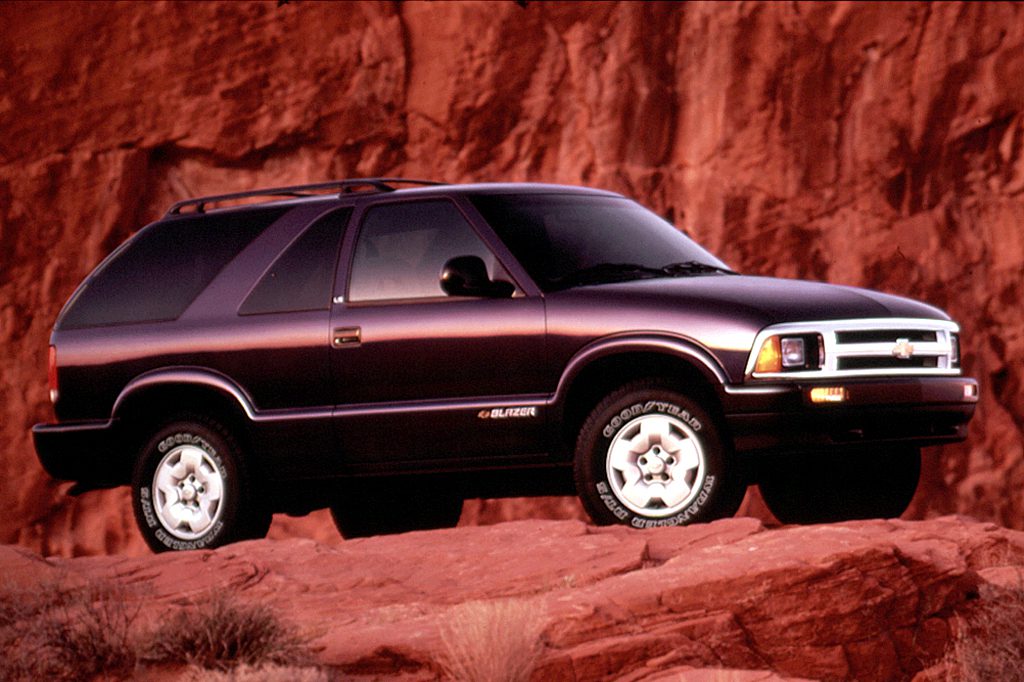 1996 Chevrolet Blazer LS 4WD 2-door wagon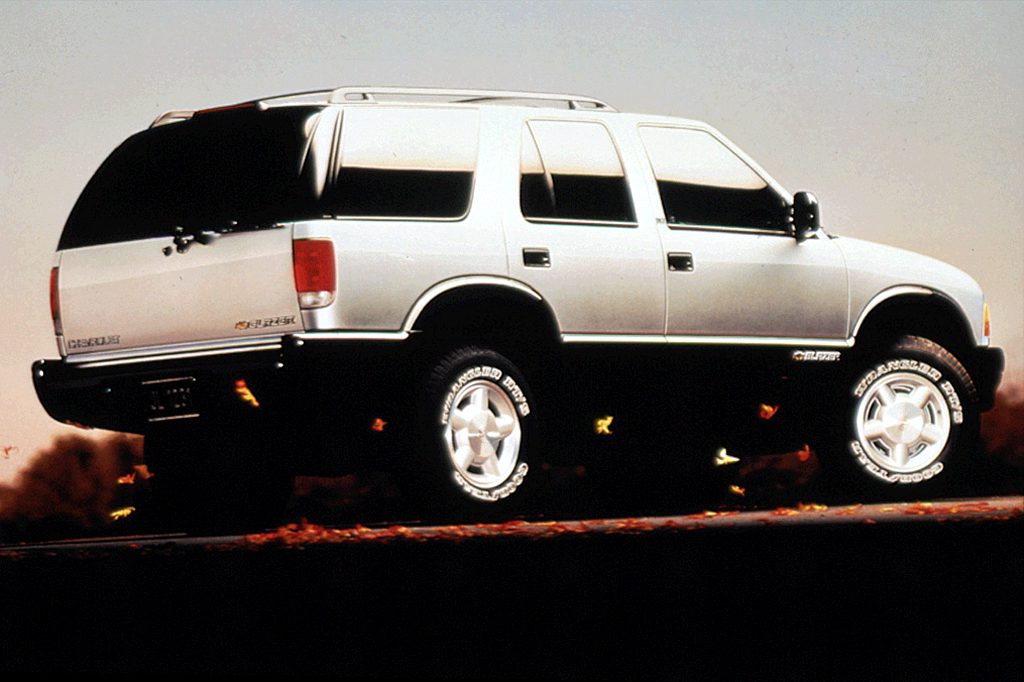 1996 Chevrolet Blazer LS 4WD 4-door wagon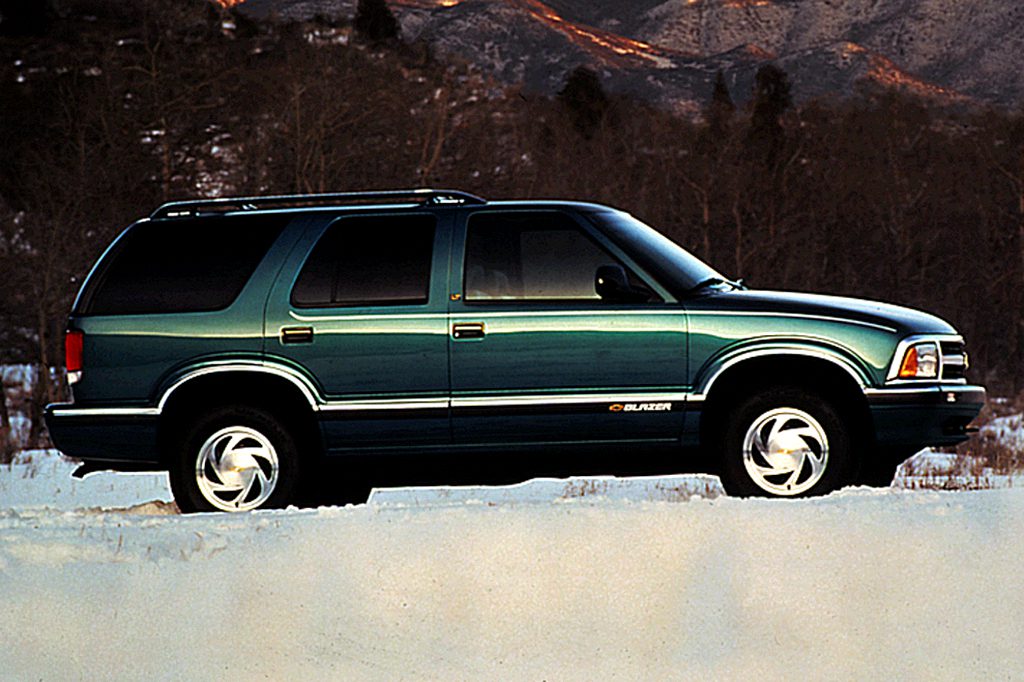 1996 Chevrolet Blazer LT 4WD 4-door wagon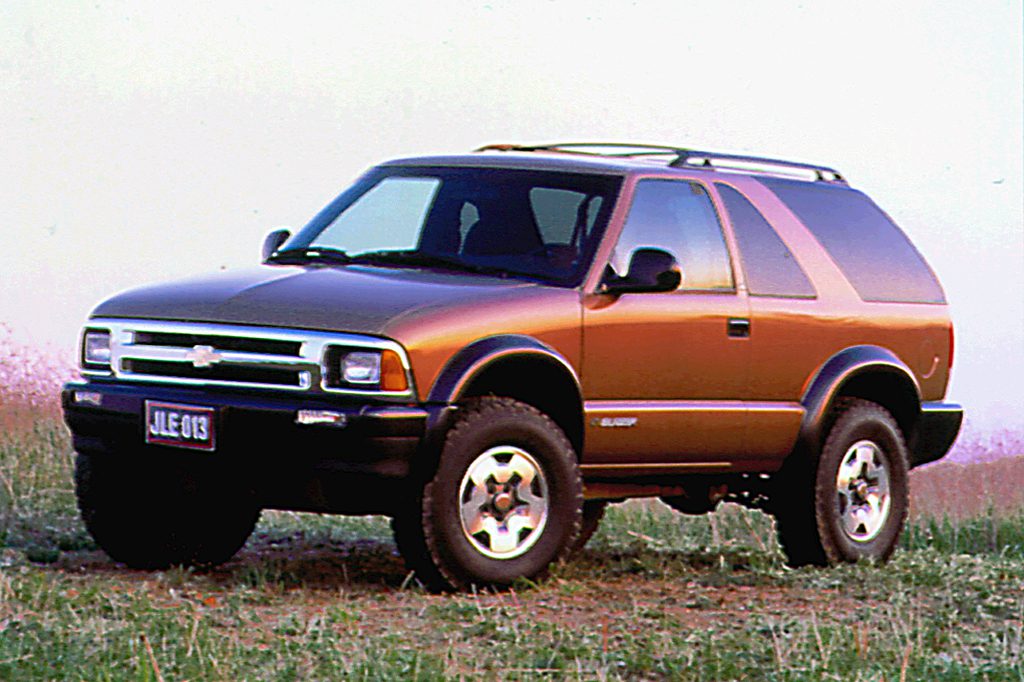 1997 Chevrolet Blazer 2-door wagon w/Wide Stance Pkg.
Pros:

Acceleration
Antilock brakes
4WD traction
Passenger and cargo room
Ride

Cons:

Fuel economy
Rear-seat comfort
Blazers are competitive with the Explorer and Jeep Grand Cherokee in most areas, and beat them on price when new. Good buys also can be found in the secondhand market.
Overview
Chevrolet redesigned its compact sport utility for 1995, giving it new sheetmetal and a driver-side airbag. Overall length increased more than four inches; width by 2.4 inches. Instead of S10 Blazer, the name became Blazer. Similar to the GMC Jimmy, Blazers came in 2- and 4-door wagon body styles with either rear-wheel drive or on-demand, part-time 4-wheel drive. This 4WD setup is not intended for use on dry pavement. Permanently engaged 4WD became available in mid-1995, optional on the LT edition only. Both body styles came in base and LS price levels, but top-of-the-line LT trim was reserved for the 4-door. A 195-horsepower 4.3-liter V6 was the sole engine at first, hooked to a standard 4-speed automatic transmission. Full-time 4-wheel antilock brakes returned as standard.
Yearly Updates
1996 Blazer
The Blazer's initial engine was replaced by a same-size Vortec V6 with five fewer horses for '96. Daytime running lights and a 5-speed manual-transmission option for 2-door Blazers became available later in the model year.
1997 Blazer
New items for '97 included an available one-piece liftgate, a floor-mounted gearshift for the automatic transmission in models with bucket seats, and an optional power sunroof. The permanently engaged 4WD system, optional on the LT model, gained 4-wheel disc brakes. A special off-road edition of the 2-door 4WD became available. Called the Wide-Stance Sport Performance Package, it offered higher ground clearance, firmer shock absorbers, a wider stance, and larger tires.
1998 Blazer
A revised interior with Blazer's first passenger-side airbag and the addition of standard antilock 4-wheel disc brakes highlight the changes to the 1998 Blazer.
1999 Blazer
Autotrac was a newly available full-time 4WD system. It could be used on any surface. Chevy also added the 4-door TrailBlazer model in both 2- and 4WD. TrailBlazers had gold-accented exterior trim, alloy wheels, 2-tone leather interior, and, on 4WD models, Autotrac.
2000 Blazer
Blazer dropped its base-trim models, leaving 2-door wagons in LS form and 4-doors in LS, LT, and top-line TrailBlazer trim. Chevrolet claimed that internal changes made the Blazer's V6 engine quieter and smoother than before. The Premium Ride suspension with its gas-charged shock absorbers was standard on all 2000 models. No-cost options now included the softer Smooth Ride setup for 4-doors and the tauter Solid Smooth Ride for 2-doors. An in-dash CD player was added to the Blazer's uplevel audio options.
2001 Blazer
The Xtreme, a 2WD 2-dr with low-riding sport suspension, unique 5-spoke 16-inch alloy wheels, and special trim and cladding, was added for 2001.
2002 Blazer
There were no significant changes for 2002.
2003 Blazer
Two-and four-door models continue alongside the new Trailblazer. In midyear, 2WD versions got rear drum brakes in a cost-cutting move.
2004 Blazer
There were no significant changes in '04.
2005 Blazer
Chevy consigns 4-dr Blazers to the fleet market for 2005, leaving retail buyers with an unchanged 2-dr model. 2005 is Blazer's last year.