Compact car; Built in USA, Mexico
2-door coupe
4-door sedan
transverse front-engine/front-wheel drive
Good condition price range: $1,100 – $2,100*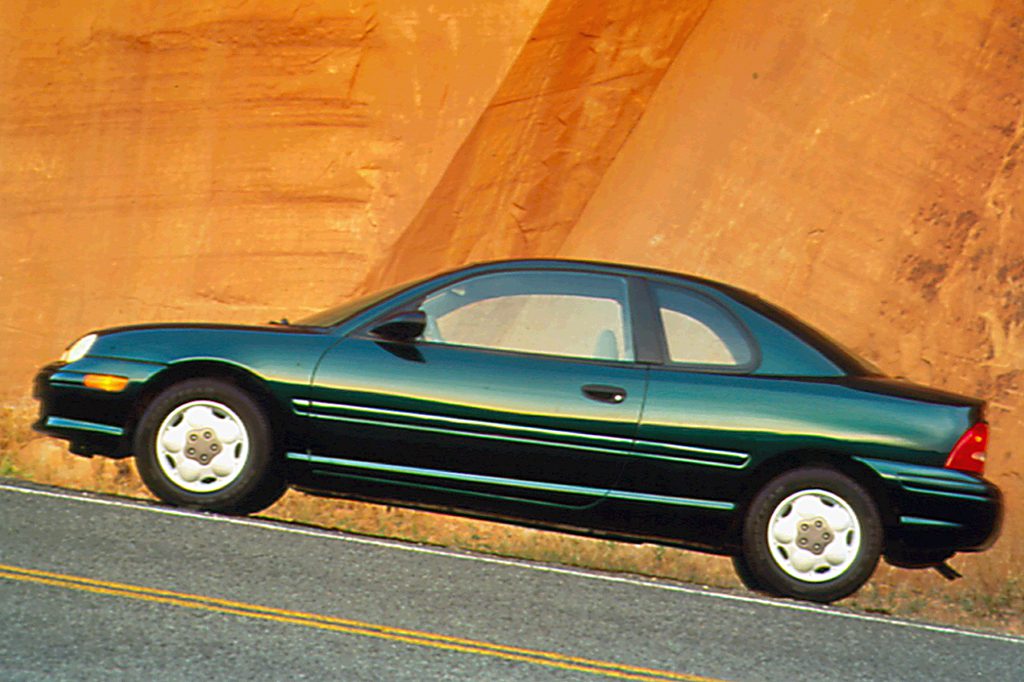 1995 Dodge Neon 2-door coupe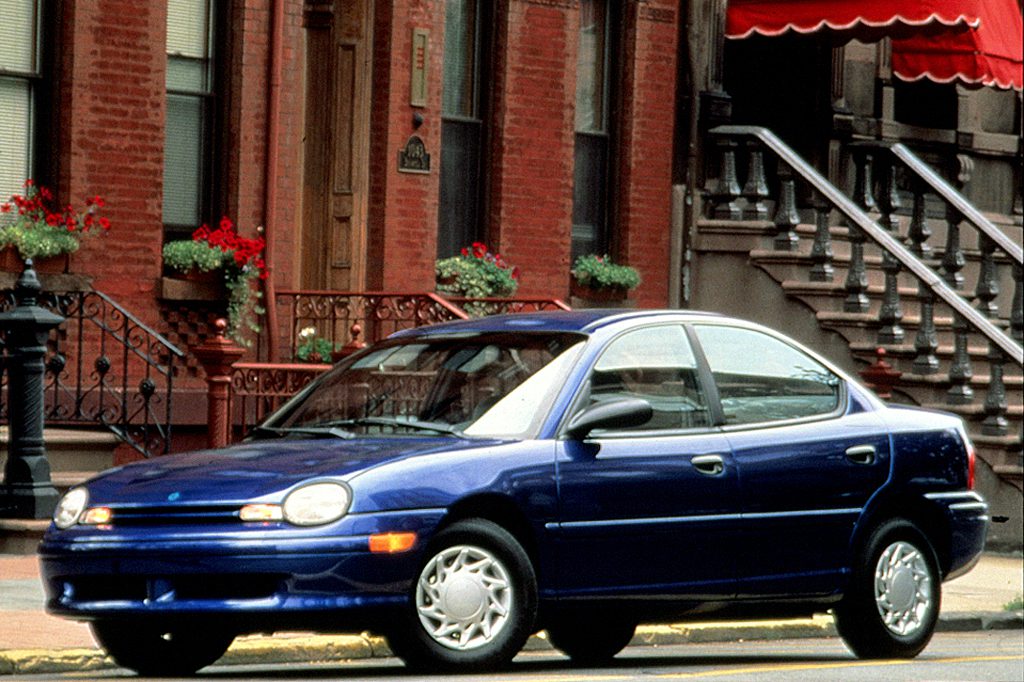 1996 Dodge Neon Sport 2-door sedan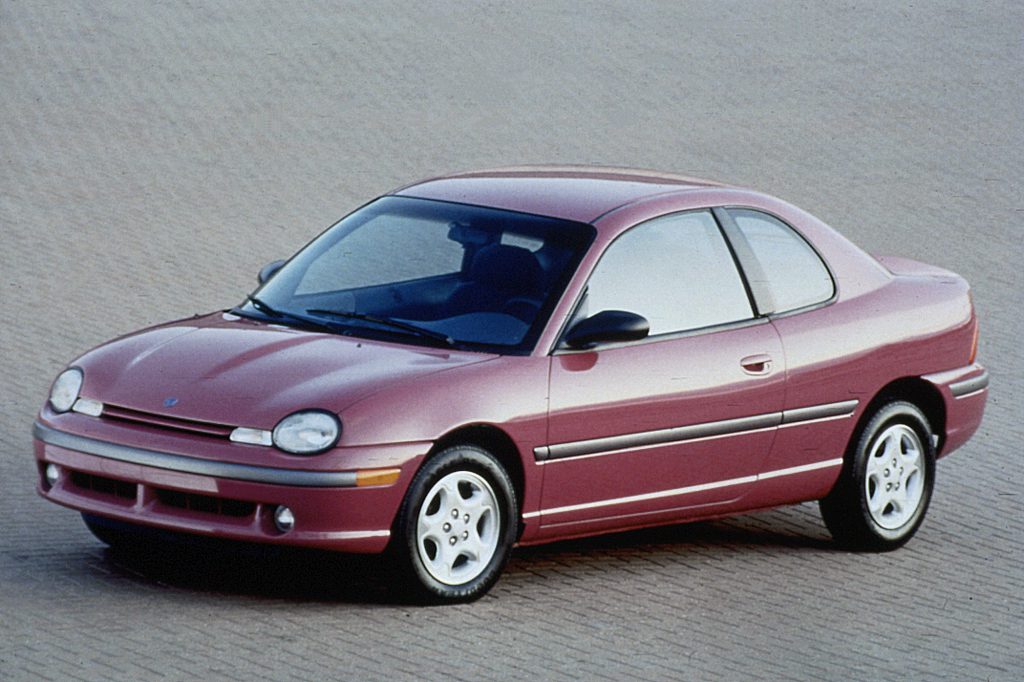 1996 Dodge Neon Sport 2-door coupe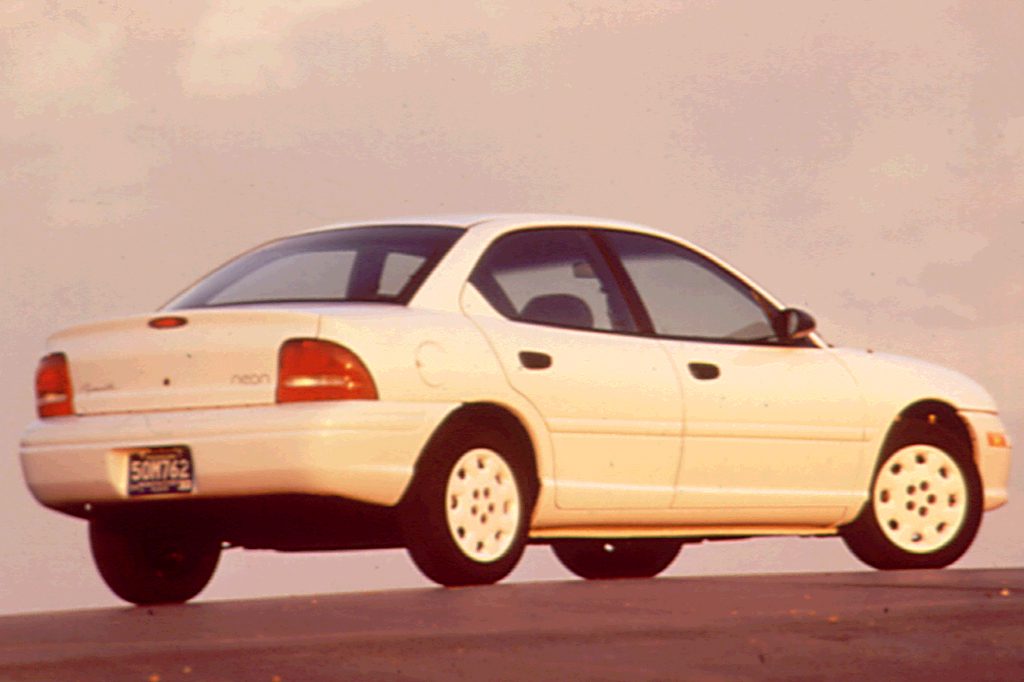 1997 Dodge Neon 4-door sedan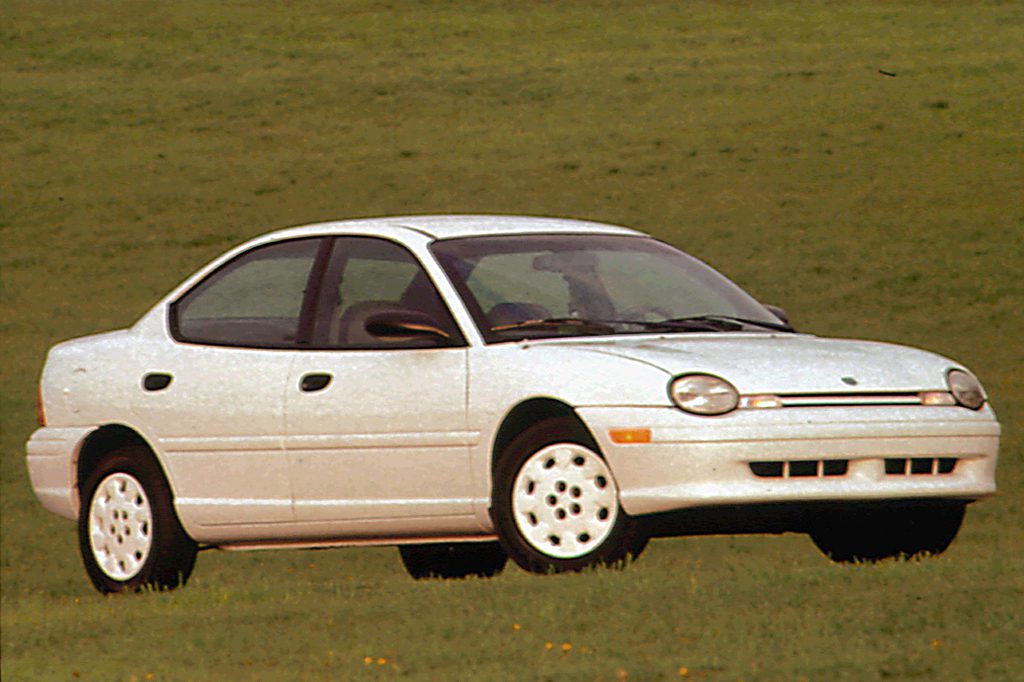 1997 Dodge Neon Highline 4-door sedan
Pros:

Antilock brakes (optional)
Fuel economy
Instruments/controls
Passenger and cargo room
Ride
Steering/handling

Cons:

Automatic-transmission performance
Engine noise
In all, Neon offers a solid domestic alternative to the imports. Whether to pick a Dodge or Plymouth is a matter of individual choice; except for the insignia on the body, they're exactly the same car. Watch out for engine overheating or blown head gaskets. Both problems are expensive to repair.
Overview
The subcompact front-drive Neon was introduced as a very early 1995 model, available in identical form through both Dodge and Plymouth dealers. Neons replaced the Dodge/Plymouth Shadow hatchbacks. First offered only as a notchback 4-door sedan, Neon gained a 2-door coupe companion in fall of 1994, as the full '95 model year began. While sedans were sold in base, Highline, and Sport price levels, the coupe came only in Highline and Sport trim this year. Early Neons all carried a 132-horsepower 2.0-liter 4-cylinder engine with a single overhead camshaft. Sport models (and later Highlines) could have a dual-cam version that produces 150 horsepower. The 2-door Sport also got a domed hood, rear spoiler, stiffer suspension, and distinct 14-inch cast-aluminum wheels. On all Neons, a 5-speed manual transmission was standard, and 3-speed automatic optional. Dual airbags are standard, with antilock brakes standard on Sport models.
Yearly Updates
1996 Neon
Neons saw a number of changes in their second full season. Base models got standard 14-inch wheels (replacing 13-inchers) and body-colored bumpers to replace the prior grey units. A lower-priced base coupe joined the lineup. Antilock braking now was optional on all Neons. The 150-horsepower dual-cam engine was included on base coupes with the optional Competition Package.
1997 Neon
Changes were few for Neon's third year on the market.
1998 Neon
For '98 Dodge dropped the base model, replacing it with the Highline. In the spring, Dodge introduced the sporty Neon R/T. It draws equipment from the Competition Package and adds racy graphics.
1999 Neon
Dodge replaced the Neon with an all-new 2000 model of the same name in early 1999. However, they continued to sell some 4-door and 2-door models of the old design throughout '99. Changes to the old model were minimal and included a new Sport package for the 4-door.