Sporty/performance car; Built in USA
2-door convertible
2-door hatchback
transverse front-engine/front- or all-wheel drive
Good condition price range: $1,500 – $4,500*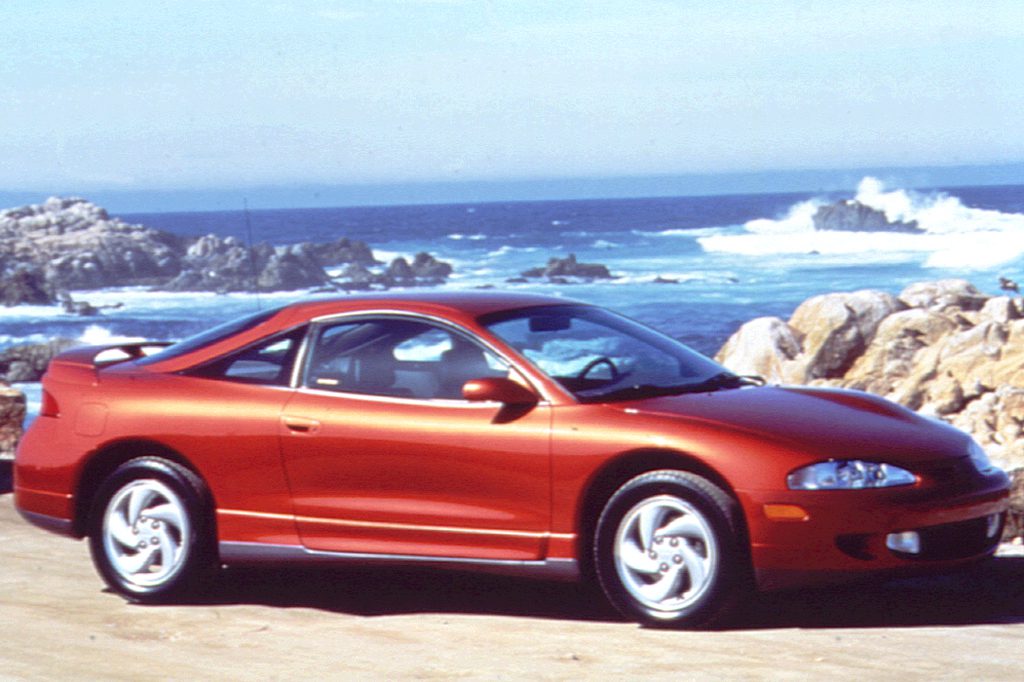 1995 Mitsubishi Eclipse GS-T 2-door coupe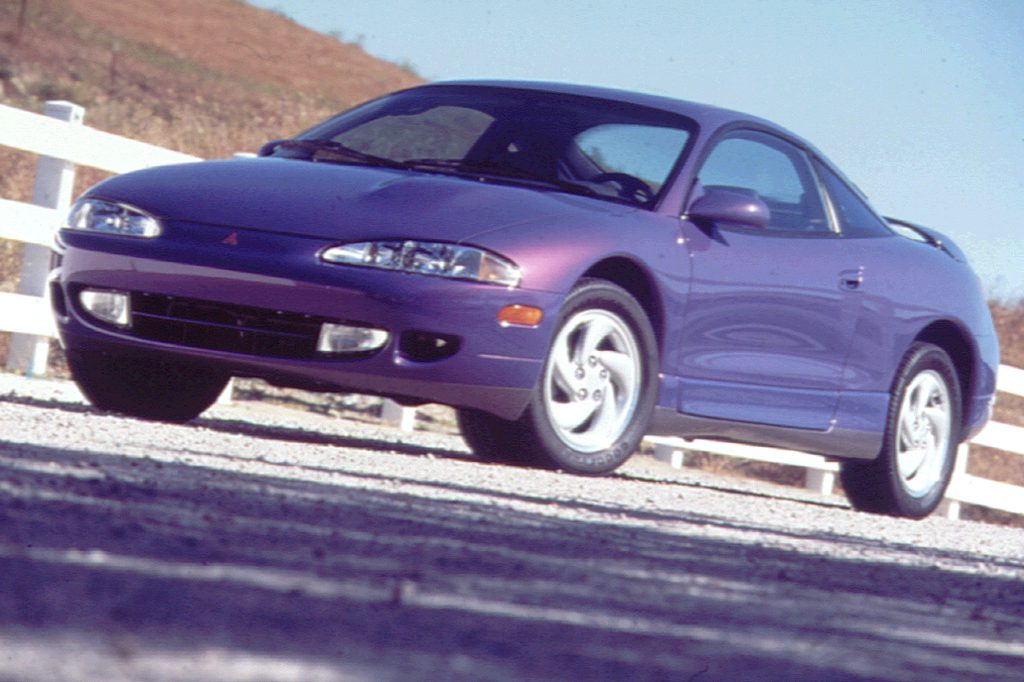 1996 Mitsubishi Eclipse GSX 2-door coupe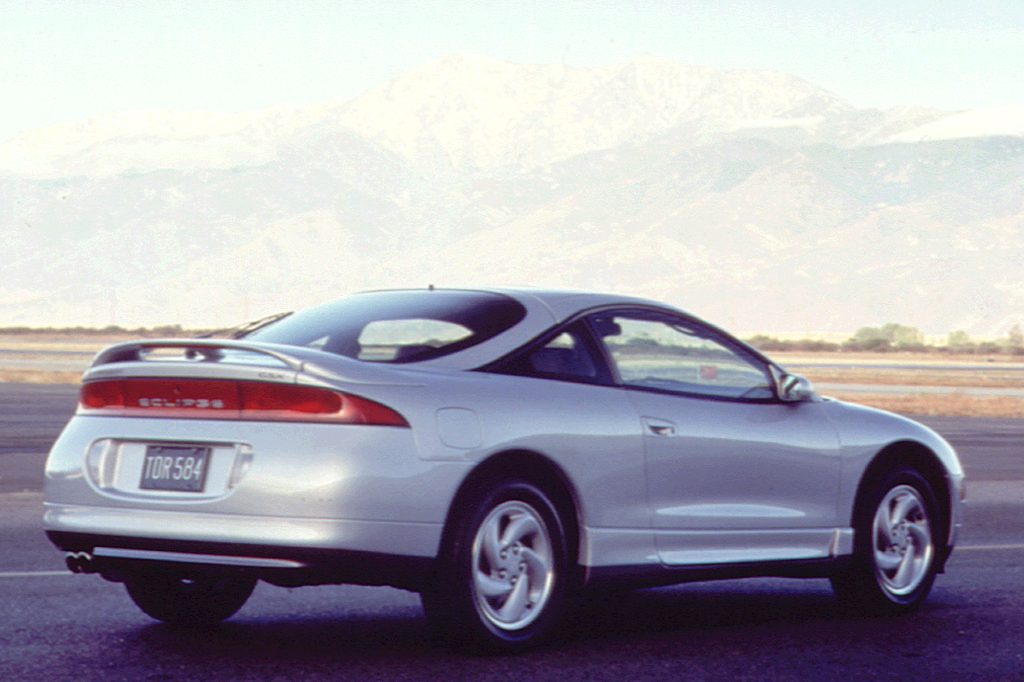 1995 Mitsubishi Eclipse GSX 2-door coupe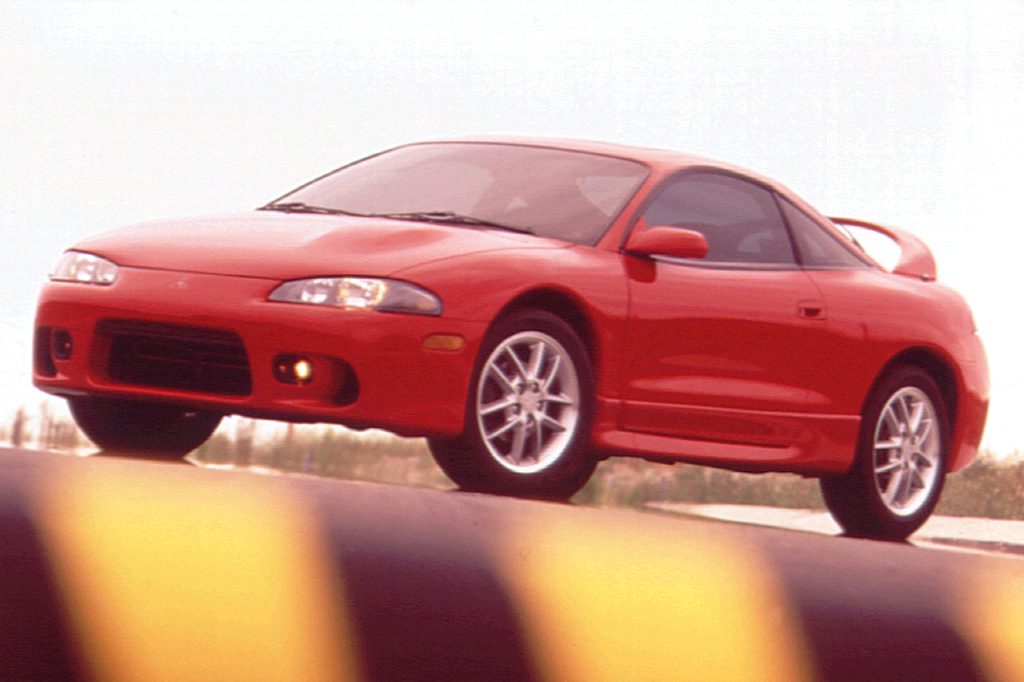 1997 Mitsubishi Eclipse GSX 2-door coupe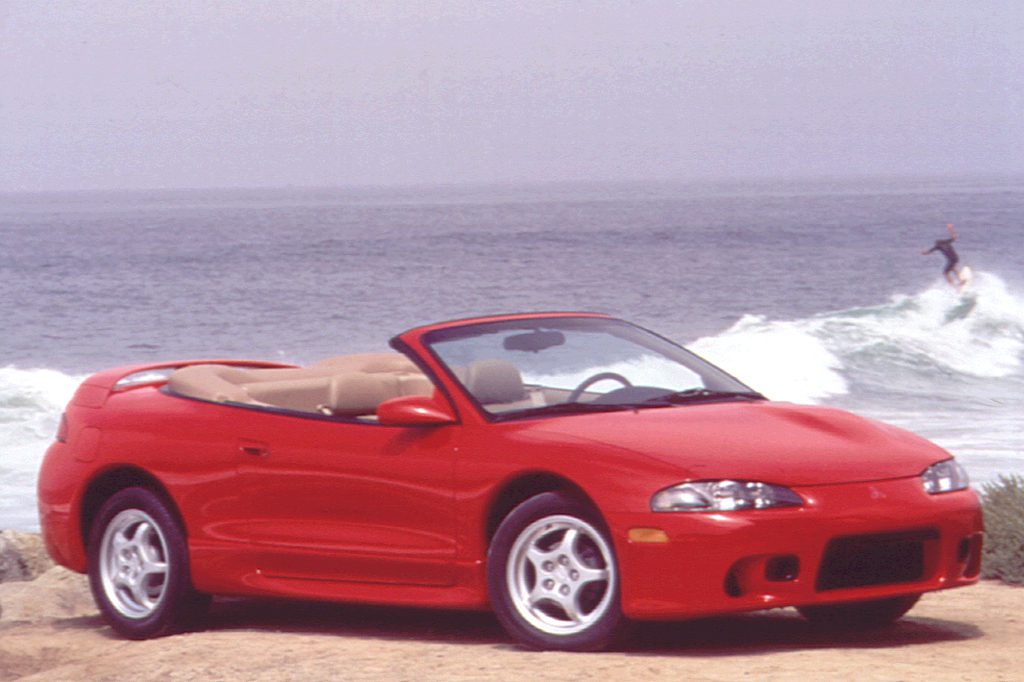 1997 Mitsubishi Eclipse Spyder GS-T 2-door coupe
Pros:

Acceleration (GS-T, GSX)
All-wheel drive (GSX)
Optional antilock brakes
Steering/handling

Cons:

Acceleration (RS, GS w/automatic)
Cargo room
Rear-seat room
Road noise
Though still one of the best sports coupes, the competition caught up with Eclipse during its second generation. Other than the all-wheel-drive model, this version of the Eclipse offers nothing you can't get for less money somewhere else.
Overview
Still mechanically similar to the Eagle Talon, the redesigned 1995 Eclipse got dual airbags, more-rounded styling, a larger interior, and a new base engine. Although the coupe's wheelbase grew by 1.6 inches, it measured slightly shorter overall. Eclipse came in four models. The base RS, GS, and GS-T had front-wheel drive, while the top-line GSX was equipped with all-wheel drive. All models had 5-speed manual transmission or optional 4-speed automatic. The RS and GS used a 2.0-liter 4-cylinder engine. GS-T and GSX models used a turbocharged 4-cylinder, rated at 205 or 210 horsepower. Antilock brakes were optional on all models.
Yearly Updates
1996 Eclipse
Spyder convertibles debuted during the spring of '96, in GS and GS-T form. Whereas the GS coupe used a Chrysler 140-horsepower, 2.0-liter engine, the GS Spyder adopted a 2.4-liter engine that made 141 horsepower. The GS-T Spyder, like the higher-performance coupe, got a turbocharged Mitsubishi-built 2.0-liter, rated at 210 horsepower. Both Spyders included a power top with a glass rear window and electric defroster, plus power windows and door locks.
1997 Eclipse
Facelifting included larger air intakes, more of a bulge in the front fascia and tail panel, reworked headlights, and revised lower-body cladding. Turbo coupes got a higher-profile rear spoiler.
1998 Eclipse
The Eclipse was a virtual rerun, following the previous year's styling update.
1999 Eclipse
With the Eagle Talon gone, Eclipse carried on alone. Changes for '99 included white-faced gauges on GSX and GS-T models and standard and optional equipment shuffles. A redesigned Eclipse appeared for 2000.