Compact SUV; Built in Japan
2-door convertible
2-door wagon
4-door wagon
transverse front-engine/front- or 4-wheel drive
Good condition price range: $2,000 – $5,700*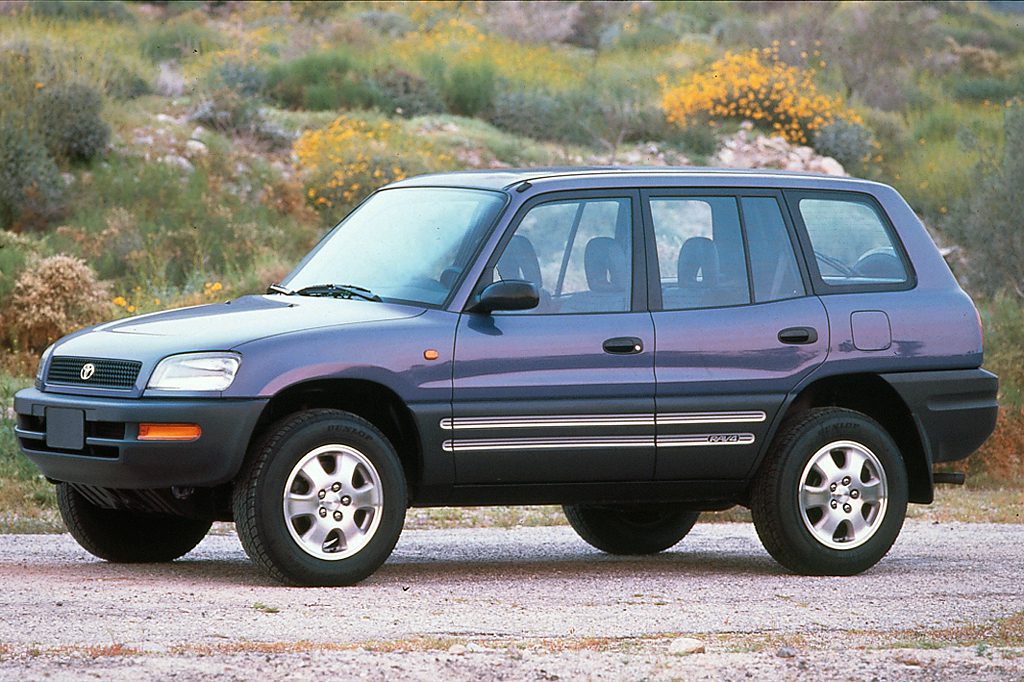 1998 Toyota RAV4 4-door wagon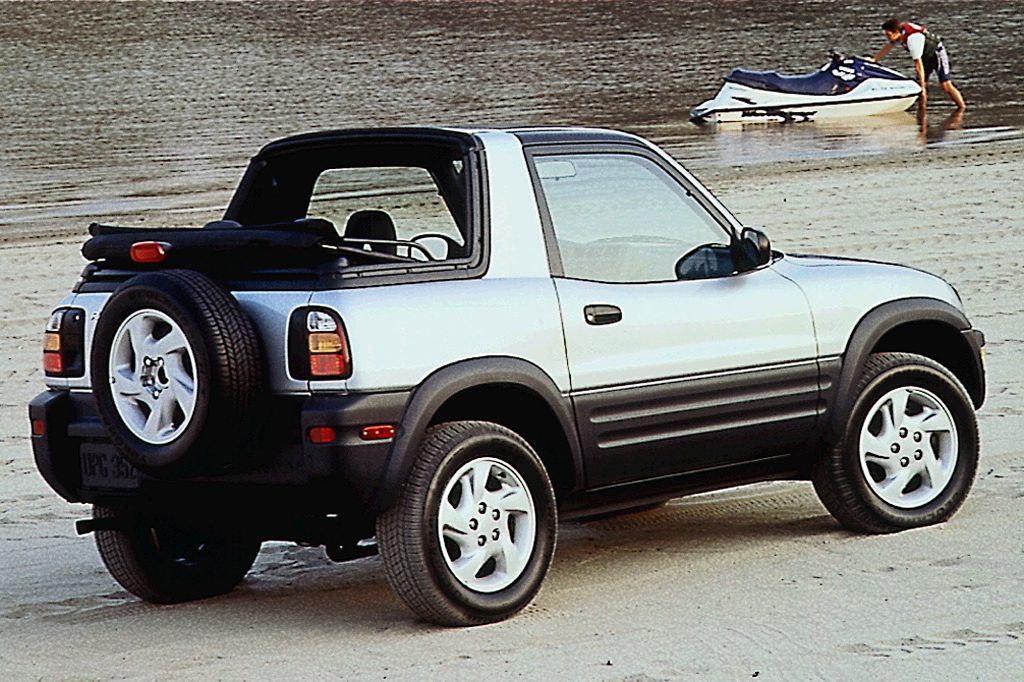 1998 Toyota RAV4 2-door convertible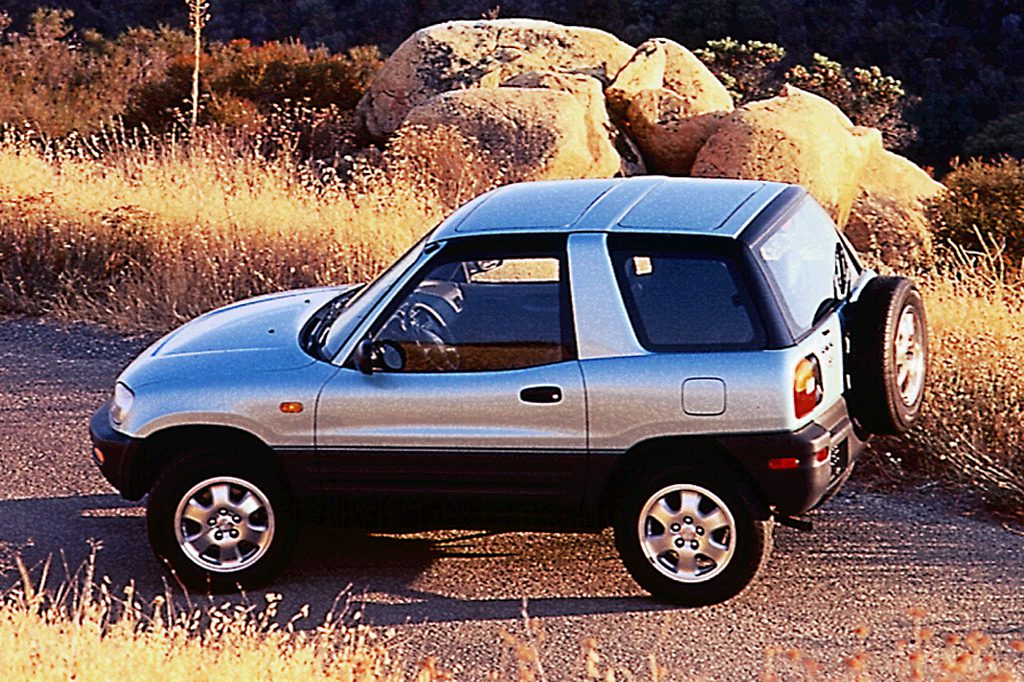 1997 Toyota RAV4 2-door wagon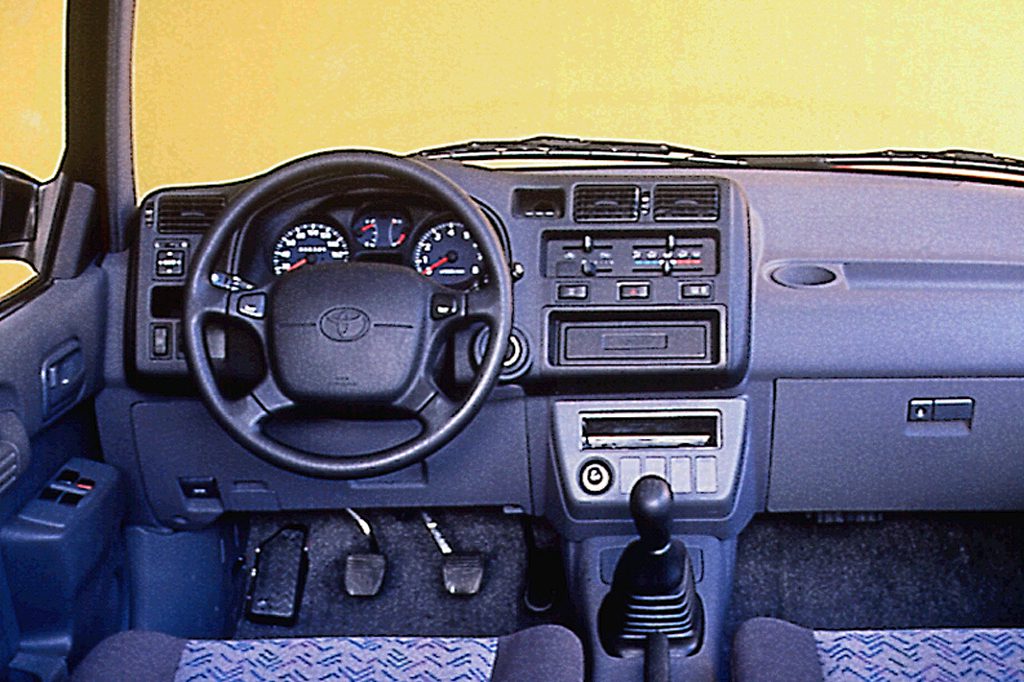 1998 Toyota RAV4 interior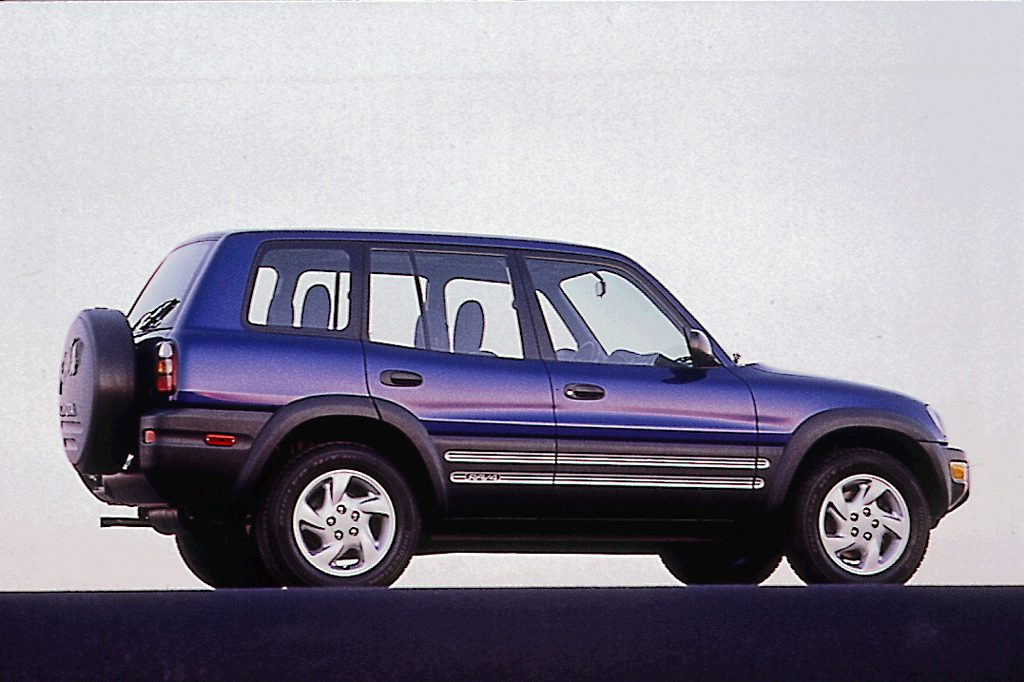 1998 Toyota RAV4 4-door wagon
Pros:

Maneuverability
Visibility

Cons:
Despite the RAV4's pluses, Honda's CR-V is roomier, quieter, and more practical–a better compact wagon and miniSUV than Toyota's offering.
Overview
Toyota launched a pint-sized sport-utility vehicle early in 1996. Based loosely on the sporty Celica coupe platform, the RAV4 departed from truck-based SUVs by featuring a fully independent suspension, unitized construction, and no separate low-range 4WD gearing.The RAV4 wagons came in 2- and 4-door form, with front-wheel drive or permanently engaged 4-wheel drive. Sole engine was a 2.0-liter 4-cylinder, initially rated at 120 horsepower. A 5-speed manual transmission was standard, with 4-speed automatic optional (except for the 2-door 4×4). Manual-shift 4x4s came with a center differential lock, however, which could be useful for off-road operation. Antilock brakes were optional on all models. Designed especially for the U.S. market, the 4-door RAV4 rode a wheelbase 8.3 inches longer than the 2-door's, and measured 16.1 inches longer overall. The 2-door was a hardtop wagon, with a swing-out tailgate and an optional twin tilt/removable aluminum sunroof. Dual airbags were standard.
Yearly Updates
1997 RAV4
A sliding front passenger seat went into 2-door models, and 4-doors could now get an optional moonroof.
1998 RAV4
Several new features went into the 1998 models, and the engine gained a bit of horsepower and torque. A new grille was installed, along with multireflector headlamps and bolder taillights. Audio systems were upgraded, and a revised gauge cluster included digital odometers. New options included a swing-open left-rear side window for 2-door models, and power windows for 4-doors.
1999 RAV4
Toyota dropped the 2-door hardtop wagon, issuing a 2-door convertible in its place. A folding fabric roof went over rear seats, and a solid removable sunroof covered the front seats. Antilock braking was not available for the convertible.
2000 RAV4
Sluggish sales caused Toyota to drop the 2-door semiconvertible, leaving only the 4-door wagon, now with a standard full-size spare tire. Except for redesigned cupholders, little else was new.