Compact SUV; Built in Japan
longitudinal front-engine/rear- or 4-wheel drive
Good condition price range: $1,100 – $2,500*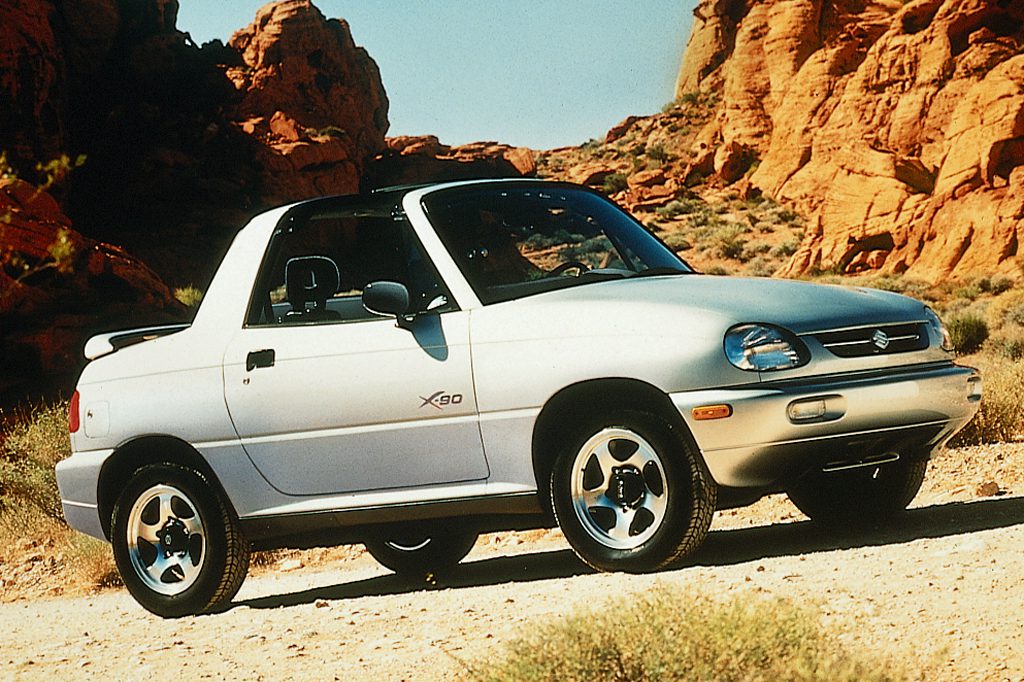 1996 Suzuki X-90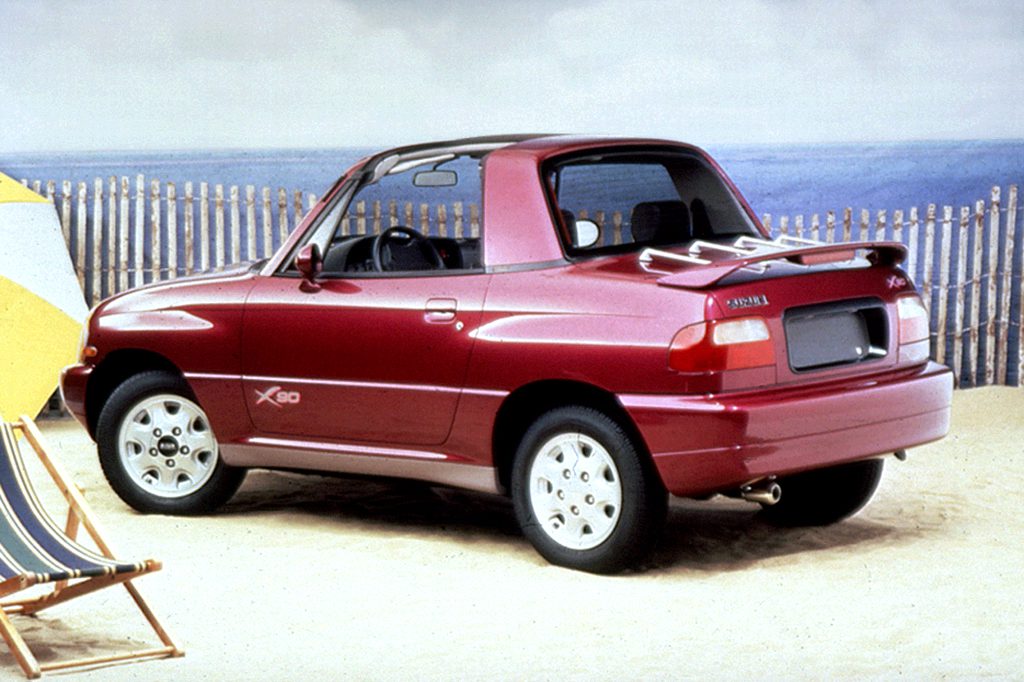 1997 Suzuki X-90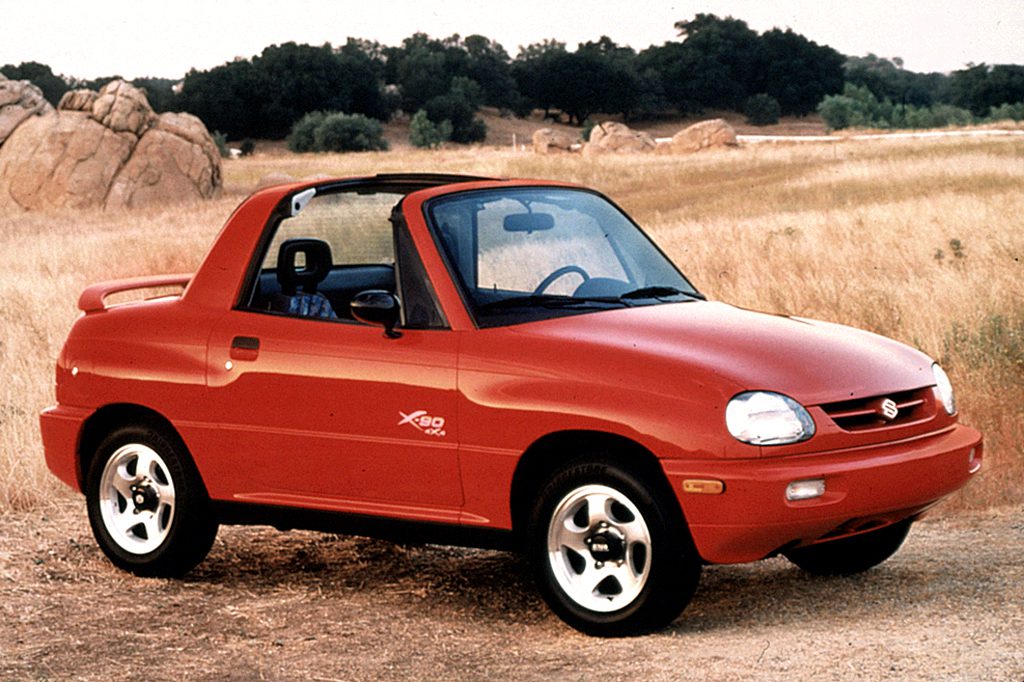 1997 Suzuki X-90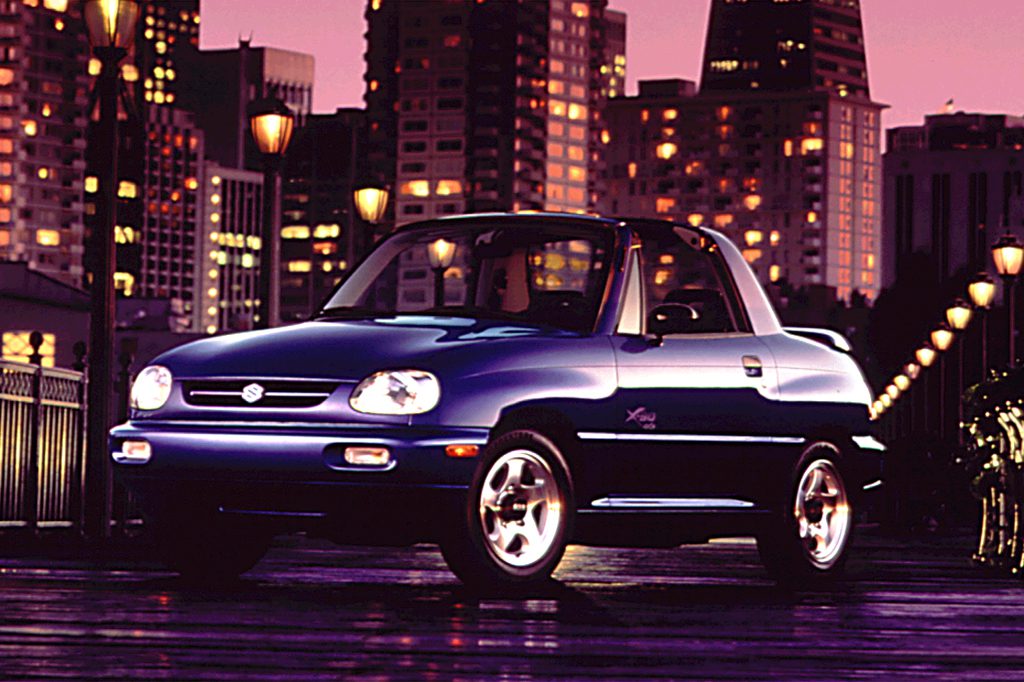 1998 Suzuki X-90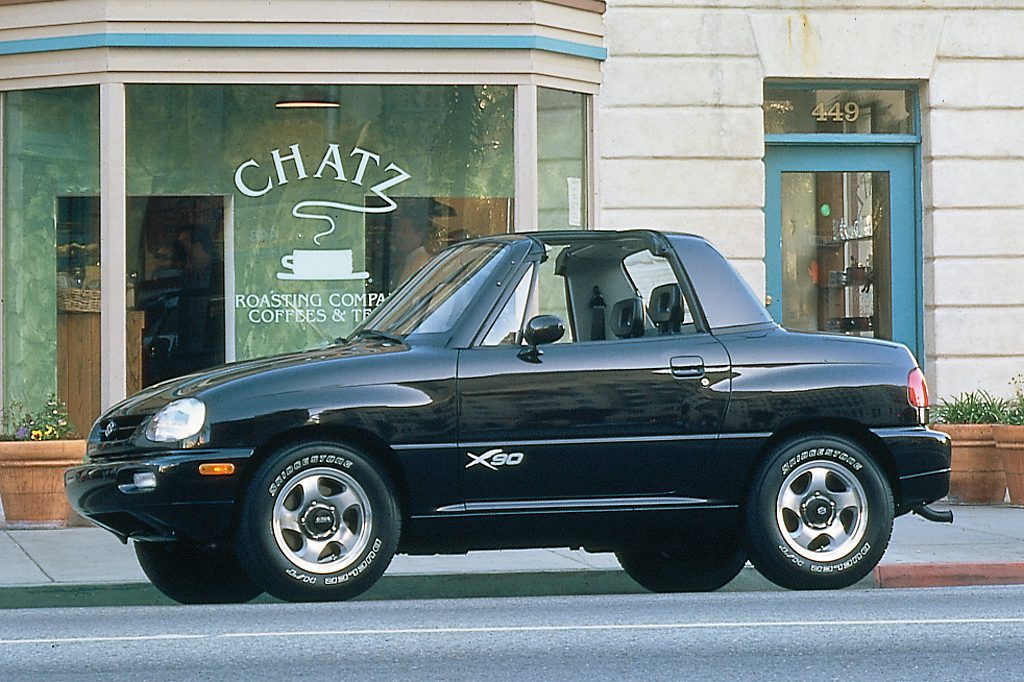 1996 Suzuki X-90
Pros:
Cons:

Acceleration
Cargo room
Noise
Ride
Being unique does not necessarily translate to being popular–or desirable. Whether intended as a sport-utility or a car, the X-90 is not a good value, especially when compared to the Toyota RAV4, Honda CR-V, or Jeep Wrangler. For a modestly priced sporty small car, consider something like the Dodge/Plymouth Neon or Chevrolet Cavalier/Pontiac Sunfire.
Overview
Suzuki took a new path for 1996, aiming its distinctive 2-passenger X-90 squarely at younger buyers. Blending the attributes of a high-riding sport-utility vehicle with a sporty subcompact coupe, the X-90 was actually a convertible SUV. Suzuki began with the chassis and mechanical features of its 2-door Sidekick, tossing out the back seat and blending in new styling. Rear-drive and 4-wheel-drive models went on sale.
Standard equipment included twin bucket seats, dual airbags, 4-wheel antilock brakes, daytime running light, and a rear defogger. Also standard were power windows and locks, tinted glass, power steering, and a tachometer. A separate trunk was part of the design. Standard removable T-top roof panels allowed open-air motoring, and also provided more protection from thieves than a conventional convertible top.
Borrowed from Suzuki's Sidekick, a 95-horsepower, 1.6-liter 4-cylinder engine drove a 5-speed manual transmission. A 4-speed automatic transmission was optional in the 4-wheel-drive X-90.
The 4WD model added such extras as cruise control, a security alarm, and a 4-speaker stereo with cassette player. The alarm and cassette unit could be dealer installed in 2WD models. Dealers also could install air conditioning and a CD player.
Yearly Updates
1997 X-90
Little change was evident for Suzuki's 2-seat SUV in its second season, but the 4-speed automatic transmission now was optional in the 2WD X-90 as well as the 4×4.
1998 X-90
Suzuki's open 2-passenger SUV had failed to catch hold in the sales race, so it was destined to disappear after three seasons. No change was evident in its final outing.