Premium sporty/performance car; Built in USA
2-door convertible
2-door coupe
2-door hatchback
longitudinal front-engine/rear-wheel drive
Good condition price range: $9,500 – $20,000*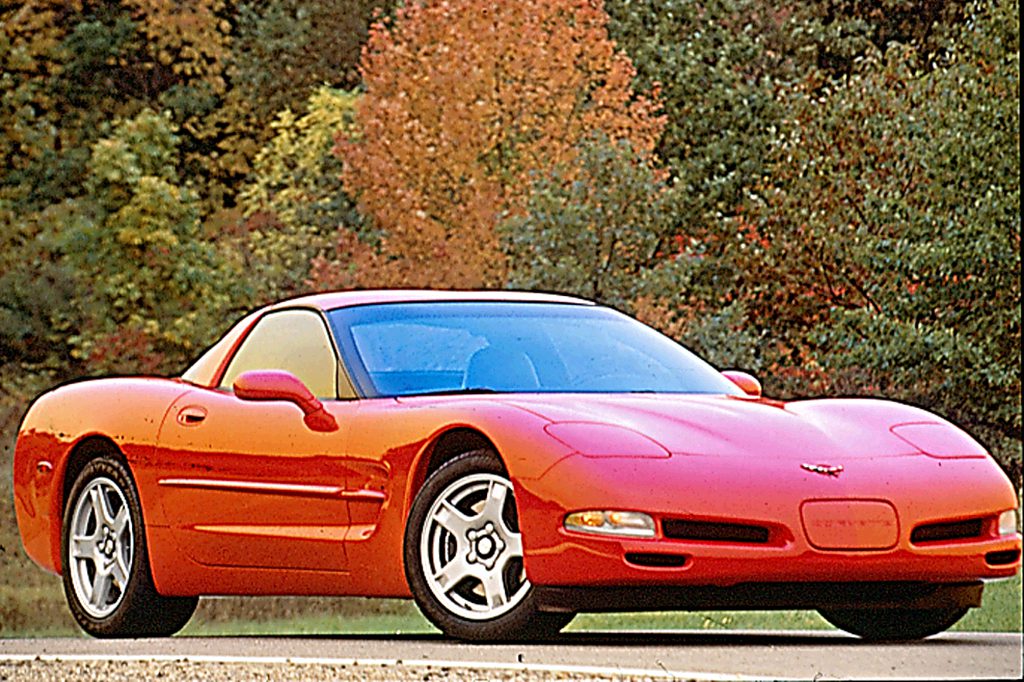 1997 Chevrolet Corvette hatchback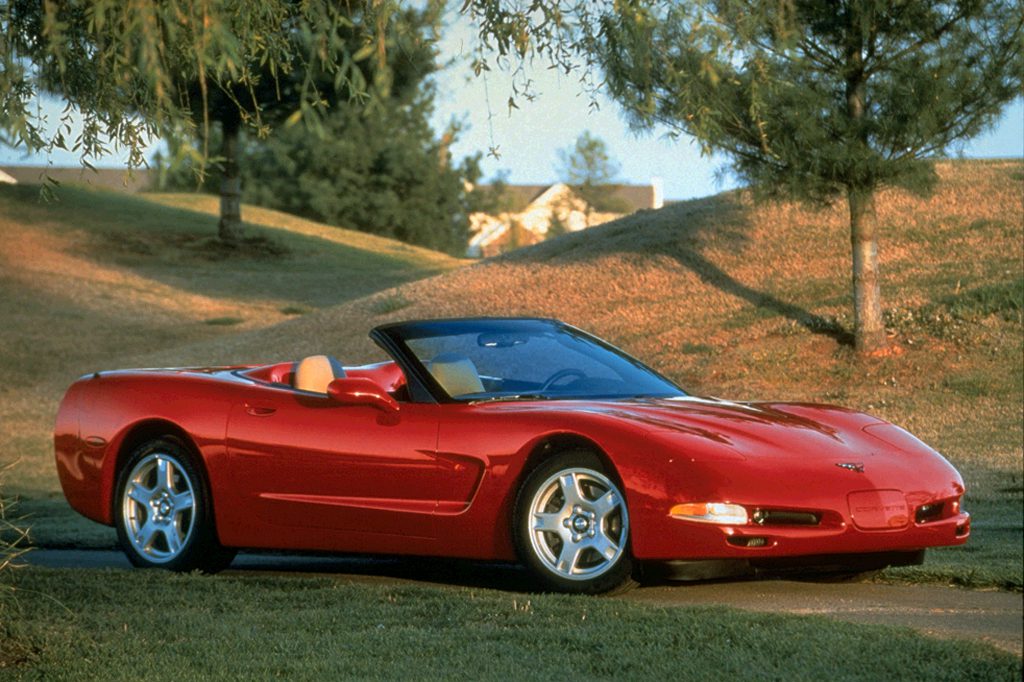 1998 Chevrolet Corvette convertible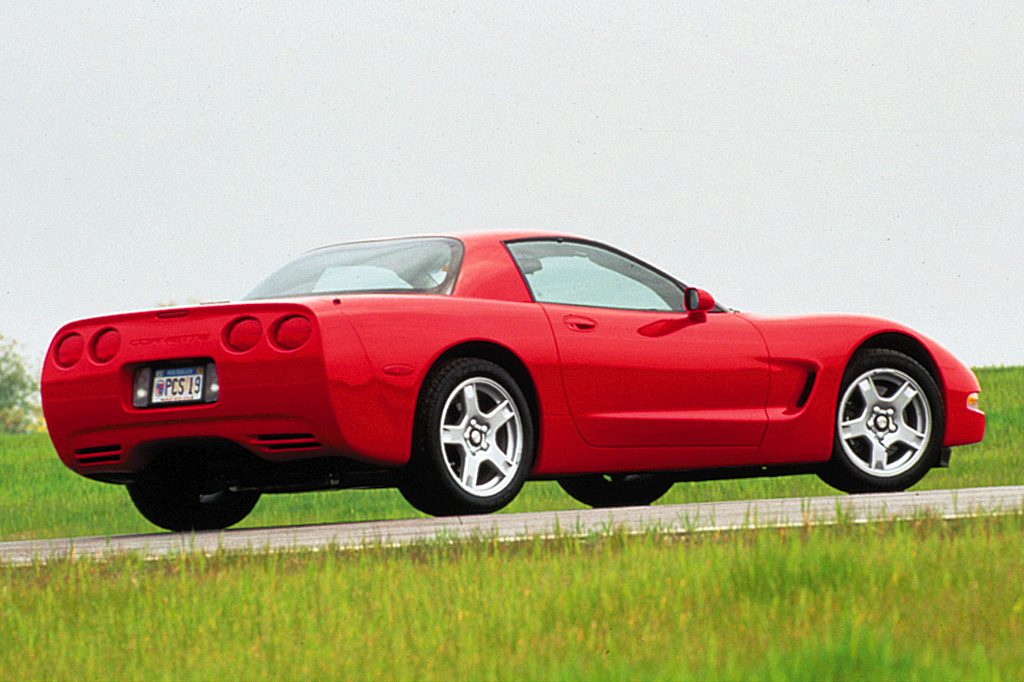 1999 Chevrolet Corvette Coupe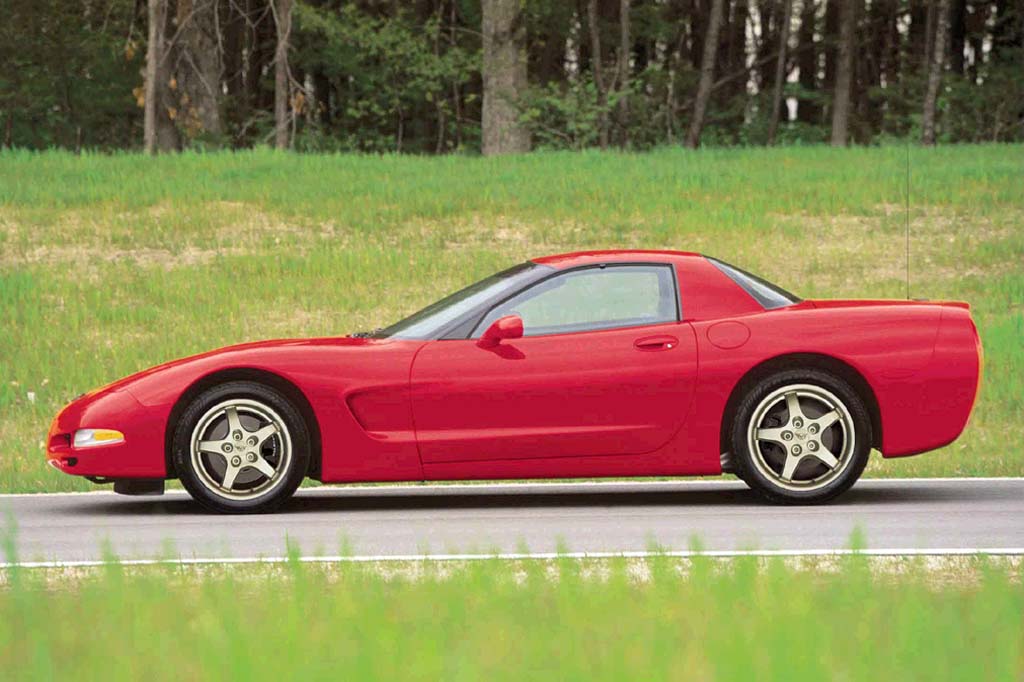 2000 Chevrolet Corvette coupe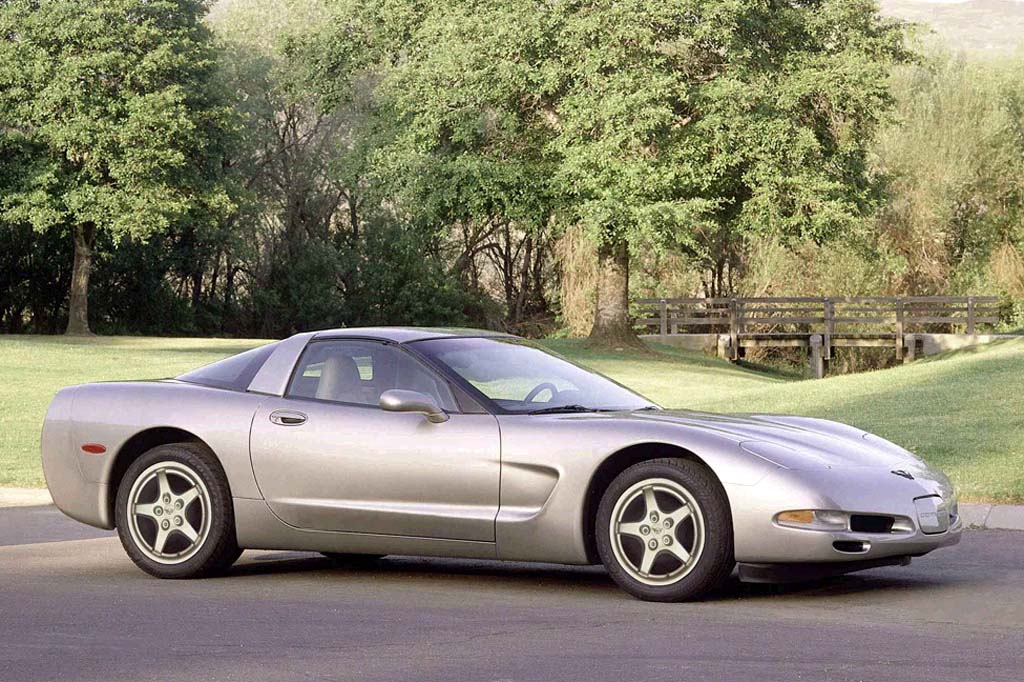 2000 Chevrolet Corvette hatchback
Pros:

Acceleration
Standard antilock braking
Standard traction control
Instruments/controls
Steering/handling

Cons:

Fuel economy
Rear visibility
Ride (Continuously Variable Real Time Damping Suspension)
Big, bold, and brawny. That's the kind of high-performance driving you get from a Corvette. If that sounds appealing, there's no better all-around performance value, whether new or used. On the downside, some of the trim isn't really finished with sufficient richness for a car in the Corvette's price league.
Overview
Corvette fans had been waiting a long while for an all-new model. When it arrived during 1996, the fifth-generation rear-drive sports car delighted some enthusiasts but dissatisfied others. Arriving on the market in January 1997, the latest Corvette was practically a different breed of sports car. Again fiberglass-bodied, the 2-seater was 1.2 inches longer than its predecessor, on a wheelbase that gained a whopping 8.3 inches. The transmission moved from behind the engine to the rear axle. That change was intended to create a more even front/rear balance, and also to improve interior packaging. A removable roof panel was standard on the new hatchback coupe. Analog gauges replaced the prior mix of digital and analog instruments. No spare tire was included, due mainly to lack of space. That wasn't exactly a drawback, since the standard tires could run for up to 200 miles with no air pressure at all. A 5.7-liter LS1 aluminum V8 engine produced 345 horsepower. A 4-speed automatic transmission was standard, with 6-speed manual shift the optional choice. Traction control was standard. Corvettes were in short supply for a while. At first, only high-volume Corvette dealers got cars at all.
Yearly Updates
1998 Corvette
Big news for Corvette fans was the arrival of a convertible to join the initial fifth-generation coupe. Chevrolet's designers had engineered the latest Corvette to accommodate a convertible body with no additional structural bracing. Convertibles were expected to account for about 45 percent of sales. They were equipped with a manual folding top, containing a glass rear window and defroster. Not since 1962 had a convertible Corvette been sold with a traditional trunk. Magnesium wheels joined the option list, and the engine was revised to quiet the fuel pump. This year's Corvette also got a provision for the automatic transmission to start in second gear, for cleaner getaways on slippery surfaces.
1999 Corvette
A new hardtop body style joined the removable-roof coupe and the convertible. Not available with some of the new options, the hardtop weighed about 90 pounds less than its mates and shared the convertible's trunk. Hardtops came only with 6-speed manual shift and the sport-tuned Z51 suspension. Other models could have the standard suspension or an optional driver-adjustable setup with soft, medium, and firm settings. Among the options unavailable on the hardtop were a head-up display that projected instrument-panel readouts into the windshield, and a power-telescoping steering wheel. All models could have an optional Active Handling chassis control, which used the brakes to keep the car on line during severe cornering maneuvers.
2000 Corvette
The base-model fixed-roof hardtop gained some standard equipment for 2000, including visor mirrors and a remote trunk release. Hardtops could now be equipped with the optional head-up instrument display, as well as dual-zone climate control, fog lamps, and magnesium wheels.
2001 Corvette
Corvette gained an extreme-performance variant for 2001, and all models got standard antiskid control. The coupe was renamed Z06 and given special performance tuning including additional horsepower, upgraded suspension, and larger brakes.
2002 Corvette
The Z06 model got 405 horsepower for 2002–up 20 hp from '01. It now came with the head-up instrument display that was optional on other 'Vettes, plus revisions to its unique chassis tuning. Other models were no longer available with magnesium wheels, and a CD player replaced the cassette deck as standard equipment.
2003 Corvette
All '03 Corvettes wear 50th anniversary insignia. The convertible and hatchback offered a 50th Anniversary Special Edition Package (1SC) with red paint, champagne-colored wheels, and unique trim and badging. Available for the convertible and hatchback and included in the Anniversary package was new Magnetic Selective Ride Control.
2004 Corvette
Trim packages commemorating racing Corvette's are the main additions to the '04 Corvette.