Sporty/performance car; Built in Germany
transverse mid-engine/rear-wheel drive
Good condition price range: $6,600 – $16,500*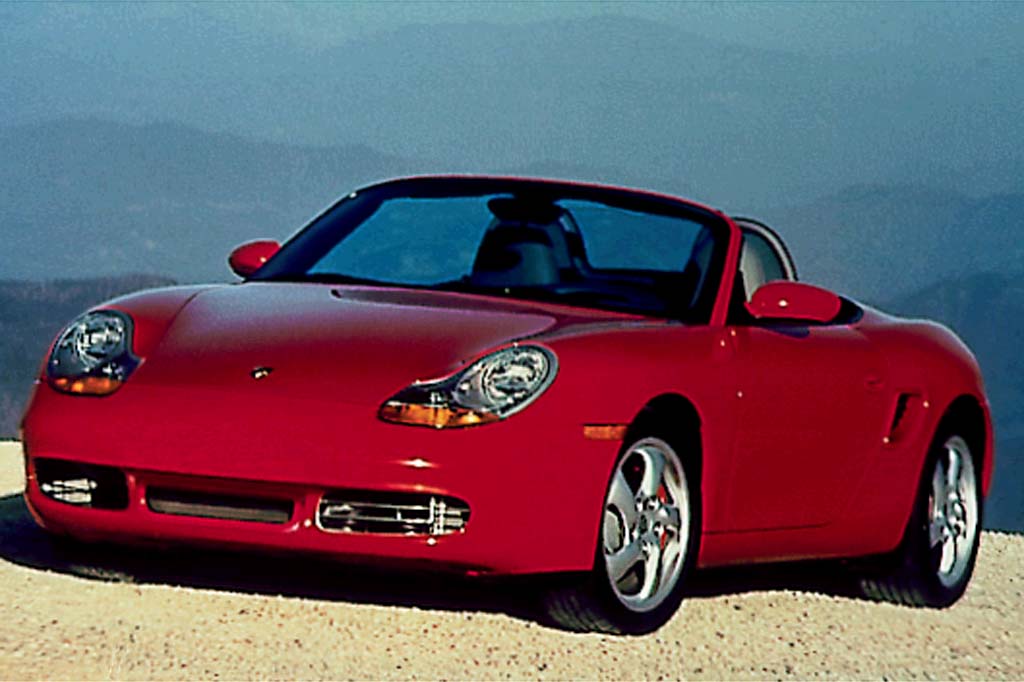 2000 Porsche Boxster S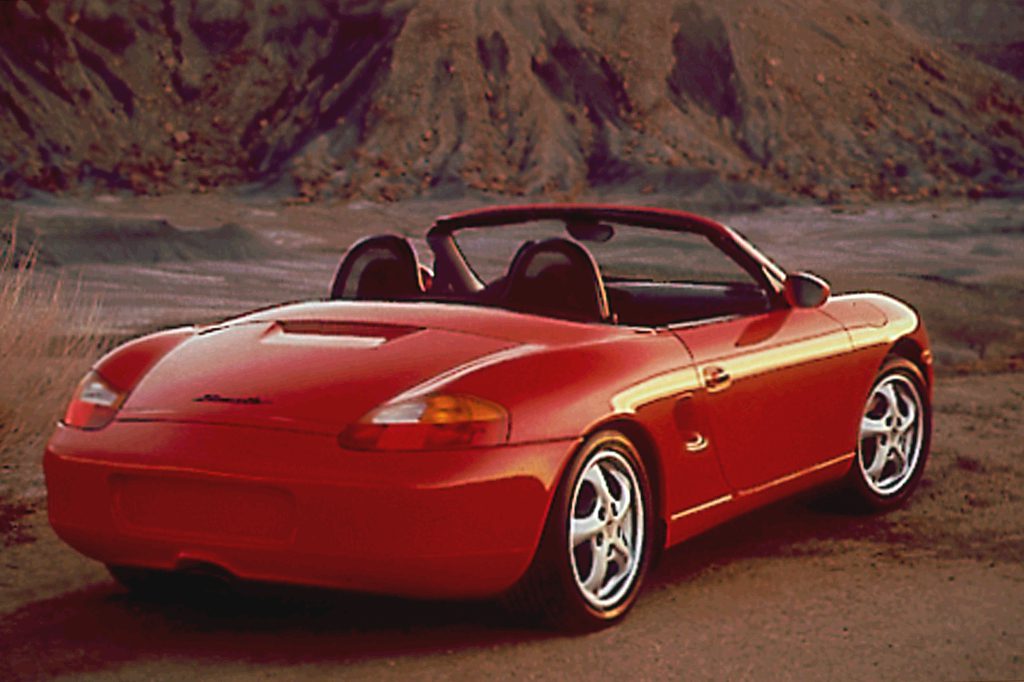 1997 Porsche Boxster Roadster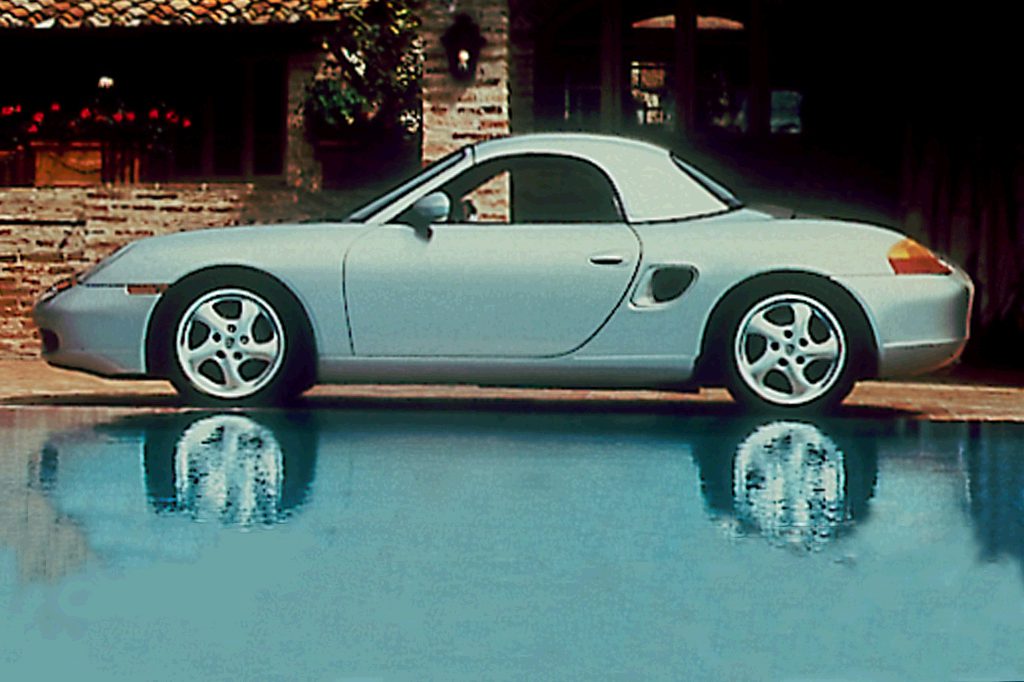 1997 Porsche Boxster Roadster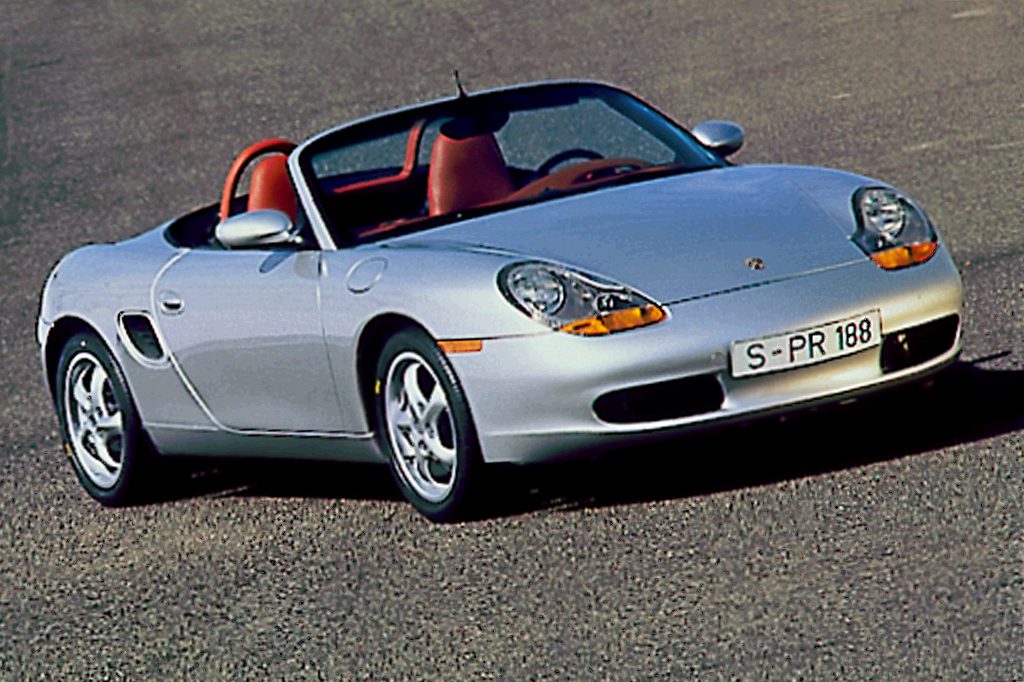 2000 Porsche Boxster Roadster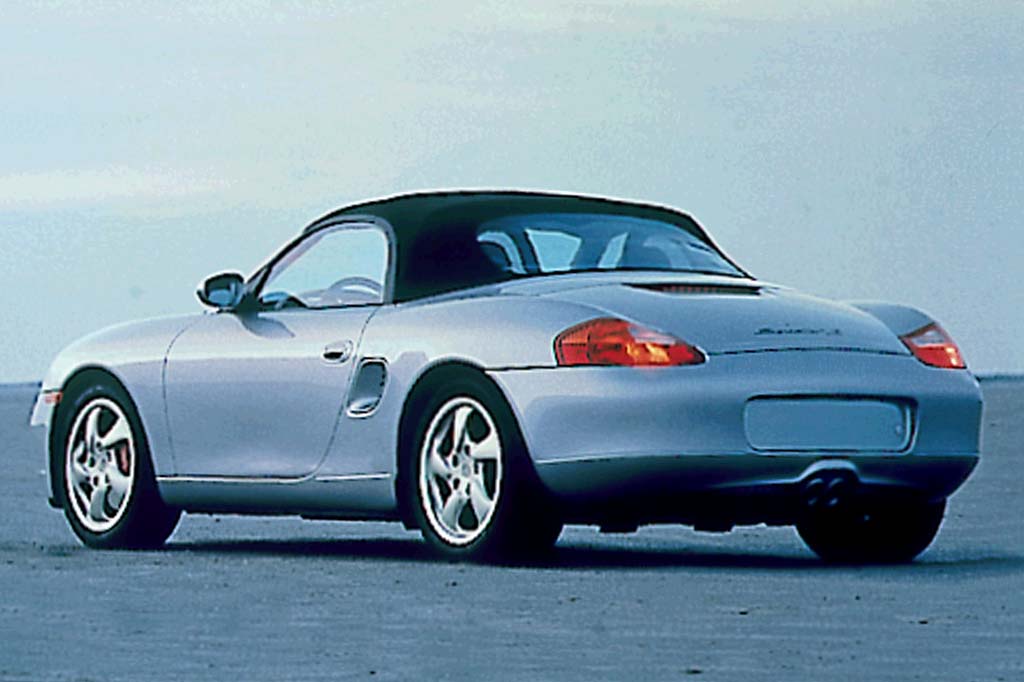 2000 Porsche Boxster S
Pros:

Acceleration
Side airbags (1998-up)
Steering/handling
Braking

Cons:

Noise
Passenger room
Ride
As a more affordable Porsche, the Boxster is mainly for those who appreciate a Porsche's special virtues. BMW's 6-cylinder Z3 2.8 is a more "traditional" sports car that's close in performance, while some observers favor the Mercedes-Benz as the best all-around machine. All are good in their way, and cost about the same, so take your pick. No, it's not perfect; but Boxster is a genuine sports car, and genuinely entertaining on the road.
Overview
An "entry-level" Porsche debuted for 1997, serving as the company's reply to popularity of "retro" 2-seaters. First previewed four years earlier as a show car, introduced after the start of the 1997 model year, it was the company's first all-new model in 19 years. Named in part for the flat "boxer" (horizontally opposed) configuration of its midmounted water-cooled engine, the Boxster was a 2-passenger roadster. Porsche intended to compete against the Mercedes-Benz SLK and BMW Z3, and perhaps attract a few buyers who might otherwise fall for a Mazda Miata (which cost considerably less). Mounted just behind the cockpit, Boxster's 2.5-liter dual-overhead-cam 6-cylinder produced 201 horsepower and drove the rear wheels through either a 5-speed manual gearbox or an optional 5-speed "Tiptronic" transmission–an automatic that permitted manual shifting. A power-operated soft top and antilocking 4-wheel disc brakes were standard. Most maintenance work had to be done from the underside. The only other service access consisted of a behind-the-seats port for checking coolant level and replenishing engine oil. High-performance Z-rated 16-inch tires were wider in back than up front. The power top fit behind a hard cover. One small trunk sat at each end of the car, offering combined capacity of 9.1 cubic feet of lockable cargo space. Options included 17-inch wheels/tires, traction control, and a cockpit "wind blocker." A 55-pound aluminum hardtop also was available, as was a roof storage system for toting skis or bicycles (with the top up or down). An automatic child-seat detection system could be dealer installed.
Yearly Updates
1998 Boxster
Two safety-related changes marked the 1998 season: standard door-mounted side airbags, and an optional child-seat detection system. The latter system automatically deactivated right-side airbags when a special child safety seat was installed.
1999 Boxster
Nothing of consequence changed for 1999 with Porsche's "entry-level" model.
2000 Boxster
A new high-performance Boxster S model debuted this year, while the base engine grew a bit and gained power. The base engine grew to 2.7-liter displacement and 217 horsepower (up 16). A 250-horsepower, 3.2-liter flat 6-cylinder engine went into the new Boxster S, which used a new 6-speed manual transmission and 18-inch tires (optional on the base model to replace the usual 17-inchers). The Boxster S also benefited from larger brake discs, suspension upgrades, and dual exhaust outlets.
2001 Boxster
Newly optional for 2001 was the Porsche Stability Management antiskid system. Boxster also got revised gauges, new standard electric front and rear trunk releases, softer rollbar coverings, and LED "orientation lights."
2002 Boxster
The few additions for 2002 included an in-dash cupholder in place of a clip-on, and an in-trunk emergency release.
2003 Boxster
Base engine gained 11 horsepower to 228 and S engine gained 8 to 258. A glass rear window replaced plastic in the convertible top. All models got modified front air intakes, body-color vs. black side scoops, and "smoked" plastic turn-signal lenses. Climate controls are relocated and Boxster's first conventional dashboard glovebox is added.
2004 Boxter
The only addition to the 2004 Boxter is the newly available optional sport exhaust system.