Compact car; Built in USA
transverse front-engine/front-wheel drive
Good condition price range: $1,700 – $3,400*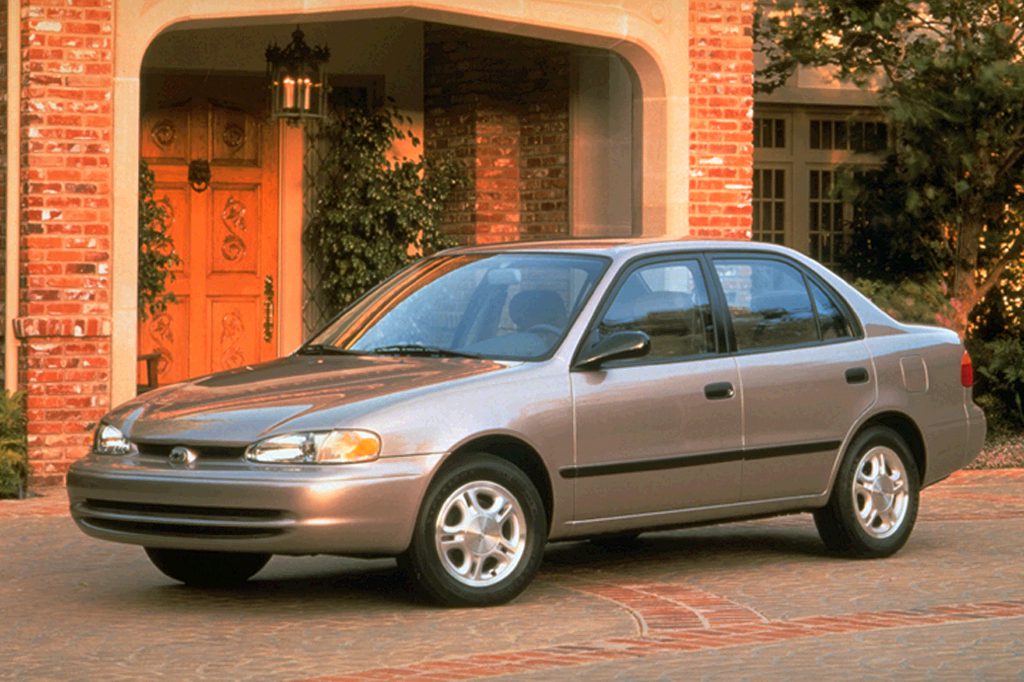 1998 Chevrolet Prizm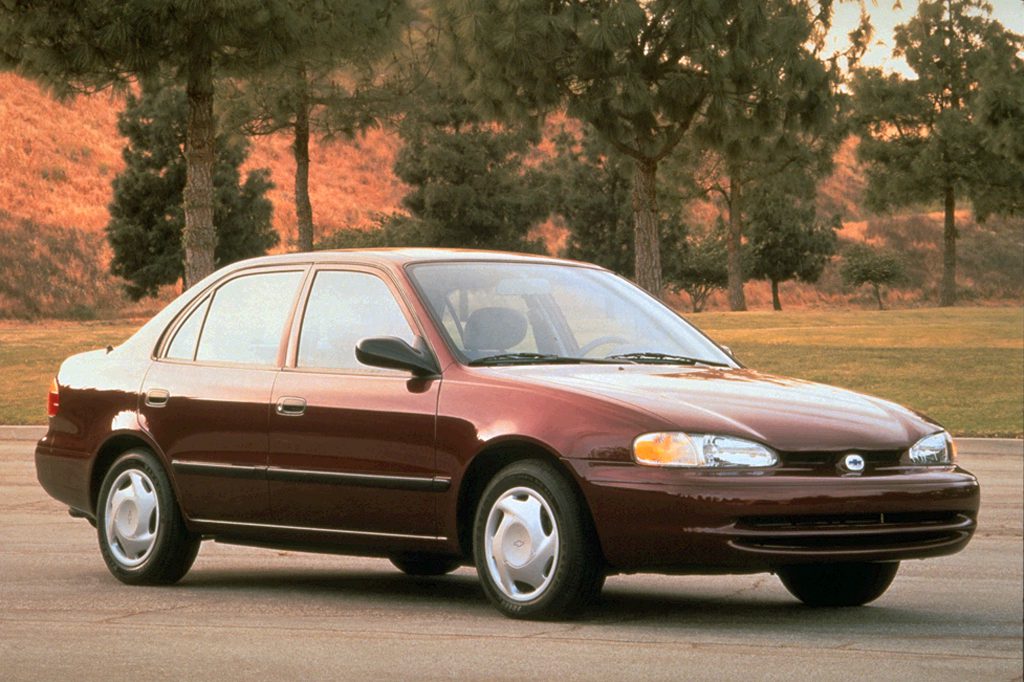 1998 Chevrolet Prizm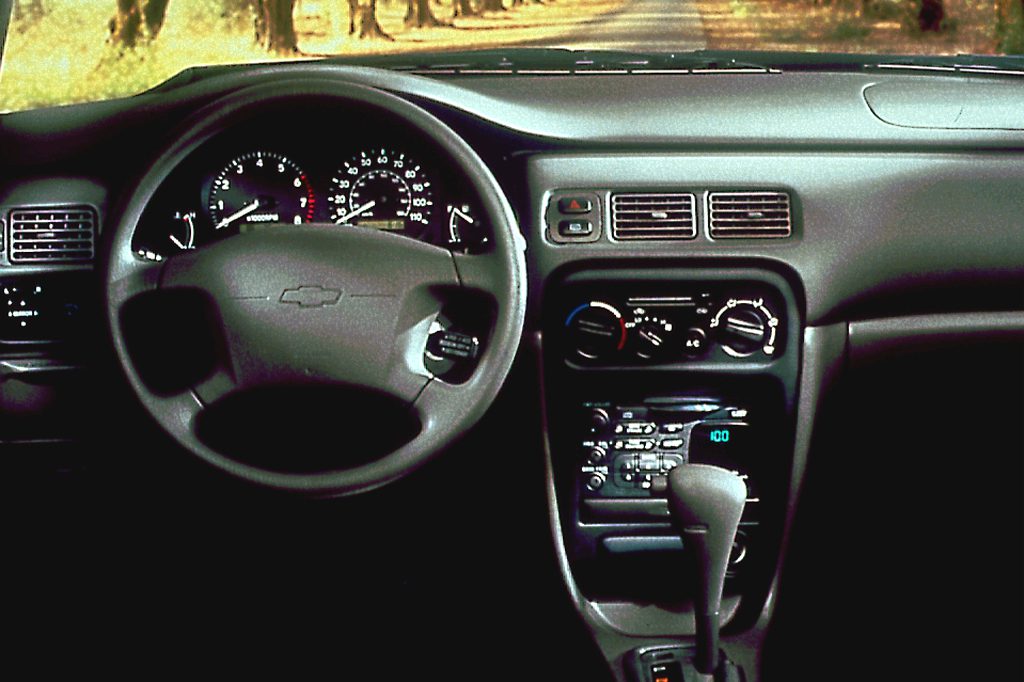 1999 Chevrolet Prizm interior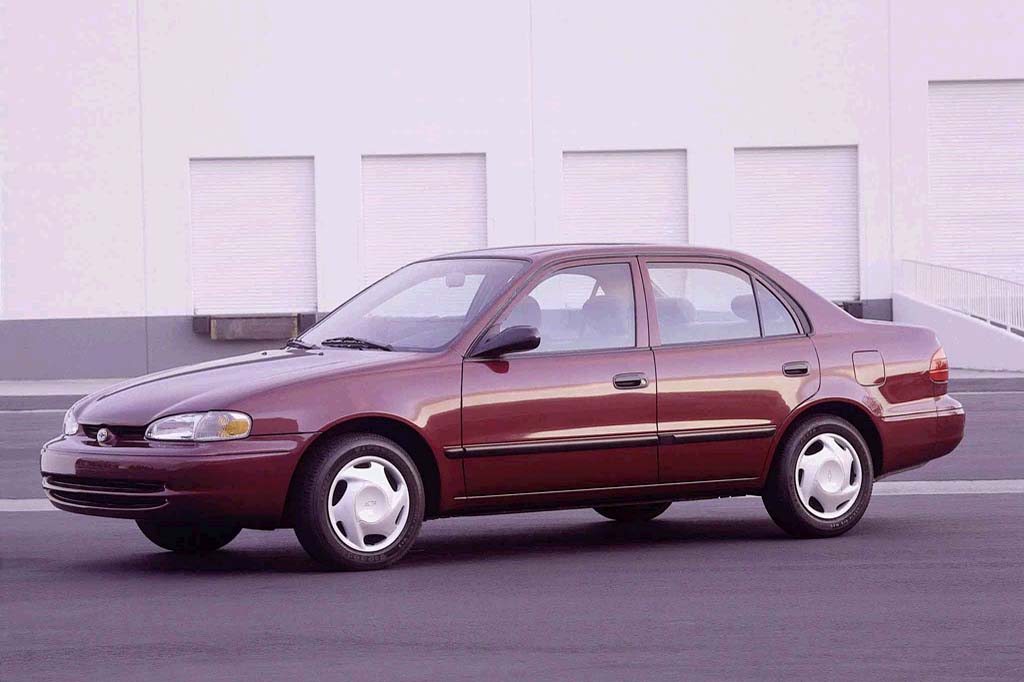 2000 Chevrolet Prizm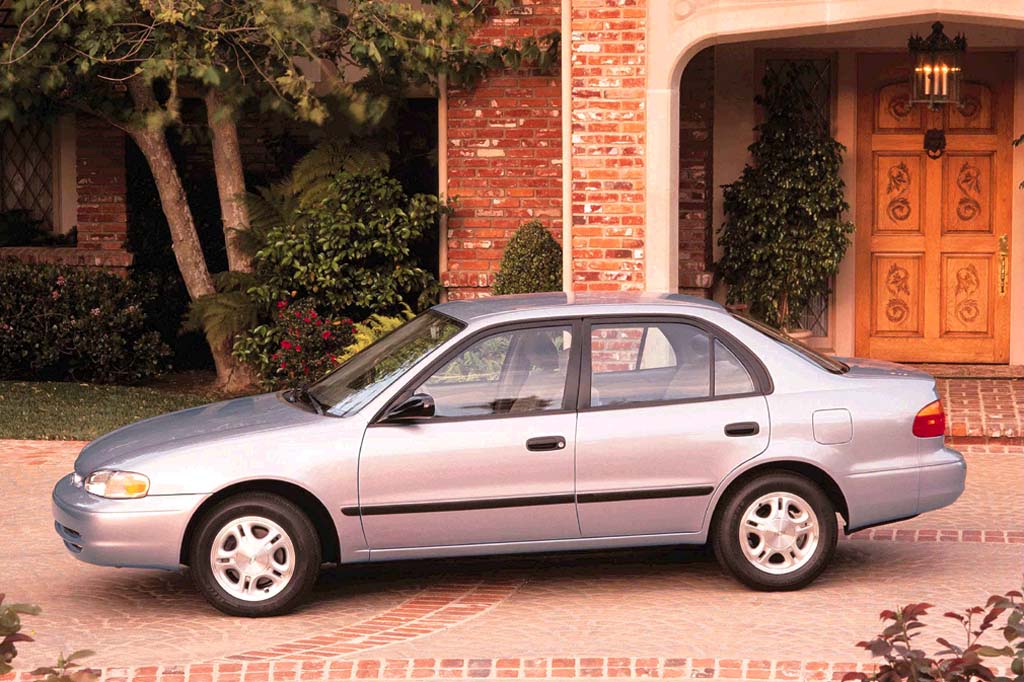 2000 Chevrolet Prizm
Pros:

Optional antilock braking
Optional side airbags
Fuel economy
Ride

Cons:

Automatic-transmission performance
Rear-seat room
Prizm is–to put it directly–among the best small cars on the market. New or used, Prizm basically comes across as a lower-cost Corolla, which has been outselling Chevrolet's subcompact by almost a 5-to-1 ratio. That's how it was before, and it's good news again, since the cars are so similar in structure. You can benefit from Toyota's reputation for durability, without paying quite the price that might be asked for a Corolla. Add capable road manners, and this is one small car that looks ready to stand up well to the punishment of daily driving. Don't finish up your subcompact shopping list without making sure Prizm–and Corolla–have prominent spots.
Overview
Similar to Toyota's Corolla, the Prizm is a front-drive subcompact sedan. Both makes were all new for 1998. Prizm had previously been a Geo product, but that name disappeared after 1997, so Prizms now wore the Chevrolet badge. Both Prizm and Corolla again were built on the same assembly line in California, at a joint GM/Toyota plant. Appearance was similar to the previous Prizm/Corolla generation, but all sheetmetal was new. Although the car's wheelbase was virtually unchanged, the 1998 Prizm measured more than 2 inches longer, and was also slightly wider and taller. Interior space grew only fractionally, however. Base and LSi models returned, both with 5-passenger seating. Front side airbags now were available in the Prizm–a rarity in the subcompact league. Antilock braking also was optional. Standard safety items included dual airbags, daytime running lights, and front-seatbelt pretensioners. A single twin-cam 4-cylinder engine, producing 120 horsepower and 122 pound-feet of torque, now powered all Prizms. Prior models had a choice of two lower-powered engines. A manual transmission was standard, with either a 3- or 4-speed automatic optional. Rivals included the Honda Civic, Nissan Sentra, and Mazda Protege.
Yearly Updates
1999 Prizm
Except for some new color choices, little was new for Chevrolet's subcompact sedan. The LSi handling package departed from the option list. However, its front stabilizer bar now was installed on all Prizms, and its 14-inch wheels and tires became optional.
2000 Prizm
Variable valve timing helped give the Prizm's 4-cylinder engine 5 extra horsepower this year. The base sedan gained standard air conditioning like the LSi, along with a 4 speaker AM/FM stereo and full wheel covers. LSi standard fare expanded to include slightly wider 185/65R14 tires, power windows, a rear defroster, tilt steering wheel, and a tachometer with outside temperature gauge.
2001 Prizm
Lower anchors for rear child seats and an in-trunk emergency release handle were the only additions for 2001.
2002 Prizm
There were no significant changes in Prizm's last year.