Midsize SUV; Built in USA
longitudinal front-engine/rear- or 4-wheel drive
Good condition price range: $2,100 – $6,700*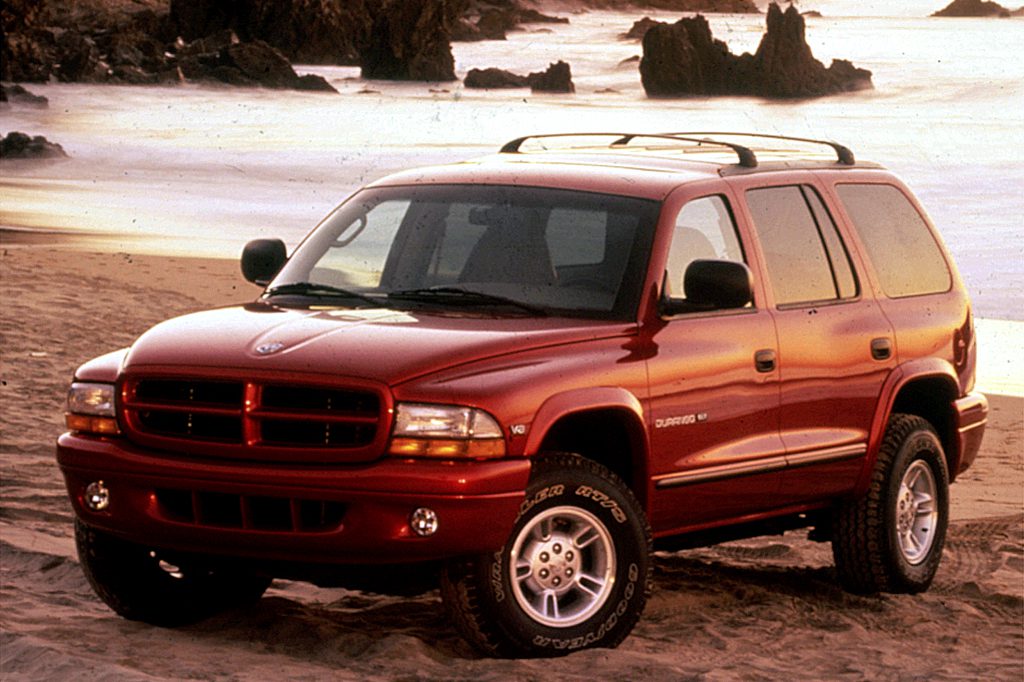 1998 Dodge Durango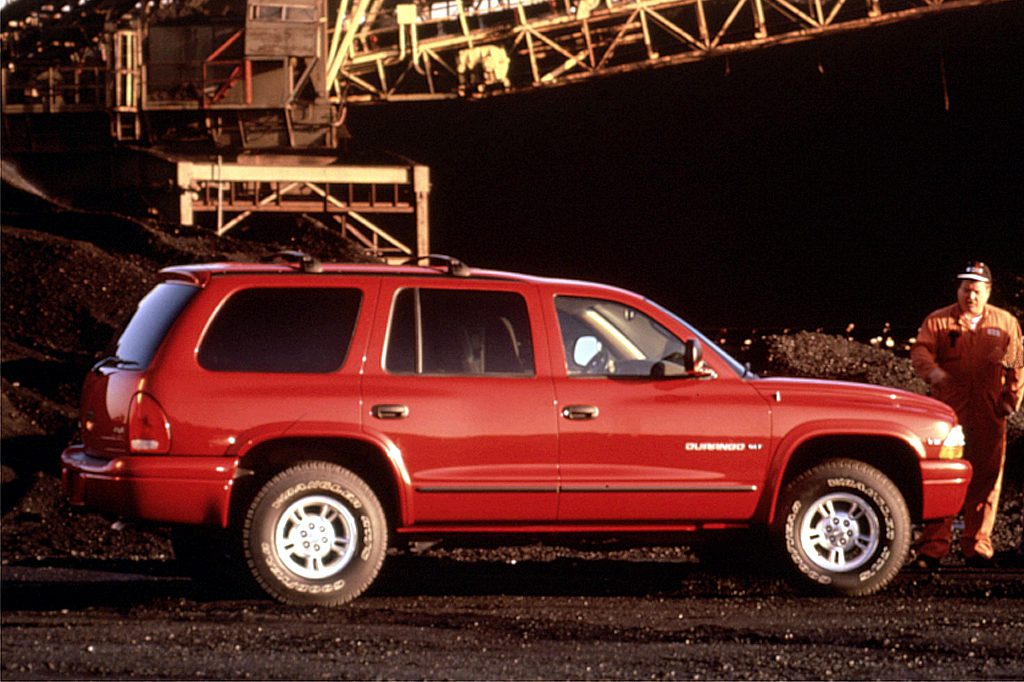 1998 Dodge Durango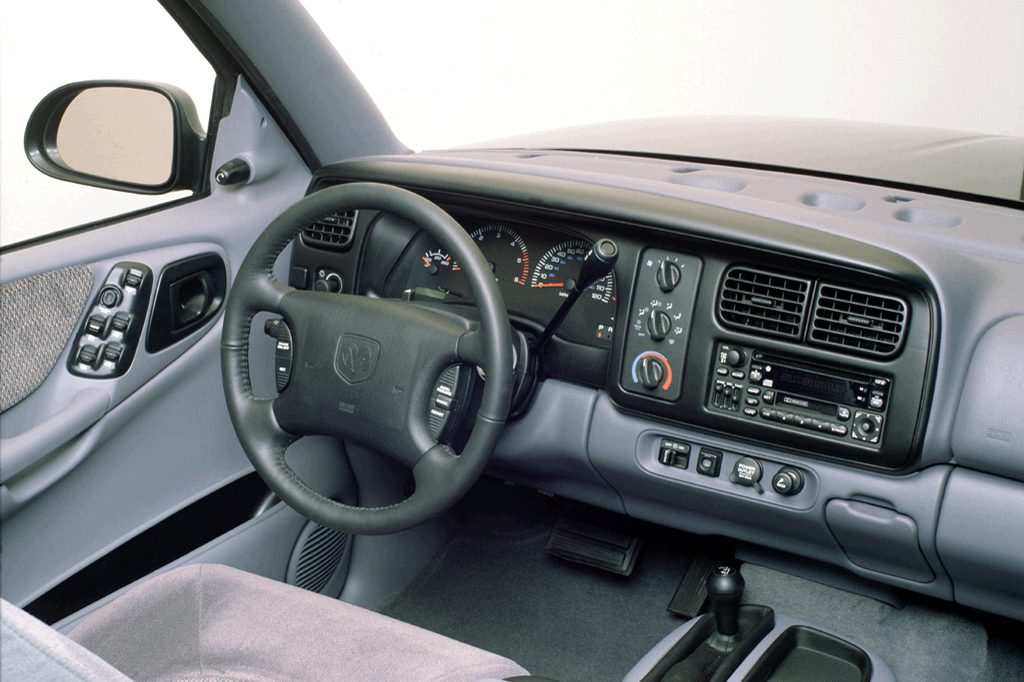 1998 Dodge Durango interior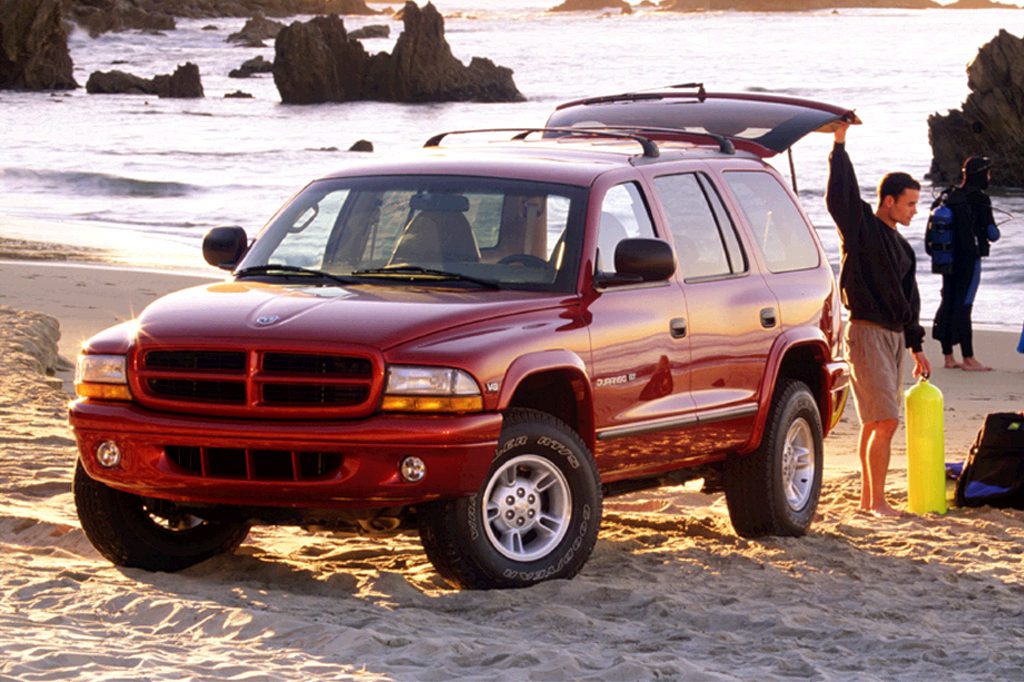 1998 Dodge Durango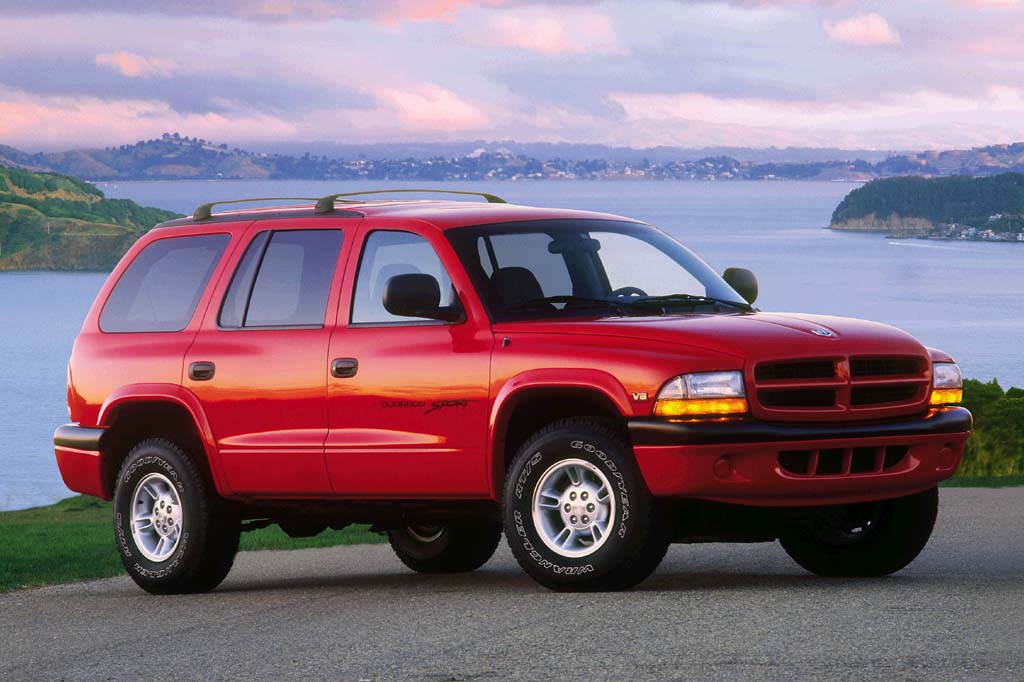 2000 Dodge Durango 4 x 4 Sport
Pros:

Acceleration (5.9-liter V8)
Optional antilock braking
Cargo room
Passenger room

Cons:

Acceleration (V6)
Fuel economy
Rear-seat comfort
Despite a few demerits, Durango is a well-designed truck that approaches full-size models for brawn and space, and therefore deserves strong consideration as a late-model, secondhand SUV.
Overview
Based on Dodge's Dakota pickup truck, the Durango debuted as a distinctively sized 4-door sport-utility vehicle. Priced against midsize SUVs, but larger in dimensions, Durango matched some full-size models with its available 8-passenger seating and V8 engine. Dodge had not offered an SUV since the Ramcharger wagon, dropping in 1993. Front styling and the dashboard are the same as in the Dakota, but Durango got different seats and other interior features. Only a 4-wheel-drive Durango went on sale in the first year, with a choice of two V8 engines: standard 5.2- or optional 5.9-liter. Not intended for use on dry pavement, the standard part-time on-demand 4WD system had shift-on-the-fly capability. A full-time system that could be left engaged at all times was optional. Front bucket seats and a 3-place rear bench were standard. A front bench was offered as a no-cost option. Durangos could also be equipped with a 2-place third-row bench. Center and rear seats were not removable, but folded flat to create 88 cubic feet of cargo space. With the 5.9-liter V8, a Durango could tow up to 7300 pounds, ranking in the same league as some full-size SUVs. Dual front airbags and antilock rear brakes were standard. Full 4-wheel antilocking was optional.Though Durango is unique in size, its rivals included the Chevrolet Blazer, Ford Explorer, and Jeep Grand Cherokee.
Yearly Updates
1999 Durango
A 2-wheel-drive Durango joined the original 4WD model for 1999, and a V6 engine became available. Additional standard equipment included cruise control, tilt steering, remote keyless entry, power locks, and power windows. An SLT option package now included leather upholstery, steering-wheel radio controls and (when ordered on the 4WD model) 31-inch wheels and tires. Heated mirrors were new options. A redesigned overhead console gained reading lights. Both 4WD systems had shift-on-the-fly capability. The base 4WD setup could be used only on slippery surfaces. A more costly 4WD option could be left engaged on dry pavement.
2000 Durango
A completely different engine went into 4-wheel-drive Durangos this year. Borrowed from the Jeep Grand Cherokee, the new 4.7-liter V8 produced 235 horsepower and replaced the former 5.2-liter V8. It also used a different automatic transmission. That 5.2-liter engine remained standard on 2WD Durangos, and vehicles equipped with the SLT option package could have the 5.9-liter, 245-horsepower V8. The V6 engine slipped away. All models gained Chrysler's Enhanced Accident Response system, which lights the interior and unlocks power door locks when airbags deploy. A revised front suspension with rack-and-pinion steering went into this season's 4x4s. The SLT package included body-color exterior trim and fog lamps. The SLT Plus package, for 4WD models, added leather upholstery and 31-inch tires with wheel-arch flares.
2001 Durango
In 2001, the Durango lost its available 230-horsepower 5.2-liter V8 engine, but gained interior revisions, including a new dashboard with an oil-level indicator, a new center console, and a dashboard control for the 4-wheel-drive system.
2002 Durango
Dodge's SUV gained optional curtain side airbags and a DVD entertainment system for 2002.
2003 Durango
Standard 4-wheel disc brakes highlighted changes to the 2003 Durango as Dodge readied a redesigned replacement as a 2004 model.