Premium midsize car; Built in Germany
4-door sedan
4-door wagon
allroad 4-doorwagon
transverse front-engine/front- or all-wheel drive
Good condition price range: $2,100 – $16,500*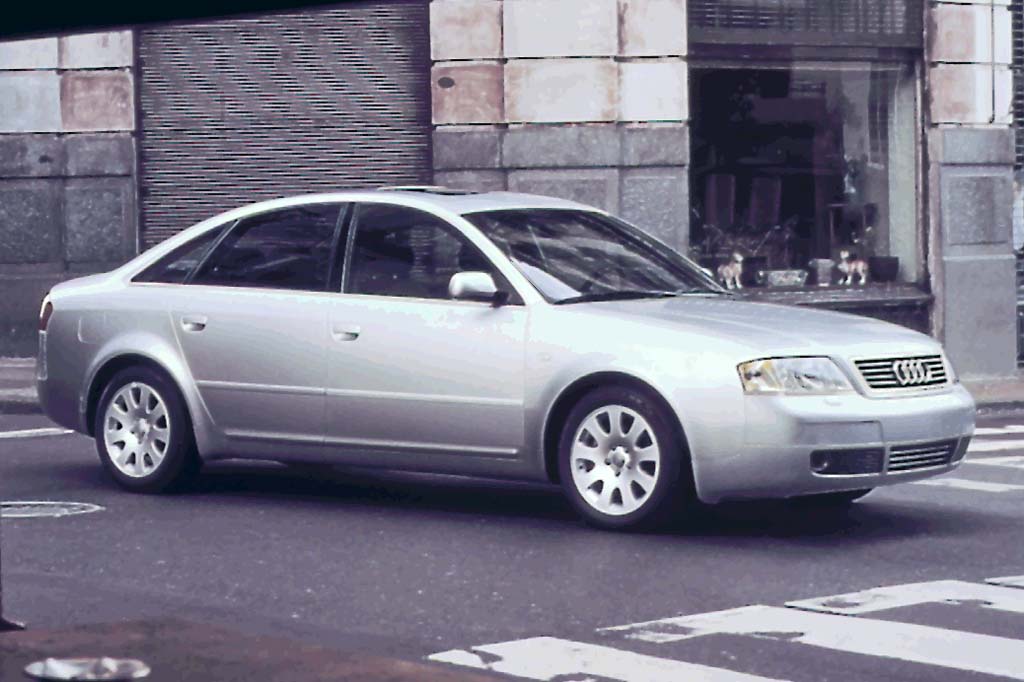 2000 Audi A6 2.8 sedan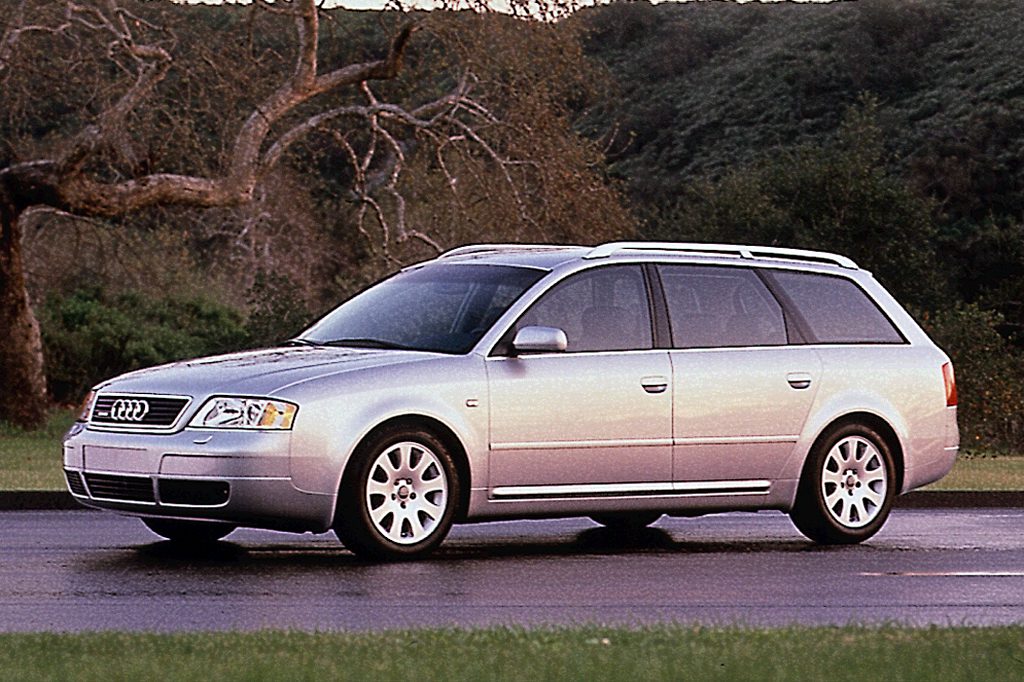 1999 Audi A6 Avant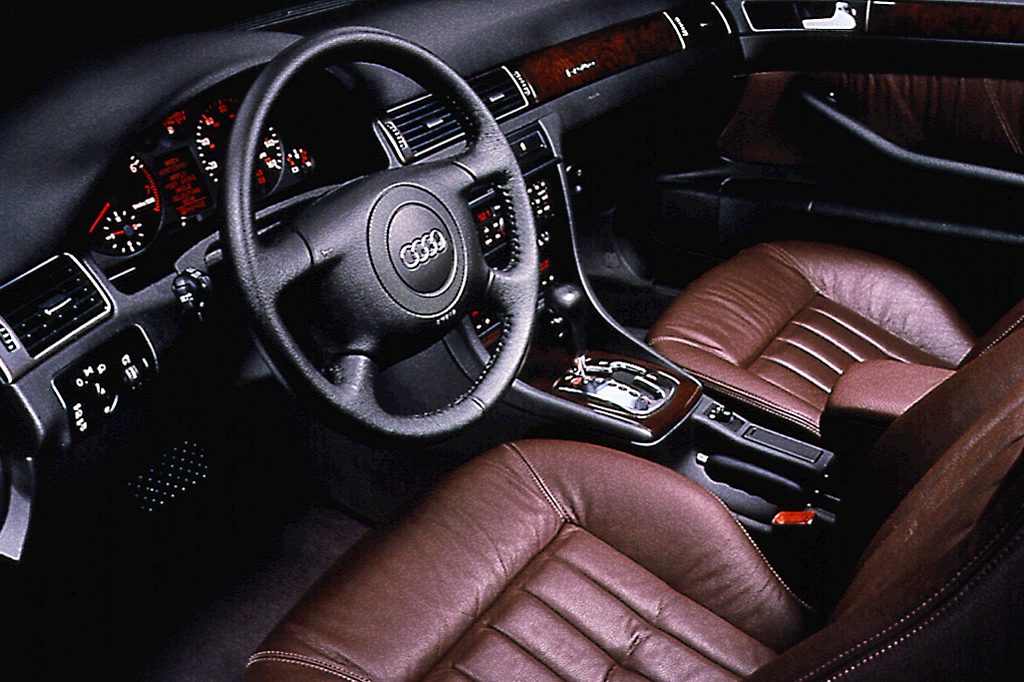 1999 Audi A6 interior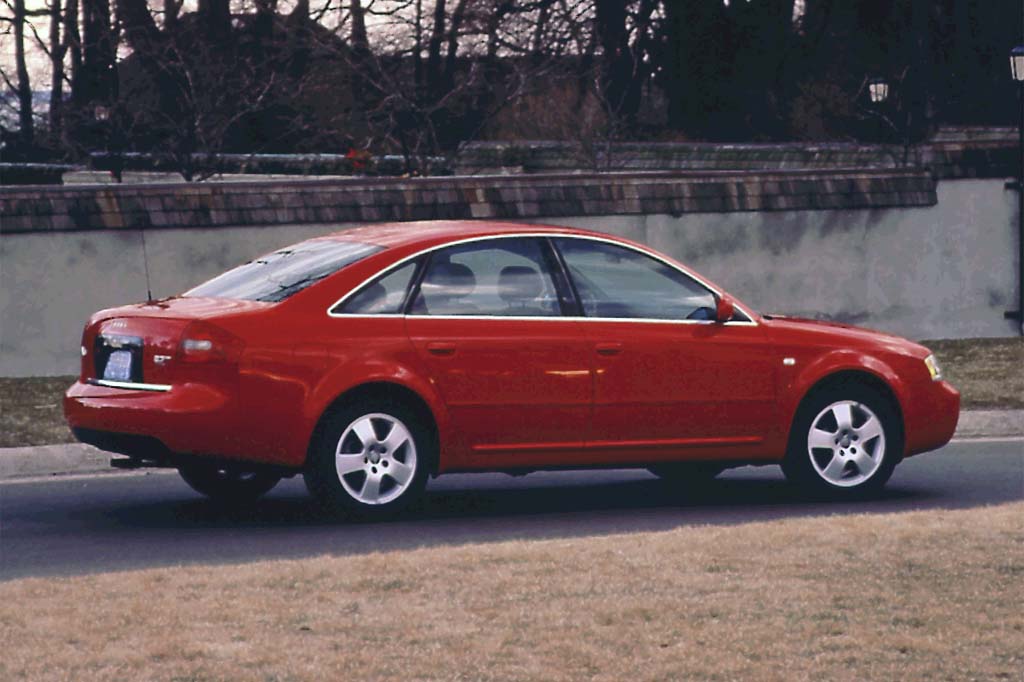 2000 Audi A6 2.7T sedan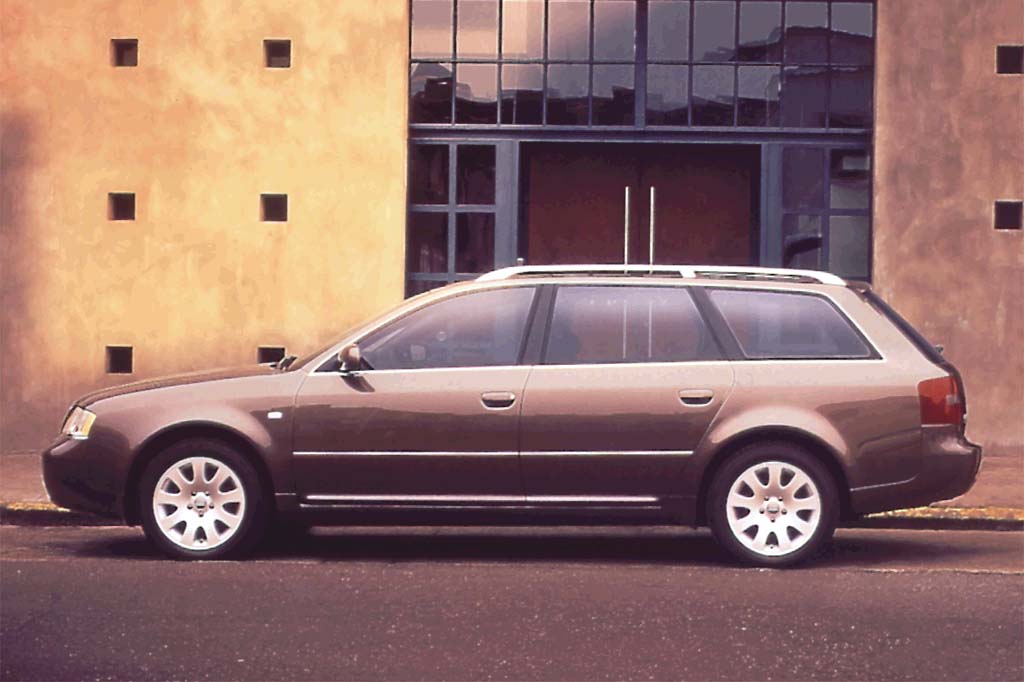 2000 Audi A6 2.8 Avant
Pros:

Acceleration
Standard antilock braking
Side airbags
Build quality
Cargo room
Exterior finish
Interior materials
Passenger room
Steering/handling

Cons:

Climate controls
Rear visibility
New or used, an A6 costs a lot less than a comparable BMW 528i or Mercedes-Benz E320, yet delivers a similar sense of Teutonic solidity and driving feel. Audi's allroad wagon brings the ride and comfort of an SUV into the mix without sacrificing sophisticated onroad capability. The A6 is a well-made machine that performs admirably on the road. All told, we recommend these great German machines highly, despite their relatively high prices.
Overview
Replacing a model that had debuted for 1992 (initially as the 100 series), the newest A6 proved to be Audi's best effort yet at matching the midline BMW and Mercedes-Benz models in terms of prestige and performance. The midsize, near-luxury sedan displayed the new Volkswagen/Audi corporate look, consisting of an arched roofline and prominent semicircular wheel openings. Built as a scaled-up version of the compact A4 sedan, the A6 was related to the then-new, similarly derived Volkswagen Passat. A sedan debuted first, with front-wheel drive or optional Quattro all-wheel drive. The sedan was about 3 inches longer in wheelbase than its predecessor, but a half-inch shorter overall. It was also slightly wider and taller. An Avant station wagon joined the sedan during the 1998 model year. Dashboard-mounted airbags featured "dual deployment" operation, meaning they would pop out with less force during a crash if the occupant was not wearing a seatbelt. Front side-impact airbags were standard, and rear side airbags optional. All told, an A6 could have as many as six airbags. Sole engine was a 2.8-liter V6 with five valves per cylinder, producing 200 horsepower. Audi's 5-speed Tiptronic automatic transmission offered manual-shift capability with a secondary selector gate. Sedan rivals included the Acura TL, Infiniti I30, and Lexus ES 300. Except for Volvo and (later) Saab, no manufacturers offered a comparable "near-luxury" station wagon.
Yearly Updates
1999 A6
Only minor equipment changes marked the '99 models. A larger right-door mirror went on all models, and a first-aid kit was installed. A Homelink transmitter and auto-dimming door mirrors were newly included in the extra-cost Convenience package. Rear heated seats were added to the Cold Weather Package. Audi's Warm Weather option group lost insulated glass, but gained manual sunshades for the rear side windows. During the 1999 model year, the sedan gained a sport suspension option and available 5-speed manual shift for its Quattro edition. Sedans could have front-wheel drive or Quattro all-wheel drive, but Avant wagons all had the Quattro system.
2000 A6
Two new performance sedans joined the lineup this year. A6 2.8 sedans and Avant wagons kept the prior 200-horsepower, 2.8-liter V6 with 5-speed automatic. The 2.8 Quattro sedan could now be fitted with a 5-speed manual transmission. Audi's new 2.7T Quattro sedan got a 250-horsepower twin-turbo V6 with 6-speed manual or no-extra-cost automatic transmission. Topping the line was a new 4.2 Quattro sedan with a 300 horsepower V8 (automatic only) and slightly different styling. New Sideguard "curtain" airbags, standard on the 4.2 and optional on other models, dropped down from above the side windows for head protection during a side impact. All models could now get an optional satellite-linked navigation system with audio and visual direction prompts, but no video screen display.
2001 A6
An SUV-inspired allroad wagon model was added for 2001. It had unique exterior cladding and an air-spring suspension for up to 8.2 inches of ground clearance. Automatic-transmission models now offered optional steering-wheel buttons for manual shifting. Steering wheel audio/cell phone controls and passenger-seat memory were newly standard on 4.2 models. An antiskid system became optional on 2.8 models, while curtain side airbags were now standard on 2.8s. Audi's basic warranty was extended from 3 years/50,000 mi. to 4/50,000.
2002 A6
New for '02 was the S6 Avant with a 340-hp 4.2 V8, sport suspension and tires, and aluminum exterior trim. A 3.0 sedan and Avant wagon replaced 2.8 models and had a 220-hp 3.0-liter V6 instead of a 200-hp 2.8 V6. The 3.0 sedan came with a continuously variable automatic transmission and front-wheel drive or quattro AWD; all other models came with quattro front-drive. All '02 A6s got an in-dash 6-disc CD changer, new front- and rear-appearance touches, and revised dashboards. OnStar assistance became available midyear, and could be enhanced with extra-cost in-car e-mail service.
2003 A6
For 2003, leather seat inserts are standard for 3.0s and the 2.7T. The 2.7T trades 16-inch wheels for standard 17s. On the debit side, front passenger-seat memory is dropped, and the sunroof is optional instead of standard on the 4.2 sedan. Added midyear was the limited-production RS 6 sedan. It has a 450-hp twin-turbo V8, Audi's new self-adjusting Dynamic Ride Control suspension, 18-inch wheels, and specific trim, and includes OnStar
2004 A6
Added for '04 is a satellite radio option and a V8 engine for the allroad quattro. Dropped this year are the S6 Avant and RS 6 sedan.