Premium midsize car; Built in USA
transverse front-engine/front-wheel drive
Good condition price range: $2,400 – $5,700*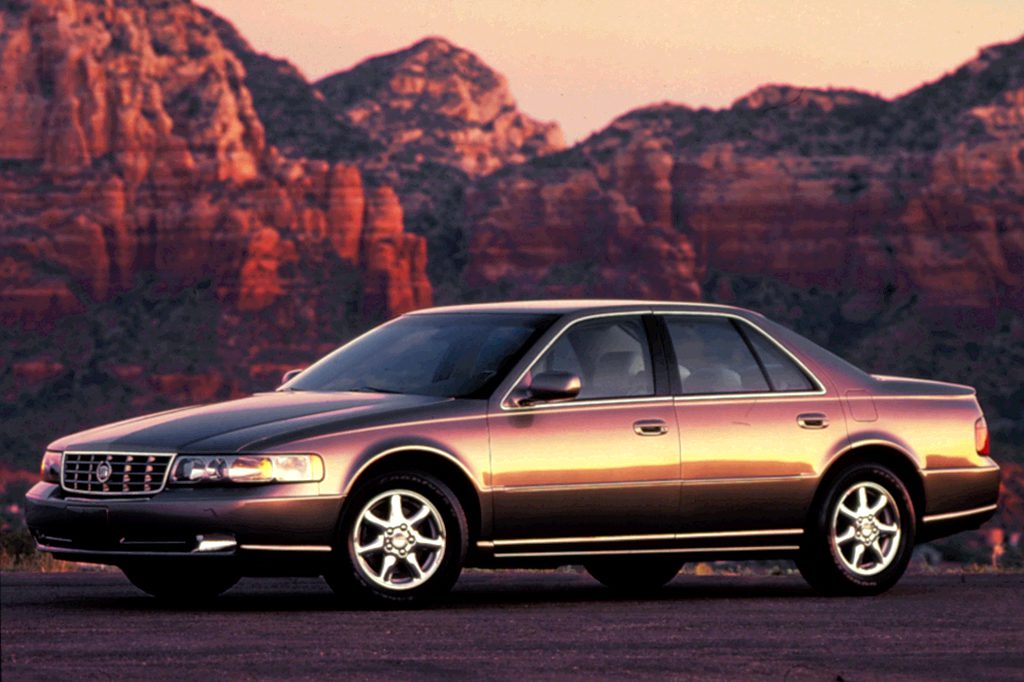 1998 Cadillac Seville STS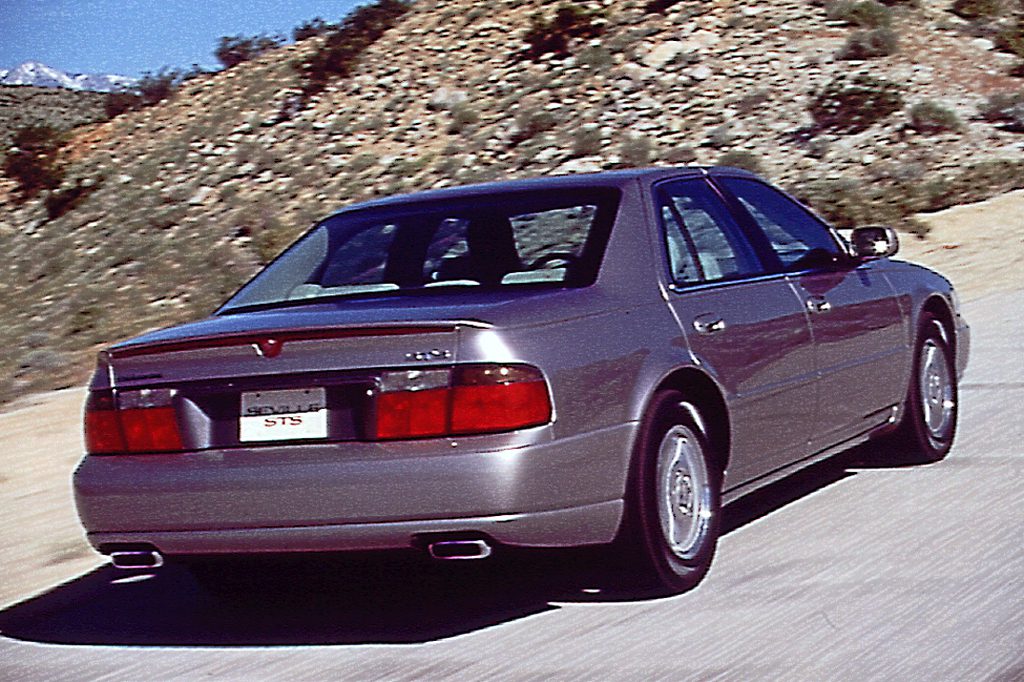 1999 Cadillac Seville STS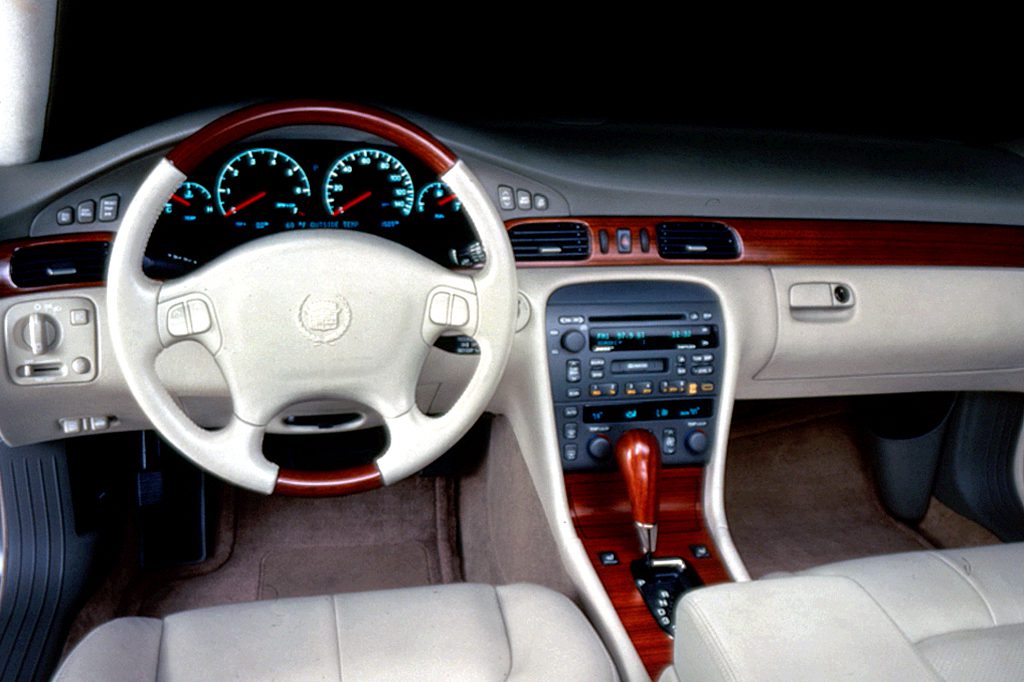 1998 Cadillac Seville STS interior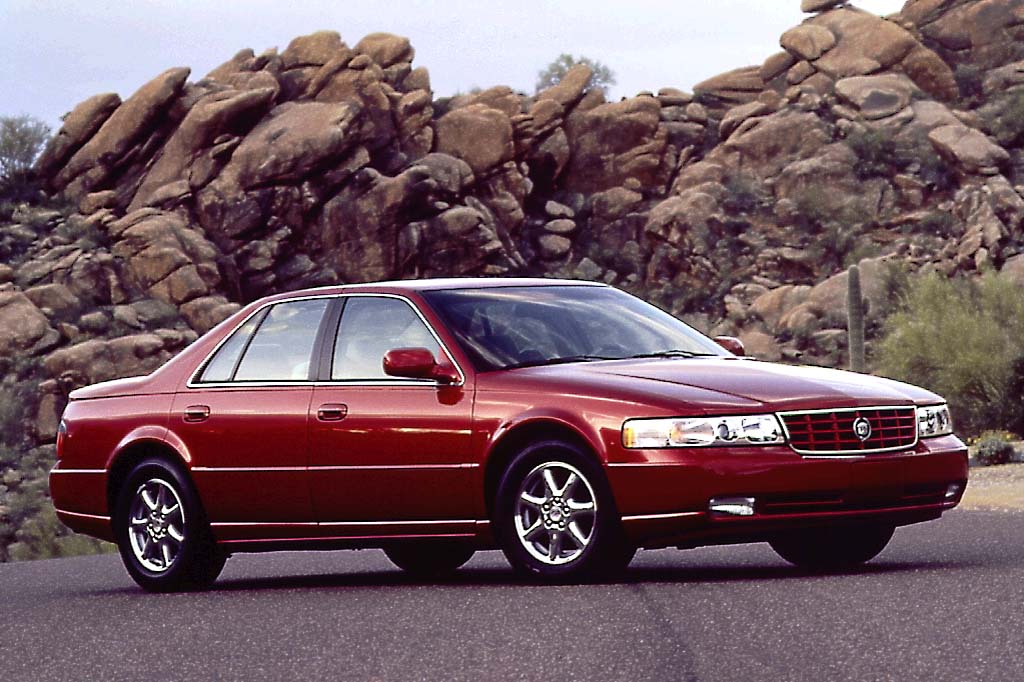 2000 Cadillac Seville STS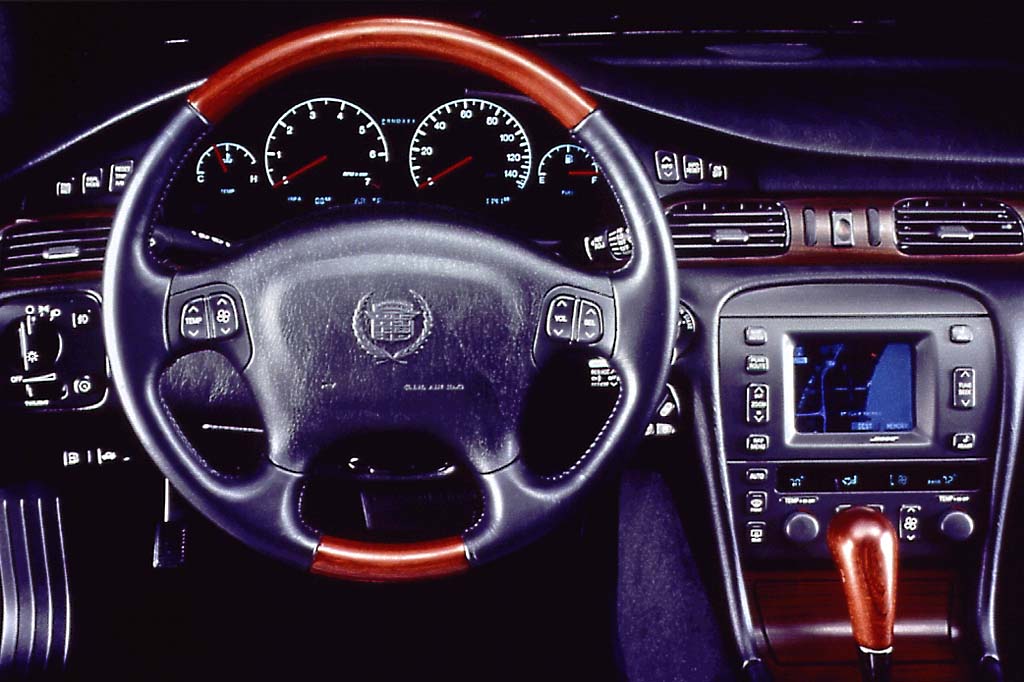 2000 Cadillac Seville STS interior
Pros:

Acceleration
Automatic-transmission performance
Handling/roadholding
Interior materials
Interior storage space

Cons:

Fuel economy
Rear visibility
Sevilles seem solid and well-assembled, and interior materials are top-notch. However, one test model suffered a wind leak around the driver's window, ill-fitting rear-door seals, and a wiring harness dangling beneath the driver's seat–not quite what's expected in this price league.
Overview
Cadillac's sport-luxury sedan got a serious revamping for 1998, again equipped with front-wheel drive and a Northstar V8 engine. Striving to recapture the "Standard of the World" title that once applied to the marque, Cadillac sought to step beyond the quality and value of such brands as Lexus and Mercedes-Benz. Some of Seville's underbody structure was shared with the Buick Riviera and Park Avenue, and the Oldsmobile Aurora. Styling was evolutionary rather than a dramatic turnaround, but overall body length shrunk by 3.1 inches, while wheelbase stretched by 1.2 inches. All Sevilles were built in Michigan, but about 20 percent were earmarked for overseas markets. Standard features that were carried over from the previous generation included StabiliTrak, which improved control in evasive maneuvers by selectively applying the front brakes. An electronic suspension, also continued from before, could read the road surface and continually adjust itself to soften the ride and control body motion. The Northstar V8 engine was rated at 275 horsepower when beneath a base SLS hood, versus 300 horsepower in the sportier STS model. Front-seat-mounted side airbags went into a redesigned interior. New safety belts attached to the seat frame and included the first belt pretension system in a U.S.-built automobile. STS sedans could be equipped with a new Adaptive Seat System, in which 10 air cells in the front seats adjusted automatically to accommodate to various people's bodies.Radio data system (RDS) capability was standard on the STS and optional on SLS. RDS displayed song title and other broadcast information, and could interrupt programming with emergency messages. GM's OnStar satellite emergency/communications system also was available, as a dealer-installed option. Seville's rivals included the BMW 5-Series, Infiniti Q45, Lexus LS 400, and Mercedes-Benz E-Class.
Yearly Updates
1999 Seville
Front seats that give back massage were new this year, but little else changed on Cadillac's sport luxury sedan. The optional system used "rolling" lumbar bolsters that massaged the lower back of a front-seat occupant in 10-minute cycles. Either the SLS or STS model could have Cadillac's optional "adaptive" front seats, with internal air bladders that continuously adjusted to the passenger's body contours. This year's version was heated.
2000 Seville
Both engines now ran on regular fuel, not premium. Both Seville models also gained a revised version of GM's OnStar emergency communications/assistance system. The Continuously Variable Road Sensing Suspension now selectively varied shock absorber firmness for both up and down wheel motions, working with StabiliTrak to minimize body lean and front-end "plow" in turns. The StabiliTrak system could now briefly increase steering effort when needed, and brake the front wheels to recover from a 4-wheel-drift type of skid. A new front-seat sensor could deactivate passenger airbags when the presence of a child–or no occupant–was detected. New options included an onboard navigation system and Ultrasonic Rear Parking Assist, which warned of obstacles while the car was backing up.
2001 Seville
Seville got an optional e-mail system and auto-reversing power front windows. SLS versions were upgraded with the monochrome appearance introduced at midyear on the short-lived TX7 variant.
2002 Seville
A new DVD navigation system with voice recognition was added this year. Newly standard were heated seats and a rear-obstacle-warning system. Added during the 2002 model year was a satellite radio that played commercial-free programs for a monthly fee.
2003 Seville
Appearance alterations include a body-color grille for the SLS and standard chrome wheels for the STS. The SLS also gains a standard driver-seat memory and, like the STS, now comes with a power tilt/telescoping steering wheel. Rain-sensing windshield wipers are newly standard for STS.
2004 Seville
During the sedan's last model year, the '04 300-hp sporty Seville STS model was dropped to make way for the all-new 2005 STS.