Compact pickup truck; Built in USA
longitudinal front-engine/rear- or 4-wheel drive
Good condition price range: $2,000 – $15,500*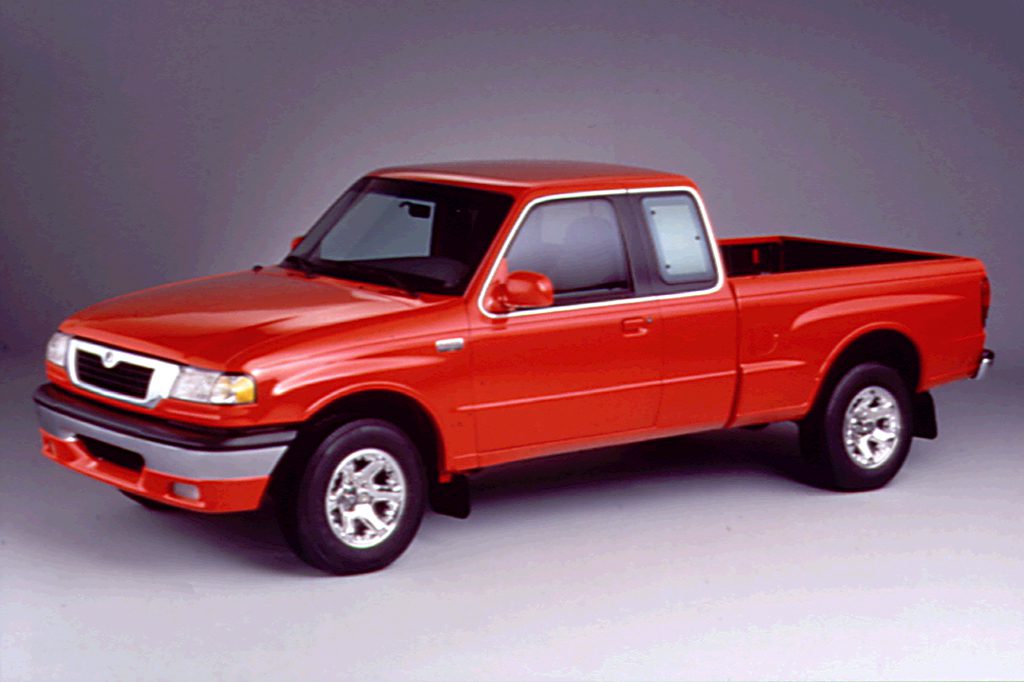 1998 Mazda B-Series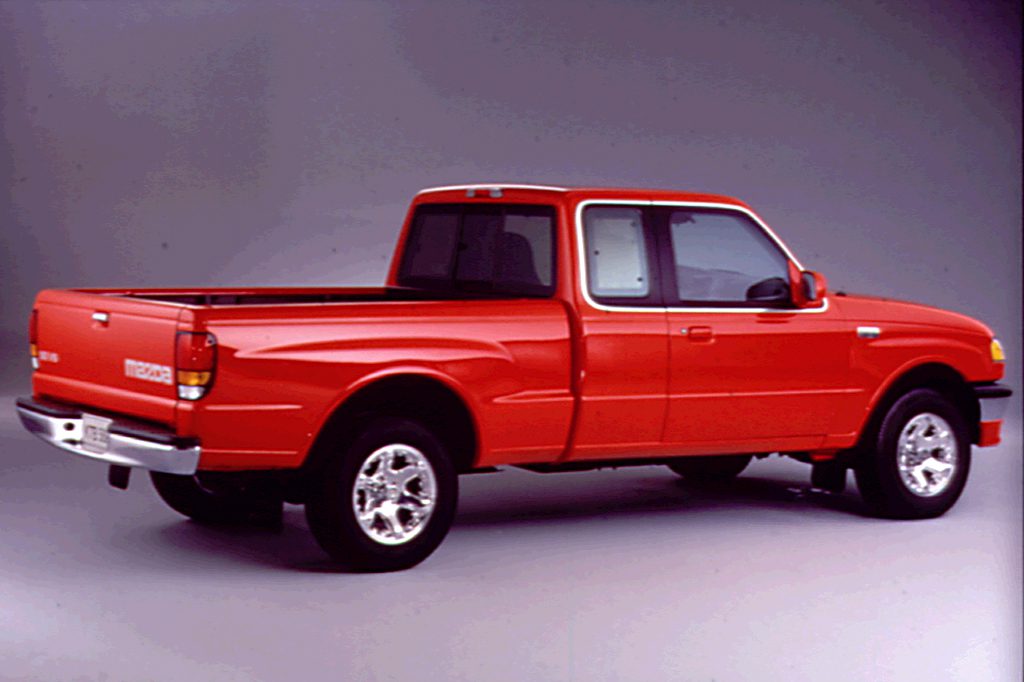 1998 Mazda B-Series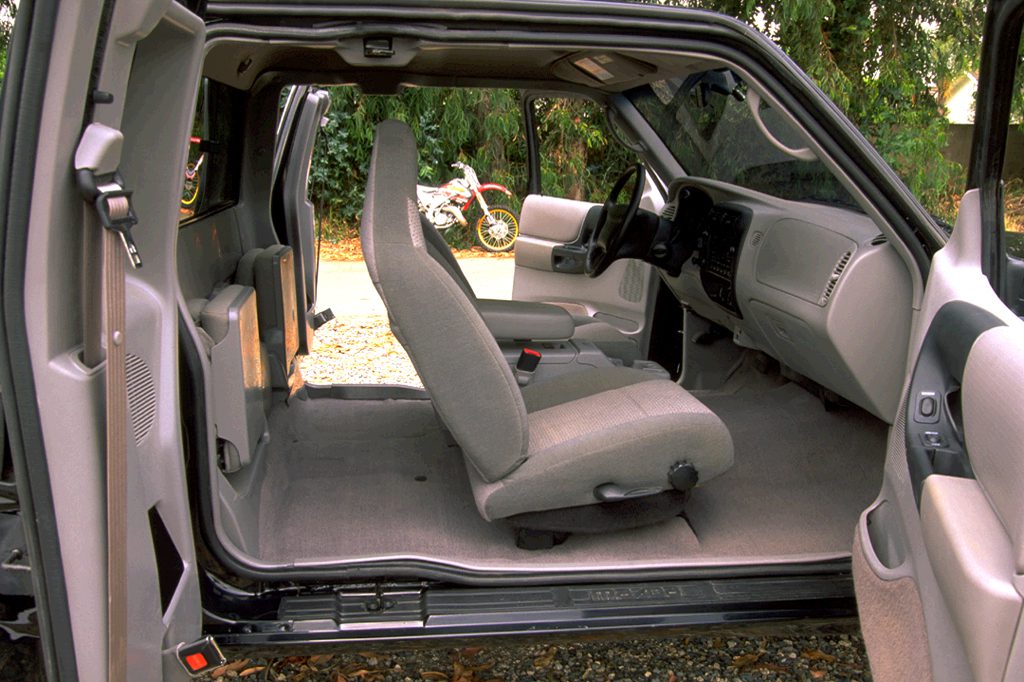 1999 Mazda B-Series interior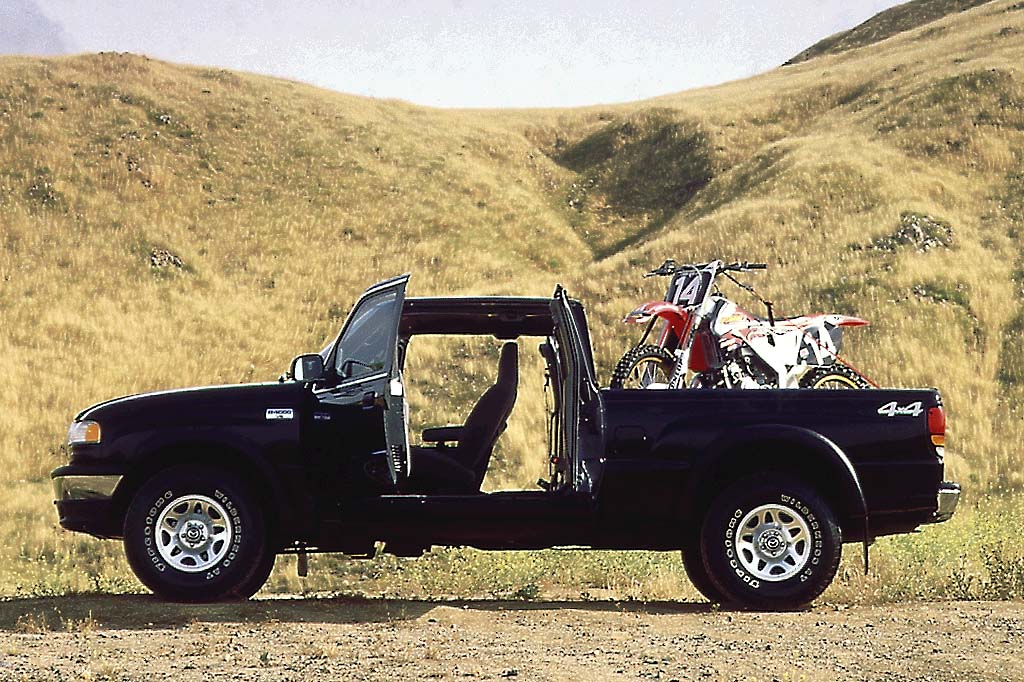 2000 Mazda B4000 Cab Plus 4 4WD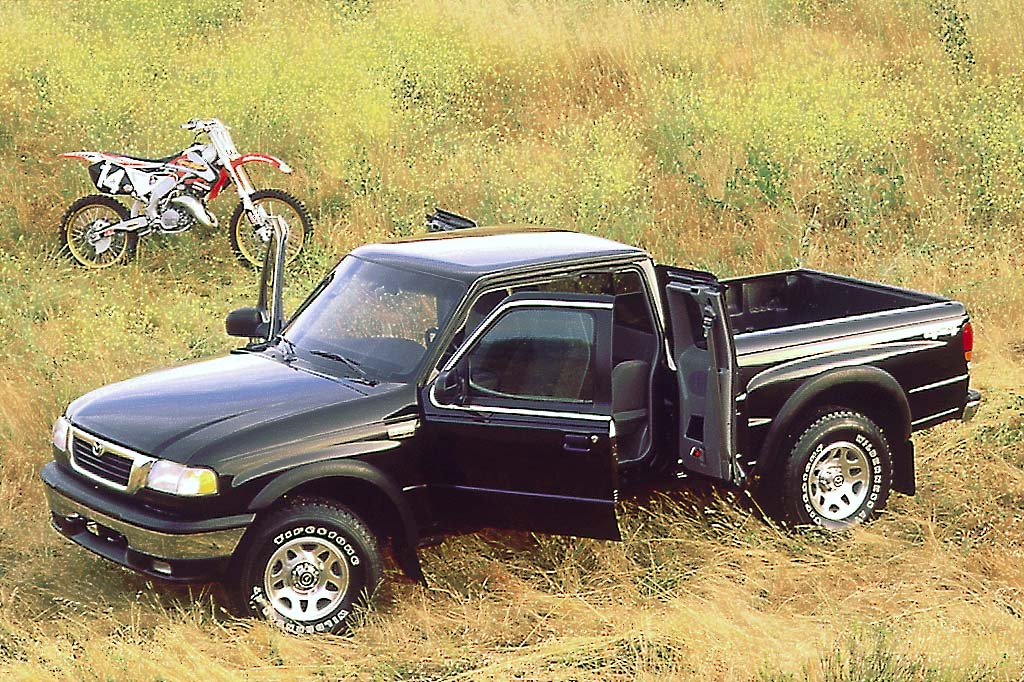 2000 Mazda B4000 Cab Plus 4 4WD
Pros:

Acceleration (B4000)
Build quality
Passenger room (regular cab)

Cons:

Acceleration (B2500)
Engine noise
Rear-seat comfort (extended cab)
Yes, Mazda pickups lack a few features available on rivals, including a third door (on extended-cab GM pickups) and the V8 option and full-time 4WD of a Dodge Dakota. Nevertheless, the B-Series is refined, well-built, and priced sensibly. No wonder Ranger has been the top-selling compact truck. Because Mazda's B-Series does not sell as well as the Ford Ranger, prices are likelier to be a bit lower than trucks wearing a Ford badge.
Overview
Both the Mazda B-series and the similar Ford Ranger compact pickup trucks were redesigned for 1998. Mechanically, the two were nearly identical, but they differed in styling details. Mazda offered no flare-fendered model comparable to Ford's Ranger Splash. However, Mazda's swept-back look was thought to be favored by import-brand truck buyers. Improvements included a stiffer, fully boxed frame. An independent front suspension replaced the solid axle, and rack-and-pinion steering edged aside the old recirculating-ball system. In this generation, both the B-Series and the Ranger added a 4-door extended-cab body style. That made Mazda the first import-brand pickup to offer a 4-door cab, called the Cab Plus 4. Standard cabs were 3 inches longer than before. Mazda offered 2- and 4-wheel-drive regular-cab and Cab Plus extended-cab 2-door models, in either SX or upscale SE trim. The Cab Plus 4 was an SE option. Rear doors were hinged at the back and could not be opened or closed independently of the front doors. Both the regular Cab Plus and the 4-door variant had two fold-down rear jump seats. Engines were the same as those in Ford's Ranger. The B2500 got a larger (2.5-liter) 4-cylinder engine that made 119 horsepower. A 3.0-liter V6, producing 150 horsepower, went into the B3000 series. The B4000 got a 4.0-liter V6, rated at 160 horsepower. A 5-speed manual transmission was standard. Automatic was optional in the SE and regular-cab SX. With the 4.0-liter V6, the optional automatic transmission was a new 5-speed unit; other engines came with an available 4-speed automatic. Four-wheel-drive models could now be shifted between 2WD and 4WD High at up to 70 mph, and changed between 4WD High and Low at up to 35 mph. Mazda's 4-wheel-drive system, like that of the Ranger, was not for use on dry pavement. "Depowered" airbags were installed, with an on-off switch on the passenger side.
Yearly Updates
1999 B-Series Pickup
Mazda's top-line SE V6 model now was available in regular-cab form, as the major change for 1999. Previously, that model was offered only as an extended-cab truck. All SE V6 models gained a standard antitheft system. All B4000 trucks got standard fog lamps, a leather-wrapped steering wheel, and an upgraded audio system.
2000 B-Series Pickup
Trim and equipment revisions marked the 2000 models. An automatic transmission became standard in B4000 2-wheel-drive pickups, remaining optional in other B-Series trucks. SX, SE, and TL trim levels were offered, the latter named for Troy Lee, a designer of extreme-sports equipment. Available only in Cab Plus 4 form, the TL included bodyside graphics, fender flares, fog lights, and unique alloy wheels. A trailer hitch now was standard on 4WD B4000 models, and a leather-wrapped steering wheel and fog lights went on all 4x4s.
2001 B-Series
Major changes for 2001 included new 4- and 6-cylinder engines and a 4-wheel-drive-look 2WD model. B4000s continued with a 4.0-liter V6 engine, but in a new 207-hp overhead-cam design rather than the previous 160-hp overhead-valve unit. B2500s get a new name and new four cylinder in midyear, as a new 2.3-liter 4 with 135 horsepower becomes standard on the B2300.
2002 Truck
Mazda changed the name of its compact pickup for 2002, from the B-Series to simply the Truck. New off-road equipment highlighted this year's changes.
2003 Truck
Base and 3.0-liter V6 gained 8 horsepower this year. All models got thicker glass and added insulation.
2004 B-Series
Mazda's pickup truck is once again called the B-Series for 2004. Other changes this year included a steering wheel and dashboard redesign.
2005 B-Series
No changes were made to the B-Series in 2005.
2006 B-Series
2006 brought no significant changes to the B-Series.
2007 B-Series
B-Series carried over unchanged.
2008 B-Series
The 2008 Mazda B-Series trucks were little changed, but the B3000 models with the 3.0-liter V6 engine were discontinued.
2009 B-Series
B-Series trucks once again received few changes.