Compact pickup truck; Built in USA
ext. cab
reg. cab long bed
reg. cab short bed
longitudinal front-engine/rear- or 4-wheel drive
Good condition price range: $2,100 – $19,200*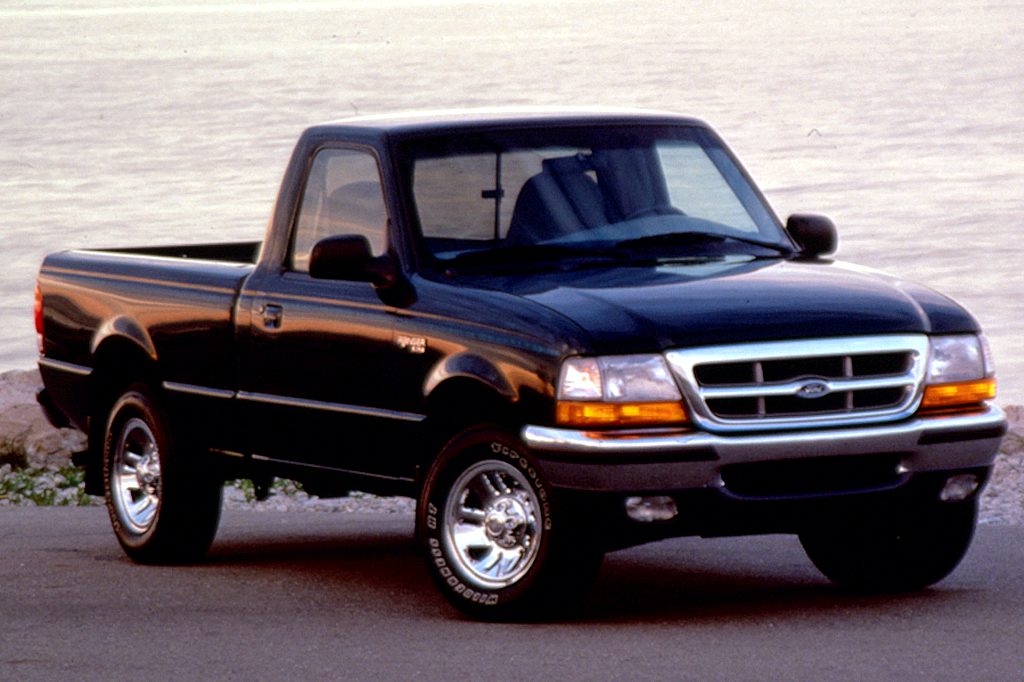 1998 Ford Ranger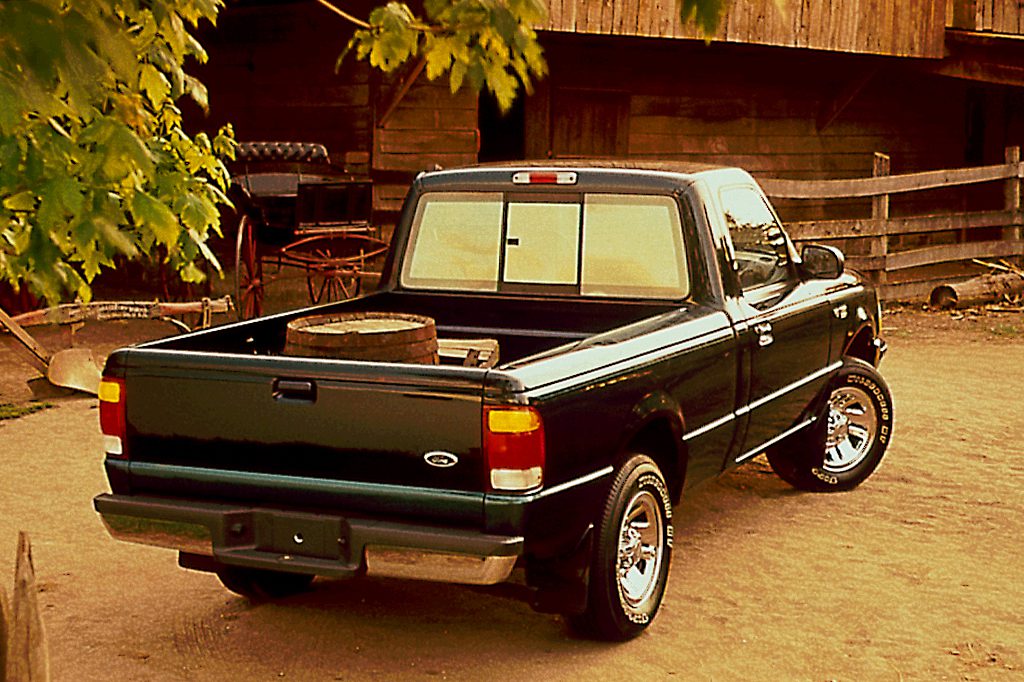 1998 Ford Ranger XLT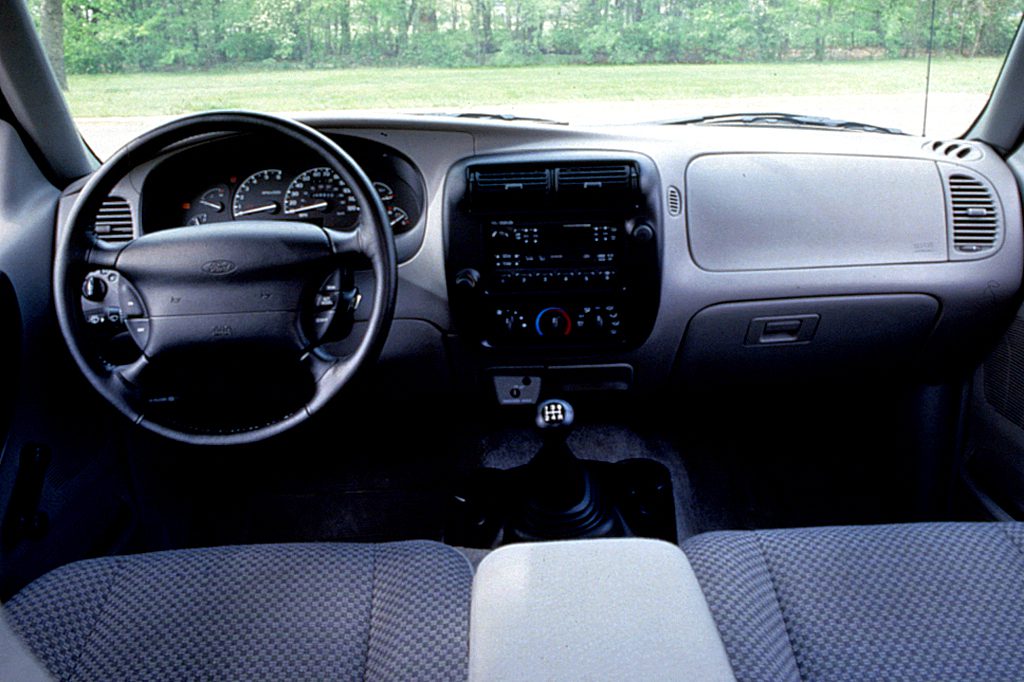 1998 Ford Ranger interior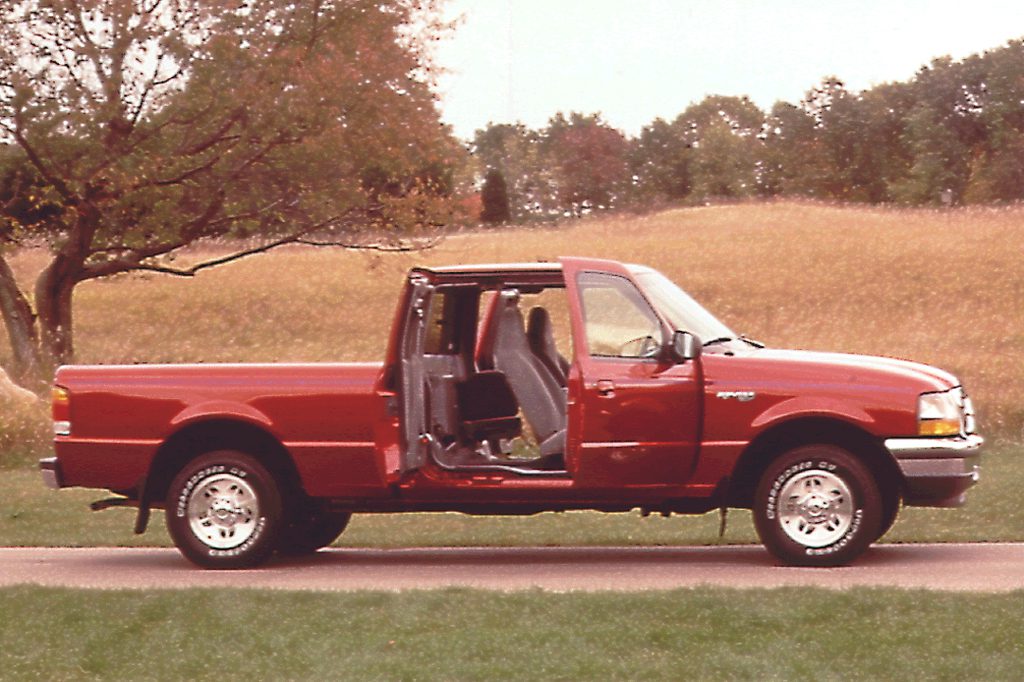 1998 Ford Ranger 4 Dr. Supercab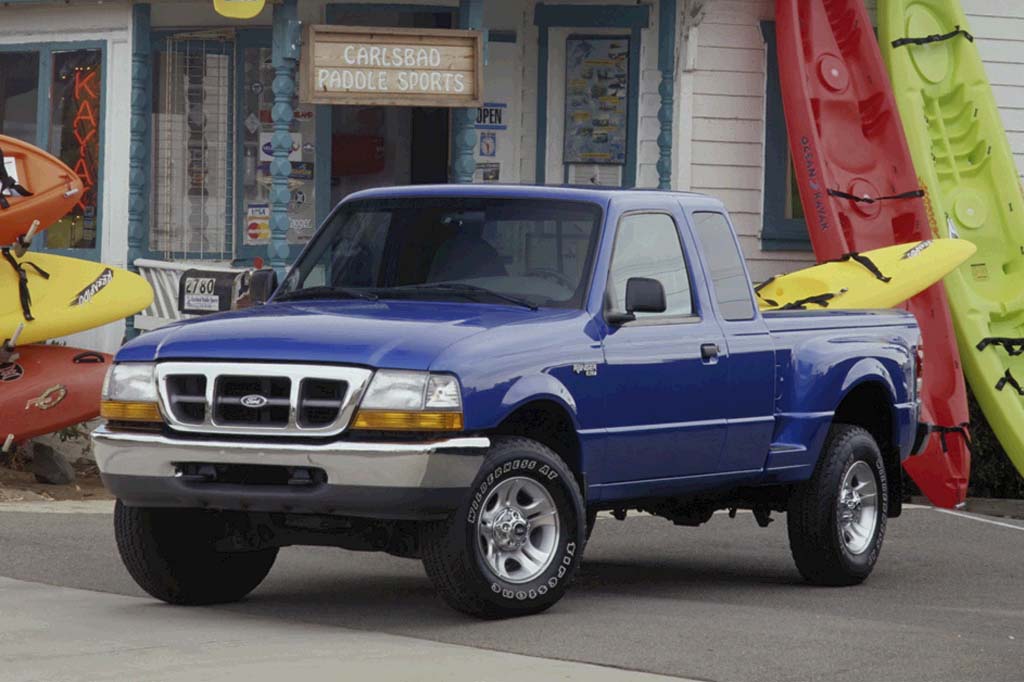 2000 Ford Ranger XLT
Pros:

Acceleration (4.0-liter V6)
Optional ABS (XLT, Splash)
Handling
Ride

Cons:

Acceleration (4-cylinder)
Interior room (regular cab)
Rear-seat comfort
Yes, Ranger lacks the V8 of a Dodge Dakota and the smooth V6 offered by Chevy. Nevertheless, the Ranger is refined, well-built, and priced sensibly. No wonder Ranger has been the top-selling compact truck. Because Mazda's B-Series does not sell as well, however, prices might be a bit lower without the Ford badge.
Overview
Best-selling of the compact pickups, the Ford Ranger was reworked for 1998, again similar to Mazda's B-Series. The next-generation Ranger got a larger regular cab, a revamped 4-wheel-drive system, and a bigger (2.5-liter) standard engine. Adding three inches to the regular cab allowed an extra inch of rearward seat travel, variable backrest adjustment, and more storage space behind the seat. In a coup for its class, two optional rear doors were added to extended-cab models. Hinged at the back, those doors did not open independently of the front doors. Dual airbags were depowered to deploy with less force, and a dashboard cutoff switch could disable the passenger-side bar. XL and uplevel XLT Rangers went on sale, with 2- or 4-wheel drive and a regular cab or extended cab (SuperCab). SuperCab models also had a pair of fold-down rear jump seats. In addition, a special Splash edition featured bright bodyside graphics, color-keyed grille, and other dress-up items. Rangers with 4-wheel drive now wore a different grille. Regular-cab trucks could have a 6- or 7-foot cargo box, while the Super Cab came only with the shorter (6-foot) bed. Bulged-fender flareside short-bed bodies were optional with either cab type. A 4-cylinder engine was standard in 2-wheel-drive Rangers, with a 3.0-liter V6 optional. That V6 was standard in 4×4 models, and a 4.0-liter V6 might be installed in any Ranger. A 5-speed manual transmission was standard. Either the 4-cylinder or the 3.0-liter V6 could have an optional 4-speed automatic, and the 4.0-liter V6 was available with a 5-speed automatic transmission. Though equipped with shift-on-the-fly capability, the 4WD system still was not intended for use on dry pavement. However, it was no longer necessary to stop and back up to unlock the front hubs after switching from 4WD to 2WD.
Yearly Updates
1999 Ranger Pickup
The flashy Splash pickup faded away this year. A color-keyed grille and other Splash dress-up items now became part of the Sport Appearance package.
2000 Ranger Pickup
A new two-wheel-drive Ranger joined the lineup, wearing the look of a 4×4. The new XL Trailhead option gave 2WD regular-cab short-bed models the raised suspension, 16-inch wheels, and exterior trim used by 4WD Rangers. The 4-door cab style now was available in base trim levels, not just as an XLT. SuperCab 4-door XLT Rangers retained their pair of fold-down rear jump seats, but the XL deleted them.
2001 Ranger
New 2WD and 4WD Edge models joined the Ranger lineup for 2001. The Edge had body-colored bumpers, 4WD ride height, and available fender flares. 2WD models relinquished rear-wheel-only antilock brakes for the same 4-wheel ABS as offered on 4x4s this year. Also new was an ohc 4.0-liter engine in place of the 4.0-liter ohv V6. The 4-cylinder was replaced midyear by a new design, and XLT 4x4s got a new Premium Off-Road Package.
2002 Ranger
New for '02 was the XLT FX4 off-road model with 4WD, heavy-duty suspension, 31-inch tires, heftier skid plate, and tow hooks. Also new was an available MP3/CD audio system. Introduced midyear were Tremor SuperCabs with a high-powered cassette/CD system.
2003 Ranger
Base and 3.0-liter V6 gain 8 horsepower this year. XLT FX4 off-road model gains a Level II version with heavy-duty shock absorbers, Torsen limited-slip axle, and special wheels and tires. All models get thicker glass and added insulation.
2004 Ranger
Revisions for '04 included a new grille, mildly revised interior styling, availability of a CD player that reads MP-3-formatted discs, and newly optional leather upholstery.
2005 Ranger
Ford's compact pickup entered 2005 little-changed.
2006 Ranger Pickup
A mild facelift for the '06 Ranger involved modest revisions to bumpers, grille, fenders, and lights.
2007 Ranger
Ranger carried over unchanged.
2008 Ranger
The 2008 Ford Ranger got slightly revised front styling but was otherwise unchanged from 2007.
2009 Ranger
Ranger lost its available 3.0-liter V6, leaving a 143-hp 2.3-liter 4-cylinder or a 207-hp 4.0-liter V6.
2010 Ranger
Thee 2010 Ford Ranger lineup shrank, but this compact pickup gained some new safety features, including traction control, an antiskid system, and side airbags.
2011 Ranger
The 2011 Ford Ranger is largely unchanged.