Compact car; Built in South Korea
2-door hatchback
4-door sedan
transverse front-engine/front-wheel drive
Good condition price range: $1,000 – $2,100*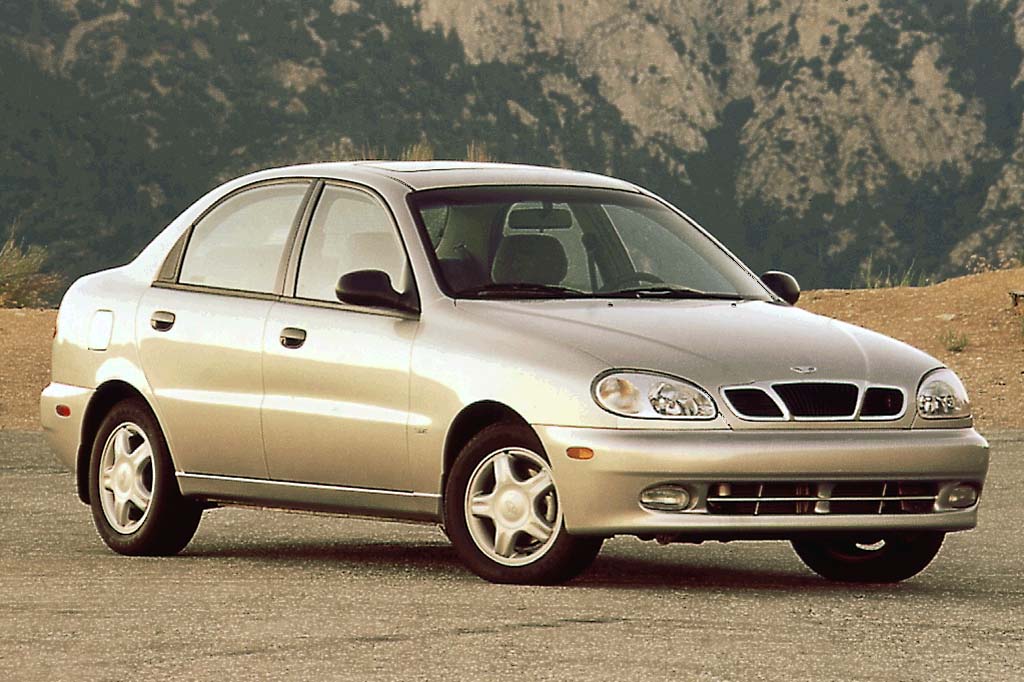 2000 Daewoo Lanos 4-door sedan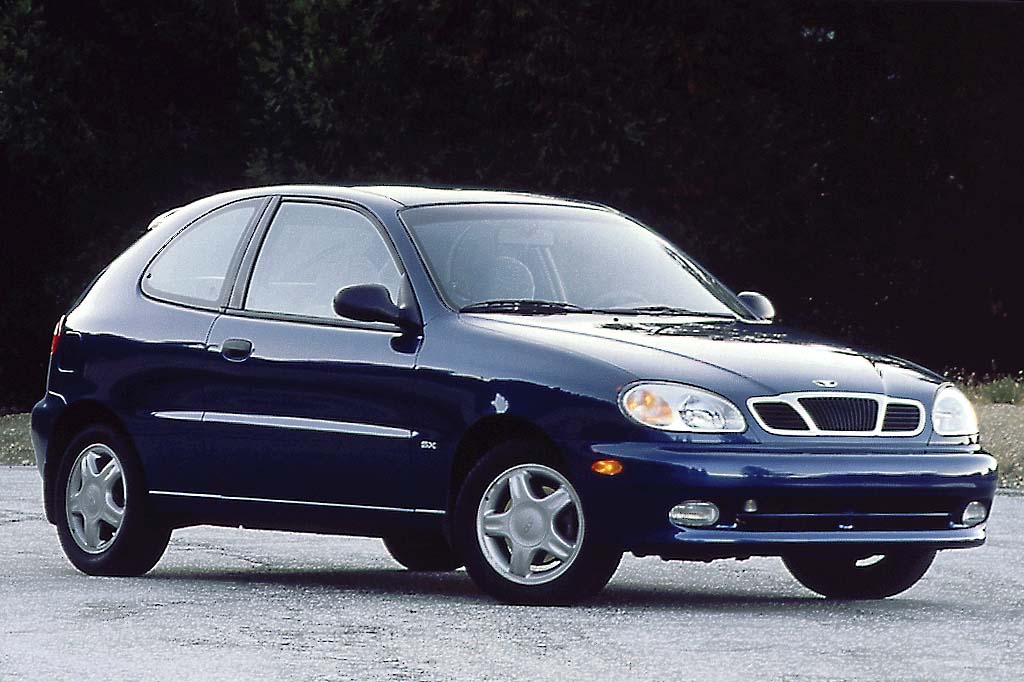 2000 Daewoo Lanos 2-door hatchback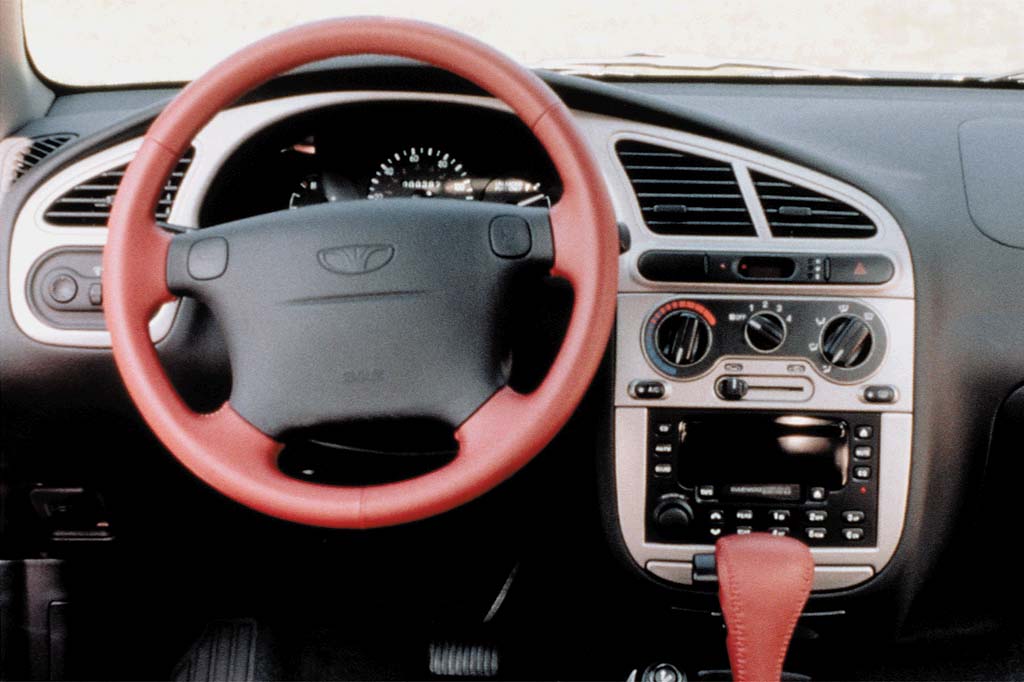 2001 Daewoo Lanos Sport interior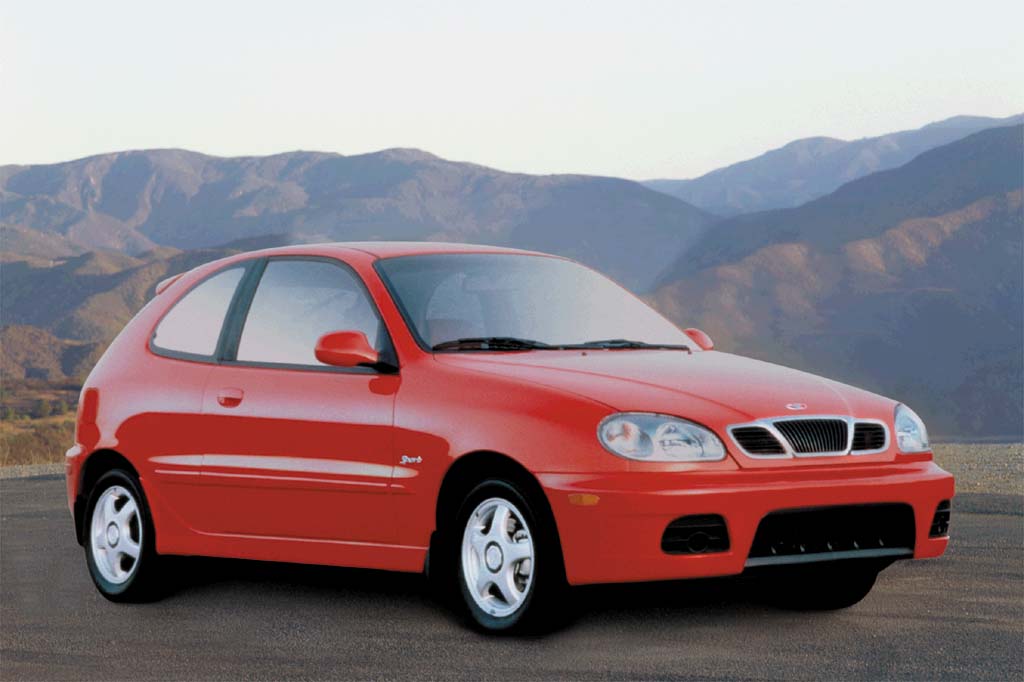 2001 Daewoo Lanos Sport 2-door hatchback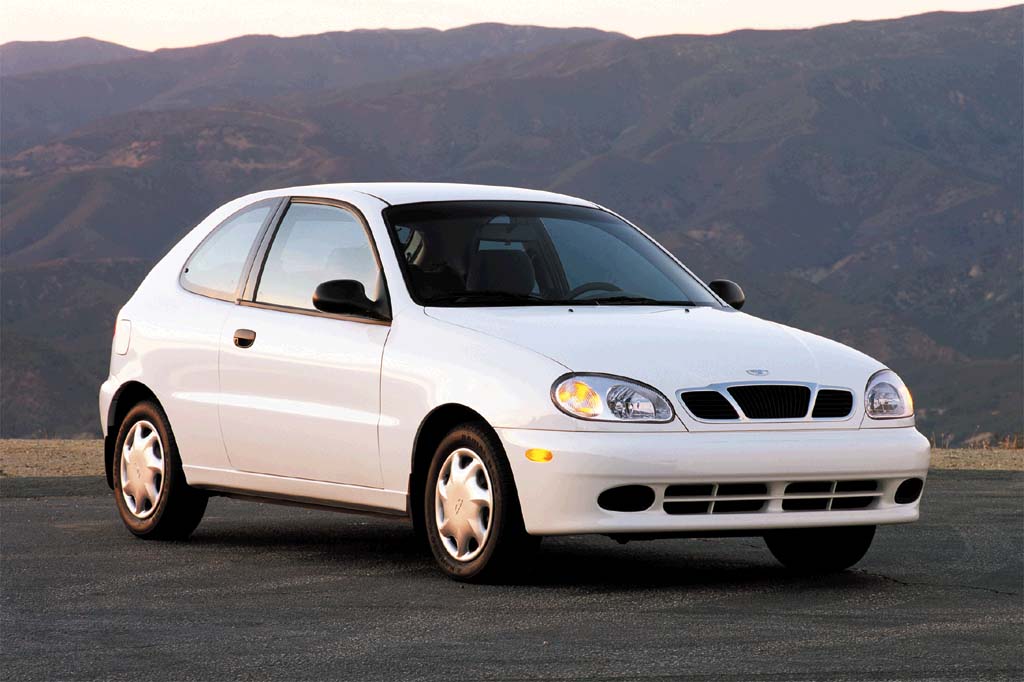 2001 Daewoo Lanos 2-door hatchback
Pros:
Cons:

Acceleration
Automatic-transmission performance
Rear-seat entry/exit (hatchback)
Rear-seat room
Though seemingly quite affordable, the Lanos isn't really all that cheap for a car that ranks only average in most respects–and disappointing in several major areas. It's definitely not a wise entry-level buy, especially since Kia and Hyundai rivals are better developed and more appealing, and came with much longer, more comprehensive warranties. We'd opt for one of those, or for a Japanese or American alternative that offers superior refinement and customer support, for a little more money. A Ford Escort or Dodge Neon, for instance, offers superior refinement and customer support.
Overview
Lanos is the smallest member of the trio of passenger cars that emerged in 1999 from Daewoo, the third South Korean automaker to enter the U.S. market. The front-drive subcompact came as a two-door hatchback or four-door sedan, in S, SE, and top-of-the-line SX trim. Main rival was the similar-sized Hyundai Accent, also produced in Korea, but Lanos models also competed against the Dodge/Plymouth Neon, Ford Focus, Ford Escort/ZX2, Honda Civic, Hyundai Accent, and Toyota Echo.
All versions used a 1.6-liter, dual-overhead-cam four-cylinder engine, offered with five-speed manual shift or an optional four-speed automatic transmission. Antilock braking was optional, except on base S models.
Standard equipment included cloth front bucket seats, a split folding rear seat, cassette stereo system, rear defogger, tachometer, intermittent wipers, and 185/60R14 tires. Hatchbacks had a rear wiper/washer. The midrange SE edition added a power right-hand mirror, power windows and door locks, remote keyless entry, and a theft-deterrent system. Topping the trio, the SX came with air conditioning, a tilt steering wheel, cassette/CD stereo, foglights, alloy wheels, and the option of a power sunroof.
At first, Daewoo recruited teams of students to promote the car on college campuses. Before long, though, conventional dealerships began to spring up around the country, Buyers got a roadside assistance program as part of the purchase.
Yearly Updates
2000 Lanos
Little was changed in the Lanos's second season on the U.S. market, except that more dealerships were appearing. At the same time, the South Korean company was starting to face serious financial woes, prompting consideration of a possible takeover by one of the Big Three automakers. By now, the Lanos had another competitor in the U.S., in the form of the comparably-sized Kia Rio.
2001 Lanos
The increasingly embattled Daewoo company continued to send cars to the U.S. market, but financial troubles were mounting rapidly. Prospective suitors emerged, then backed away, and Daewoo's fate was increasingly uncertain.
Minor rear-end styling changes were evident. The Lanos SE hatchback and SX four-door sedan were dropped (including the option of antilock braking). That left only mainstream S models, available with a new Premium Package that roughly duplicated formerly standard top-of-the-line equipment. A new Sport hatchback got body-colored side skirts, bumpers and mirrors–plus a rear spoiler, black/red leather upholstery, air conditioning, power windows and locks, power mirrors, and a CD/cassette stereo.
2002 Lanos
In spring 2002, General Motors bought a sizable share of the assets of the Daewoo organization–but not its sales arm in the U.S. That move left dealers hanging, selling only leftover cars, and owners unsure how their vehicles would be repaired under warranty.
The Lanos came as a two-door hatchback in S or Sport trim, and as an S four-door sedan. Power steering was now an option on the S edition, and alloy wheels no longer were available on the Lanos Sport.