Compact car; Built in South Korea
4-door hatchback
4-door sedan
4-door wagon
transverse front-engine/front-wheel drive
Good condition price range: $1,000 – $2,100*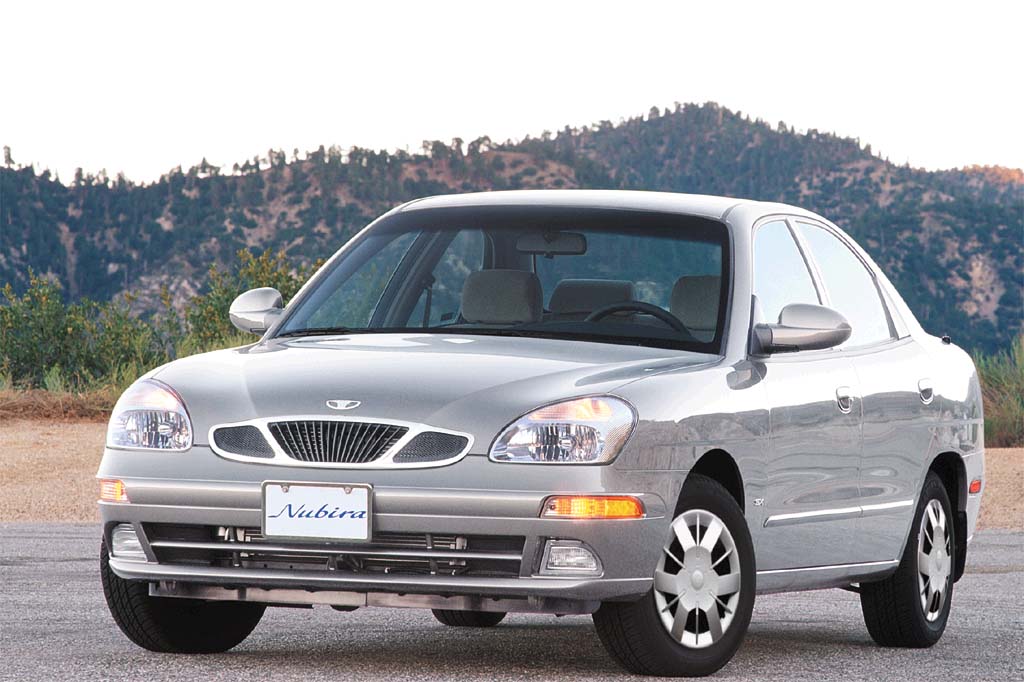 2001 Daewoo Nubira 4-door sedan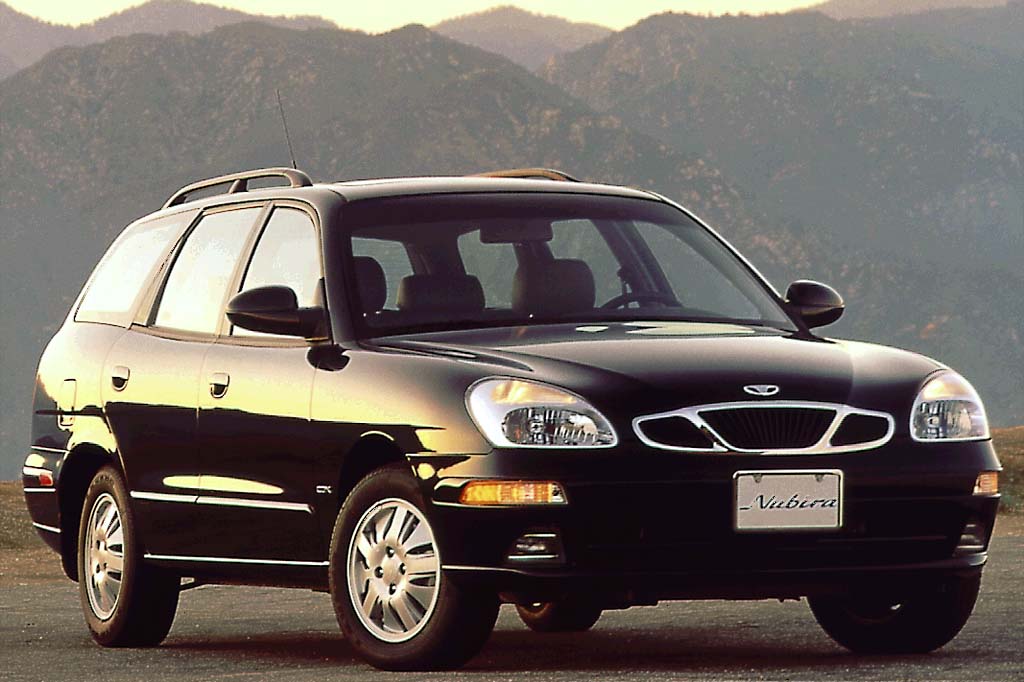 2000 Daewoo Nubira 4-door wagon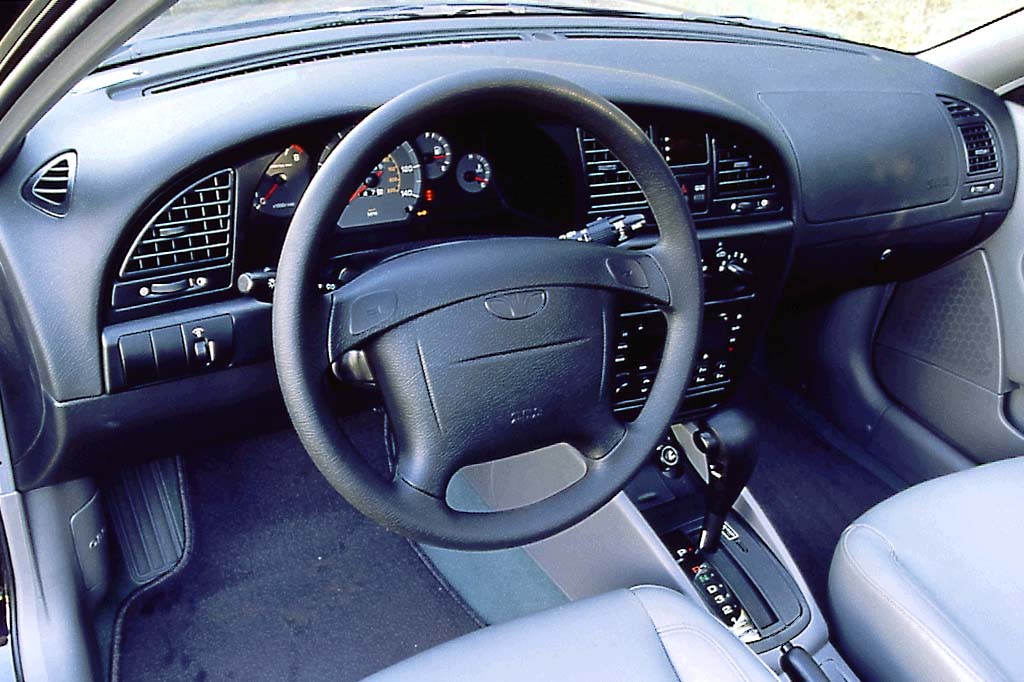 2000 Daewoo Nubira interior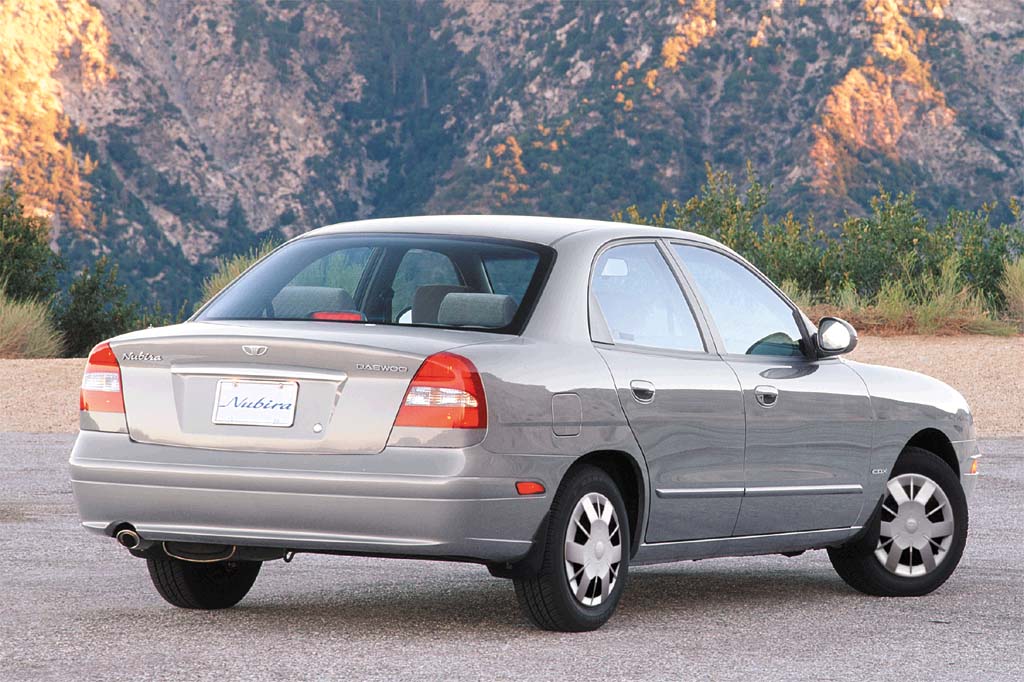 2001 Daewoo Nubira 4-door sedan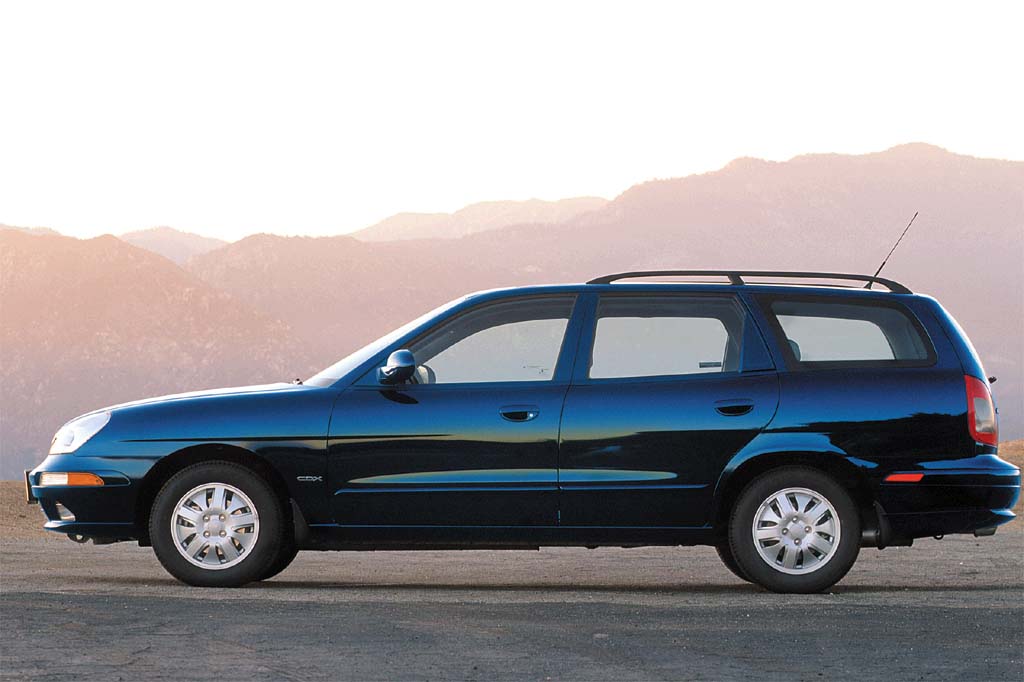 2001 Daewoo Nubira 4-door wagon
Pros:
Cons:

Automatic-transmission performance
Engine noise
Rear-seat entry/exit
Overall, the Nubira is an average subcompact from a company whose future is in grave doubt. Buy one only with great caution, and only if the price is truly hard to pass up. Daewoo resale values were low even before the big financial ills loomed, so finding a low-priced example shouldn't be difficult. Still, it would be wiser to pay a few dollars more for an alternative model, such as the impressive Ford Focus.
Overview
Falling squarely in the middle of Daewoo's three-car lineup, the Nubira was a relative large front-drive subcompact. Somewhat bigger and more powerful than the entry-level Lanos, it was smaller than the "flagship" Leganza sedan. Rivals included the Ford Focus, Honda Civic, Hyundai Elantra, Mazda Protege, Toyota Echo, and Chevrolet Prizm.
Initially, Nubiras came in three body styles: four-door sedan, four-door hatchback, and four-door station wagon. The hatchback would last only a single season. Sole engine was a 2.0-liter, dual-overhead-cam four-cylinder, mated to either a manual gearbox or optional automatic transmission. The Nubira CDX was unusual for its class, with standard antilock braking (optional in the SX).
Daewoo was the third South Korean automaker to enter the U.S. market, trailing Hyundai and Kia. Rather than starting with regular dealerships, Daewoo initially recruited teams of students to promote the car on college campuses. As that program was found wanting, conventional dealerships began to spring up around the country. Buyers got a roadside assistance program as part of their new-Nubira purchase.
Yearly Updates
2000 Nubira
Hatchbacks were gone, leaving only an SE sedan, along with a sedan and wagon in upscale CDX guise. Although more Daewoo dealerships were emerging, the South Korean company was facing serious financial troubles–bad enough to prompt consideration of a possible takeover by one of the Big Three automakers.
2001 Nubira
Nubira wagons got revised taillamps this year. All Nubiras switched from handwheel-type front backrest recliners to a ratcheting lever adjustment setup. An optional convenience package could upgrade the SE sedan to CDX features, including power windows and locks, a tilt steering wheel, CD/cassette stereo, foglamps, and a keyless entry/alarm system. Antilock braking again was standard in the CDX, but unavailable for the SE.
Although the increasingly suffering Daewoo company continued to ship cars to the U.S. market, financial woes were mounting rapidly back in South Korea. Prospective purchasers emerged, then backed away, and Daewoo's ultimate fate seemed dubious.
2002 Nubira
Antilock braking no longer was available as the 2002 model year began. The lineup included an SE sedan and upscale CDX wagon. Cutting the CDX price by $1,200 meant losing its ABS, cruise control, CD player, keyless entry, foglamps, theft-deterrent system, and alloy wheels. All of those items, except for ABS, were offered as an option package.
In spring 2002, General Motors bought a big share of the assets of the Daewoo organization–but not its sales arm in the U.S. That move left Daewoo dealers hanging in the wind, selling only leftover cars with no new models on the way. Owners, meanwhile, remained unsure how their vehicles would be repaired under warranty.