Premium compact car; Built in Germany
2-door convertible
2-door coupe
4-door sedan
4-door wagon
longitudinal front-engine/rear- or all-wheel drive
Good condition price range: $4,200 – $19,000*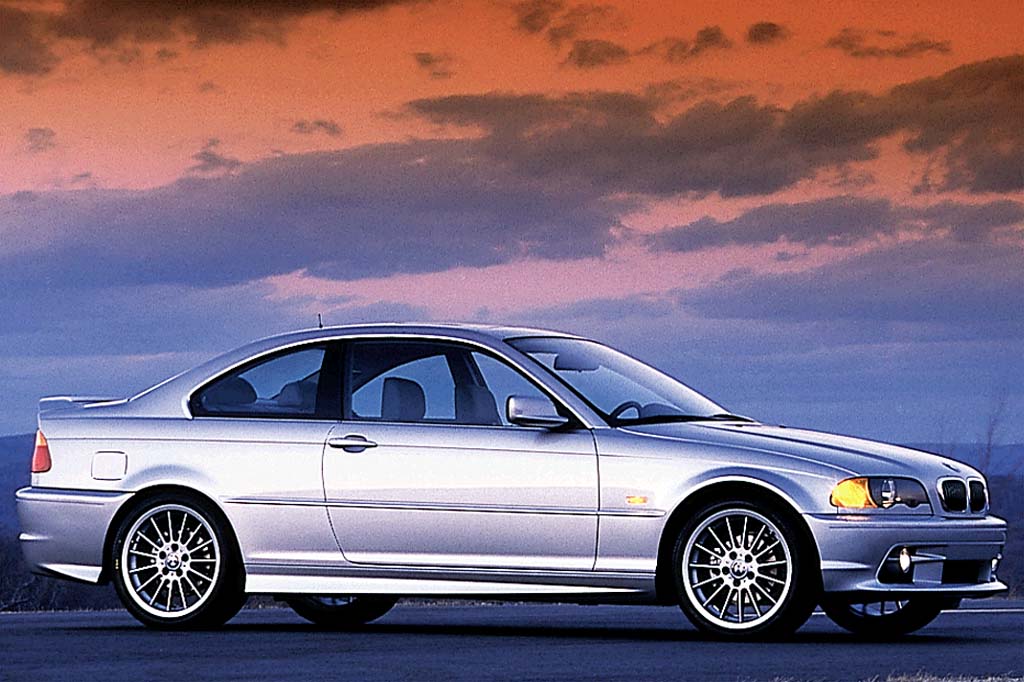 2000 BMW 323Ci 2-door coupe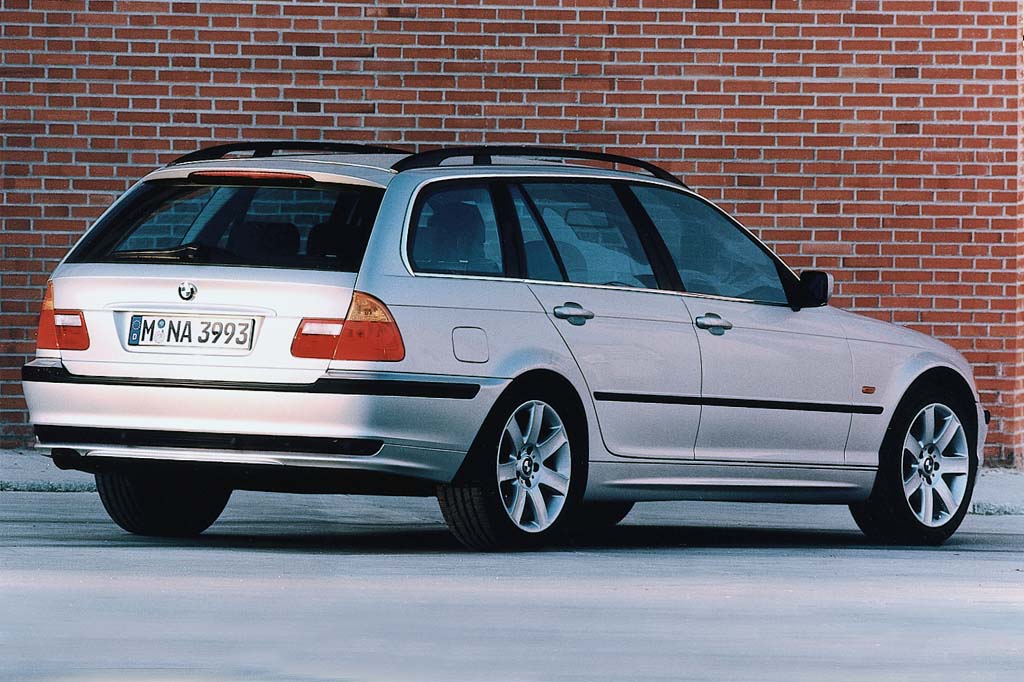 2001 BMW 323i 4-door wagon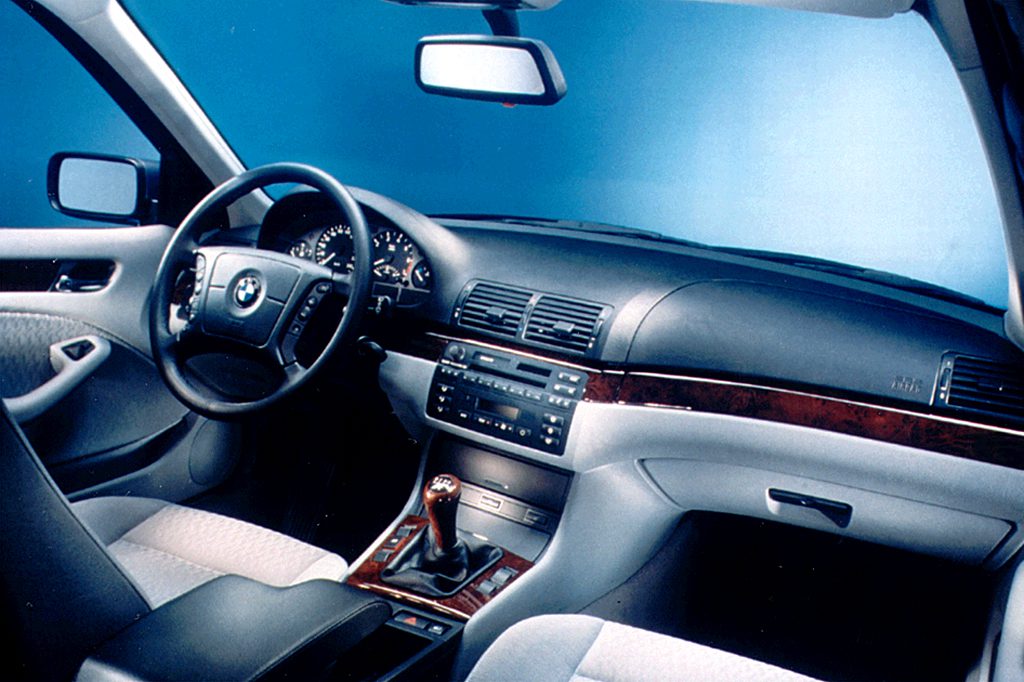 1999 BMW 3-Series interior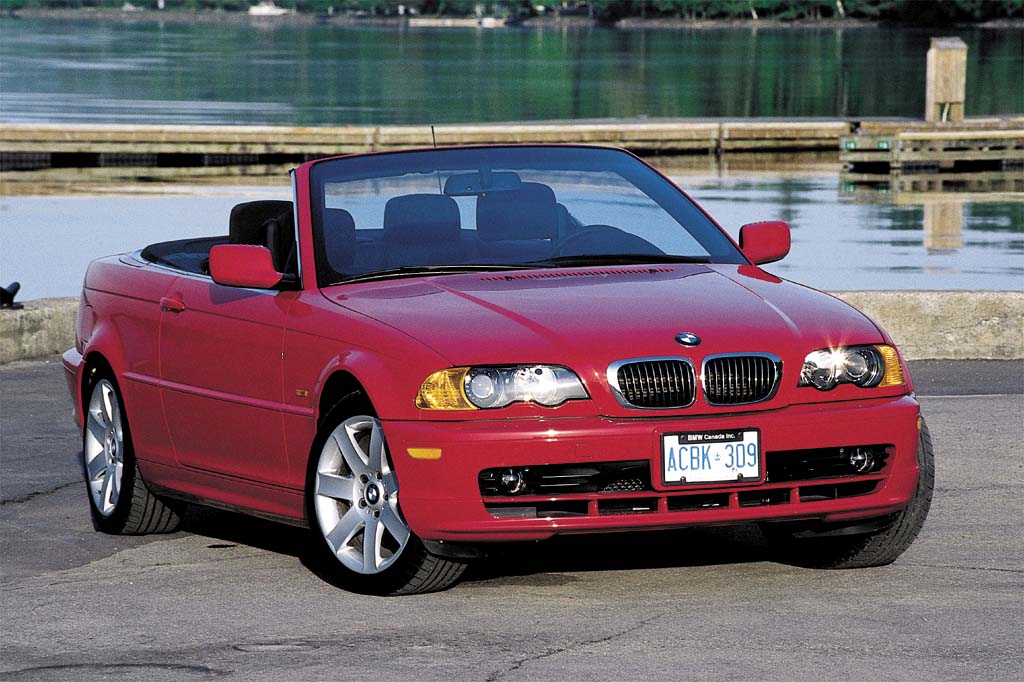 2001 BMW 330 Ci 2-door convertible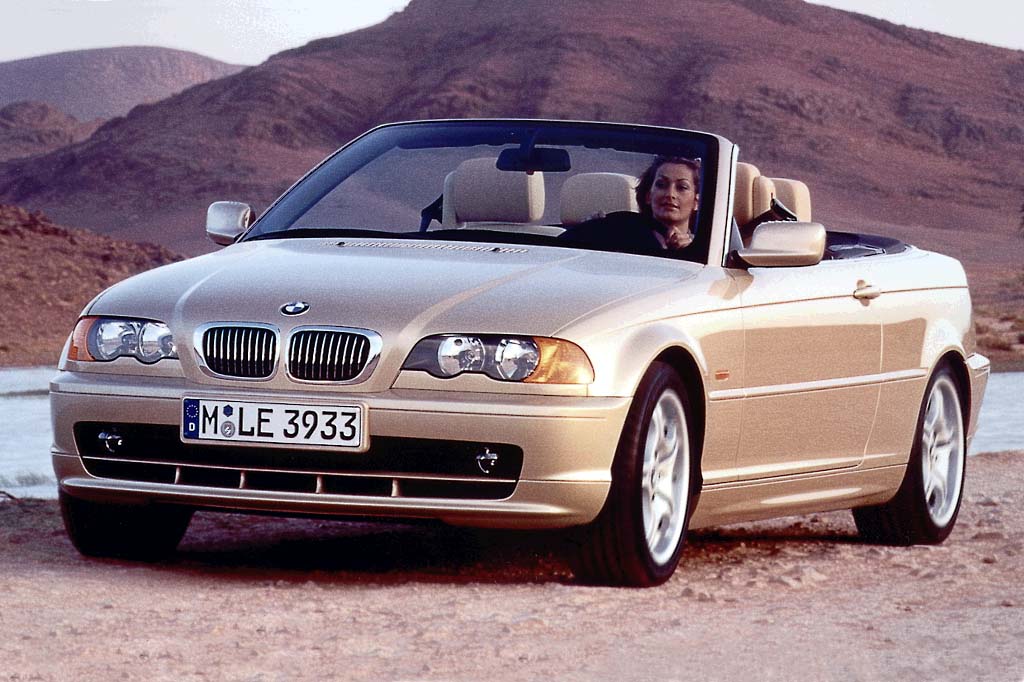 2000 BMW 323i 2-door convertible
Pros:

Acceleration
Head-protection system
Build quality
Exterior finish
Steering/handling

Cons:

Cargo room (convertible)
Rear-seat entry/exit (coupe/convertible)
Rear-seat room (coupe/convertible)
Ride (M3)
Unchallenged in sporting character, these are the true "driver's cars" of the near-luxury class. Some rivals offer more interior room, but none are more refined or as sporty. Price is the main drawback, because resale values are strong.
Overview
BMW redesigned its best-selling line, the near-luxury 3-Series, for 1999. In addition to gaining a new profile and plenty of new features, the 3-Series got roomier back seats. Weights and exterior dimensions went up only marginally. Four-door sedans debuted in fall 1998, in new 323i and 328i form, with two different six-cylinder engine sizes. The 323i used a 2.5-liter engine, replacing the four-cylinder 318i as BMW's entry-level sedan. The 328i retained its 2.8-liter engine. Manual shift was standard, with a five-speed automatic transmission optional.
Traction control was standard, along with Cornering Brake Control, designed to stabilize the car under hard braking in turns. Front passengers got six airbags to cushion front and side impacts. Rear side-impact airbags were newly optional. So was Park Distance Control, which beeped to signal the presence of objects to the rear when backing up.
Yearly Updates
2000 3-Series
Coupes with the new design debuted in summer 1999, but restyled convertibles did not appear until the first quarter of 2000. Coupes and convertibles were a bit lower, longer and wider than 3-Series sedans, wearing different body panels. Convertibles had roll bars behind the rear seat, designed to deploy automatically if the car was about to flip over.
BMW's optional five-speed automatic transmission incorporated a Steptronic manual-shift provision. Antiskid Dynamic Stability Control was standard. A sport wagon also joined the lineup during 2000, with a one-piece tailgate and separate-opening window.
2001 3-Series
Permanent all-wheel drive became available in summer 2000, in 325xi and 330xi sedans and wagons. AWD hardware added about 200 pounds, but only 0.7 inch to the ride height.
All models got revised designations. The former 323i sedan, 323Ci coupe/convertible and 323i sport wagon were now called 325i/325Ci, to signal their new 2.5-liter six-cylinder engines, which had 14 more horsepower. At the same time, 328i sedans and 328Ci coupes/convertibles became the 330 series, via a 3.0-liter six that produced 32 more horsepower than the previous 2.8-liter. All 330 models had 17-inch tires.
A power top with glass back window was standard on the 330Ci convertible, optional for the 325Ci. An aluminum hardtop was available, too.
After a two-year absence, the high-performance M3 coupe was revived in the new style, packing a 330-horsepower engine and suspension modifications to match. The M3 also had a six-speed manual transmission, unique front/rear spoilers, 18-inch wheels and sport front seats.
2002 3-Series
The top-line M3 coupe and convertible got a new sequential manual transmission (SMT) for 2002. The computer-controlled 6-speed SMT didn't have a clutch pedal, shifted via steering-wheel "paddles," and could be set to shift like an automatic. Across-the-board changes included recalibrated steering, reshaped headrests, standard in-dash CD player, titanium-color interior trim, and revised automatic climate controls. Rear side airbags were now available for 2-dr as well as 4-dr models. Newly optional were high/low-beam xenon headlights. Sedans and wagons got a minor facelift, and the optional navigation system had a wider dashboard screen.
2003 3-Series
A new 330i sedan Performance Package option included a 10 hp increase, 6-speed manual, 18-inch wheels, exclusive trim, and sport suspension and exhaust tuning. Other model-year '03 additions included a standard sunroof for 325i wagons and an optional tire-pressure monitor for 330s.
2004 3-Series
A new sequential manual transmission is available on all 3-series models except the 330Ci for '04. Also new for '04 are standard rain-sensing windshield wipers and optional BMW assist emergency service.
2005 3-Series
The coupe, convertible, and wagon continue with the current design, while sedans get a makeover for 2006. In 2005, coupes (except M3) get a standard sunroof, and coupes and convertibles join the M3 in getting a standard tire-pressure monitor.