Sporty/performance car; Built in Japan
longitudinal front-engine/rear-wheel drive
Good condition price range: $4,000 – $11,000*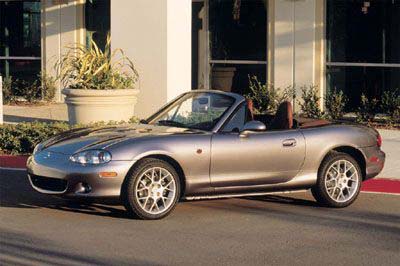 2002 Mazda Miata Special Edition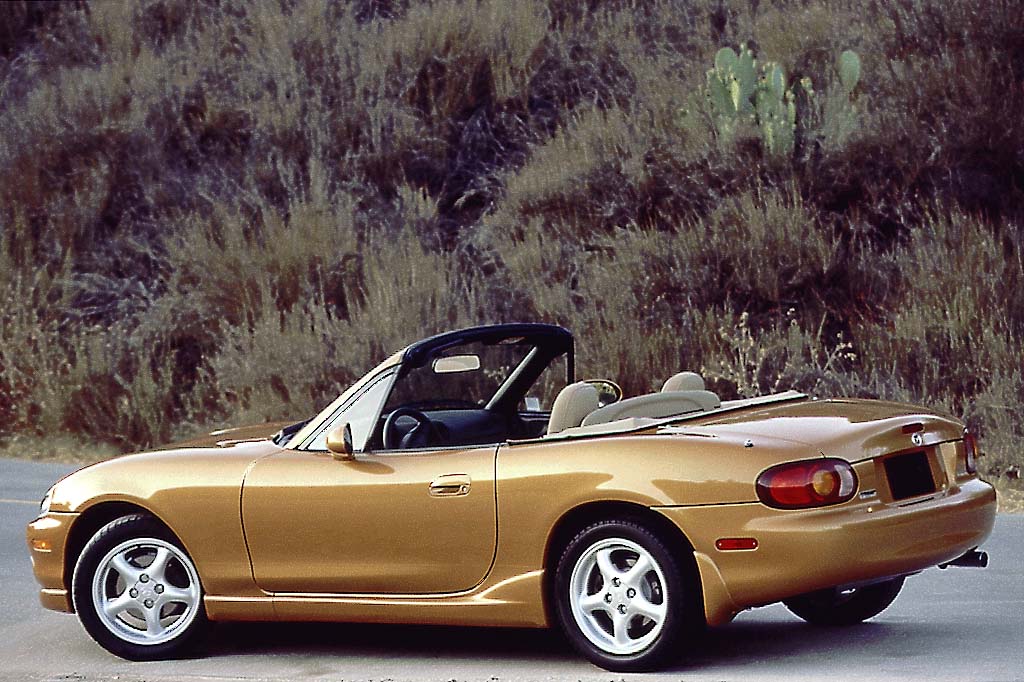 2000 Mazda Miata LS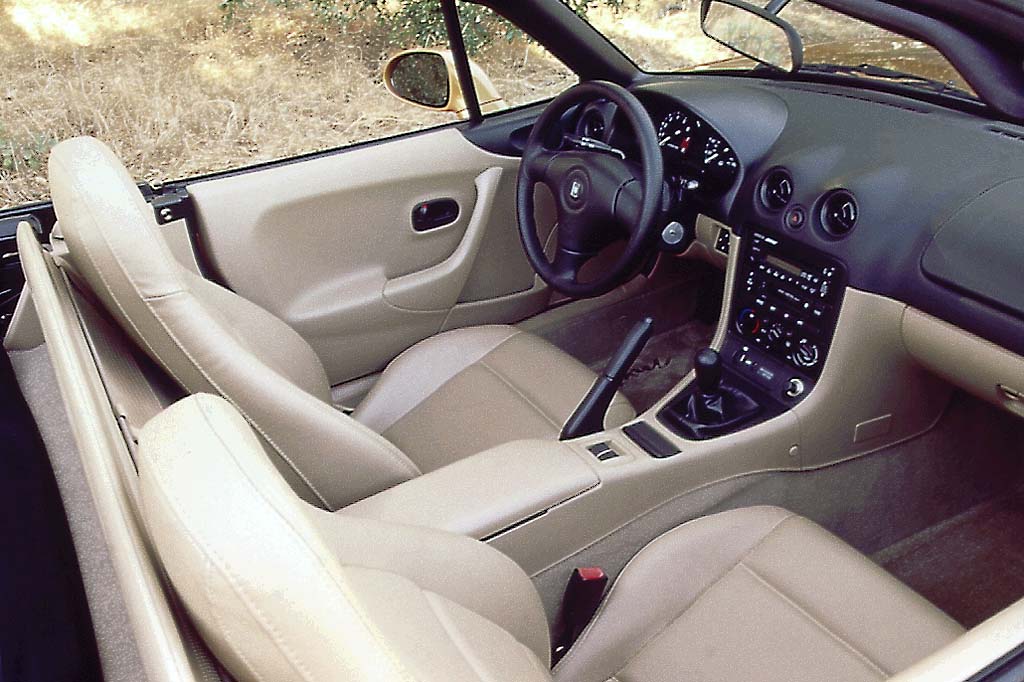 2000 Mazda Miata interior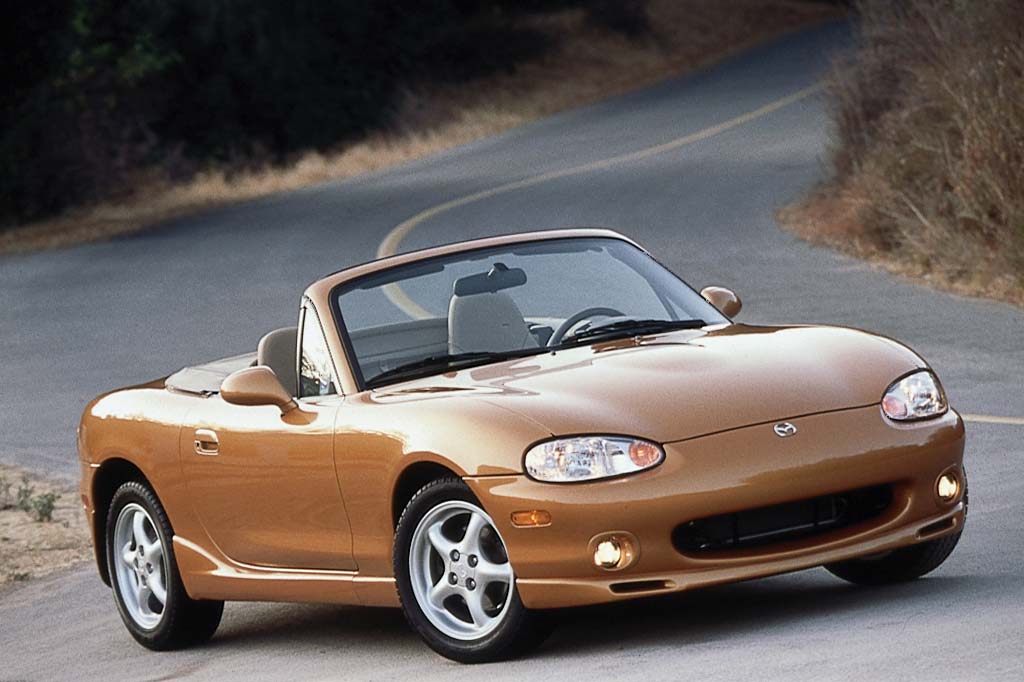 2000 Mazda Miata LS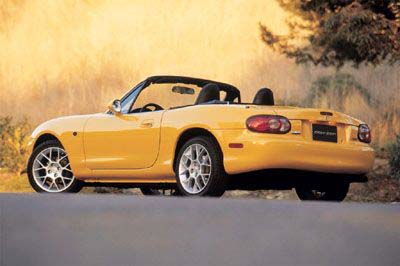 2002 Mazda Miata Special Edition
Pros:

Acceleration
Fuel economy
Steering/handling

Cons:

Cargo room
Entry/exit
Noise
Especially in base form, the Miata represents greater value than, say, a Toyota MR2 Spyder–partly due to its greater cargo capacity, which makes it a more practical driver. On the fun-per-dollar scale, a Miata is unmatched.
Overview
Mazda had triggered a "roadster revolution" when it introduced a rear-drive sports car named Miata, as an early 1990 model. A decade later, the Miata was redesigned, though its basic shape changed little. Dimensions were nearly identical to the prior model, but the Miata offered more trunk space. Exposed headlamps replaced the former flip-up units. Inside were a new instrument panel, three-spoke steering wheel, and standard CD player.
Powered by a 1.8-liter 4-cylinder engine, the Miata could have a 5-speed manual or optional 4-speed automatic transmission. Horsepower went up by 7, torque by 5 lb-ft. A 6-speed manual gearbox became available on the 10th anniversary model.
Tire sizes were unchanged. Four-wheel disc brakes were standard, with antilocking an option. The manual-folding soft top now contained a defrosting glass rear window, and a removable plastic hardtop was optional. A road-racing Sports Package was available as an option.
Rivals included the BMW Z3 series, as well as the forthcoming Honda S2000 and Toyota MR2 Spyder. Some people consider the Chevrolet Camaro, Pontiac Firebird, and Ford Mustang to be competitors as well, though they're of a different breed.
Yearly Updates
2000 Miata
A new uplevel LS model joined the 2000 lineup, featuring leather upholstery, power locks, cruise control, 15-inch wheels (instead of 14-inch), and a limited-slip differential. Some previously optional equipment became standard this year, including alloy wheels, power steering, power windows, and a leather-wrapped Nardi steering wheel. Antilock braking was optional only on the LS edition. No 6-speed models were available this year, but lower-body aero styling from the previous year's anniversary car was a new option.
2001 Miata
Mazda asserted that the Miata's engine gained 15 horsepower this year, but that claim was later squelched after tests showed a figure of 142 hp. Base models switched from 14- to 15-inch tires, the front fascia was restyled, and the interior was revised. Seats were redone, with a new console and chrome gauge bezels.
Brake modifications aimed at improved stopping power, while chassis revisions were introduced to increase rigidity. For the first time, 16-inch tires were available–standard on the LS edition.
2002 Miata
Little changed for 2002, except for a newly optional in-dash 6-disc CD changer. As before, the Miata had a manual-folding soft top with a heated glass rear window, and a removable hardtop was available. ABS was optional only on the LS model, which could also have a 6-speed manual gearbox. Base Miatas could be fitted with 16-inch tires, which were standard on the LS.
Appearance packages included rear mud guards and more pronounced side sills. Two special-edition models were launched in midseason, first seen at the Chicago Auto Show.
2003 Miata
Base versions of Mazda's 2-seat sports car exchanged standard 15-inch wheels for 16s. Introduced in late spring were the Club Sport, which deleted air conditioning and power steering and was aimed at racing enthusiasts; the Shinsen Version that slotted between the base and LS; and the new top-line SE with unique trim.
2004 Miata
Mazda's sports car received only minor styling revisions in 2004.
2005 Miata
New for 2005 is the MazdaSpeed Grand Touring, which adds leather upholstery.